God bless America!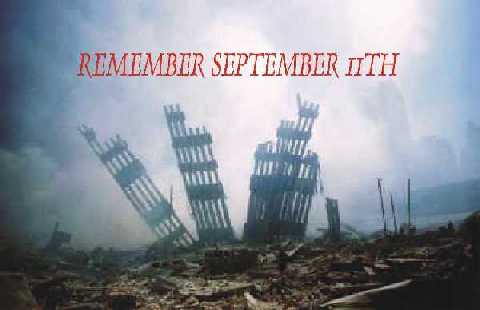 Throughout the pages of this family album, you'll read of relatives who have defended America at one time or another. You'll see mentions of bloody battles where our family members fought, such as Cowpens, Antietam, or the Western Front. Some of us who served our country during wartime weren't tested in battle, but nevertheless spent years away from our homes and families, enduring the drudgery of endless patrols in the Pacific or of clerical duties at a base somewhere in support of the troops "over there". We'll list below some of these family members who have served America during her past wars.
---
Some Recent Updates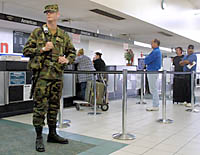 Fall 2001. Two members of our extended family are serving in the United States armed forces:
Our granddaughters' uncle, PFC David Vechil, whose National Guard unit was activated after the terrorist attacks. Dave and fellow Guardsmen patrol the airport in Bakersfield, CA. On the right is Dave with his M-16, in a photo which appeared in the Bakersfield Californian.
Our niece's husband, LTCOL Jonathan Wright, USAF, who was transferred from the Pentagon earlier this year to the Naval War College in Newport, RI.
We congratulate Jon and Dave for being able to play their part in helping keep America free. Since we started this page in September 2001, Jon has been transferred to an Air Force facility in the Los Angeles area. Dave has served in a security detail which protects the Golden Gate Bridge from sabotage, where we see him in the picture below, which appeared on several internet news sites along with the caption given here:

Heightened Security

National Guardsmen Jeremy Jennings, left, and David Vechil guard the Golden Gate Bridge in San Francisco, Tuesday, March 18, 2003. The nation is under a high terror alert following President Bush's ultimatum to Sadam Hussein and his sons to leave Iraq by Wednesday or face a U.S.-led invasion.
(AP photo)
Christmas 2003. Chuck's cousin Kate writes us that her son, Mike McKenna, is leaving soon for duty with the U. S. Army in Iraq.
May 2004. David Vechil was released from active duty but remains on call to serve wherever and whenever his Guard unit might be needed. A few months later Dave was recalled to active duty and sent to Guantánamo Bay to guard the terrorists imprisoned there.
August 2004. We congratulate Jon Wright on his promotion to Colonel in the USAF. We receive word that William L. "Mark" Stone, who lived with our family while a teenager and who has remained a close friend of our son David over the years, was awarded the Bronze Star for his service in Iraq. Read about Mark's medal as well as his comments on the war in Iraq. Congratulations, Mark!
September 2005. David Vechil is back in uniform, serving with the National Guard in Louisiana in the aftermath of Hurricane Katrina.
4 July 2006. David stops to see us on his way to serve on the U. S.-México border. He has time to run in a local 5k race before continuing south.
Fall 2006. Jon Wright is now the commander of a Defense Contract Management Agency in Sunnyvale, CA.
Summer 2007. David Vechil is serving in Iraq. Let's all pray for his safe return!
May 2008. Dave is back! He's a civilian once again.
June 2009. Mike McKenna is in Iraq for a second tour of duty.
July 2009. Jon Wright retires from the Air Force and returns to civilian life in Southern California.
---
We salute and support all the American troops who are giving up their time and, in some cases, risking their lives during the present crisis. We hope that their efforts will lead to the destruction of those who are responsible for the 9/11 atrocities. For some reflections on the atacks and their aftermath, please read:
While we don't necessarily agree with all the opinions expressed in these articles, we found them all worthy of consideration in any discussion of America's ongoing struggle against international terrorism. When President Reagan passed away recently, we were reminded of another Imprimis article we had read:
---
Read An Ode to Sailors – Everywhere, which expresses some of the joys of naval service.
---
They served their country...
The following are some family members who served our country during wartime. Several have pages of their own in this album. Please click on their names to read more about them.
Allen - Elisha W., and Wilford M. Two of Chuck's g-g-grandfather's younger brothers served in Company A of the 81st Indiana Infantry, which was organized in their home town of New Albany, IN, in Sep 1862 and saw much action through the end of the Civil War.
Bowers, Dan. Chuck's cousin served aboard USS Philippine Sea (CVA-47) during the Korean war.
Brewster - Elloner, Jennette, and Agnes. Chuck's g-g-g-g-grandmother and her two sisters have been honored by the DAR as Patriots of the American Revolution for the role they played in supporting the cause of freedom.
Carey, Charles W. Served aboard USS Annapolis (AGMR-1) and USS Winston (AKA-94) off Viet Nam 1965-1967.
Carey, Claude W. Chuck's uncle enlisted in the U. S. Army after Pearl Harbor and was sent to Louisiana for training. He was discharged due to disabilities caused by a boyhood horseback riding accident.
Carey, David and Thomas. Chuck's great-great-grandfather was too young to serve in the War of 1812, but two of his older brothers enlisted in Captain Hilliard's company to protect Ohio's Miami county against the British and their Indian allies.
Carey, David Clark. Chuck's great-grandfather was a 100-day volunteer in the Union army and participated in the defense of Washington, DC, during the summer of 1864. See David's discharge, a very large photocopy.
Carey, Dr. George A. E. A brother of David Clark Carey, Dr. Carey graduated in Class of 1864 from Cincinnati College of Medicine and Surgery and served as Assistant Surgeon, 1st Ohio Vol. Heavy Artillery, until the end of the Civil War.
Carey, Marvin. Chuck's father's cousin served in the U. S. Navy during World War II. Due to his great athletic prowess, Marvin was never sent to sea but trained recruits in the martial arts and general physical fitness.
Carey, Warren E. Another first cousin of Chuck's dad, Warren was commisioned a Second Lieutenant in the U. S. Army Air Corps during World War I and was recalled to active duty after Pearl Harbor. Warren was stationed in Winston Salem, NC, during most of World War II and mustered out with the rank of Colonel.
Carey, William F. According to family legend, this younger brother of Chuck's great-grandfather enlisted in the Union Army during the Civil War and was "killed by Indians" during the conflicts in the West after 1865. We have yet to find any evidence of uncle Billy's service, either in the Civil War or in the Indian wars.
Enyart, William C. The husband of David Clark Carey's sister Charlotte. William enlisted in the 1st Ohio Volunteer Infantry and was in the midst of the bloody battle at Missionary Ridge, in November 1863, where he was mortally wounded.
Gairich, Larry. Chuck's uncle served during World War II in Alaska with the U. S. Army.
Gerds, Donald. Our brother-in-law served in Korea with the U. S. Marines during the "police action" there. Don was one of many American veterans who returned to Korea to commemorate the 50th anniversary of that conflict, visiting the Panmunjom armistice site in July 2003.
Green, John. Chuck's g-g-g-grandfather served in the American army during the War of 1812, probably enlisting in Virginia, according to his daughter's autobiography.
Irvin, Samuel. Chuck's g-g-g-g-grandfather enlisted in Revolutionary forces in the Carolinas and fought in the battle of Cowpens.
Langton, James C. Jeanette's great-grandfather served 3 years in the 49th Pennsylvania volunteer infantry, serving in several major campaigns and taking part in the defense of the capital along with Chuck's great-grandfather.
Langton, John S. and William H. James C. Langton's two younger brothers both enlisted in volunteer units in Mifflin county, PA, at the beginning of the Civil War. John was a member of the Logan Guards, one of the first units which rushed to defend Washington, DC, after Fort Sumter was fired upon. William enlisted in the 46th Pennsylvania volunteer infantry, serving during nearly the entire war and participating in several major battles.
Langton, McConnell C. "Mack". Jeanette's grandfather was a Private in the 1st Colorado volunteer infantry during the Spanish-American war. While in the Philippines, he contracted malaria which led to his death in 1904 when he was only 29 years old.
Marangi - Max, Walter, Leonard and Stan. All four of Jeanette's Uncle Johnny and Aunt Emily's sons were on active duty at the same time during the Korean conflict. Max was a career Marine and Walter a career Army man; both also served our country during World War II. Walter had the misfortune to be wounded during his first day in action in Korea. Leonard served aboard USS New Jersey (BB-62), which was bombarding the Korean coast not far from where his brothers were serving.
Michelsen, Harry. Chuck's uncle was a U. S. Navy SeeBee during World War II, taking part in the construction of such Pacific military bases as the one at Ulithi Atoll.
Perry, James. Chuck's great-grandmother's brother was a volunteer who crowded several major battles into his 100 days of service with the Union army in 1864.
Perry, John Lane. James' brother enlisted in the 4th PA Cavalry in 1861 and took part in most of the Army of the Potomac's battles during nearly four years of service. He was imprisoned briefly at the infamous Libby prison in Richmond and, in the closing days of the war, was wounded during the pursuit of Lee's army towards Appomattox.
Plumb, Fayette Rumsey II. Chuck's uncle was a Chief Aviation Metalsmith aboard aircraft carriers in the U. S. Pacific Fleet during World War II.
Seward, Paul. Chuck's great-grandfather's brother enlisted in the Army along with all the other members of the Bloomington Mechanics Band. It is likely his unit never reached the combat zone during the brief Spanish-American war.
Seward, W. Austin. Chuck's grandmother's brother served with the Rainbow Division in the American Expeditionary Force in France during World War I.
Shaver, John. Jeanette's g-g-g-grandfather served with a Pennsylvania unit during the Revolution. He was allegedly a Major at the age of 17.
Smith, Stephen. Chuck's g-g-g-g-grandfather served with several militia units in Northumberland county, PA, during the Revolution.
Thomas Todd. Chuck's g-g-g-g-g-grandfather served with American forces in North Carolina during the Revolution. He's buried in Gilgal cemetery, in Lawrence county, Indiana.
Walker, Charles Edward. Chuck's grandfather enlisted in Bloomington's military unit, Company H, at the outbreak of the Spanish-American war. His unit was still in the U.S.A., awaiting orders to join American forces in Cuba, when hostilities ended.
Walker, John Wesley. Chuck's great-grandfather served in an Indiana Volunteer Infantry regiment which took part in the siege of Vicksburg in 1863.
Walker, John William. Chuck's mom's first cousin was a USMC aviator who served during three wars. He saw combat duty during World War II and Korea and served on the home front during Viet Nam. He flew such combat aircraft as the AD5, F4U and F8F, both off carrier decks and from land bases.
Walker, Dr. Jon Allen. Chuck's cousin was a U. S. Navy dentist who was stationed at Yokosuka and Alameda during the Viet Nam conflict.
Walker, Norman. During all conflicts, reporters accompany the troops into battle and share the same hardships and dangers. Chuck's grandfather's younger brother was in México as an Associated Press reporter during and after the Revolution and during General Pershing's punitive expedition against Pancho Villa. He is said to have been a close acquaintance of Pershing, Villa and other important figures of those turbulent years.
Walker, William Wesley. Chuck's uncle served in the U. S. Army Air Corps on the home front during World War II. We remember him coming to visit us in Tucson while stationed at an air base near Yuma, AZ.
Warden, Wayne. Chuck's mother's cousin Marilyn married a career U. S. Air Force officer who had a long and distinguished career, which is barely touched upon in his obituary.
Wasserman, Henry. One of Jeanette's grandfathers enlisted in the 3rd Missouri volunteer infantry during the Spanish-American war. Like Charley Walker, he didn't leave the United States. The war was over too soon for his unit to be sent overseas. Jeanette's other grandpa, however, had quite an interesting time in the service during this "splendid little war".
Winans, 7 brothers. These are some distantly-related Winans kin who all enlisted in the Union army during the Civil War. We heard about them from a cousin and found their story sufficiently interesting to devote a whole page to them.
Winans, Frazee Marsh. Chuck's g-g-grandmother's brother. A West Point graduate, he was a Captain in the 15th U.S. Infantry during the Mexican War and a Lt. Col. in 7th Michigan Infantry during the Civil War. He may have left behind memoirs of his military service. The Senator John Heinz Pittsburgh Regional History Center's archives include "Frazier March Winans, Papers, 1847-9, 1851, 1861. The papers relate to Winan's military service in the Mexican and Civil Wars."
Winans, Samuel. Chuck's g-g-g-g-grandfather enlisted in the Continental Army in New Jersey. He is said to have offered the toast at the 4 July 1827 Independence Day celebration in Miami county, Ohio: "The Star Spangled Banner, Long may it wave, O'er the land of the free and home of the brave."
Young, Tony. Chuck's cousin was a U. S. Coast Guard officer during the Viet Nam conflict.
This page was last updated 5 Mar 2018.