Marvin and Alice Carey
Marvin Carey, who is my father's first cousin, and his wife Alice, were among the wonderful relatives with whom I got acquainted during my family's cross country vacation trips in 1949 and 1953. I can remember stopping off in Springfield, OH, on my way to enter the Navy in 1958, and shooting hoops with him in the gym at Snowhill School. We lost touch for awhile but, thanks to my mother's keeping a complete and accurate address book, began corresponding in the 1980's. When I visited him and Alice in 1993, they had lost none of their enthusiasm for life or interest in education. Both lived to "ripe old ages" and I only wish I had had more opportunites to see them while they were alive.
This article, from the 5 Feb 2001 issue of the Springfield News-Sun, is a better tribute to Marvin Carey than I could ever write.
Throwback thrown back into old role

by Tom Stafford

Even for a lifelong educator like Marvin Carey, it was a class move.

The first principal of Snowhill Elementary had returned to the school last Monday to answer questions about its early days.

And there, in front of a gymnasium full of students, Carey listened as a member of the student council dutifully read a potentially disarming query:

"How old are you?"

The adults in the room smiled and the children innocently awaited the answer. But Carey? He was working.

"I was 38 years old when I came here, and the building's 50 years old. So how old am I?"

The answer: Not too old to teach children.

The son of a Quaker preacher, Carey came to Springfield in 1931 and entered Wittenberg College, wanting to be a coach.

"The tuition was $120 a semester, and I got it for half of that because dad was the pastor of a church," Carey said. "And I had a hard time finding $60."

When it got even harder the second year, one of his instructors, Thelma Dunn, suggested Carey consider becoming an elementary school teacher. Men were needed, and he could finish sooner through the Normal School.

With the help of English teacher Rose Cadwgan -- "I painted her bathroom so many times, I was ashamed of myself" -- Carey made it.

At graduation, "nobody knew I had patches on my pants, because I had that robe on," he said. And the next year, he patched together a living substitute teaching for $3 a day. Only the following fall did he earn the privilege of facing 54 youngsters in a third and fourth grade for an entire year at Springfield's Southern School in exchange for $675.

"I remember we had a couple of earthquakes when I was there," Carey said, quakes that left a gap between the floor and wall of the building. His wrist watch disappeared down the crack one day during a timed math test. "So, naturally," said Carey, "the whole testing program came to a screeching halt."

But not for long.

Carey sent some students to the corner store to get chewing gum and instructed the class to chew it "until the sweet is gone." He then collected the wads, stuck them en masse to the end of a yardstick and fished the watch out of the crack.

Math problem solved.

There seemed no such easy solution to the numbers driving the Depression-era teachers strike that lasted nine days the next year, a strike Carey entered with four cents in his pocket. But a levy was passed, and Carey went on with his career. He became a traveling principal of sorts, visiting Northern Elementary School in the morning and Emerson in the afternoon, then, when an opening came, moving to Western School to teach sixth grade while being its principal.

"I just loved that place. I was 10 years there, counting three years I was off in the Navy," he said.

Later, Superintendent E. E. Holt -- whom Carey called "the best thing that ever hit this town" -- tapped him to be principal at the new Snowhill school.

The first day of school, Jan. 29, 1951, was snowed out.

Carey recalls with fondness the first student he let into Snowhill School the next day, a fourth grader named Bill Stewart, who had arrived early because his parents both taught school and picked out a seat near a picture of a paramecium.

"I called him Little Bill," Carey said. "Now he's a doctor out west."

In like fashion, Carey has seen Dean Anstine, his fourth and fifth grader at Kenwood Elementary, turn into a minister and Ron Murphy -- the kid Carey enjoyed shooting baskets with on the muddy playground at Western School -- become head football coach at Wittenberg.

He's watched boys brought to the office for smashing peanut butter sandwiches become attorneys. And he's grieved for students, among them a favorite who came home to his family to die of AIDS. Said Carey, "I never see the one brother that I don't think of the other."

His oddest memory?

Discovering that ink was disappearing more quickly from Robert Knox's inkwell at Southern School not only because Robert had such beautiful penmanship but because he had a taste for ink: He drank it, and a purple tongue was the proof.

Carey's lone regret?

Accepting $100 more years ago to leave the classroom: "That's where all the fun is."

Carey said he has had a partner all the way, his wife Alice.

"She deserves a medal," he said. "Thirty-seven-and-a-half years, and any time there was a PTA meeting -- any school I was teaching -- she would go."

She was at Snowhill Monday, too, on a day when her husband, walking the halls again, found himself both transported back and taken aback.

He was hopelessly outgunned when second grader Alex Merz looked at him with an admiring smile and said, "I wish I was a student when you were principal here."

And moments later, student council members Cassandra Lloyd and Anna Jean Petroff did him a greater honor than they knew when they asked permission to shake his hand.

Such treatment "kind of gets you choked up," Carey said as the girls were receding down the hall.

"I'd cry," he added, crafting a second answer to that disarming question asked earlier about his age. "But like Adlai Stevenson once said, 'I'm too old to cry.'"
While attending Wittenberg College, now known as Wittenberg University, Marvin was on the baseball team. He pitched and played shortstop. Although he never made it to the major leagues, he once played in the home of the Cincinnati Reds, Crosley Field, against the University of Cincinnati. His first start as a pitcher was a 12-6 complete game victory over Denison U. in 1935. In 2002, the Wittenberg coach invited Marvin back to his alma mater to throw out the first pitch for another game against Denison. He strode to the mound in his Wittenberg letterman jacket and received a standing ovation from the players of both teams when he delivered a pitch, only slightly low and outside, into the catcher's mitt. Way to go, Marvin!
During the summer of 2006, Tom Stafford got back in touch with Marvin to obtain information for another News-Sun article which is now a part of our collection of articles by, and about, family members. When I called Marvin to thank him for clipping and mailing us this article, I could tell he had enjoyed being interviewed for it. He went on to talk about the old days along Bloomfield Avenue in Urbana, of playing in Sam Carey's greenhouse as a boy, and how once his cousins, Sam's boys "Howard and Claudie", had chased him and his brother Milford around inside that all-glass structure, merrily shooting at them with BB guns. We both had a good laugh at the absurdity of that escapade.
Recently, we've been in touch with Marvin's sister, Edna (Carey) Robinson, who sent this picture of herself and Marvin on his birthday:
In 2012, Edna wrote to us:
Patty [Edna's daughter] and I went to a party they had for Marvin in September for his 100th birthday. For being 100 he was pretty sharp that day. In fact, the picture here may have been from his 100th birthday instead of his 99th. I'm not sure what blouse I had on that day, but I remember he had yellow on. I'll check later. Have a picture of Patty & I both with him. I just don't know how to pass pictures on to anyone, so will have to get Patty's help. Haven't seen him since, but will get down soon. It's about 1 1/2 hours from here. Marvin lived with us during most of the time he was in college.
Edna, we look forward to receiving more photos and reminiscences from you to share with our Family Album readers.
---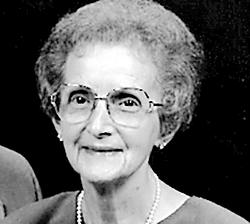 Alice's obituary was published in the Springfield News-Sun on 23 October 2011:
CAREY, Alice Marie (Sterling) 95, of Springfield, went home to be with the Lord on Friday, October 21, 2011 in the Oakwood Village. She was born on October 4, 1916 in Jefferson County, Ohio the daughter of Harry W. and Louise V. (Sponhaltz) Sterling. She retired from the Clark County Board of Elections after numerous years of service and was a longtime member of the First Church of the Nazarene. She is survived by her husband Marvin L. Carey of seventy-nine years, numerous nieces and nephews, and sister-in-law, Edna Marie Robinson. She was preceded in death by her parents and five sisters: Grace Harbourt, Dorothy Welling, Audrey Cummins, Louise Bunish, and Jeannie (Berg) Bay. A celebration of her life will be held on Tuesday, October 25, 2011 at 1:00 p.m. in the First Church of the Nazarene, 901 East Home Rd., Springfield, with Pastor Keith Sarver officiating. In lieu of flowers memorial contributions may be made to the church. Burial will be in the Ferncliff Cemetery.
---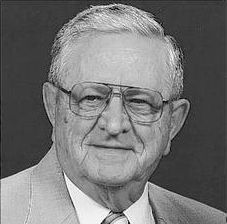 Marvin's obituary appeared in the same newspaper 19 March 2013:
CAREY, Marvin Lester, 100, of Springfield, died Monday morning, March 18, 2013 in Oakwood Village. He was born in Urbana on September 15, 1912, the son of the late Rev. Charles and Daisy V. (Guthrie) Carey. Marvin served his country in the U.S. Navy during WWII. He received his Bachelors of Education from Wittenberg College and his Masters of Education from The Ohio State University. He taught in the Springfield City Schools for 37 ½ years, having taught at Northern, Emerson, Kenwood, and Western Elementary Schools, was the first principal at Snowhill Elementary, and concluded his career as principal at Simon Kenton Elementary. Marvin was a devoted member of First Church of the Nazarene and was an avid hunter, fisherman and golfer. He was preceded in death by his wife of 79 years, Alice Marie (Sterling) Carey on October 21, 2011 and four brothers, Milford, Kenneth, Herbert Carey, and an infant brother.1 He is survived by a sister, Edna Marie Robinson and numerous nieces and nephews including Herbert (Jane) Carey Jr. of Urbana, Vickie Nichols of Springfield, Jeff (Vicki) Berg of Springfield, Don (Kathy) Cummins of Urbana, and Becky Carey of Springfield, and a lifelong family friend, Doris Ross. Pastor Keith Sarver will preside at Marvin's funeral service which will be held at 2:00 p.m. Wednesday in First Church of the Nazarene, 901 E. Home Rd. The family will receive friends one hour prior to the service. Burial will be in Ferncliff Cemetery. In lieu of flowers, memorial contributions may be made to the church.
---
1 As Edna later informed the family via e-mail, this obituary omits Marvin's sister, Florence (Carey) Grafton, who also preceded him in death. The obituary was apparently prepared without consulting Edna or other close relatives. Marvin had two brothers who died in infancy.
This page was last updated 23 Dec 2016.