John F. and Sarah Walker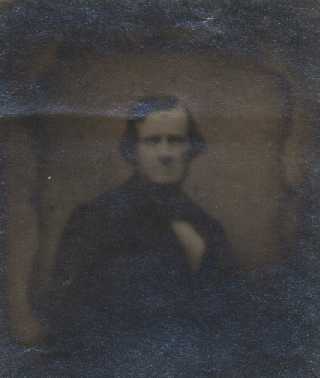 I am grateful to my uncle Bill Walker, and to my great uncle, George V. Walker (1871-1958), for starting me on a quest for more information on my great-great-grandparents...
John Finley Walker was born in Kentucky 4 Feb 1812. He moved to Indiana as a young man and learned the printer's trade. The 1840 U. S. census for Lawrence county lists a "John F. Walker" as head of a household which includes one male under 5 (William?), one male 20-29 (John himself), one female 15-19 (???), and one female 20-29 (his wife Sarah). They are on page 232 along with several Heltons and Woolerys. No information is given as to the township of residence. John's family is listed in the 1850 census for Polk township, Monroe county, IN. His occupation is given as "farmer". The birth dates of the first five children below are based on that census record. See my great-grandmother's photo album for pictures of John and two of his children -- one of a baby labeled "Charles W. Walker", and one of a young adult marked "William Walker" which may have been taken around 1860.
Marriage and children. John F. Walker's wife, my great-great-grandmother, Sarah Green, was born in Washington county, IN, 11 Apr 1818. She and John were married there 29 Mar 1839. They lived in Lawrence county, Indiana, then came to the Bloomington area in the 1850s. They had the following children:
William G. Walker, born about 1840.
John Wesley Walker, my great-grandfather, born 16 July 1842 in Heltonville, Lawrence county, IN.
George Washington Walker, born 13 Sep 1844, in Lawrence county.
James Daniel Walker, born 1846 or 1847.
Rachel C. Walker, born about 1849.
Hiram Walker.
Charles Walker.
Mary Walker.
Rolla Finley Walker, born 23 May 1861, in Bloomington.
Hiram, Charles and Mary apparently were born and died between 1850 and 1860, since none of them are listed with John and Sarah in the 1860 census, which listed John as "printer". Nor was Rachel listed in 1860. William, George and James lived to adulthood. John W. lived until 1920. Rolla, who died in 1923, worked 30 years for Showers Bros. furniture in Bloomington and served as a Monroe county trustee for several years.
The Walker family's 1870 census record includes George, James and Rolla, with John Wesley's family on the following lines, while its 1880 record shows only George and Rolla living with John and Sarah. John F. is listed as John W. in 1880, apparently through confusion with his son, who was listed on the same page once again.
I couldn't identify a William Walker in either the 1870 or 1880 census who might be John and Sarah's son. The Rose Hill cemetery records list the burial of a 44-year-old George W. Walker who died 14 Nov 1888 who would seem to fit into this family. George's biography appeared in Counties of Morgan, Monroe and Brown, Indiana Historical and Biographical, by Charles Blanchard, published by F. A. Battey & Co, 1884, page 598:
GEORGE W. WALKER, a native of Indiana, was born September 13, 1844, in Lawrence County. He is the third son of John F. and Sarah (Green) Walker, natives of Kentucky and Indiana respectively. He was reared in Polk Township, Monroe County, and acquired a good common school education. When ten years of age, he came to Bloomington with his parents, and here entered the public schools, through which he passed with great credit. About 1856, he commenced learning the printer's trade, continuing to work at it until 1861. He was assigned the position of Deputy Postmaster under William M. Tate, and has since been seen at his post, faithfully discharging the duties devolving upon him. Mr. Walker is a member of the I. O. O. F., and is identified with the Methodist Episcopal Church, in which he is an active as well as an influential member. Politically, he is a Republican, a stanch worker and highly esteemed by the citizens.
The 1880 census lists a 32-year-old James D. Walker living in nearby Shelbyville whom I believe to be John and Sarah's son. His wife's name agrees with an item in the Bloomington Progress of 4 June 1873, which lists a marriage between James Walker and Lillie Wood as having occurred 29 May 1873. James may have died in 1891 if the following front-page news items refer to him:
Bloomington Telephone, 10 Jul 1891:

Rolla Walker went to Indianapolis, Wednesday, to visit his brother who is very sick with something like dropsy.

Bloomington Telephone, 23 May 1905:

HONOR THEIR DEAD

Red Men Memorial and Decoration Exercises Sunday Afternoon

Arizona Tribe, Red Men, held an appropriate memorial service yesterday and decorated the graves of their dead brothers... The names of the deceased members with the year of their death are as follows:

...
James D. Walker--1891
...
Two of John and Sarah's children may have attended Indiana University or its prep school. The following list is taken from Indiana University, Its History, 1828-1890, Theophilus A. Wylie, 1890, which doesn't distinguish between IU and prep graduates:
William G. Walker, 1860
James D. Walker, 1867
Politics and printing. John Finley Walker was a Whig and later a leader in the Republican party. He bought a controlling interest in the weekly Bloomington Republican in 1859 and sold it to William Gabe in 1867. He had owned and edited the Bloomington Times for three years before. He printed and was editor-owner of the Ellettsville Republican1 in the 1870's for two years. It was noted that he had served longer in the printing business than anyone in Indiana; the Times was the largest paper in Bloomington in its day. As an ardent pro-North editor during the Civil War, John F. Walker had to defend his print shop from the southern Copperheads at shotgun point.2
J. F. Walker was one of many printers mentioned in a lengthy article on the front page of the 7 March 1913 Bloomington Evening World:
Prepares History Of Bloomington Papers
Their Record Shows Many Interesting Facts Concerning Town

By Emerson T. Gause

For several months members of the History department of the University have been engaged in collecting material for the state history that is to be published. This work will comprise several volumes and will be an interesting feature of the State Centennial in 1915...

Interesting Facts

Probably in no other city of the state have the facts in regard to the different newspapers, been found as interesting as here in Bloomington. There are two peculiar characteristics in regard to the former journals of Bloomington and Monroe county; first up until 1877 few of the papers existed more than five years, the majority dying at the end of the second or third year; and second, the frequent changing of the name, almost without exception the name being changed upon its sale to a new person...

In 1850 Brandon and C.G. Berry began publishing the Independent Tribune and the Monroe Farmer. This paper lived and prospered for two years, until the founding of the Religious Times, by Brandon and Eli F. Farmer. Very little encouragement was given this journal by the community, and for this reason the name was shortly changed to the Western Times. Again in 1854 Brandon and Farmer sold the paper and the plant to J.F. Walker and L.M. Demotte, who, not to be outdone by their predecessors, dropped the Religious and called it the Times.
The following is from page 301 of History of Lawrence and Monroe Counties, Indiana, Indianapolis, Indiana, B. F. Bowen & Co., 1914:
In 1854 A. B. and J. C. Carlton founded the Bloomington News Letter, a Democratic organ. Howard Coe bought this paper in 1856 and commenced to issue a seven-column paper, called the Bloomington Republican. Again the paper changed hands, and Clement Walker3 and W. S. Bush assumed control in 1858. Subsequently, Bush severed his connection and J. F. Walker became a working partner. During the years of the Civil war, and just after that conflict, this paper had a very large, profitable circulation. While the Republican was in existence many attempts were made to found successful Democratic papers, but without avail, such attempts proving but loss and disappointment to their owners.

In 1867 William A. Gabe began the publication of the Republican, and later changed its name to the Republican Progress, and it existed until in the nineties...
The Bedford Star, in Lawrence county, states in its 4 Aug 1877 edition that "John F. Walker, of Bloomington, claims to be the oldest printer in the state. He don't say whether or not he is the richest."
In the Bloomington Courier for 18 Dec 1880, a "where are they now?" article giving the whereabouts of many early Bloomington newspapermen states that "John F. Walker is at present employed in this office and is probably the oldest printer in the State who is still in the business."
Obituaries. John Walker's obituary, from the Bloomington Courier of 25 June 1881, describes his personality and final illness in greater detail than would be done today:
John F. Walker, a well-known and highly respected citizen, died at his residence in Bloomington, on Saturday last, in his 70th year. Some three years ago Mr. Walker noticed a small sore on the back of his left hand, which in time developed into a malignant cancer. Although intensely painful at times, it did not prevent him from working at his trade -- that of a printer -- till quite recently. The diseased hand became so intensely painful that an amputation was decided upon, with the hope that it might give him relief. On Friday morning Drs. McPheeters, Bryan and Maxwell4 amputated the arm midway between the shoulder and elbow. Several hours afterward the stump began to swell, the arteries opened, and it was with the greatest difficulty that they were again tied. He did not rally, and death ensued at 11 o'clock Saturday morning.

Mr. Walker had lived in Monroe county about thirty-five years, a considerable portion of the time being engaged in the publishing business. In partnership with Clement Whitaker, he was editor of the Bloomington Republican from 1860 to 1867. He was an honest, upright man -- one who despised shams and hypocrisy -- but trusted too much in men who had only their own ends in view. He had always been a faithful and consistent member of the M.E. church, and if men are rewarded for deeds done in the body, John F. Walker will occupy as exalted a position in the world to come as any man who has lived.
Here's another obituary which appeared the same day in the Bloomington Weekly Telephone:
DEATH OF THE OLDEST PRINTER IN THE STATE, HAVING WORKED AT THE CASE FOR OVER 50 YEARS

Died--In Bloomington, Ind., June 18th, 1881, John Findley [sic] Walker, aged 69 years, 4 months 14 days.

After the toils and labors, the ups and downs of a life of over half a century, near three score years--has been passed in a quiet, unassuming, yet influential way, overshadowed with admiration and respect, is there words more pleasing to the departing soul than: "A good name is rather to be chosen than great riches"? John Findley Walker was a living example of these words. Sixty years of continuous hardships ended an earthly life without worldly goods, but his name was the insignia of goodness for no man ever had aught to say against his character while honor and respect was the expression from every hand.

A Kentuckian by birth, being born February 10, 1812, he carried with him through life that honor from the old Commonwealth that rarely ever fails to produce a life of uprightness and truth. In 1832 he moved to Salem, Indiana, and while there engaged in the trade of a printer to which trade he has been a faithful servant ever since--over fifty years, being perhaps longer a printer than any other man in Indiana. It was while at Salem the cholera5 raged through the North with such fatal results. Mr. Walker escaped, but his roommate was sick a few hours, died and was buried before Mr. Walker knew of the sad affair.

In 1839 he married Miss Sarah Green, an esteemable lady of Washington County, Indiana, who survives him. Having become a printer of some experience, in 1845 he started a small paper at Bedford, the Bedford Sun, which received his attention for eleven years when he severed his connection and moved to Polk Township, Monroe county. While living here the new Republican party made its first canvass, and Mr. Walker, always a Whig before now owing to an inborn hatred of slavery, became a zealous supporter of the new party, and through his influence persuaded two neighbors to vote with him, these three being the only Republican votes cast in that township. Since this time he was always a Republican, and it was his boast that he never scratched a ticket.

He lived in Polk Township only a short time when he moved to Bloomington where he resided up to the time of his death. Eli P. Farmer started a paper, the Religious Times, and Mr. Walker attended to the publication department; but desiring to be a journalist, he quit Farmer's paper and for a time was a partner with L. M. DeMotte and assisted in editing the Western Times. Just before the war a half interest of the Bloomingotn Republican was purchased from a Mr. Bush and up to 1867 the paper was published by Walker & Whittaker when Mr. Walker severed his partnership and up to last February has been working at the different city offices.

Religiously, he was a man of strong convictions, a despiser of hypocrisy, and a lover of true Christian manhood. At the age of fifteen he became a member of the Presbyterian Church, but afterwards found the Methodist faith to be his choice, and for over forty years has been a faithful laborer in that denomination. Always on the side of right, he was a prohibitionist in practice and in theory, ever an upholder of all that seemed good to him and ready to condemn the wrong whenever or wherever found. When a journalist, his pen always pointed to the right.

The immediate cause of his death was a cancer that had eaten into his hand making amputation necessary. The city physicians performed the operation Friday at noon, the arm being taken off just above the elbow. The stub was carefully bound, and up till morning seemed to get along well when swelling set in and death claimed him another victim at 1 o'clock Saturday afternoon.
Sarah's obituary appeared in the Bloomington Telephone of 6 Sep 1898:
Death of Mrs. Sarah Walker

Sarah Walker, one of the oldest and best known residents of Bloomington, died last night at 11 o'clock at her home on east 8th street. She had been an invalid for 9 years, the result of a stroke of paralysis, and in all that time she received the most devoted and loving care from her sons Wesley and Rolla Walker. Mrs. Walker was a loving character, and though a sufferer for so long bore her illness with fortitude.

Mrs. Walker was a native of Washington county, where she was born April 11th, 1818. Her husband, John F. Walker was one of the early editors of Bloomington and influential citizens. Nine children were born to them, all of whom are dead but Wesley and Rolla Walker. Mrs. Walker was a devout Methodist from childhood and goes to a certain reward of eternal happiness.

The funeral will be at the last residence at 2:30 tomorrow in charge of Dr. Doddridge assisted by Rev. W. F. Reed and Rev. T. J. Clark.
John Walker's origins. While Sarah Green's autobiography below provides a fair amount of information on her parents and birthplace, we have no such information for her husband. We only know when John F. Walker was born and that he arrived in Indiana from Kentucky in 1832. We have no information as to where in Kentucky he was born, or as to the identities of his parents, except that they are said, in the 1880 census, to have been born in Virginia.
I've always speculated, given his middle name of Finley, that that could have been his mother's or grandmother's maiden name. It became customary early in the use of middle names to give the first male child a middle name reflecting his maternal heritage. Other children were often given, as middle names, the surnames of other family members.
In the 1810 United States census, there are no less than 152 Walker households in the state of Kentucky, with the largest concentration being in Adair county, with 11 families. Coincidentally, a fellow Walker researcher located early Kentucky marriage records which list the union of William Walker and Mary Finley 11 Dec 1806 in that very Adair county. This marriage, in fact, was the only Walker-Finley nuptials she could find in the right time frame in KY, NC, TN, VA, or WV, with the possible exception of a David Walker who married a Phoebe Finley 25 Sep 1797 in Davidson county, TN. There were 28 Finley households in KY, and several others with variant spellings of the surname, none of them in Adair county.
If the William and Mary who were married in Adair county are indeed our ancestors, we can understand the repetition of the first name William through several generations of our family, including...
A household headed by William Walker was enumerated in the town of Columbia, Adair county, KY, in the 1810 census as follows:
Name of
Head of Household
MALES
FEMALES
0-9
10-15
16-25
26-44
45+
0-9
10-15
16-25
26-44
45+
Wm. Walker
1
0
0
1
0
1
0
1
0
0
In the 1820 census, we find the following family at an unspecified location in Adair county:
Name
Males
Females
0-9
10-15
16-18
16-25
26-44
45+
0-9
10-15
16-25
26-44
45+
Wm. Walker
1
0
0
0
2
0
0
0
0
1
0
If the two William Walker families listed in the 1810 and 1820 censuses are the same people, and if their data were recorded correctly, what inferences can we make?
William was born some time between 1776 and 1784.
His wife was born between 1785 and 1794.
They had a boy and girl before the 1810 census, both of whom were no longer with them in 1820.
They had another boy after 1810 who was still around ten years later. This could be John!
There was an extra male adult in the family in the latter year.
In the 1830 census for Adair county, we can no longer locate a William Walker, but in its very first page, we find:
Names of
Heads of Families
MALES
FEMALES
0-4
5-9
10-14
15-19
20-29
30-39
40-49
50-59
60-69
70-79
80-89
90-99
100+
0-4
5-9
10-14
15-19
20-29
30-39
40-49
50-59
60-69
70-79
80-89
90-99
100+
Mary Walker
0
0
0
0
0
0
0
0
0
0
0
0
0
0
0
0
0
1
1
1
0
0
0
0
0
0
If any of these 3 women was the wife listed in William Walker's family in 1810 or 1820, we might go out on a limb once again and draw more inferences:
William Walker died between 1820 and 1830.
His widow Mary was now living with two female friends or relatives.
Their son struck out on his own, alone, to make his way in the world.
At the time of the 1830 census, young John F. Walker was living alone, or with relatives, somewhere between Adair county, KY, and Washington county, IN.
Could Sarah's family have been known to John's in Kentucky? Possibly. Green is almost as common a surname as Walker, with 110 households throughout Kentucky in 1810, including 5 in Adair county. A total of 8 households headed by a John Green were scattered around the state, none of them in Adair county.
Great-great-grandma's Autobiography
Among the many items I found in my grandmother's scrapbooks was a crumbling, discolored piece of newsprint with some rough notes scribbled on the back in pencil. They appear to be a sketch of the life of my great-great-grandmother, Sarah (Green) Walker. I don't know whether she wrote them herself or dictated them to another person. They must have been written in the last two years of her life. The latter part of the notes, in purple here, are in a different handwriting, may have been written at a later date, and seem to pertain to her son, Rolla. Perhaps it was Rolla who asked his mother to jot down some details of her life. I've transcribed this document as best I could here:
Born in Washington County ten miles north of Salem.6 Daughter of John Green and Rachel Green (whose name was Rachel Collier). There was thirteen children Washington, Jane, William, Polley, Sarah, Hessie (or Ester), Daniel, Betsie, Nancie, John & Rachel; Emily, Francis.

John Green died in 1833 in Washington Co at the old home of Coleria.6 He was a native of Virginia moving here in the Year of 1817, and was a soldier of the war of 1812. Farming was his principal occupation, and teaming, hauling goods from Louisville to many northern points, Greencastle, Vincens, Terre Haute.

Sarah Green was married to John F. Walker in ([blank]) at the old home place in Washington County. Sarah Green joined the Methodist Church at Bedford, Ind., about 1830. Resided in Pope Township, Monroe Co., removed to Bloomington in August 1855.

To J. F. Walker and Sarah Walker was born 9 children William, Wesley, George, James, Rachel, Hiram, Mary, Charley, and Rolla, and only 2 now remaining Wesley and Rolla.

Trustee Bloomington Tp
6 years
T... Monroe Co
4 years
Member of IOOF
" " RP7
" " Elks
" " Reh...8

Born May 23/61
Joined Church at early age
Methodist Church
Married to Bell Wood9
Feb 2/1896
---
1
John F. Walker's rôle in Ellettsville history is mentioned in a 1932
article
in the
Ellettsville Farm
newspaper.
2
I had wondered if uncle George's story of his grandfather defending his print shop with a shotgun might be an exaggeration until I read the following item from the 2 Jul l863 issue of the
White River Gazette
, in Worthington, Greene county, Indiana:
We learn from Dr. Sam. Archer who has just returned from Bloomington that the 7lst Indiana Regiment is encamped at that place, together with one battery, and over one hundred cavalry -- making in all about twelve hundred men. As long as the soldiers remain at that place, the southern sympathizers in this county will keep quiet. If they don't some of them might get hurt.
3
I don't know if
Clement Walker
was any relation to John. Walker is a very common surname and there have always been a number of Walkers in Monroe county.
4
My cousin
Howard Maxwell
says this was
Dr. James Darwin Maxwell
(1815-1892), a son of
Dr. David Hervey Maxwell
, Bloomington physician and surgeon, and founder of Indiana University. Howard also identifies one of the other doctors as
Dr. Joseph Glass McPheeters
(1811-1888), who married
Clarinda Dunn
, Darwin's first cousin. Howard and the Maxwells and I all trace our ancestry to the
Brewster sisters
who were among Bloomington's pioneer settlers.
5
A great cholera epidemic swept the United States in 1833.
Read
a horrifying description of the effects of the epidemic on Lexington, KY.
6
Sarah's birthplace is in Monroe township, Washington county, on the edge of Jackson county. Salem is the Washington county seat.
7
Could it be
KP
- Knights of Pythias?
8
This illegible entry could be
Red Men
.
9
Although the name appears to be
Wood
, book 9, page 101 of the IN marriage index lists a marriage of
Rolla F Walker
to
Belle N Ward
on 2 Feb 1896; Rolla's biography, from a county history, gives her name as
Margaret Bell Ward
.
This page was last updated 28 Mar 2015.