Uncle Fay
On 2 Dec 2011, I lost my uncle Fayette Rumsey Plumb II. I have many fond memories of him which I will include in this page. Please send me your reminiscences and stories and photos, and I will add them to my own. Here's how I remember Fay from our first meeting, some time during World War II, when he was a young sailor calling on my Aunt Pat at Grandma and Grandpa's home in Santa Monica: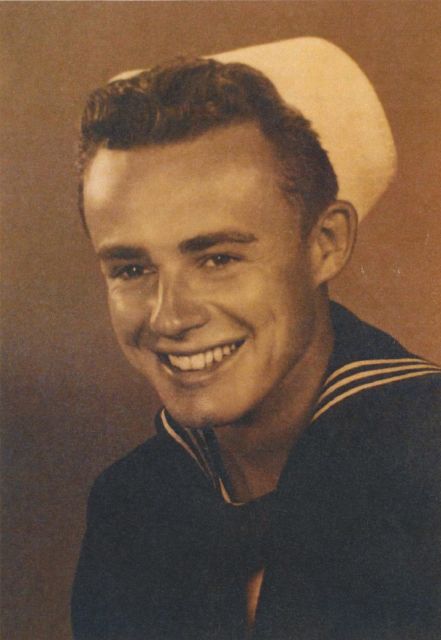 Pat sent all of us the following e-mail after Fay's memorial service:
Saturday morning with all of ours here, Fay's ashes were interred in our Church Cemetery, near friends and aquaintances, it turns out. A Naval Officer was present, and did the formal flag-folding, presenting it to me, and then a Bugler played Taps. Very dignified and moving.

Then, there was a Memorial Service in the Church, with light-hearted talks by our daughters, and two appropriate poems read by our Poet-Grandson, Colin Cheney, who had moved up his trip home at Christmas from Bangkok to be present. The lovely Naval Hymn was sung as the Service concluded.

There was a delicious lunch served in our handsome "Guild Room" at the Church. Claire Cheney, our foodie Granddaughter did the refreshments with the help of her mom, Marilyn.

John Plumb, Fay's nephew, collects Plumb Tools, and had a display of them in the room. I was overwhelmed at the turnout of friends and family, but the biggest surprise of all was Bill Carey, and son Craig, flying in from California and finding their way to the Church. (Alice Pollard, it's at those reunions, at your house, that I got to know them better.)

Tony Young and wife Sue came, and Patty Giles, Gary [Imler], and Alex Giles, and latter's wife, Danielle, were there...

Thank you all for your kind words and support.
Cousin Patty (Capp) Imler located Fay's obituary at philly.com:
Fayette Plumb II, 91, antiques dealer

By Sally A. Downey
Inquirer Staff Writer

Fayette Rumsey Plumb II, 91, of Blue Bell, a retired tool-company executive and antiques dealer, died of heart failure Friday, Dec. 2, at Mercy Suburban Hospital.

For 30 years, Mr. Plumb and his wife, Patricia Walker Plumb, operated Troll House Antiques in a shop in Skippack and, more recently, from their home in Blue Bell.

They specialized in American furniture, which was better crafted because it was often made with hardwoods that were not available to Europeans, Mr. Plumb told the Philadelphia Daily News in 1999.

Asked why he didn't sell reproductions, he said, "It's only old furniture that's durable. That's the stuff that improves with age, that's the stuff that takes on a rich patina."

Mr. Plumb, who learned cabinetmaking at boarding school and metalsmithing while repairing airplanes in the Navy, restored many pieces he sold. He was still working until weeks before he died, his family said.

An expert on 19th-century American antiques, Mr. Plumb gave talks at the Historical Society of Whitpain.

"He had a passion for poetry and nature, and you could still find pressed flowers among the pages of his poetry books from his school days," his granddaughter Vanessa Hartmann said. He was a master storyteller and instilled in his grandchildren a great love of narrative, she said. "Nearly all of us are writers and poets, and one is a documentary filmmaker," Hartmann said.

Mr. Plumb grew up on a horse farm in King of Prussia. He attended Episcopal Academy and graduated in 1940 from Avon Old Farms School in Avon, Conn., where he was senior class president.

He attended the University of Virginia before enlisting in the Navy.

During World War II, he served in Okinawa and in California, where he met his future wife.

After his discharge, he joined Fayette R. Plumb Tools in Bridesburg. The company, founded by his grandfather in 1870, produced hammers, axes, and other hand tools.

He retired as vice president in charge of manufacturing in 1982.

In addition to his wife of 65 years, Mr. Plumb is survived by daughters Marilyn Cheney, Patricia Hartman, and Suzanna; two sisters; six grandchildren; and two great-grandchildren.

A memorial service will be held at 11 a.m. Saturday, Dec. 10, at Episcopal Church of the Messiah, 1001 DeKalb Pike, Gwynedd, Pa. 19002.

Donations may be made to the church or to Paralyzed Veterans of America, 801 18th St. N.W., Washington, D.C. 20006.
Nephew Craig Carey, who provided the photo of Fay in his Navy uniform, saw another obituary which he was kind enough to scan and send us:
Fayette Rumsey Plumb II, Tool Manufacturer

Fayette Rumsey Plumb II, age 91, passed away Friday, December 2, 2011 after a brief illness.

Mr. Plumb was born on April 30, 1920 in Merion, PA and was raised on a horse farm in King of Prussia. He attended Episcopal Academy, and later went to boarding school at Avon Old Farms near Farmington, Connecticut, where he graduated in 1940. He was Senior Class President at Avon and distinguished himself there in sports and leadership. As a result of his inspiring teachers at Avon, he developed a lifelong love for woodworking and poetry.

Following high school, Mr. Plumb attended the University of Virginia, but after the attack on Pearl Harbor, Mr. Plumb chose to enlist in the U.S. Navy to serve his country. He quickly rose through the ranks to become a Chief Petty Officer, which was the highest-ranking non-commissioned officer position. He worked as an Aviation Metalsmith, serving as Chief of his squadron on Okinawa. He was responsible for twenty PB4Y Navy Bombers and flew on reconnaissance and rescue missions in catapult-launched Kingfisher scout planes.

In June of 1945, while he was stationed in Port Hueneme, California, he met and became engaged to Patricia Walker of Santa Monica. After he returned from duty in Okinawa and was discharged at the end of the war they were married in Santa Monica. Shortly thereafter they settled in Blue Bell, Pennsylvania, where Mr. Plumb began a career at Plumb Tools.

Mr. Plumb was of the 3rd generation of his family to work at Plumb Tools, a company that was started in 1870 by his grandfather, Fayette Rumsey Plumb. Plumb Tools manufactured hammers, axes, and other hand tools for over a hundred years in Philadelphia until the early 1980's. The factory was located on James Street alongside the railroad tracks in the Bridesburg section of the city. Mr. Plumb served as Vice President in Charge of Manufacturing until retiring in 1982, after the company had been sold to Cooper Tools. Plumb hammers and axes are now manufactured in China for Cooper Tools.

After retiring, Mr. Plumb enjoyed a second career as an antiques dealer, and as a master cabinetmaker, involved in the design and construction of fine furniture, as well as the restoration of antique furniture. He had become a local expert on 19th century American antique furniture, often appearing at antique shows or giving talks on the subject at his local historical society (the Historical Society of Whitpain). He was actively running his antiques business, Troll House Antiques, until a few weeks before he died.

Mr. Plumb was also very involved in supporting veteran's issues. He was especially concerned about the treatment of veterans returning from service with permanent injuries. He was an ardent supporter of the Paralyzed Veterans of America.

Mr. Plumb was also an active member of Church of the Messiah since 1947.

In addition to his wife he leaves three children: Suzanna Plumb of Seattle, Marilyn Cheney of Milton, Massachusetts, and Patricia Hartmann of Tampa, Florida. He also leaves six grandchildren and two greatgrandchildren.

A Memorial Service will be held on Saturday, December 10th at 11:00 a.m. at Church of the Messiah located at 1001 Dekalb Pike in Gwynned, PA. In lieu of flowers, donations can be made to the Church of the Messiah or to the Paralyzed Veterans of America, 801 Eighteenth Street NW, Washington, DC 20006-3517 (http://www.pva.org)
Many years ago, when I was not quite twelve years old, we drove across the U. S. A. to visit Aunt Pat and Uncle Fay in Blue Bell, PA. During that journey, I came down with the mumps and had to spend most of our week in Blue Bell in quarantine in a tiny upstairs bedroom. I can still remember watching from its window while Dad and Fay dug a large hole in the yard to transform a swampy creek bed into a beautiful swimming pool which I later enjoyed every time I visited the Plumbs. One of the little boys who was there that summer, and several other summers, wrote:
The one great thing that I remember besides him and Dad digging out the pool when it was still mud was...

I think it was in 1957 or maybe '59 that Uncle Fay took me down to his shop that was then located down in the basement.

(I also remember stories of another fine Uncle/Craftsman who worked in the basement... John William Walker in Tucson)

I was amazed that he would allow me to use his lathe all alone after some expert advice. He had what seemed to be an unlimited supply of great wood for turning, I'm sure it was some that was destined to be ax handles.

A great Uncle and Man — John Carey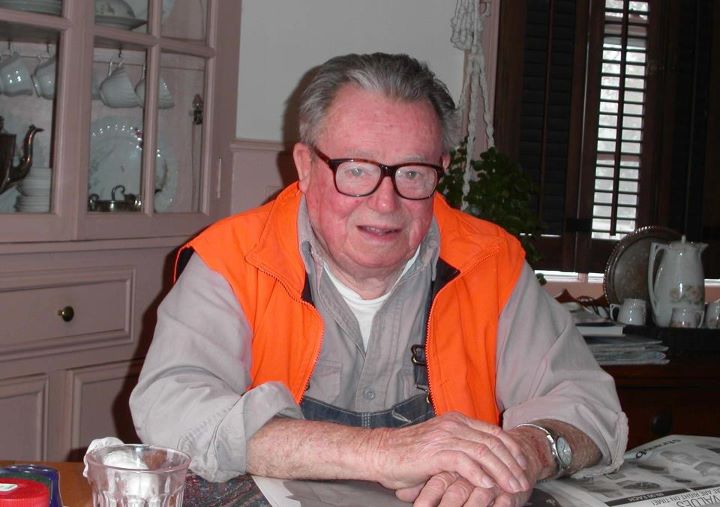 A cousin who also made many visits to Blue Bell posted this tribute and photo on her Facebook page:
My Uncle Fay died last nite. His real name was Fayette, after Lafayette, the French General who helped George Washington win the Revolution. Uncle Fay was a super story-teller, a WWII veteran (Pacific theatre), a craftsman in restoring antiques, and a super hand-drawer of maps of Philadelphia and most of the East Coast. R.I.P. Uncle Fay. — Karen Evarts
I, too, can remember navigating through some of the highways and back roads of Pennsylvania with Fay's maps. They were much better than any modern GPS!
While I was a young Naval officer stationed aboard USS Northampton in Norfolk, VA, from 1958 to 1960, the Plumbs' place became my home away from home, even though it was an eight-hour bus ride away. The Plumbs always invited me to whatever weekend parties they were attending and introduced me to a number of interesting young women.
Later on, when I resumed my Navy career aboard USS Annapolis, Pat and Fay and their girls attended the commisioning ceremony of that ship at the Brooklyn Navy Yard, where Fay had spent some time during his own Navy days. He and Pat visited us in Norfolk several times, and Jeanette and I and little David and baby Paul joined them in Blue Bell for Thanksgiving and other occasions.
After getting out of the U. S. Navy, I went to work for Univac, which by happy coincidence was headquarted in Blue Bell, about a mile from the Plumb home. After working four years at Univac's San Diego office, I was transferred to headquarters. It wasn't an easy move. There were complications disposing of our house in San Diego and acquiring a new home in Pennsylvania. During the whole time, the Plumb hospitality was unfailing. Fay and Pat permitted our family, now including Alice, to move into their home on Valley Road, where we spent several happy weeks before we finally went to our own home in nearby Upper Gwynedd township. Their swimming pool was always available to me for a quick, refreshing dip during my lunch break from Univac. The three years we spent in Pennsylvania as close neighbors to the Plumbs were a great time for all of us!
This page was last updated 2 May 2012.