James and Elizabeth Langton
Jeanette's great-grandparents were James Caldwell Langton and Elizabeth K. Sterrett. James was born in Mifflin county, PA, 5 Apr 1833, and died in Denver, CO, 13 Nov 1900. Elizabeth was born in Mifflin county, 3 Jun 1842, and died in Denver 21 Nov 1916. James and Elizabeth were married 9 Feb 1865, probably in Mifflin county.
James and Elizabeth had the following children:
Joseph N. Langton, born 5 Jan 1867, died 15 Aug 1869.
William Alison Langton, born 14 Sep 1868, in Springfield, IL, died 23 Sep 1957 in Pueblo, CO.
John S. Langton, born 18 Dec 1870, died 17 Nov 1876.
James Curtis "Curt" Langton, born 28 Apr 1873, in Seward, NE, died 20 Mar 1954 in San Bernardino county, CA.
McConnell C. "Mack" Langton, Jeanette's grandfather, born 31 Jul 1875, in Seward, NE, died 7 Aug 1904, in Denver.
Frank's twin, Fannie E. Langton, who was the source of most of our information on this family, and who died 2 Feb 1969 in the Los Angeles area.
The information above is based on a handwritten family group sheet given to us by Jeanette's aunt, Inez Tennis.
James was the son of Joseph and Catherine Langton, both of whom were Pennsylvania natives. Elizabeth's parents, Nathaniel and Mary Sterrett, were also born in the Keystone state. During the Civil War, James served in Companies "E" and "D" of the 49th Pennsylvania Infantry regiment, mustering in at Camp Griffin, VA, 24 Oct 1861, and serving the full three years of his term of enlistment. His unit fought in most of the major battles against Lee's Army of Northern Virginia, including:
| | |
| --- | --- |
| Apr-May 1862 | Yorktown siege |
| Aug 1862 | 2nd Bull Run |
| Sep 1862 | Antietam |
| Dec 1862 | Fredericksburg |
| Apr 1863 | Chancellorsville |
| Jul 1863 | Gettysburg |
| May 1864 | Wilderness |
| Jun-Jul 1864 | Petersburg siege |
| Jul 1864 | defense of Washington DC |
James' unit participated in some of the same battles as that of his brother William. See James' file card in the Pennsylvania State Archives.
We believe James and Elizabeth were married in Mifflin county, just before James' parents and other family members moved to Illinois. According to information in an 1875 Atlas of Moultrie County, Joseph settled there in 1865. There is no entry for any Langton-Sterrett marriage in the usually complete and reliable Illinois Marriage Index. Also, Elizabeth's family did not move to Illinois, but to Minnesota.
We've been unable to locate James and Elizabeth and their family anywhere in the United States in the 1870 census, although James' brother John, and his father, were both living in Marrowbone township, Moultrie county, Illinois, at the time. The absence of any 1870 census data for James and Elizabeth could be because:
They were en route to Nebraska that summer and didn't get enumerated anywhere.
Their census entries were on a sheet that was stained, torn or otherwise rendered illegible.
Their surname was so misspelled or badly written as to defy correct indexing. (Joseph's entry was indexed as Laugton in 1870!)
We can only guess at when James and Elizabeth moved to Nebraska and back, based on the birth places listed for their children in the 1880 census, which found them back in Marrowbone township. There's a J. C. Langton listed among the members signing the charter of Oliver Lodge No. 38, A. F. & A. M. in Seward 18 June 1878.1 This fact narrows down to the latter part of 1878 the time of the return of James and his family to Illinois. The move could have been prompted by the final illness of James' father, Joseph, who died 27 Jan 1879 in Prairie Home, just across the Shelby county line from Marrowbone.

By 1886, the Langtons were living in Denver, appearing on page 423 of the city directory there. There's a "Con" (probably James' brother McConnell) and a "James C.", both teamsters, at 85 18th, N. D. (North Denver).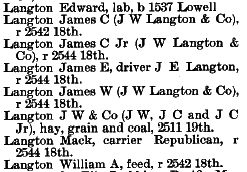 In 1892, the Langtons appeared on page 614 of the city directory. The Edward Langton who is listed first is probably unrelated. We can see James and his sons William, Curt ("James C. jr."), and Mack all living at 2542 and 2544 18th Street, along with James W. Langton, who seems to be the proprietor of "J. W. Langton & Co.", where James C. and two of his boys work. Who is James W. Langton? An uncle? A cousin? Who is James E. Langton? If you know, let us know! The Republican, for whom Mack works as a carrier, is listed elsewhere in the directory as one of Denver's newspapers.
In the 1900 U. S. census, James and Elizabeth were listed at 2544 18th St., along with Curt, Frank and Fannie. William was listed at 1936 W. 32nd Ave., around the corner from James and Elizabeth, along with his wife and daughter and Mack and his wife. After James' death, Elizabeth stayed in her 18th St. home, where she was enumerated in 1910 along with Curt. James is buried in Riverside cemetery, and it is likely Elizabeth is also buried there.
---
This page was last updated 10 Dec 2011.