David and Sally Carey
My great grandparents, David Clark Carey and Sarah Jane "Sally" Perry, met in Miami county, Ohio, some time in the 1850s. The Carey family came to Miami county in about 1807, then moved north into Paulding county for several years before returning to Miami county. David was born near Defiance, in Paulding county, on 11 Nov 1838. In the 1840 Census, David's father, Benjamin Carey, was listed as living in Auglaize township, which is now in Paulding county, next to Defiance county. The latter county wasn't formed until 1845, when it was carved out of Paulding, Williams and Henry counties, so it's possible David was born in that part of Paulding which later bcame Defiance county. Both his Civil War discharge and his obituary state that he was born in Defiance county.
Sally was born 2 Oct 1841,1 in Venango county, Pennsylvania, and came to Miami county in 1850 via Gallia county, Ohio, along with her parents and brothers and sisters. She and David Carey may have met at the Methodist Church in Piqua, OH, which they both attended. Her brother Samuel Perry had already met David Carey by the time he left for California in 1860, since David's name was included in Samuel's diary in a list of people to write.
Marriage. There are some differing reports of David and Sally's wedding date. The following story of their golden wedding anniversary celebration appeared in the Piqua Daily Call 13 Jan 1910, on page 3:
On Friday, January 14, 1860, David C. Carey, and Sarah J. Perry, then residents of Piqua, drove down to Troy in a sleigh where they were united in marriage by the Rev. E. D. Poe, then pastor of the M. E. church.

After several years of married life in this, then small town, they removed to Champaign Co. where they have since lived. Six married children with their families will in a quiet manner help them celebrate this fiftieth anniversary Friday afternoon at their home 201 Bloomfield Avenue, Urbana, Ohio.

Mr. and Mrs. Carey have many friends in Piqua, who will join others in wishing them many more happy years together.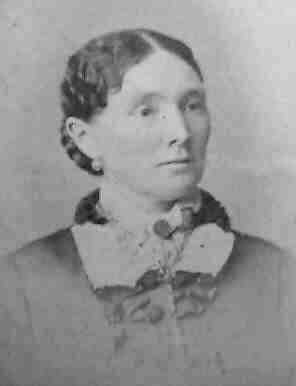 That would seem to clinch an 1860 date. One error, though, was that 14 January didn't fall on a Friday that year. It was a Saturday! The couple certainly wouldn't have celebrated in the wrong year, though, and both of Sally's obituaries say 1860. Yet I had seen a date of 13 Jan 1861 and confirmed that date via e-mail from the late Joe Bosserman, compiler of the Miami Valley Genealogy Index, and my search for a David Carey marriage in Ohio, County Marriages, 1789-1994 at FamilySearch.org gives a 2 Jan 1861 date of "intended marriage". David's pension file gives an 1860 date in one place and is illegible in another place. To further confuse matters, David and Sarah were each listed with their respective parents when the U. S. census was taken in June and July 1860. To the right is an early picture of Sally Perry, possibly taken around the time she married David Carey.
Civil War service. Great-grandfather served in the 147th Regiment, Ohio Volunteer Infantry. I have a booklet which was issued in 1899, apparently in connection with a reunion of this unit, and revised in 1913. (see cover and title page.) It contains a roster of the men of the 147th, along with their current whereabouts, if living. David is listed on page 18 under Company E as "David Cary, Private, Urbana, O." According to the Roster, he was 25 years old at time of enlistment.
The booklet gives the following very brief description of the 147th's service during the Civil War...
This Regiment was organized at Camp Dennison, O., May 16, 1864, to serve one hundred days. It was composed of the Twenty-fifth Regiment and Eighty-seventh Batallion, Ohio National Guard, from Miami County, O. On the 20th of May the Regiment started for Washington City. Upon arrival it reported to General Augur, and was ordered to duty at Fort Ethan Allen. On the 27th of May four Companies were ordered to Fort Marcy. On the 1st of June, Company A was detailed to perform guard duty at Division Headquarters, and remained there during its term of service. At midnight on the 11th of July the Regiment was ordered to Fort Reno. Marching as far as Fort Stephens the One Hundred and Forty-seventh moved into trenches as a support to the First Maine and First Ohio Batteries. In this position the Regiment remained until after the defeat of Early forces, when it returned to Forts Ethan Allen and Marcy. On the 23rd of August it was ordered to report at Camp Dennison, Ohio, and was mustered out August 30th, 1864, on expiration of term of service.
The engagement in which the Ohio volunteers participated was the result of a desparate effort by the Confederate cavalry general Jubal A. Early to relieve Union pressure on Lee's armies by attacking Washington, D.C., via the Shenandoah valley. President Lincoln came to Fort Stevens to witness the successful defense of the Capital by a hastily-assembled assortment of rear guard units such as these 100-day volunteers. There is further information on the battle at the National Park Service's web site.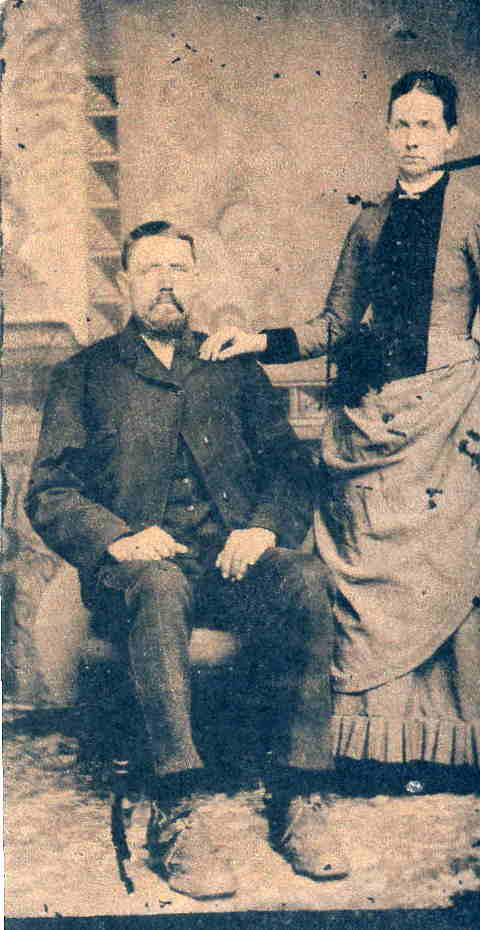 The picture on the right was donated by a grandson of Sally's brother James. It may have been taken early in David and Sally's married life.
Children. David and Sally had the following children:
Harriett Bell "Hattie" Carey. Born 10 Jul 1862, died 2 Jun 1936.
William Newton "Will" Carey. Born 28 Jul 1865, died 15 Sep 1925.
Mary Hannah "May" Carey. Born 3 Aug 1867, died 2 Mar 1946.
George Edward Carey. Born 12 Sep 1870, died 28 Nov 1945.
Charles John Carey. Born 20 Nov 1872, died 20 Jul 1949.
Samuel Winans Carey. My grandfather, born 14 Jul 1879, died 7 Jul 1959.
Lottie Anna Carey. Born 31 Jul 1887, died 31 Jul 1887.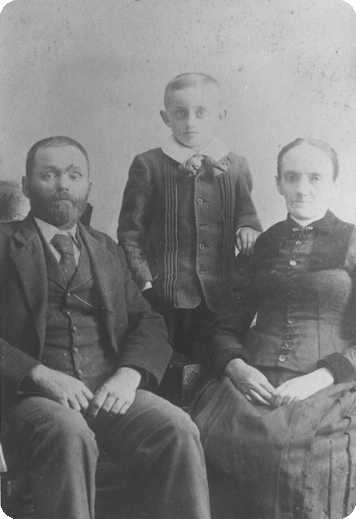 Hattie and Will were born in Miami county, while the remaining children were born in Champaign county, where David and Sally lived the rest of their lives, either in Salem township or in Urbana. I'm grateful to my cousin, Kate Machler, for providing me the picture on the left of David, Sally and our grandfather Sam, which looks like it might have been taken in 1884 or 1885.
At the time of the 1880 U. S. census, David and Sally, with all their children, were living in Salem township, on the north side of Urbana. During their later years, their children all remained close by.
The 1900 census shows David and Sally living at 201 Bloomfield Avenue in Urbana. Their youngest son, Sam, was with them as was Will who, at 32, was still unmarried. They were in the same house in 1910, with Sam's family nearby at 123 and George down the street at 545. For whatever reason, Will doesn't seem to have been enumerated anywhere in 1910, even though his mother's obituary lists him as living in Urbana. The other three children and their families were nearby in Salem township.
In January 1920, when David was enumerated in the Soldiers' Home, Will and his wife were living in David and Sally's home at 201 Bloomfield and Sam and family next door at 205. Charles and George had both become full-time ministers in adjacent counties in Zanesfield and Troy, respectively. Hattie had moved into Urbana, living across town at 209 W. Water St. and May was still living on her farm in Salem township.

Here is a photo which Sarah and David's granddaughter, Edna (Carey) Robinson, sent me. Judging by the house in the background, it appears to have been taken at the 1908 Carey / Perry reunion:
Sarah's death. The following are my great grandmother's obituaries. She died in Urbana, Ohio, 15 Feb 1914, at age 72.1
MRS. DAVID CAREY DIED SUNDAY

Aged Urbana Woman Died From Old Age -- Leaves Husband and Six Children.

Mrs. Sarah Carey, an old resident of Urbana, died at four o'clock Sunday morning at her home on Bloomfield avenue. She was 73 years old1 and had been ill for more than a year. Her illness was due to the infirmities of old age. She was the wife of David Carey, who survives her, together with six children.

Mrs. Carey was born in Pennsylvania Oct. 2, 1841,1 being the daughter of John and Mary Perry. She married Mr. Carey in 1860 and in 1867 they came to Champaign county and they have lived in or near Urbana ever since. She leaves besides her husband the following six children:

Mrs. A. L. Walker, Mrs. Frank Powell, William, Charles and Samuel Carey, of Urbana, and Rev. George Carey, of Tremont City. She also leaves four brothers and a sister, James and William Perry, of Indianapolis, Ind.; John Perry, of Pasadena, Cal.,2 and David Perry and Mrs. John W. Snyder of Urbana.

Mrs. Carey was a splendid Christian woman and was a member of the Grace M. E. Church. The funeral will be held from the home Tuesday afternoon at two o'clock with Rev. Kennedy officiating. Interment at Oak Dale.

ESTEEMED RESIDENT CALLED BY DEATH

MRS. SARAH CAREY LEAVES HUSBAND AND SIX CHILDREN

After a lingering illness of more than a year Mrs. Sarah Carey passed away yesterday morning at her home on Bloomfield avenue aged 75 years.1 She was the wife of David Carey who survives her. Six children are also left, Mrs. A. L. Walker, Mrs. Frank Powell, William, Charles and Samuel Carey, of this city, and Reverend George Carey, of Tremont City and four brothers, James and William Perry, of Indianapolis, John Perry of Venus, Cal.,2 and David Perry of this city. A sister, Mrs. John W. Snyder, of this city, also survives.

Funeral services will be held from the late home tomorrow afternoon at two o'clock and interment will be made at Oak Dale Cemetery. Reverend Kennedy, pastor of Grace M. E. Church, of which church Mrs. Carey had been a member for the past twenty five years, will officiate.

Mrs. Carey was the daughter of John and Mary Perry and was born in Franklin, Venango County, Pennsylvania, on October 2, 1844.1 She was united in marriage to David Carey on January 14, 1860. In 1867 they moved to Champaign County and for the last 47 years lived near and in Urbana.
David's death. David Carey suffered from facial sarcoma. My father and several of his other grandchildren have told me that "one side of his face was eaten away" by the cancer. His grandson Marvin Carey recalls seeing him picking at his face with a pocket knife. Great-grandfather entered the Dayton, OH, Soldiers Home4 hospital some time before the January 1920 United States census, when he was enumerated there along with more than 3,000 other inmates of the "Central Branch, National Home for Disabled Volunteer Soldiers". The doctor who signed his death certificate indicated that he had treated him from 23 Jul 1919 until his death.5 My aunt Goldie once recalled that, whenever she visited David Carey in the Soldiers Home, he would give her candy. Unfortunately, the nurses would confiscate the candy afterwards, telling Goldie that they didn't want her to "catch her grandpa's cancer"!
These are great-grandfather's obituaries. He died in Dayton, Ohio, 18 Feb 1921.
DAVID CAREY BURIED MONDAY IN OAK DALE

Sons and Sons-in-law Act as Pallbearers for Veteran

Funeral services for David Carey, former Urbana resident, who passed away at the National Soldiers' Home hospital in Dayton on Friday morning last, were held from the home of a daughter, Mrs. A. L. Walker, South Main street, this city, Monday afternoon at two o'clock. Rev. J. P. Simmonds, pastor of the Grace M. E. church officiated and Mrs. Simmonds rendered two beautiful selections.

There were a number of beautiful floral tributes. Those acting as pallbearers were the four sons and two sons-in-law, Rev. George Carey, Rev. Charles Carey, Will Carey, Sam Carey, A. L. Walker and F. O. Powell. The members of the G. A. R., to which organization the deceased belonged, had a prominent part in the service. Interment was made in Oak Dale cemetery.

DAVID CAREY DIES AT THE NATIONAL SOLDIERS' HOME

Victim of Facial Cancer For Years -- Funeral Monday Afternoon

Word was received in Urbana Friday, by relatives, announcing the death of David C. Carey, at 1:30 o'clock that morning, at the National Soldiers home in Dayton, Ohio, where he had been a patient in the hospital for the past year and a half.

For many years Mr. Carey had been afflicted with facial cancer which was the direct cause of his death, and he was a patient sufferer until death came as a merciful relief. He was in his 83rd year at the time of his death, having been born in Defiance County, Ohio, in the year 1838. At an early age he removed with his parents to Piqua, Ohio, where he grew to manhood. Here he learned the trade of a tanner. It was while living here also that he met and married Sarah J. Perry who for more than half a century was a faithful helpmate, her death occuring seven years ago.

More than fifty years ago Mr. and Mrs. Carey came to Champaign county3, where the deceased has since resided.

He responded to the call of his country during the days of the Civil war, being a member of Co. E., 147th Regiment, Ohio National Guards, and serving under Captain F. C. Johnston. He received an honorable discharge from the service at Camp Dennison, August 31, 1864. Mr. Carey was also well and favorably known in this section of the county, having been connected in an official way with the city and county in his younger days.

Six children survive and are, Mrs. A. L. Walker, W. N. Carey and S. W. Carey of Urbana, Mrs. F. O. Powell of Salem township, Rev. Charles J. Carey of Zanesfield, Ohio, and Rev. George E. Carey, pastor of the Westvine [?] and Concord M. E. churches. He was a member of Grace M. E. church, this city.

Funeral services will be held Monday afternoon at 2 o'clock from the home of Mrs. Walker on South Main street, this city, and Rev. J. P. Simmonds, pastor of the Grace M. E. church, will officiate. The members of the G. A. R. will also have a part in the services and burial will take place in Oak Dale cemetery.

R. C. Gardner, Undertaker, has charge of all funeral arrangements.
You may have noticed that David and Sally's funeral services were both conducted at private homes rather than at a church or funeral parlor. This seems to have been the custom "in the old days". On one of the genealogy mailing lists to which I subscribe, a Nevada woman wrote:
Growing up in northern Ohio, many of the older homes had two doors. As children, we were always told that the second door was the "funeral door," the door the casket was brought through into the parlor. Funerals were always held at home in those days.
Here are two of Dave and Sally's sons, Charles and Samuel, in a picture which was taken some time in the 1940's: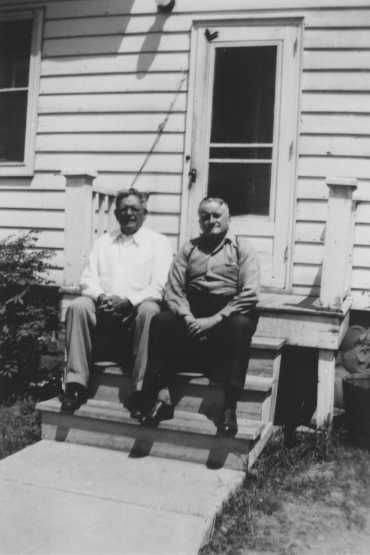 We thank Charles' son, Marvin Carey, for sending us both of these photos. Two of Charles' grandsons, Charles Ross Carey and John Grafton, joined Charles and Sam in the next picture: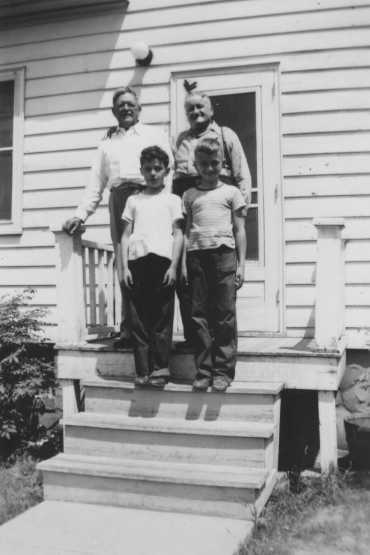 ---
David Carey's pension file. In October 2004, cousin Eric Elliott sent us David Clark Carey's pension papers, 24 legal-sized sheets, which he had obtained from the National Archives. These papers revealed less about David Carey than I had hoped. For one thing, they aren't a description of his military service, but rather a collection of forms which were processed by the bureaucracy in later years. One possible item of interest is that David may not have participated in the defense of the capital described above, since he could have been in the hospital at Fort Ethan Allen, or if released, too ill to fight. This is a summary of the pension files:
9 Nov 1887. David Carey files his original pension application, swearing to the facts of his military service before the Champaign county clerk, Jeremiah Cain. At this time, he describes himself as 5'7" tall, and having fair complexion, dark hair and brown eyes, and residing in Salem township. He swears that:
...in the service and in the line of duty, at Ft. Ethan Allen, in the state of Virginia, on or about the 25th day of June, 1864, he was taken sick with a fever, called by the Doctor at the time as a billious fever. That he was in a very bad condition for about two weeks with the fever. That he was treated in the hospital at Ft. Ethan Allen, near Washington, D. C., for the trouble. That after his discharge from the hospital he was in a very feeble condition and was unable to do any duty for some time after his return to the Regiment. That as a result of said fever he contracted disease of liver, heart and kidneys. That at the same time he contracted rheumatism from getting wet and taking cold near Ft. Ethan Allen...

That since leaving the service this applicant has resided in the Salem Tp. of Champaign Co., in the state of Ohio & Miami Co., O., and that his occupation has been that of a Currier. That prior to his entry into the service above named, he was a man of good, sound physical health, being when enrolled a Currier. That he is now almost wholly disabled...
The pension applications process moves slowly. David has to be examined by a doctor, submit an affidavit from one Lucius Mercer,6 a fellow member of the 147th who had known him for about 30 years, and resubmit his pension application.
5 Mar 1890. The Department of Interior grants a pension of $6.00 per month, retroactive to 15 Dec 1887. By now, David seems to be living in Urbana. He soon applies for an increase.
20 Aug 1890. David is now working as a broom maker. His height has decreased to 5'6" and his weight is given as 138 pounds. He states that his rheumatism has grown worse, frequently compelling him to remain in bed for a week at a time. He is lame in his left leg. An increase to $12.00 a month is approved.
14 Sep 1892. David submits yet another application for an increase in his pension. This time he seems to have been turned down. In a questionnaire filled out some time in 1898, David lists his marriage to Sarah as having occurred 13 Jan 1860 in Troy, Ohio. He lists his living children and their birth dates as given above, except for giving Sam's birth year as 1887.
12 May 1904. Still receiving only $12.00, David applies for another increase. There is a Surgeon's Certificate giving the distressing details of his health - pain and swelling of joints, enlarged liver, intermittent fevers, etc. The handwriting on this application looks like that of my grandfather. An increase to $17.00 is granted.
12 Dec 1906. Another application. This time, the Surgeon's Certificate (dated in 1909) was prepared on a typewriter and is very legible. The doctor describes David as "wholly incapacitated from the performance of any manual labor and is entitled to thirty dollars a month."
22 Aug 1911. David is still receiving only $17.00 per month and tries again. At some time after this application, his monthly pension payment increases to $30.00.
13 Mar 1915. Sam helps his father fill out a questionnaire similar to that of 1898. I'm not sure whether the marriage year given is 1860 or 1861. The first two children's birth places are listed as Piqua. Hattie and May's birth years differ from what David reported earlier and from other sources: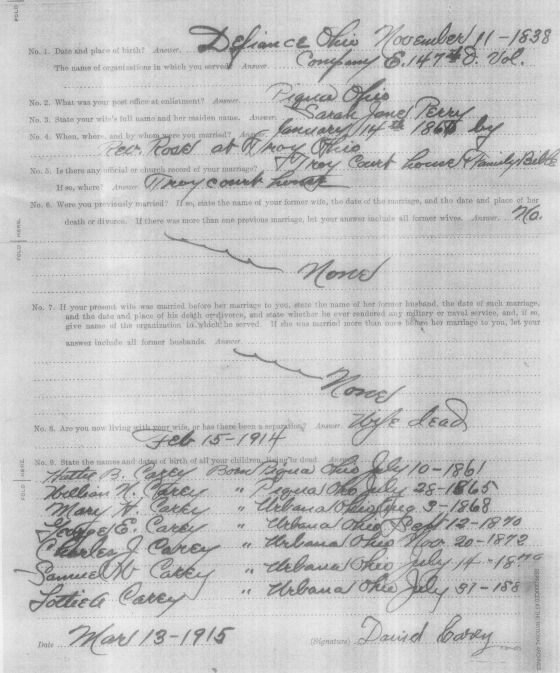 9 Jul 1918. David files a "Declaration for Pension" which is "approved for admission" 19 Oct 1918. Could this declaration have been made so that David could be admitted to the Dayton Soldiers Home? In none of the medical data is there any mention of the facial sarcoma which eventually caused his death.
1 Aug 1919. A form headed "Central Branch, National Home for D. V. S." records David's admission. (Could this acronym stand for "Disabled Veteran Soldiers"?)
8 Mar 1921. A National Military Home form states that David Carey "has this day been dropped from the roll because of his death Feb 18, 1921." His last pension payment was $50.00 on 4 Dec 1920.
The following letter was written by David's son upon his death:
Feb 22, 1921

Commissioner of Pensions
Washington, D. C.

Dear Sir; My father David Carey passed away at the National Soldiers Home, Dayton, Ohio, last Friday morning. His body was brought to Urbana Feb 18 to his old home and buried yesterday. When I applied for his papers at Headquarters in Dayton they informed me that an old soldier was entitled to a certain amount for burial expenses, also accrued pension from last September and that if I wrote you the proper blanks would be sent me.

Father was a member of Co. E, 147 Infantry Ohio National Guards serving under Capt. F. E. Johnston.

The number of his pension certificate was 470172. Will you kindly give this matter attention as any financial help is needed and would be appreciated.

Very truly,
George E. Carey (his son)
If you have questions about these pension records, or would like to receive copies of any part of them, please let me know.
---
1
The inconsistencies in reporting Sally's age and birth date, even within the same obituary, as well as the discrepancies in her brother John's residence, are reminders why we must never trust completely anything we might see in print!
2
These pieces of misinformation show some geographical confusion or ignorance of far-away Southern California. John L. Perry was living in the Los Angeles area at the time, almost certainly in
Santa Monica
, but not in the City of Roses. Before moving to Olinda, CA, he had lived in Pasadena,
Texas
! The second writer's take on John's residence was actually a slightly better guess.
Venice
, now a part of Los Angeles, was once a separate city adjacent to Santa Monica.
3
There is a Careysville, in Adams township, Champaign county. It was founded in 1833 by Calvin Carey and was known as Trenton for awhile. There doesn't seem to be any connection between our Carey ancestors and the town of Careysville.
4
According to the
1927 Ohio Highway Guide, Facts For Motorists
, by the Department of Highways and Public Works, Division Of Highways, State of Ohio, "The NATIONAL SOLDIERS HOME is located five miles west of Dayton on State Route No. 11."
5
Cousin
Eric Elliott
also provided a copy of David Carey's death certificate, which attributed his death to "sarcoma of face".
Sarcoma.net
defines sarcoma as "a general class of uncommon cancers in which the cancer cells arise from or resemble normal cells in the body known as 'connective tissues'. Normal 'connective tissues' include fat, muscle, blood vessels, deep skin tissues, nerves, bones, and cartilage. Cancers of cells which resemble any of these normal tissues are known as 'sarcomas'."
6
Jon R. Heckerman
, a visitor to this page, wrote:
It seems that we are perhaps two of the few persons with family roots in western Ohio who are not related. But we are connected: my great, great grandfather was the Lucius Mercer who served with yours in the same army unit in the civil war and who assisted in his pension application. He was in his thirties when the Ohio National Guard was called to one hundred days federal service in the summer of eighteen sixty-four and apparently talked about the experience for the rest of his long life. Lucius was a boat captain on the Miami Erie canal and spent his working years hauling stone from the Piqua quarries either north or south on his mule-drawn boat. Compared to that, having the promise of easy garrison duty to free up younger soldiers for duty at the front turn in to confronting Jubal Early's troops about eleven miles north of the capitol had to be memorable, to say the least. Ironically, both of Lucius' parents were natives of the deep south and it appears quite likely that some of his not too distant kin were there at Washington under Early's command.
Jon informed us that the Soldier's Home in Dayton, where David Carey spent his last months, is still an operating facility of the Department of Veterans Affairs. Be sure to visit its
web site
and take the
virtual tour
.
This page was last updated 7 May 2014.