USS Annapolis (AGMR-1)
After being recalled to active duty as LT, USNR, I returned to my previous ship's home port of Norfolk, Virginia, and reported to the Annapolis Pre-Commissioning Detail 3 Sep 1963. The ship to which I was assigned as Navigator was in the New York Naval Shipyard at Brooklyn, undergoing conversion to serve as the Navy's first Major Communications Relay Ship (AGMR). Most of her crew was in Norfolk, where I remained until shortly before commissioning day, 7 Mar 1964. That morning, I was handed the symbolic long glass by the Executive Officer, CDR Rodney T. Mooney, and ordered to "set the first watch".
The following brief history of Annapolis was found at the end of the story of USS Gilbert Islands (CVE-107) in the Dictionary of American Naval Fighting Ships
Reclassified AKV-39 7 May 1959, Gilbert Islands remained in reserve until her name was struck from the Navy List June 1961. She was reclassified (AGMR-1) 1 June 1963 and renamed Annapolis 22 June 1963. Annapolis recommissioned 7 March 1964, Captain John J. Rowan in command. As the Navy's first major communication relay ship, Annapolis was busy with acceptance trials for the rest of the year. In the fall she handled communications during Operation "Teamwork" and "Steel Pike" before final acceptance into the fleet 16 December.

After operations out of Norfolk during the first half of 1965, Annapolis was assigned Long Beach as home port 28 June 1965. In September she was sent to Viet Nam to assist communications between naval units fighting Communist aggression. With the exception of periodic visits to Hong Kong, Formosa, and the Philippines for upkeep and training, she continued this important service into 1967 assuring a smooth, steady and speed flow of information and orders so necessary to effective conduct of the war.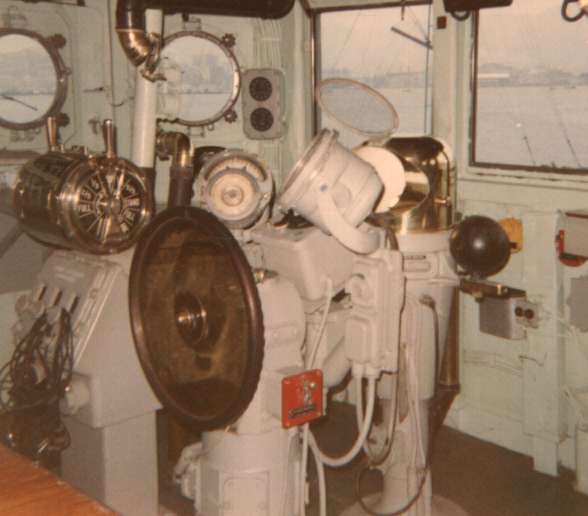 The picture above is of the cramped little CVE pilot house where I spent a lot of my time.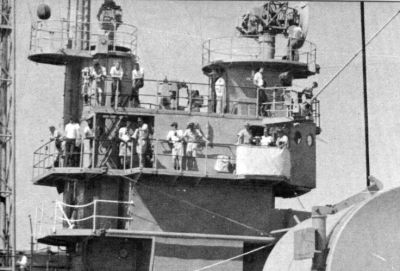 This is a picture of Annapolis' superstructure which I found somewhere. I have no idea where or when it was taken. That might even be me standing on the wing of the bridge, as I certainly spent a lot of time up there! Soon after commissioning, we went to Guantánamo Bay, Cuba, for shakedown training, with a quick weekend run to Kingston, Jamaica. Then in the Fall of 1964, while taking part in NATO exercises, we visited Rotterdam, Lisbon and Palma de Mallorca. By this time, the Viet Nam conflict had become a lot more intense and we knew we would soon be on our way to Southeast Asian waters.
So on 6 Jul 1965, we stood out of Norfolk and steamed East, across the Atlantic! That's right. Annapolis wouldn't fit through the locks of the Panama Canal, so we transited the Suez Canal instead. We made a brief stop at Palma de Mallorca on the way, then passed through the Red Sea and Indian Ocean, south of Ceylon. We had been scheduled originally to stop briefly at Singapore, but we received word the day before we were due to arrive there that our visit was cancelled due to the unrest surrounding that island state's 9 August declaration of independence from Malaysia. It took us a total of more than a month to make the run from Norfolk to Subic Bay, where we paused for several weeks of shipyard work before taking station off the coast of South Viet Nam.
Annapolis spent about two months steaming back and forth in a South China Sea monsoon off a rocky speck of an island called Poulo Sapate, at 9º58'N 109º5'E. The communicators were quite busy carrying out our ship's main mission, i.e. "communications relay", but things were really boring for the rest of us. As the Navigator, I noticed that our charts dated from many years before and didn't contain much depth information for the area in which we were operating. So with the help of my lead QM, Donald Krszjzaniek, I decided to remedy that situation. We carefully plotted our fathometer readings against our position and submitted the data to the Naval Oceanographic Office, which was now able to chart several hundred square miles of previously uncharted ocean bottom.
While Annapolis was operating off Viet Nam, I received the news from home of the birth of our daughter. It would be another month before orders came through, in November 1965, for my transfer to another ship. Since it would probably be months before we returned to port, I transferred by boat to an AKA that was on its way to Subic Bay. From there, I went by bus to Clark AFB to catch an 18-hour flight back to the States.
David Lamberth, who reported aboard Annapolis two months after my departure, has assembled an excellent web site which includes a complete history of our ship, from commissioning to decommissioning. I also recommend a site created by Kurt Dold which documents his own tour of duty in 1967-1968, also after I was transferred away.
While I was on board Annapolis, my commanding officers were:
This page was last updated 24 May 2012.