Anna Cora Enyart
Anna Cora Enyart (1861-1916) was my grandfather's first cousin. She was one of the mysterious George Carey's great-grandchildren. In 1911, she wrote a letter to Major Ira Winans, telling him as much as she knew about her ancestry. This letter found its way to me via Col. Warren Carey, who photocopied it at the Rochester (NY) Public Library. He undoubtedly remembered Anna Cora from his childhood in Ohio and referred to her as Coe Hunter. She was married to Samuel Ward Hunter (1860-1939).
Recently, I've been in touch with some of her descendants who have been so kind as to exchange family history data with me. Between us, we'll eventually solve the George Carey mystery. One of them, Steve Hunter, sent me these photographs of Anna Cora...
Steve also sent me the photo below of Anna's father, with this note:
This is William Clark Enyart, b. 1841, d. 1863, my 2nd great grandfather. He died following the battle of Missionary Ridge, Chattanooga, Tennessee. He served in the 1st Ohio Volunteer Infantry. His company, Company K, was formed entirely of men from Piqua, Ohio, my hometown.

The Order of Battle was Major General Ulysses S. Grant, Army of the Cumberland Major General George H. Thomas, Fourth Army Corps Major General Gordon Granger, Third Division Brig. General Thomas J. Wood, Second Brigade Brig. General William B. Hazen. The second brigade lost 92 killed, 430 wounded, 7 missing at Chattanooga. From my research, I believe Company K, 1st OVI, was in the center of the action that assaulted and carried what was believed to be the impregnable Confederate position on Missionary Ridge.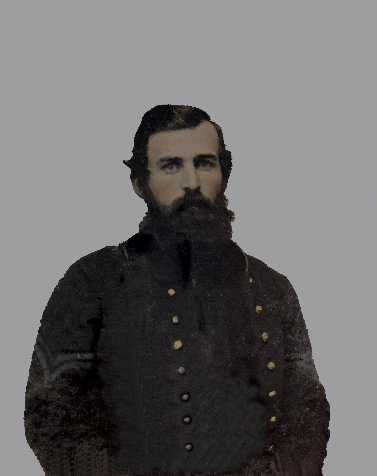 The following entry describing William's Civil War service was found in a page compiled by Terry Wright of Piqua, OH, which lists Piqua soldiers who served at the battle of Shiloh:
William G. Enyart (1837 - December 13, 1863) (listed as William Z. Enzert in Official Roster of Soldiers) Enyart entered the army, at the age of 24, on September 5, 1861. He enlisted for three years. Enyart was a Private in Company K, First O.V.L. He died at Chattanooga, Tennessee, during the war. He was buried in Section 7, of Forest Hill Cemetery, Piqua.
Several of Anna's descendants continued to live in the Piqua area. The 1920 census lists her son Forrest B. Hunter and his wife as renting Anna's former home at 8 Rundle Avenue, while Ward is listed with daughter Lois Hunter and her family around the corner at 735 N. Downing St. The following obituary of her grandson, Richard E. Hunter, was provided by Richard's daughter, Pam Dishman:
Richard E. Hunter

Richard E. Hunter, 90, of Piqua, died Monday, Jan. 23, 2006, at his residence.

He was born Jan. 13, 1916, in Piqua, to the late Frank E. and Lois E. Hunter. He married Alison V. Tyrrell on May 5, 1943, in New York, and she preceded him in death Jan. 14, 1995.

Survivors include a son and daughter-in-law, Stephen T. and Michele Hunter of Henderson, Nev.; a daughter, Pamela Dishman of LaPorte, Ind.; and three grandchildren, Neil Dishman, Nathan Hunter and Nicholas Hunter. He also was preceded in death by a sister, Alice Hoard.

Mr. Hunter was employed as an assistant treasurer for the Hobart Corp., retiring in 1978. He was a member of Westminster Presbyterian Church and member of the social fraternity Sigma Nu and honorary fraternities Phi Eta Sigma and Phi Beta Kappa. Mr. Hunter was a 1933 graduate of the Piqua Central High School and a graduate of Miami University in 1937. He was a World War II U. S. Army veteran.

A funeral service will be conducted at 10 a.m. Tuesday in the Jamieson & Yannucci Funeral Home with the Rev. Dr. Judith Rich officiating. Burial will follow in the Forest Hill Cemetery in Piqua. Visitation will be from 6-8 p.m. Monday in the funeral home.

Memorial contributions can be made to the Dorothy Love Life Care Fund, 3003 W. Cisco Road, Sidney, OH 45365.

Condolences to the family may also be expressed through www.jamiesonandyannucci.com.
In 2010, Steve sent me a large photograph taken at the 1899 Hunter family reunion which we are making available to visitors to our Family Album in a separate page. See if you can identify any of the people in the picture!
This page was last updated 22 Sep 2011.