Charles and Alice Walker
My grandparents, Charles Edward Walker and Alice Kate Seward were both born in Bloomington, Indiana, where their families had lived for several generations. They both attended Bloomington High School. Alice continued her studies at Indiana University. Charley enlisted in the Army when the Spanish War broke out in 1898, but the war ended too quickly for him to see any action. He moved to Tucson, Arizona, in about 1903, then returned to Indiana to marry Alice 4 Oct 1904. To see pictures of Charley and Alice which were probably taken in Bloomington during the 1890's or early 1900's, please visit our Bloomington scrapbook.
Grandmother clipped the following article from a newspaper and pasted it in her scrapbook:
UNITED FOR LIFE.

Walker-Seward Nuptials a Pretty Home Wedding.

One of the prettiest home weddings within our city was solemnized this morning at the home of the bride's parents Mr. and Mrs. W. H. Seward, north Morton street, when Miss Alice Seward and Charles E. Walker, well known young people, were united for life.

The parlors of the Seward home were beautifully decorated with cut flowers and ferns, and at 10 o'clock the bride and groom took their places, when the impressive ceremony was pronounced by Rev. T. J. Clark. The bride's costume was a loose silk trimmed in burnt orange.

Mrs. Walker is a graduate of the high school, attended the University, is an accomplished musician and a member of both the Rathbone Temple and Rebekahs, and one of Bloomington's most popular young ladies. Mr. Walker is the son of Mr. and Mrs. Wesley Walker, east 7th street, well known and quite popular, and is connected with the Southern Pacific railway, as chief clerk to F. Randolph, a high official of the road.

Immediately after the ceremony Mr. and Mrs. Walker, accompanied by friends, went to the Monon station, where amidst showers of rice and best wishes, they left on the 11 o'clock train for their future home at Tucson, Arizona, via world's fair and El Paso, Texas.

Mr. and Mrs. Walker received many handsome and costly presents. It was a fitting co incident that the marriage should take place on the golden wedding anniversary of the bride's grandparents, Hon. W. B. Seward and wife, she being their eldest granddaughter.
The Tucson where Charley and Alice made their first home was a far cry from the sprawling metropolis of today. The population of this dusty pueblo was barely 7,500 in 1900 and was mostly Spanish-speaking. Alice soon discovered that the Spanish she had learned at Indiana University was of little use in dealing with her Mexican cook and had to learn "border Spanish". Charley made frequent trips into México in his job with Southern Pacific and also picked up a good working knowledge of Spanish. My aunt Alice tells me that the Walker kids didn't really learn the English words for common fruits and vegetables until they moved away from Tucson. A Tucson newspaper article from about 1920 not only profiles Charles Walker but gives us a good idea of what early Tucson was like.
Another good description of Tucson life in the early 20th Century can be found in Just Memories, by Roy P. Drachman, who attended Tucson High School with Charley and Alice's oldest child, Frank, and who lived within a block or two of the Walkers' home.
Alice returned to Bloomington in 1905 to give birth to Frank Seward Walker. Charles' parents came out from Bloomington for Christmas in 1906, when the next photo was taken. In the front row are Alice, holding Frank, and Charley's mother. In back are the proud grandfather, Charley, his older brother John, who was living in Tombstone, and his younger brother Norman, who may or may not have moved to El Paso to begin his career in journalism by this time.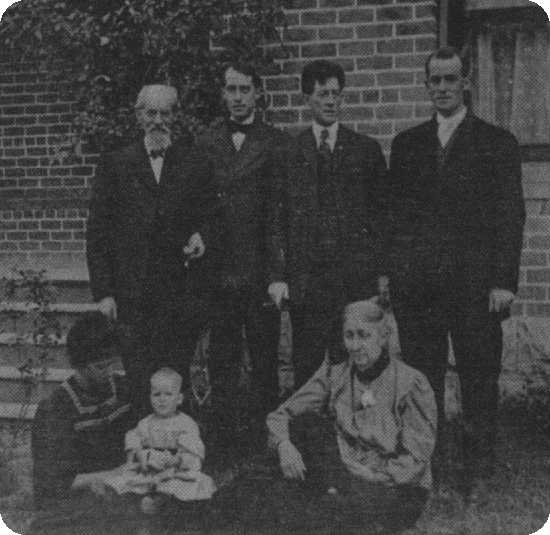 The following undated article from a Bloomington newspaper describing Charley Walker's railroad days was pasted into grandmother's scrapbook next to the article describing their wedding:
HOME BOY'S SUCCESS.

The Douglas Dispatch says of a well known Bloomington boy, the son of Wesley Walker:

"An official circular has been issued announcing the appointment of Charles E. Walker as acting secretary and treasurer of the G. V. G. & N. C. Y. R. & P. railway and other affiliated properties of the Southern Pacific known as the Randolph properties. The position carries with it the duties of purchasing agent. Mr. Walker's rise in the railroad world has been fast. About four years ago he came to the E. P. & N. E. railway as secretary of E. M. Harter, auditor, and was later promoted to a place in General Manager Martin's office. June 1904, he went to Mr. Randolph as secretary to the president, being made chief clerk later, which position he held at the time of his present appointment. Mr. Walker is in every sense a self made man and is sure to be held in high esteem by Colonel Randolph."
The 1910 census lists the Walker family at 345 South Stone Avenue. Grandpa's occupation is given as "Assistant to President" of a "National Bank". The 50 people listed on the Walkers' census page are an interesting mixture. These neighbors were born in various parts of the United States, as well as in México, Germany and Sweden, and include a dozen blacks. The Walkers stayed on Stone Avenue until shortly before my mother's birth, when they moved less than a half mile to their newly-built home at 338 Granada Street. That's where the census taker counted Charley, Alice and the first six Walker children in 1920. Although Grandma frequently mentioned her Mexican or Indian cooks, this census listed a Canadian immigrant lady living with them and doing the cooking.
Here's a photo of that Granada Street home, taken in December 2014, in which we see Charles and Alice Walker's grandson, Tony Young (right), with his children, Jon and Liz: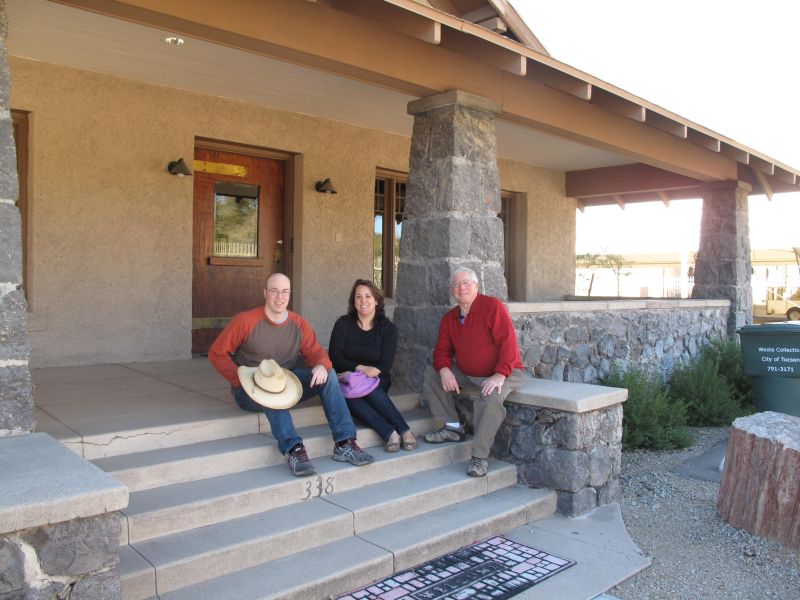 The following biographical sketches of my grandfather are typical of the biographies which could be found in the Who's Who and county history publications which appeared all over the country in the early years of the 20th century. The first article is from Who's Who in Arizona, Volume I, 1913, published by the Press of the Arizona Daily Star, Tucson. It appeared in a section on officers of the Consolidated National Bank. This kind of article was usually very accurate since it was based on data supplied by its subject, but note the erroneous wedding date!
CHARLES E. WALKER, cashier of the Consolidated National Bank, was born in Bloomington, Indiana, in 1880. He is the son of John W. Walker, a contractor of that place, and Sarah Elizabeth Voss Walker. His father was a captain in the Civil War. Mr. Walker was educated in the public schools, and for some years was engaged in railroad work. For five years he was treasurer of the Southern Pacific de Mexico Railroad, and was also general purchasing agent for the same company.

He has been connected with the Consolidated National Bank since March, 1910, when he accepted a position as assistant to President Freeman, but in December of the same year he was appointed to his present position, cashier. He is also a director of this bank and a director of the Arizona Eastern Railroad. He is a member of the Masonic Order, in which he has received the 32nd degree, of the Mystic Shrine, and of the Elks.

Mr. Walker was married in 1903 to Miss Alice Seward, also a native of Indiana, and a member of the Seward family of national reputation. Mrs. Walker is a descendant of the Irvin family, which figured prominently in the revolutionary war, and her great-great-grandfather was an officer in the Revolutionary War. Mr. and Mrs. Walker have three bright interesting children, Frank S., Elizabeth V., and Charles E., Jr.
Grandfather was made a director at Consolidated by Albert Steinfeld when Steinfeld acquired a controlling interest in the bank in 1910. Steinfeld is the subject of an article in the Southwest Jewish Archives which mentions Charles E. Walker. In the early days of the century, the banks could, and did, issue currency which was accepted as legal tender. Here's a $5 bill issued by the Consolidated National Bank in 1902, which we found at Old Pueblo Coin: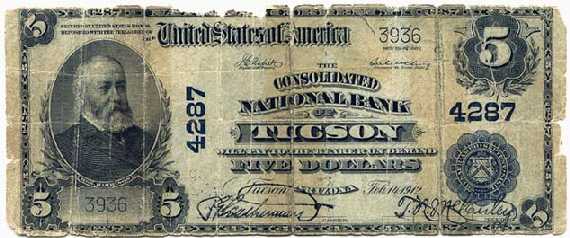 Our second biosketch is from Arizona the Youngest State (Vol. III - Biographical) published by the S. J. Clark Publishing Co., Chicago, 1916. It may have been based on the earlier article, with a few minor changes such as the corrected wedding date. It didn't mention the children who were born to the Walkers in 1913 and 1915, though.
CHARLES E. WALKER, who for the past five years has been cashier of the Consolidated National Bank of Tucson, was born in Bloomington, Indiana, on the 19th of August, 1880. He was reared in his native town and educated in its public school, graduating from the high school. On starting out to make his own way in the world he engaged in railroad work, following that occupation in Indiana and Colorado for five years.

In 1903, he came to Tucson, where he was connected with the Southern Pacific, Arizona & Eastern and Southern Pacific of Mexico in the capacities of secretary, treasurer, general purchasing agent and director until March 1910. He then turned his attention to banking, becoming assistant to the president of the Consolidated National of this city. He proved to be very adaptable and efficient and the same year was promoted to the office of cashier, in which capacity he has ever since served with a marked degree of success. Mr. Walker has not entirely withdrawn his connection with railroad interests, however, as he is a member of the board of directors on both the Arizona & Eastern and the Phoenix & Eastern. He is also identified with the mining interests of the state and holds stock in several well known mines.

In 1904, Mr. Walker was united in marriage to Miss Alice Seward, a native of Indiana, and to them have been born three children, as follows: Frank S., Elizabeth V. and Charles E., Jr.

Fraternally Mr. Walker is affiliated with the Benevolent Protective Order of Elks, holding membership in an Indiana lodge, and he is a member of the Masonic order, in which he has attained high rank in the Scottish Rite, and belongs to the Mystic Shrine. Although he is but thirty-five years of age Mr. Walker has made for himself a name and a reputation in the business circles of Tucson, where he is accorded the respect he well merits by reason of his earnest efforts and capably directed energies.
Grandpa registered for the draft during World War I. Registration began in 1917, shortly after the United Stares declared war, but he was too old to be required to register. But a final registration, held 12 Sep 1918, required all men aged 18 through 45 to sign up with their local draft board. Charley Walker's registration card indicates he was living at 338 Granada and was employed as a banker at the Consolidated National Bank.
Among the miscellany in grandma's scrapbook, I found the next two photos which would seem to date from the beginning and end of Charles Walker's stay in Tucson. The first was clipped from a Bloomington newspaper. I have no explanation for New Mexico being in its caption. Perhaps grandpa spent some time there before settling in Tucson? The second is a tiny "mug shot" (enlarged here) from Alberto Ybarra's photo shop and could have been intended for Charley's driver's license or other identification.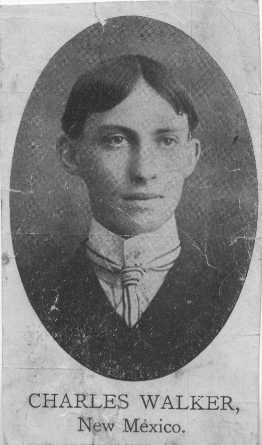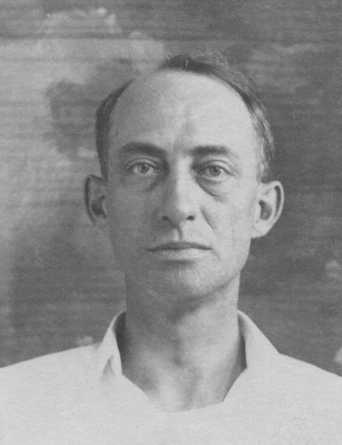 As a high-ranking bank official, Charley Walker may have had to make frequent business trips. He sent the following postcard to my mother, then ten years old, while he was on the East coast. Coincidentally, it was written on the day the Walkers' eighth and final child, my aunt Pat, was born in Tucson.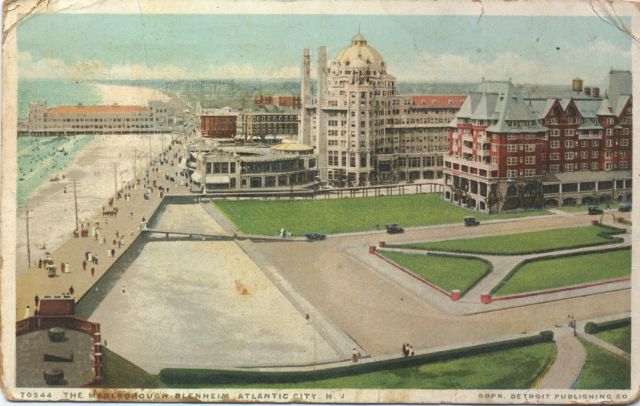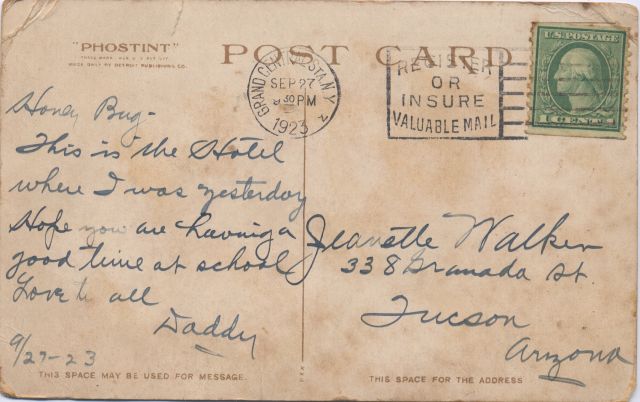 Charles and Alice Walker moved from Tucson, AZ, to Santa Monica, CA, in 1924. They rented houses at:
455 Lincoln Blvd.
477 21st Place, where they were all living at the time of the 1930 census
621 17th Street
I asked Aunt Pat about these Walker homes. She's too young to remember the Lincoln house, but recalls the other houses:
The 21st Place house was unusual architecture, sort of a horseshoe, but straight lines. Flat roof with stairs up to it, but we weren't allowed up as walking on it caused roof-leaks. It was a corner house, and had a big basement. My elementary school was Franklin. The 17th St. house also had a basement and Papa Walker and Frank made beer in basement. Jeanette and Elizabeth had a pretty downstairs bedroom and the boys had another downstairs. Rest of us upstairs. Large upper hall where Papa had a radio and listened to police calls. There was a huge attic which got filled with things being saved. The move to 713 Georgina, I thought I would hate, but I learned to love that house too.
According to Aunt Pat, the move to Georgina took place around the time she entered Santa Monica High School ("Samohi") in the fall of 1937. The big house at 713 Georgina became a gathering place for their growing collection of grandchildren, the first three of whom are pictured below in a picture taken some time in 1942. (Another photo of the two young men, taken 66 years later, is now available.)
When the census taker enumerated them on Georgina Avenue in 1940, the Walker family was in transition. Charley and Alice were there, along with their four youngest children, Louise and Alice, who got married within two days of each other in 1941, and Pat and Bill, who didn't marry until after World War II. According to Aunt Pat, the Walkers rented the house before eventually buying it. The census record says they were paying $65 rent per month. The four oldest kids had all married and moved out. Frank was living less than 3 miles away in Santa Monica with Gladys, their young son Jon, and Gladys' daughter, Katherine. They would soon move to Van Nuys, in the San Fernando valley. Elizabeth and Lee Young were living in the house on Centinela, also 3 miles away in Santa Monica, which would be their home the rest of their lives. Chuck and Helen were living in an apartment on 12th Street, less than 3 miles away and within a block of my other grandpa. Jeanette and Dave Carey and I were living about 15 miles away, near downtown Los Angeles.
Christmas and Thanksgiving were always big occasions at the Walker home, with more than a dozen grandchilden crowding into the big two-story house. But so were Sunday afternoons, when most of my aunts and uncles and cousins would show up to enjoy a big dinner. Grandpa was usually sitting on the sun porch reading a newspaper when we arrived. Their home was filled with books of all descriptions and it was here that I developed my love of reading.
When World War II broke out, Charley Walker became an air raid warden, patrolling his neighborhood each night to make sure no lights were on which might serve as beacons for incoming Japanese bombers. Although such attacks were totally unlikely, a state of panic existed in the days following Pearl Harbor which made any and all defense measures seem necessary. There's an excellent discussion of those panicky days and of air raid wardens at a site called America in WWII. We believed the bronchitis which plagued Grandpa during the rest of his life to be a direct result of those night patrols during the first winter of the war.
During the early days of World War II, my parents and I moved into the Walker home while Dad awaited his next assignment with the Civil Aeronautics Administration. Uncle Bill had recently started work with the Los Angeles Herald-Express, and took me around the corner to a back yard where he shot this picture of me with a friendly neighborhood dog. It appeared in the 5 Feb 1942 edition of the Herald:
Grandfather's obituary was clipped from an unidentified newspaper:
CHARLES E. WALKER

Charles Edward Walker, 71, Los Angeles real estate and investment broker, died at his Santa Monica, California, home, 713 Georgina Avenue, on Tuesday, January 29, 1952. He had been ill for two weeks. He was born in Bloomington, Indiana, August 19, 1880, the son of John Wesley and Sarah Voss Walker. His brother, George Walker, long time resident of Bloomington, was visiting him at the time of his death. In 1904 he married Alice Seward, of Bloomington, and returned to Arizona, settling in Tucson, where he had gone in 1900. From 1900 to 1910 he was treasurer and purchasing agent of the Southern Pacific Railway of Mexico, and from 1910 until 1924 he was vice-president of the Consolidated National Bank of Tucson. In 1924 he moved his family to California, and at the time of his death was a partner in the Western Housing Corporation in Los Angeles.

He leaves his widow, Mrs. Alice Walker, eight children and two brothers. The children are Frank, Charles E., Jr., and William Walker, Mrs. Jeanette Carey, Mrs. Elizabeth Young, Mrs. Alice Michelsen, Mrs. Louise Capp and Mrs. Patricia Plumb. All reside in the Los Angeles area, with the exception of Mrs. Plumb who lives in Philadelphia. The brothers are George Walker, of Bloomington, and Norman Walker, El Paso, Texas.

Mr. Walker was a member of the Elks and was a thirty-second degree Mason. Arrangements for a Masonic funeral were made by Gates, Kingsley and Gates Mortuary in Santa Monica in the Chapel of the Dawn at 2:00 p.m. Thursday, January 31. Interment will be at Inglewood Park Cemetery in Inglewood, California.
Grandmother's obituary appeared Saturday, 11 Nov 1967, in the Bloomington Herald-Telephone:
Alice Walker

Word has been received here of the death Thursday of Mrs. Alice Seward Walker, 86, at her home in Santa Monica, Calif.

She was the widow of Charles E. Walker and they both grew up in Bloomington. Survivors include two brothers, Fred A. Seward and William Austin Seward of Bloomington; a sister, Mrs. Eva Seward Lingard of Casa Grande, Ariz.; eight children, including three sons and four daughters in the Los Angeles area and a daughter in Pennsylvania; 18 grandchildren, and seven great-grandchildren.

Funeral arrangements are pending in Santa Monica.
Here is Alice Walker in 1963 with the first of those great-grandchildren, David George Carey: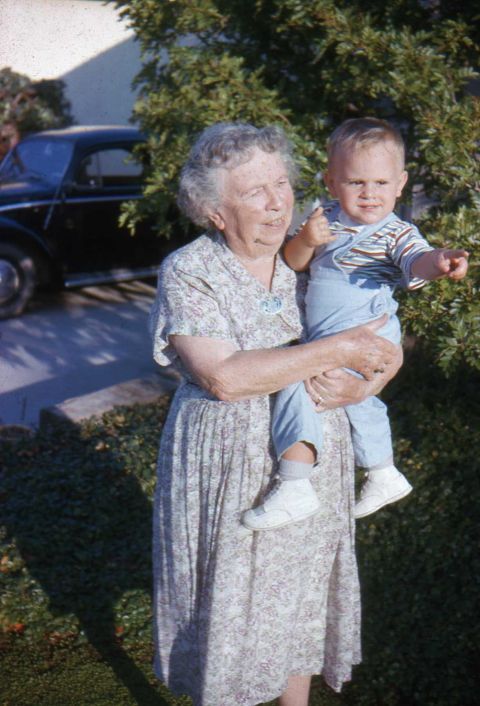 This page was last updated 26 Feb 2015.