John L. and Lucinda Perry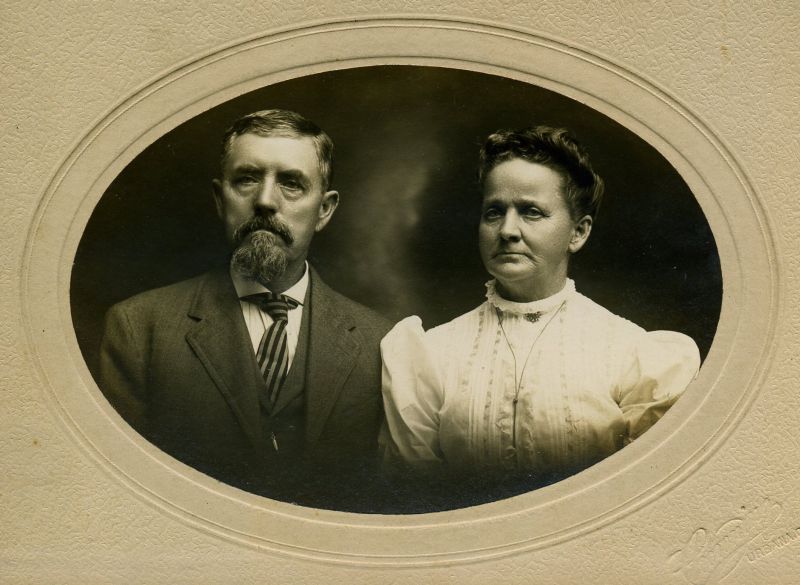 When my grandparents, Sam and Kate Carey, moved from Urbana, OH, to Santa Monica, CA, in 1921, it was at the invitation of Sam's uncle, John Lane Perry, and aunt, Lucinda (Bradley) Perry. Uncle John was in the final years of a life which was as interesting as it was long. Aunt Cindy was to live two more decades. We've been in touch with several of John and Cindy's descendants who have filled in many of the details of the lives of this couple, and will try to present that story here.
The photo above, although it has the imprint of an Urbana photographer in the lower right part of its frame, depicts John and Lucinda some time during their "mature years", and was among a treasure trove of old photos left behind by my parents. Somebody wrote on the back of it:
Uncle John & Aunt Lucinda Perry
Santa Monica Calif.
Uncle now in heaven
John Lane Perry was born 20 Apr 1843 in Venango county, PA, the fourth child of John and Mary Ann (Smith) Perry. When he was about two years old, his family migrated in a hand-built flatboat down the Allegheny and Ohio rivers to Gallia county, Ohio, and then on to Piqua, in Miami county, OH, in time for the 1850 census.
Civil War service. In 1861 John L. enlisted in the 4th Pennsylvania Cavalry regiment. We're not sure why he returned to his birthplace to enlist, rather than join one of the regiments being organized near his Ohio home. Somebody, I'm not sure just who, suggested that he wanted to join the Union Army to serve along with a family friend, or cousin, named Atwell. The roster of Company K of the 4th Cavalry shows another private named Perry S. Atwell and a 2nd Lieutenant named Robert J. Atwell. There is a J. B. Atwell mentioned on pp. 644-645 of the History of Venango County, Pa., published in 1879.
I've pieced together the story of John's Civil War service from information on the 4th's web page and from a summary of his service record provided by his great grandson, Bill Perry. Bill says that Don Groves, who married Bill's sister Carol, actually obtained the service record. We look forward to learning more from these, and other, descendants of John and Lucinda.
John Lane Perry enlisted at Franklin, in Venango county, on 27 Sep 1861, for a period of three years. He was assigned to Company K, although it isn't clear whether he was in that company during his whole time in the Union Army. John's service record describes him thus:
Height - 5 ft. 8 1/2 in.
Complexion - fair
Eyes - blue
Hair - auburn
Where born - Venango Co., Pa.
Occupation - farmer
This information is in agreement with his file card in the Pennsylvania State Archives. (See his second file card.) The 4th Cavalry's history included a number of major battles and minor engagements during nearly four years on the front lines. After a few months of service in the defenses of Washington, DC, the Fourth joined McDowell's Army of the Potomac at Fredericksburg, VA, in May 1862. It fought at Yorktown and in front of Richmond during that summer, then was shifted to Maryland to counter Lee's thrust into the north and participated in the battles of South Mountain, Antietam and Sharpsburg in September. After an excursion into West Virginia, the Fourth was in action along the Rappahannock river during the winter, taking part in the battle of Fredericksburg in December and the "Mud March" 20-24 Jan 1863.
John was captured at Kelly's Ford, VA, 17 Mar 1863, and confined in Richmond. (Although his record doesn't say where he was held, one biography of his grandson, Walter Perry Johnson, claims that John was confined at the Libby Prison.) He was paroled at Leity Point, VA, on 31 Mar 1863, and was apparently sent to Camp Chase, OH, in April, then returned to his unit on 1 June. It was still the custom at this point in the war for captured soldiers to be "paroled" after a brief confinement. (Camp Chase was being used at this time as a prison for captured Confederate troops. Perhaps John was exchanged for a Confederate soldier who was confined there?)
John rejoined the 4th in time for the crucial battle of Gettysburg, 1-3 July 1863, and the unsuccessful pursuit of Lee's army which followed Gettysburg. The regiment then returned to the Rappahannock, participating in the battle of Culpeper and several other engagements during the fall and winter months.
On 1 Jan 1864, at Bristow Station, VA, John re-enlisted in the 4th Cavalry for another 3-year period. During the following months, his regiment took part in the long campaign along the Rapidan and in front of Richmond leading up to the siege of Petersburg which lasted from May until the final days of the war in April 1865.
The 4th Cavalry was present at Appomattox for the surrender of the Army of Northern Virginia by Gen. Robert E. Lee, but John L. Perry wasn't with them. On 31 March, he was wounded in action during an engagement at Dinwiddie Courthouse, where he suffered a gun shot wound, from a Miniť ball, to his left leg, and was sent to the U. S. General Hospital in Washington, DC, arriving 4 Apr. John was released from the hospital to be mustered out, but seems to have misplaced his travel order, since his record contains a letter which he wrote to a Doctor Carrier:
Urbana, Ohio
July 3rd/65

Dr. Carrier Sir
I have reported to the nearest mustering officer which is in Columbus and my Discriptive list is there and he will muster me out of the service as soon as I can produce the order I got from you. I have lost that order and he instructed me to sent to you for another and you will oblige me very much if you will do so by sending it to Urbana, Champaign Co., Ohio.

Very respectfully your
Obedient Servant

John L. Perry
Privt., K Co., 4th Penn Cav
Dr. Carrier must have provided a copy of the missing travel order quickly. Private John L. Perry was mustered out of the Union Army 14 Jul 1865 in Columbus, OH. While he was away at war, his family had moved from Piqua to Urbana, in neighboring Champaign county, and this is where John embarked on the next stage in his life.
Marriage. John Lane Perry married Lucinda "Cindy" Bradley 5 May 1866 in Champaign county, OH. Lucinda was born in Urbana on 20 Jan 1850. According to my aunt Libby Bowers, Lucinda attended school in Urbana with my great grandmother, Elizabeth Wilhelm. According to Ethel Paulson, her granddaughter, Lucinda "was adopted as a child and had a sister named Allie." Libby also told me that Lucinda was orphaned at an early age and was adopted. (Lucinda is listed in the 1860 census as living in Salem township, near Urbana, with a Higby family. This surname, with various spellings, was common in Champaign county. Walter Johnson's other grandmother was a Higbee.)
Soon after their marriage, John and Lucinda set out on an odyssey that would see them live in at least six different states together. Their first two children were born in Indiana:
Minnie Olive Perry, born 14 Mar 1867, and
George A. Perry, born 4 Jun 1869.
According to her great grandson, Henry Thomas, Minnie was born in Richmond, in Wayne county. The 1870 census finds John and Lucinda in Franklin township, Wayne county, Indiana, with their first two children. The census lists John as having $825 in personal property, but no real estate, which might mean he was working on somebody else's farm, perhaps that of the German family with illegible last name whose entries are immediately before the Perrys' lines. By the end of 1870, the Perry family had returned to Ohio, perhaps due to the difficulty of making a living in Indiana.
The next photograph, sent to us by Lorna Dillon, may date to the 1870s or 1880s, since John appears to be in his 30s or 40s. A visitor to this page suggests that the pipe John is drilling with this huge machine could be an oil field pipe casing. It could also be used in an irrigation system. This is definitely not a farm environment where John is working, though, but some kind of factory.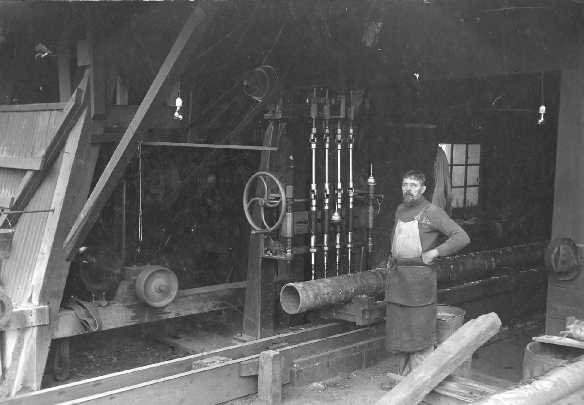 For the next five years they farmed near Urbana. While John and Lucinda were in Ohio, three more children were born:
Frank Perry, and his twin,
Fannie Perry, born 11 Apr 1872,
John Clinton (Clint) Perry, born 6 Nov 1873.
In search of... In the spring of 1875, they moved west to Maries county, Missouri, where they farmed near Dixon. In 1878, John's older brother James purchased additional land nearby with the idea of having John raise broom corn on it for the Perry Bros. broom factory in Urbana. It was while James was visiting John and Lucinda there that he met and married John and Lucinda's neighbor, Minerva Jane (Jennie) Kuhns. Minnie later told of a visit paid to the Perry farm when she was about eight years old by none other than the renowned outlaws, Jesse and Frank James. John and Lucinda's next three children were born during their stay in Missouri:
William Clifford (Cliff) Perry, born 2 Oct 1876,
Anna Lucinda (Annie) Perry, born 3 Aug 1879 (Aug 1878, according to her 1900 census record), and
Leroy Hansen (Roy) Perry, born 18 Jul 1882.
(See the Perry family's 1880 U. S. census data.)
Farming in Missouri wasn't any more profitable than it was in Indiana or Ohio. In 1884, John and Lucinda and their eight children moved on to Kansas, where conditions may have been even worse. They settled near Humboldt, in Allen county, where they crossed paths with a family which had also once lived near Urbana -- the Johnsons. Minnie married Frank Edwin Johnson there and in 1886, John and Lucinda became grandparents even before their last two children were born:
David Harrison Perry, born 18 Jul 1888, and
Ray Perry, born 10 Nov 1889. (Nov 1892 according to the 1900 census)
During their time in Kansas, the Perrys endured the variety of bad weather for which that state is famous -- tornadoes, drought and blazing hot summers. The blizzard of 1886 was one of the worst in the history of the American prairie. Nevertheless they stuck it out for about a dozen years in Kansas. During this time Frank and Minnie presented John and Lucinda with two, or possibly three, more grandchildren. This photo shows Frank and Minnie Johnson with their first two children, Effie and Walter, in 1888, in Humboldt, KS. It's one of many in the collection of a Johnson researcher, Scott Ferris, who has extensive information on Frank Johnson's ancestors and descendants: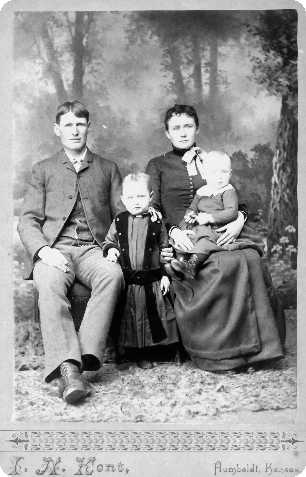 Fannie married Jesse Willhite and their first two children were born to them in Kansas. James and Jennie Perry lived nearby and the production of broom corn for the factory back in Urbana probably continued until James gave up and moved to Indianapolis in 1889.
But John and Lucinda's wandering days weren't done yet. In about 1896, they moved to Pasadena, TX, not far from Houston. John was listed as a farmer and Roy as a farm laborer in the 1900 census there, so they may not have been involved yet in the petroleum industry, which had been booming in Texas for quite awhile. Fannie and Jesse moved from Kansas to Ventura county, California, in about 1898. That was shortly after the beginning of organized drilling in Brea canyon, but we don't know exactly when they arrived in Olinda. The rest of John and Lucinda's family soon turned up in the Orange county oil fields, with John, Lucinda, Roy, David and Ray making the move some time after being enumerated in Texas in the 1900 Federal census. Minnie and Frank and their children, who had stayed behind in Kansas (see their 1900 census record), moved to Orange county in 1902. (John's brother, Samuel, and sister, Phebe, had come to Los Angeles some years before but both had passed on by the time of his arrival.)
Migration to California. By about 1902, John, Lucinda and all of their children had settled in Southern Caliornia. They were attracted by the news of recent discoveries of oil -- black gold -- in the Olinda area of Orange County where "...the hills and valleys of the area were dotted with wooden derricks forcing the black stuff to the surface. With the derricks came jobs of all kinds luring thousands of workers from around the state and other parts of the country... Compared to the isolated and sometimes precarious existence on a Kansas farm, life in Olinda was nothing less than abundant. The houses had plumbing, electricity, and gas for heat. Food of all kinds was delivered to the door by wagon from Fullerton, and the fenced backyards were large enough to accommodate cows, chickens, and other livestock. The Southern California sun shone almost constantly through clear blue skies, and the view from anywhere was of velvet-green hills in all directions. When the groves in nearby Placentia were in blossom, a sweet orange fragrance blanketed the area."1
John and Cindy Perry lived for nearly twenty years in Olinda. He was listed in the 1903 Orange County directory as a roustabout with the Santa Fe Oil Co, and in the 1913-14 directory as a machinist with the West Coast Oil Co. He was not listed in the 1919-20 directory. The oil companies provided their employees and their families bungalows to live in. In Olinda, they were listed on the same 1910 census sheet as a number of other oil field laborers, including son Roy and his family, and Maurice Ray, in whose store grandson Walter Johnson worked for a while. The story of life in the oil fields is told by John and Lucinda's great great grandson, Henry Thomas, in the definitive biography, Walter Johnson, Baseball's Big Train.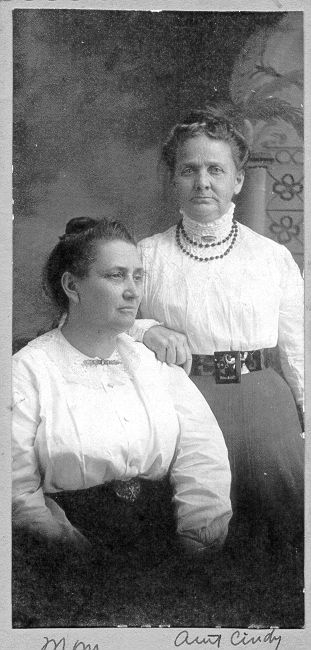 In 1908, John and Lucinda returned to Ohio to attend the great Carey / Perry reunion. The picture at the right may have been taken during that reunion. The names at the bottom were probably written by Jennie (Kuhns) Perry's daughter Edythe (Perry) Scott, since she refers to Jennie as "Mom". It was sent to us by Edythe's daughter-in-law, Nancy Scott, who writes:
Chuck, attached is picture of Aunt Cindy (John Lane Perry's wife) and Jennie (James Perry's wife). I wonder if it was taken on the same trip to Urbana. They would not have been together very often. Same blouse as I see in the large photo. I saw Jennie first when I looked at the big picture.
They also took at least one trip back to Kansas, since that was where they were enumerated in the 1920 census, on Frank and Minnie Johnson's farm. Walter and his growing family were on a nearby farm. The Kansas visit may have occurred just before or after their move to Santa Monica, where they lived within about two miles of the Pacific Ocean. John worked awhile for the Santa Monica Outlook newspaper. In 1924, John and Cindy's grandson, Walter Johnson, came to town just after playing a key role in the seventh game2 of the Washington Nationals' World Series victory and they got to see him pitch in an exhibition game in Brea, not far from the Olinda oil fields. The following front page article in the 31 Oct 1924 Outlook described Walter's visit:
Relatives Gather to Meet Johnson

Showing that the interest in the great old American game of baseball is attractive to persons of all ages, Mr. and Mrs. J. L. Perry of Twenty-Fourth street, Santa Monica, today are at Brea bowl watching their grandson, Walter Johnson, idol of the Washington team, entertain friends of the same district in which as a boy-comer he taught opposing teams the finer points of the game.

Mr. Perry is 82 years of age and Mrs. Perry is 72. They entertained Walter Johnson and his wife at their Santa Monica home yesterday. Grandfather Perry and his wife were taken to today's game by a son, George Perry, and his wife. Mr. and Mrs. Clint Perry of Venice are also watching the favored nephew fling the horsehide.
After John's death in 1925, Lucinda lived in Venice, where she enjoyed working in her garden. Fran Reed, who provided the next photo as well as the rest of the remaining pictures on this page, believes the next picture was taken there. Fran is the great granddaughter of John and Cindy's son, Frank Perry. I've seen a similar photo at Carolyn Thomas' home which Carolyn also says was taken in Venice...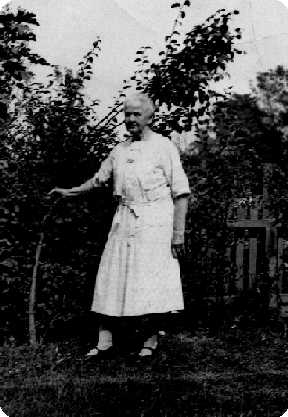 Frank Perry tried his hand at gold mining for awhile in the San Gabriel mountains, where he lived in a cabin. The Perry family gathered at Frank's cabin in the early 30's and these two nearly identical pictures were taken (HINT - to see both pictures, pass your mouse pointer over the image):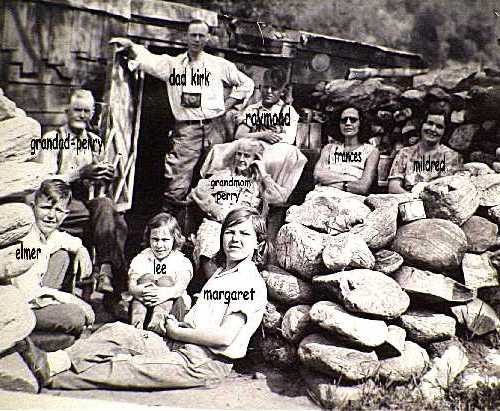 Fran identifies the people in the photos as follows:
grandmom perry - Lucinda
granddad perry - her son, Frank Perry
frances - Frank's daughter, Frances Linda (Perry) Kirkhuff
dad kirk - Frances' husband, Albert Kirkhuff
mildred - Frank's other daughter, Mildred Perry, who was married to Ernst Prickett, and who passed away Nov 2002 at the age of 101.
raymond - Mildred and Ernst's son, Raymond Prickett
elmer - Mildred and Ernst's son, Elmer Prickett
lee - Frances and Albert's daughter, Lee Kirkhuff
margaret - Mildred and Ernst's daughter, Maggie Prickett, who now lives in Pasadena with Mildred
buster - Albert and Frances' son, Albert Lawrence (Larry) Kirkhuff, junior, who is Fran Reed's father and my 3rd cousin
In about 1936, Cindy Perry moved into a house in Fullerton where her son David was living, behind the home of daughter Fannie, at 335 1/2 East Commonwealth. She was enumerated there in the 1940 census and lived there until her death in 1943. When she celebrated her 91st birthday in 1941, the event was written up in this article in the Santa Monica Outlook:
Woman Honored On 91st Birthday

For 24 years a resident of Santa Monica, Mrs. Lucinda B. Perry of Fullerton was honored on her 91st birthday anniversary this week by relatives and friends who arranged a surprise party to mark the occasion.

Mrs. Perry, widow of J. L. Perry, a Civil War veteran who died here in 1925, formerly lived at 2428 24th st., Santa Monica, her husband having been employed for many years by the Outlook when it was located in the Third st. office.

Mrs. Perry has 10 children, 33 grandchildren, 49 great grandchildren and five great great grandchildren living. Among the guests attending were Mrs. Annie Ford of Santa Monica, Dave Perry of Santa Monica, Mrs. E. Prickett of Venice, Mrs. Clint Perry of Venice and Mr. and Mrs. Dick Luetka of Santa Monica.

Telegrams and letters of greeting came from all sections of the United States to honor Mrs. Perry on her anniversary.
Many of the details of John and Lucinda's lives are available in their obituaries. John Lane Perry's eulogy is reproduced below. Since the author refers to his subject as "Uncle John", I will guess that the eulogy was written by John's nephew, Rev. George E. Carey, who quite likely officiated at the funeral. The Santa Monica Outlook printed the eulogy verbatim, but omitted the portion which appears in blue, perhaps because of its religious content. This complete version was provided by John's great great grandson John Paul Tongier and J. P.'s wife, Sue.
The silver cord is loosed, the golden bowl is broken, the pitcher is broken at the fountain, the wheel broken at the cistern. Soon the dust shall return to the earth as it was, but the freed spirit of John L. Perry hath returned to the God who gave it.

Never a child on mother's breast fell asleep more gently than did he on Monday morning, October 5th, 1925, just as the hands of the clock had passed the midnight hour, while his beloved wife of nearly sixty years, a son Frank and the family physician were by his bed, ministering to his comfort and requests.

He was born in Venango County, Pennsylvania, on April 20th, 1843, being in his eighty-third year at the time of his departure from this life, being one of eight children born to John and Mary Smith Perry, pioneer residents of that eastern state.

He heard and responded to the call of his country during the days of the Civil War, enlisting in the 4th Pennsylvania Cavalry and serving for four full years.

His parents soon left their native state, migrating to Ohio, the journey being made partly by barge down the Ohio river, landing at Gallipolis, Ohio; thence overland into the central part of the state, where in Champaign County they located on a farm. It was while his parents resided here that John met, and in the course of time, married Lucinda Bradley on May 5th, 1866.

To this union ten children were born, all of whom are living.They include Mrs. Minnie Johnson, of Coffeyville, Kansas; George A., of Santa Monica; Frank, of Tampico, Mexico; Mrs. Fannie Willhite, of Fullerton, Calif.; Clint G., of Venice, Calif.; W. Clifford, of Fullerton; Mrs. Anna L. Ford, of Anaheim, Calif.; Roy H., of Gardena, Calif.; David H., now enroute to southern Africa, and Ray, of Long Beach, California. There are twenty-nine grandchildren. Two brothers, James and William Perry, of Indianapolis, Ind., and one sister, Mrs. Lizzie Snyder, of Urbana, Ohio, survive.

Nineteen years of Mr. and Mrs. Perry's life were spent in the state of Kansas, four years in Texas, and it was from this latter state that they came to California in the year 1900. Six of these last twenty-five years have been lived in Santa Monica.

Mr. Perry not only heard and responded to the call of his country, but to the call of the Master into a life of Christian service. For many years he was identified with the Methodist Episcopal church, but in recent years with the Church of the Nazarene, which church he attended on last Sunday morning, his last Sunday and day on this earth. His translation was akin to that of God's servant Enoch, "who walked with God and was not, for God took him", or like that of Elijah whose mantle fell upon Elisha, who was more effective in service because of his contact and association with this good man.

Mr. Perry was fortunate in having unusually pious parents and these, his children and grandchildren are fortunate in having left to them to the legacy of a devout Christian father and grandfather.

There are times when eulogies seem so inadequate to express the worth of a man. This is one of those times, but Uncle John Perry needs no eulogy, his consistent, faithful, devoted Christian life speaks for itself.
Servant of God, well done,
Thy glorious warfare's past:
The battle fought, the victory won
And thou art crowned at last.

By way of contrast, an obituary printed on page B3 of the 8 Oct 1925 edition of the Los Angeles Times says nothing about John L. Perry's life, but concentrates on his relationship with his famous grandson:
WALTER LOSES RELATIVE

John Perry, Grandfather of Walter Johnson, Dies at Santa Monica Home as Idol Triumphs

Washington's most steadfast supporter, and Walter Johnson's greatest friend and rooter, died late Tuesday night, without realizing his hopes of seeing the Senators returned to their place at the top of baseball's peak. He was John Perry, grandfather of "Big Barney," whose greatest interest in life was the success of Johnson, and the work of the entire Senator team.

John Perry was more than a grandfather to Johnson, however, they were pals, comrades who spent many hours together, eagerly discussing the all-important topic of baseball. To Perry, Johnson was the greatest ball player that ever lived, and he daily traced the successes of the Washington team, exulting in their victories, consoling himself with promises at their defeats.

John Perry died late Tuesday night of acute gastritis at his home, 1132 Twenty Fourth Street, Santa Monica. A telegram was dispatched to Johnson in the East, but news of his relative's death was withheld from Barney, as it was feared his grief would affect his pitching. So it was until he had toiled so nobly, and had won that he was informed of his loss.
Lucinda's 6 Oct 1943 Times obituary also headlined her connection to the baseball great:
Walter Johnson's Grandmother Dies

FULLERTON, Oct. 5 (AP)-- Mrs. Lucinda Perry, 93, grandmother of Walter Johnson, famous former pitcher for the Washington Senators, died last night at the home of her daughter, Mrs. J. H. Willhite.

She had lived here three years. Funeral services will be conducted tomorrow afternoon at Woodlawn Cemetery, Santa Monica.
Lucinda's obituary was also printed in an Urbana newspaper:
Lucinda Bradley Perry, widow of the late John Perry and for many years a resident of Urbana and nearby vicinity, died on Oct. 4 at Fullerton, Calif., according to word received here today. Mrs. Perry was 93.

Grandmother of Walter Johnson of baseball renown, she was the mother of 10 children, eight of whom are still living. Only relatives living in this vicinity are three nieces, Mrs. Ollie Offenbacher, Mrs. Myrtle Swisher and Mrs. F. O. Powell of near Urbana.

Funeral services were conducted Oct. 7 in Santa Monica, Calif., by the Rev. George Carey, a nephew. Mrs. Perry's descendants served as pall bearers. Interment was in Santa Monica cemetery.
John and Lucinda are buried together at Woodlawn Cemetery in Santa Monica. Their simple stone bears their names and the words "FATHER" and "MOTHER". Many of the nearby grave markers include references to Civil War regiments, but there is no mention of John's military service on his stone. John's occupation is listed in the cemetery's records as "retired farmer".
---
1
For further information on the Perry family's
coming to California
around 1900, please read:
Thomas, Henry W., Walter Johnson, Baseball's Big Train, Phenom Press, 1995, pages 7-8, and
Thomas, Henry W., and Carey, Charles W., "The California Comet"? -- Walter Johnson in the Golden State, Grandstand Baseball Annual, 1995, pages 21-63. The quotation here was taken from the article, which is now available in its entirety at this web site.
2
Elysian Fields Quarterly
has an excellent description of Johnson's 1924 season, especially the 7th World Series game.
This page was last updated 16 Jan 2016.