Fred and Dorothy Seward
Visiting my grandmother's younger brother, Fred Seward, and his wife Dorothy Hopper was something we always looked to when we took one of our cross country vacation trips. We had already met Fred and Dorothy when they had visited Grandma in Santa Monica, perhaps in 1947. When we went to Bloomington, Indiana, we were treated like visiting royalty. They always seemed to have all time in the world to help us enjoy our very brief visits to their home town. We stayed at their big old house at 615 North Washington Street, near the center of town. Fred would take us to see the Seward foundry or other places of interest around Bloomington. Dorothy would prepare big, tasty meals that invariably included her delicious homemade applesauce.
During these visits, Fred and Dorothy took us to see some properties which they owned outside of town. One was a small cattle ranch to the north of Bloomington. The other was a wooded area to the northeast which evntually became a part of the Hilltop Garden and Nature Center, which is affiliated with Indiana U. It looked much too steep and rocky to farm or build on. An article in the 24 Apr 2000 issue of the Bloomington Herald-Times reported:
Long-time Hilltop supporter Doris Seward donated 20 acres of wooded nature preserve. The Fred Seward Nature Preserve is the site of programs concerning natural history and woodland ecology. "Twenty acres may not sound like much, but the land is very diverse. There are nice big trees and complete ecosystems with trails," said [Hilltop director Leah] Garlotte.
During his days at Bloomington High School and Indiana University, Fred was an outstanding track athlete. You may read about his track career on a separate page.
After graduation from I. U., Fred Seward went to Arizona to work in the copper mines. He was called back to Bloomington unexpectedly when only 23 years old to take the helm of Seward & Co. upon his father's death. He guided the destinies of the company for more than 50 years. During the devastating influenza epidemic which struck the United States at the end of World War I, he had a very close call with death. The following two articles were from the 28 Mar 1919 edition of the Bloomington (IN) Daily Telephone:
Fred Seward, the well known business man who has been quite ill for several days with influenza, is now able to be about his room.

---

Flu Still Takes Heavy Toll In Indiana

Indianapolis, March 26. -- Influenza and pneumonia continue to add to the heavy toll of life taken in Indiana since the outbreak of the epidemic last fall. Influenza caused 519 deaths in February and pneumonia caused 451. This makes a total of 970 due to the malady, and while the number is 428 less than the total of January, it increases the total number of deaths from the epidemic since September 1 to 11,482.
Fred and Dorothy were married in Bloomington 22 Jun 1914. Here's an article which appeared in the Brown County Democrat, 4 June 1914:
An approaching wedding of two well-known and popular young people of this city is that of Fred Seward, head of the Seward foundry works, and Miss Dorothy, daughter of Mrs. Eva Hopper, a teacher this year in the county school. The wedding will occur in the city near the last of June. Both are quite popular in church and society circles. The bride-elect was graduated from the Bloomington High School in 1912 and was president of her class. Mr. Seward has been successfully engaged in the foundry business since the death of his father, W. H. Seward; is a graduate of the Bloomington High School and attended university for two years. He is a member of the Phi Delta Theta fraternity and was captain of the track team both at high school and university. He was an all-around good athlete, especially at hurdles and helped win a number of banners for B. H. S. During the past five years he has managed the foundry business with success. – Bloomington Telephone

Miss Hopper is a native of Nashville, being a daughter of Charles Hopper, deceased.
These descriptions of their wedding are from undated clippings in my grandmother's scrapbook.
ROMANCE OF A CHURCH CHOIR.

Wedding of Miss Dorothy Hopper and Fred Seward.

A quiet but very pretty church wedding at 8 o'clock Monday evening was that of Miss Dorothy Hopper, and Fred Seward, the well known foundry man. The ceremony was pronounced at the Christian church where the romance started while both were members of the church choir. The decorations were very prettily made with daisies and ferns.

Before the ceremony Mr. George Bollenbacher sang "Believe Me If All Those Endearing Young Charms." As the bridal couple approached the altar Miss Lucile Treadway played the wedding march. Master Frank Walker1 of Tucson, Arizona, a nephew of the groom, and the little daughter of Martin Hopper of Nashville, a cousin of the bride, were the only attendants. Rev. W. H. Smith officiated and used the ring ceremony. Immediately following the ceremony an informal reception was held in the church parlors.

Both Mr. and Mrs. Fred Seward are graduates of Bloomington high school, attended the University, are prominent in church work and admired by a large circle of friends who extend hearty congratulations. The young couple has gone to Cataract on a camping trip and within about a week will return to make their home for the present with Mrs. W. H. Seward, mother of the groom, on north Morton street.

---

Days Gone By In Bloomington

THIRTY-FOUR YEARS AGO

"One of the prettiest of the June weddings was the marriage last night of Fred A. Seward and Miss Dorothy F. Hopper at the Kirkwood Avenue Christian Church which was witnessed by a large number of relatives and friends of the couple.

"The double ring ceremony was performed by the Rev. W. H. Smith.

"A floral altar of piams [???] and daisies was attractively arranged as a background. Preceding the ceremony Miss Marguerite Bollenbacher sang 'Believe Me If All Those Endearing Young Charms'. Miss Lucille Treadway played the Mendelsohn wedding march as the bridal couple entered and 'Hearts and Flowers' for the recessional.

"The bride's gown was of white charmeuse, trimmed with lace and her veil was caught with rhinestones and sweet peas. Her flowers were a lovely bouquet of white roses. Iris Hopper, a cousin of the bride, the little flower girl, wore a dainty white point de spriere lace frock over white silk chiffon and carried the ring in a basket of white roses. Little Frank Walker, nephew of the bridegroom, carried the ring in a calla lily.

"After the ceremony there was an informal ceremony at the church with light refreshments. Assisting in the hospitalities were the sisters of the bride."
Fred and Dorothy Seward had two children:
Janet Lois Seward, born 5 Oct 1915, died 16 Jun 1996, and
Doris Marie Seward, born 26 Mar 1917, died 23 Sep 1999.
Both daughters were born and died in Bloomington. They were enumerated in the 1920 census along with Fred and Dorothy at 309 Rogers Street. This is a picture of them which was taken around 1930...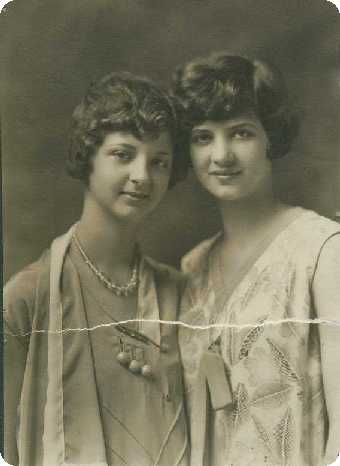 The following article, which turned out to be Doris' last column in the Herald-Times, is a wonderful portrait of Fred and Dorothy Seward:
September 27, 1999

Some final words from a beloved columnist
Column: Doris Seward

(Doris Seward, Herald-Times columnist for many years, died Thursday night. This piece, reflecting on her childhood and parents, seemed to be a fitting column to be the last by her carried in this newspaper.)

Like some of you, I feel that I was blessed with kind parents, committed to the nurture of their two daughters.

Mother was president of the Parent-Teacher Association when I attended Margaret McCalla School. Father, who had longed for a son, took me to watch the track meets at IU where he often officiated as head judge.

Both parents reviewed my report cards, though Mother usually was the one who signed them. She occasionally visited my school room, cordially recognized by the teacher. My teachers were invited and accepted invitations to dinner in our home. I remember not being very enthusiastic about these occasions but the food was good and Miss Schweringer and Miss Van Dorn ate heartily. My education was richly enhanced by activities outside school but without stressful emphasis. I took piano lessons from a neighbor, Miss Beatrice Evans, whom Mother "wished to help." Eventually I advanced to Mrs. Schweitzer, a faculty wife who was much more demanding and expensive.

I wasn't very talented and was terrified at the annual recitals. I was better at swimming and, with my parents beaming, won races at the Third Street Pool, where the police department now functions.

We attended the artists' series of concerts at the university. I remember getting quite sleepy after 9 o'clock and being a bit uncertain about who Madam Schuman Heink was. I did know that Fritz Kreisler was an excellent violinist and that Will Rogers was witty.

Several times a year we went to events in Indianapolis to see Katherine Cornell, Helen Hayes, Otis Skinner and others. All of this must have required much time and thoughtful devotion on the part of my parents, though they too enjoyed the outings but never considered leaving me with a baby-sitter.

In the home, Mother usually had a young woman student who received free housing in return for being available for our supervision during the evening hours of the week. Mother chose these "student girls" very carefully. I recall that one named Margaret used to stand in the doorway of my darkened bedroom many nights and, at my request, render Horatio at the Bridge or The Highwayman's Daughter, lulling me to a stressful sleep. Once I went to Margaret's home in Richmond and met her 80-year-old Quaker grandfather.

As I grew older, Father was the one who taught me to drive. We would go out to the seldom-used airfield, I would sit behind the steering wheel, Father would demonstrate the gear shift positions, the clutch, the brake, the accelerator lever and then the automatic starter and choke -- a lot to comprehend. Finally he would say, "Start the engine, put the motor in gear, steer ahead to that stand of iron weed and turn right."

I loved to drive and became a dependable, reliable, unexcitable motorist. Many years later my godson remonstrated, "Aunt Doris, are you going to let that Plymouth pass you?" I replied, "John, I couldn't care less, I just want us to arrive safely" -- a dull experience for a competitive youngster.

A dancing class was arranged for a small group of my friends in our teens and we learned not only the fox trot, but also the tango, the samba, and the rumba. Not many of our high school dates were similarly accomplished but my father added the waltz to my repertoire. He told me that he had been the "best waltzer in Monroe County." On a few occasions when he and Mother were chaperoning a Spinster Club dance he would ask the band to play a waltz and we would whirl around the room while my contemporaries would get out of the way, understanding my slight discomfiture at dancing with my father.

Father sang bass in the choir at the First Christian Church with choir practice every Thursday night at 7 o'clock. Mother had a lovely mezzo-soprano voice but she did not sing in the choir, staying home with the children and enjoying Father's return with reports on Esther, Sarah and the director, Mrs. Matthews. The four of us sang around the piano, Mother playing "by ear" in any key requested.

Our lives were full and busy but I don't recall much hurry or stridency. I felt included and directed and encouraged. I had a library card and many, many books were on our shelves, including The Book of Facts, the Encyclopedia Britannica, the National Geographic Book of Dogs, and a huge residue from my grandfather's library.

Now I feel a bit out of touch with the Internet, the chat rooms, the library computer print-outs, the discs, the satellite connections. My intellectual plate seems full with just a book, a concert, a play, a friend, a sermon, a bird, a dog, a flower and some moments for reflections.
Uncle Fred didn't live quite long enough to see his beloved Hoosier football team make its only Rose Bowl appearance on New Year's Day 1968. One of his last concerns before his death on Christmas Day was that somebody would be able to use his Rose Bowl tickets. Fred is buried in Rose Hill cemetery.
The last time I saw Aunt Dorothy was in October 1972. While moving from California to Pennsylvania with Jeanette and our three children, we stopped off in Bloomington. Dorothy was now living on High Street, where we spent the night. We didn't leave until the next afternoon after we had enjoyed a big lunch featuring, of course, her very delicious homemade applesauce. Dorothy's obituary appeared in the Herald-Telephone Saturday, 5 October 1974:
Dorothy Seward

Dorothy Hopper Seward, 81, 409 S. High St., died at 12:30 am. Friday at the Bloomington Hospital.

Born Aug. 24, 1893, in Nashville, [in Brown county, Indiana,] she was the daughter of Charles and Eva Day Hopper. She was a member of the First Christian Church, past president of the church's Christlan Women's Fellowship, the Conversation Club of the Needlecraft Club, a former member of Friday Musicale, the Reading Club, the Argonaut Club and past president of Parent Teacher Associaton at Fairview and McCalla Schools. She was class president of the 1912 graduating class of Bloomington High School.

Survivors include two daughters, Janet Dunn, Bloomington, and Dr. Doris M. Seward, State College, Penn.; four grandsons, George W. Dunn, Highland Park, Ill., Fred S. Dunn, Bloomington, C. William Dunn, Gasquet, Calif., and Allen W. Dunn, Bloomington; one sister, Mary Hopper, Bloomington; and four great-grandchildren.

She was preceded in death by her husband, Fred Allen Seward, who had been president and chairman of the board of Seward and Company, Inc., by three sisters, Marjorie Trisler, Grace Harmon and Mrs. Clohe Whaley.

Funeral services will be 10:30 a.m. Monday at the Day Mortuary Chapel with the Rev. Roy Griggs presiding. Burial will be at the Rose Hill Cemetery.

Friends may call at the funeral home 7:30 to 9 p.m. Saturday and 4 to 9 p.m. Sunday.

The family has suggested that friends who wish may make memorial contributions to the Bloomington Hospital Foundation.
---
1 My uncle Frank, who was eight years old, served as ring bearer and returned to Bloomington in 1964 to help Fred and Dorothy celebrate their golden wedding anniversary.
This page was last updated 2 July 2016.