George and Eva Lingard
While we were living in Tucson, during World War II, we would sometimes travel to Casa Grande to visit my mother's aunt Eva and uncle George. The trip seemed to take forever in Dad's 1941 Plymouth in the broiling Arizona sun, thanks to the 45-mph wartime speed limit. George and Eva lived in a big old house next to an irrigation ditch which we always referred to as "the canal". Sometimes Eva's grandchildren, my little second cousins, Ron and Sharon Montgomery, would be visiting from Tempe. Eva loved to bake and her house was always filled with the fragrance of home-baked bread. George worked at the O'Malley Lumber Co., near the railroad tracks.
Eva May Seward was born 7 Dec 1883 in Bloomington, Indiana, the second of William Henry and Jennie (Allen) Seward's four children. She attended Bloomington High School and continued her education at Indiana University, where she graduated 20 Jun 1906 with a Bachelor of Arts degree in mathematics. This was at a time when women didn't usually go to college. The next two pictures, which may have been taken around the time of Eva and George's wedding, were provided by their great grandson, Craig Montgomery and his wife Marie.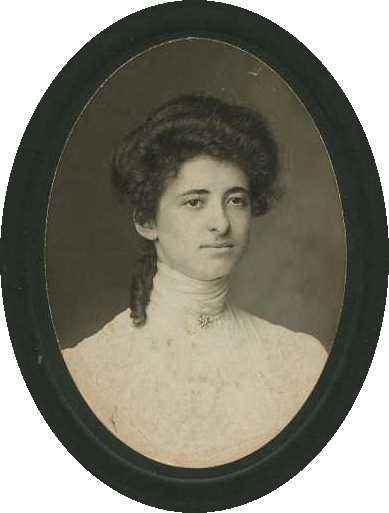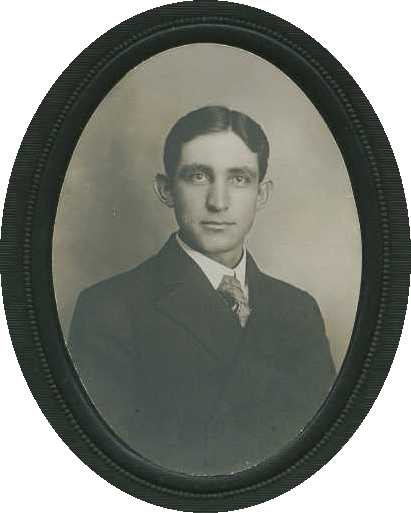 George William Lingard was born 19 Jul 1878, near Mill Creek, in LaPorte county, IN, a son of William Henry and Ellen (Cosgriff) Lingard. He was a grandson of John and Julia (Davis) Lingard of LaPorte. He and Eva were married in Bloomington on 15 Oct 1908. The story of their wedding was told in this article which my grandmother clipped from a newspaper:
LINGARD-SEWARD.

At 2 o'clock this afternoon at the home of the bride's parents, occured the wedding of Miss Eva May Seward to George W. Lingard and at 3:05 the couple left for their distant home in Shoshone, Idaho. The W. H. Seward home was tastefully decorated with autumn flowers for the ceremony which was witnessed by a large number of the relatives of the bride.

The ceremony was performed by Rev. T. J. Clark who came from Albion, Ill., especially for it. The wedding was a quiet, homelike affair and very beautiful. An hour after the ceremony and congratulations, the couple were hurried to the 3:05 train on the Monon to go to Indianapolis, Chicago and then to Shoshone where they are to reside. A table loaded with beautiful presents were the gifts of relatives and friends of the contracting parties.

The bride is the accomplished daughter of Mr. and Mrs. W. H. Seward on north Morton street and well known Bloomington girl. The groom formerly attended the University and is now engaged in the mercantile business in Shoshone, Idaho.

Rev. Thomas Clark, who has been here for a few days on account of the Lingard-Seward wedding, has returned to Albion, Ill. He and his family are much pleased with their new home and the people of the Albion community.
Shoshone, Idaho, where George and Eva made their first home together, is a very small town about 120 miles southeast of Boise. At the time of the 1910 census, less than 2,000 people lived there. The census taker didn't bother to note what streets the inhabitants lived on, perhaps because the streets had no name. For a contemporary account of the Wild West atmosphere in another tiny Idaho town, read "The Weiser Wonder". Eva must have returned to Bloomington several times to visit her family there. The following clipping from the Bloomington Weekly Courier, 24 Oct 1911, reports one of her visits, but doesn't mention the two little ones she undoubtedly would have brought with her to see their grandmother:
Mrs. George Lingard has returned to Shoshone, Idaho, after a visit of six weeks with her mother, Mrs. Will Seward, north Morton street.
About 1916, George and Eva and their children moved to Arizona, perhaps living for a time in Phoenix, where their daughter Martha was born. In 1919, they moved to Casa Grande. Casa Grande is located about halfway between Tucson, where Eva's sister, Alice Walker, lived until 1924, and Phoenix, and was an even smaller town than Shoshone. The 1920 census doesn't give the names of any streets there, while the 1930 census identifies their street as 4th St., but doesn't give any house numbers. In 1940, their street is described simply as "Old Casa Grande -- North of Railroad", which is how I remember it. The entire 1940 census for Casa Grande comprised only 43 sheets, for a maximum of 1720 inhabitants!
Some time in the 1950s, George and Eva moved to a new home on Orange Drive. While living in Casa Grande, they were both active in the local Presbyterian Church. George served on the city council and as mayor, according to the following 29 May 1925 article in the Casa Grande Valley Dispatch:
GEORGE LINGARD RECEIVES HIGH VOTE AT MONDAY'S ELECTION

Recording the largest vote on a city election in the history of the city, five councilmen were elected Monday upon whom will rest the burdens of city management during the ensuing two years.

George Lingard, a member of the present council, received the highest vote, getting 177, with Dan T. Peart, son of Mayor T. R. Peart, second, with 173. Other councilmen elected were F. F. Noe, 163; R. C. Crabb, 140, and Harry Mandell, 133.

According to past custom George Lingard. who received the highest vote, will be elected mayor of Casa Grande at the first meeting of the new council, which will be held Monday night. Mr. Lingard has been a member of the present council during the past two years and is resident manager for J. D. Halstead Lumber company...
This photo appears to have been taken outside my grandparents' Santa Monica home during the '40s or '50s, and is how I remember Aunt Eva: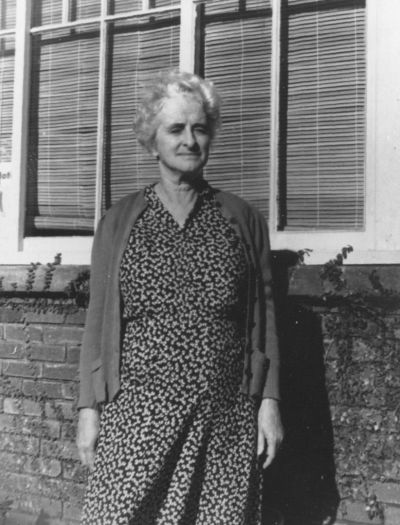 The last time I saw aunt Eva and uncle George was during my drive home from Monterrey, México, after I resigned from the Foreign Service in 1963. I reached Casa Grande on 3 July and spent the evening with them, then went to a 4th of July picnic with them in a local park before resuming my drive to Los Angeles.
The following article appeared in the 28 Nov 1966 issue of the Casa Grande Dispatch:
George Lingards Mark 58 Years

Mr. and Mrs. George Lingard were given a standing ovation at the Moose Lodge in Phoenix marking the observance of their 58th wedding anniversary. Preceding their visit to the Moose Club, the Lingards were the honored guests of Mr. and Mrs. Sam Montgomery and daughter of Tempe at a special anniversary dinner. Mrs. Montgomery is the former Mera Lingard, daughter of Mr. and Mrs. George Lingard.

The Lingards were married Oct. 15, l908. They have resided in Casa Grande since 1919. Mr. Lingard was a former manager of the O'Malley Lumber yard.

Their daughter, Mera, lived in Casa Grande until 1939. Her husband, Sam Montgomery, is also a former resident of Casa Grande. He was a member of the Casa Grande Union High School faculty and later was associated with Standard Stations here and in Tempe and Phoenix.
George Lingard died 10 Jun 1969 in Mesa. We found his obituary on the Find A Grave site for Mountain View Cemetery, Casa Grande, where he is buried:1
Birth: Jul. 19, 1878
Indiana, USA
Death: Jun. 14, 1969

Funeral services will be held this Saturday at 10 a.m. in Cole and Maud Chapel for former City Councilman George W. Lingard, 316 Orange Drive, who died yesterday in Mesa General Hospital. A 50 year resident of Casa Grande, Mr. Lingard was 90 years old.

Mr. Lingard was born July 19, 1878 in Laporte, Indiana. He attended the University in Bloomington, Indiana for two years and Business College in Indianapolis for two years. He moved to Arizona 52 years ago and has resided in Casa Grande since 1919.

A retired lumber yard manager, he managed the J.D. Halstead Lumber Co. and the O'Malley Lumber Company. He served on the City Council here for nine years prior to 1934.

In addition to his interest in civic affairs, he was active in the Masonic Lodge and the Order of Eastern Scar. He and his wife, Eva, who survives him, were charter member of Chapter 28., Order of Eastern Star. He served as Worthy Patron for three terms. Mr. Lingard was the first candidate to join the Masonic Lodge here. He is a Past Master of Pinal Lodge No. 30, Free and Accepted Masons and served as secretary and treasurer for a number of years. He was a member of the Hi-Twelve Club.

The Lingards had four daughters, all of whom were graduated from Casa Grande Union High School. Two daughters preceded him in death.

In October of 1968, the Lingards celebrated their 60th wedding anniversary with an open house at their Casa Grande home.

In addition to his wife, Mr. Lingard is survived by two daughters, Mrs. Mera Montgomery, of Tempe, Mrs. Martha Van Zandt, of La Mesa, California; his brother, John, of Laporte, Indiana; his sister, Mrs. Millie Long, of Laporte, three grandchildren and three great-grandchildren.

After the chapel services, Masonic graveside services will be held at Mountain View Cemetery.
Eva died 7 Jan 1971 in Tempe, and is buried next to George in Mountain View. Even though she had been gone from Bloomington for more than sixty years, Eva's passing was noted in the Herald-Telephone Saturday, 9 Jan 1971:
Eva Lingard

Word has been received of the death Thursday of Mrs. Eva Seward Lingard, Casa Grande, Arizona, where she had iived for over 50 years.

She was the daughter of William S. Seward and Jennie Allen Seward. Graduated from Bloomington High School in 1902 and from Indiana University in 1906, she taught in the Bloomington public schools.

Surviving are two daughters and three grandchildren.

She was the sister of the late Fred Seward and Mr. Austin Seward, Bloomington. Funeral services will be Tuesday in Casa Grande.
Eva also had an obituary at Find A Grave:1
Birth: Dec. 7, 1883
Indiana, USA
Death: Jan. 7, 1971

Funeral services will be held Tuesday at 3 p. m. in the Cole and Maud Chapel here for Mrs. Eva S. Lingard, 87, who died Thursday at the home of her daughter, Mrs. Mera Montgomery, in Tempe. Mrs Lingard moved to Tempe one month ago. She had been a resident of Casa Grande for 58 years.

Born in Bloomington, Indiana on Dec 7, 1883, Mrs. Lingard attended the University there. She moved to Arizona from Shoshone, Idaho.

She was an active member of the community, having served on the Casa Grande Elementary School Board for nine years. She and her late husband were both charter members of the Order of Eastern Star, of which Mrs. Lingard was a past worthy matron.

In 1968, the Lingards celebrated their 60th wedding anniversary. She was preceded in death by her husband, George, on June 10 l969. He was 90 vears old.

In addition to her daughter, Mera, she is survived by another daughter, Mrs. Martha Van Zandt, of La Mesa, California; her brother, Austin Seward, of Bloomington, Indiana, three grandchildren and three great-grandchildren.

Graveside services wiil be conducted bv the Order of Eastern Star. Burial will be in Mountain View Cemetery.
---
Children
George and Eva had four daughters, all of whom were married during a span of less than four years shortly before World War II:
Elsbeth Mildred Lingard, born 8 Jul 1909 in Shoshone, died 12 Jul 1948 in Casa Grande.
Virginia Ellen Lingard, born 17 Mar 1911 in Shoshone, died 16 May 1964 in Tucson.
Mera Alice Lingard, born 17 Sep 1914 in Shoshone, died 29 July 2004 in Arizona.
Martha Gibson Lingard, born 28 Oct 1918 in Phoenix, died 5 May 2009 in De Pere, Wisconsin.
---
Elsbeth. The following clipping from my grandmother's scrapbook describes Elsbeth's wedding in 1939 to Carl Hoisington:
Ceremony Unites Elsbeth Lingard, C. W. Hoisington

In an early morning ceremony at the Lingard home, Miss Elsbeth Lingard, daughter of Mr. and Mrs. Geo. Lingard, and C. W. Hoisington, supervisor of music in the Casa Grande schools, were united in marriage. Rev. Curry H. Love performed the ceremony which was attended only by members of the immediate family and a few close friends.

Mrs. Sam Montgomery, sister of the bride, was matron of honor. The bridegroom was attended by Dr. Russell A. Holy, superintendent of schools. Verne C. Dalby, also a member of the high school faculty played several selections preceding the ceremony. The bride was dressed in a traveling suit of aqua blue with wine accessories.

After the ceremony, guests were entertained at breakfast at small tables decorated in white and pink crystals and flowers. The couple left soon afterward on a tour of the northwest, stopping en route for visits at the Grand Canyon National Park and at the San Francisco exposition.

The bride has lived most of her life in Casa Grande, coming here at an early age from her native state of Idaho. She attended the grade and high schools in Casa Grande, was graduated from the University of Arizona and has a degree as dietician from the Leland Stanford university. She was active among the junior women of Casa Grande having been treasurer of the Junior Woman's club and librarian of the College club during the past year.

Mr. Hoisington came to Casa Grande last fall from Idaho to accept the post as music supervisor in the schools. He is a native of Minnesota but has lived most of his life in Idaho where he received his master's degree from the University of Idaho. He is a member of the Casa Grande Lions club.
Carl and Elsbeth remained in Casa Grande for a while, being listed on the same census sheet in 1940 as George and Eva. They later moved to San Diego, where I visited them in 1946. Soon after this visit, we learned that Elsbeth had cancer. After her death, Carl stayed in touch with Elsbeth's extended family. He visited my grandmother in Santa Monica several times and helped my uncle Bill and aunt Jeannette Walker find the property on the Oregon coast where they built their retirement home.
Elsbeth is buried in Mountain View cemetery in Casa Grande. The following obituary is available on her Find A Grave page:1
Birth: Jul. 8, 1909
Idaho, USA
Death: Jul. 12, 1948

Funeral services were held Wednesday at 9 a.m. for Mrs. Elsbeth Hoisington, from the Cole and Maud Chapel. Mrs. Hoisington died Monday at the home of her parents, Mr. and Mrs. George Lingard, of Casa Grande. She was 39 years of age.

Born in Shoshone, Idaho, on July 8, 1909, Mrs. Hoisington came to Arizona with he parents in 1916, and to Casa Grande three years later.

She attended elementary and high school here. After completing studies at the University of Arizona, Tucson, Mrs. Hoisington became a graduate dietician at Stanford Hospital in San Francisco. She taught school for several years in Casa Grande, Eloy and Duncan.

Mrs. Hoisington had been a member of the Casa Grande College Club and the Junior Woman's Club here.

She married Carl W. Hoisington June 3, 1939, moving to Oregon with her husband two years later. The couple afterward resided in San Diego, California, where Mrs. Hoisington was a member of the Normal Heights Methodist Church. She was active in church and Sunday school work as her health permitted.

Final rites were conducted by the Reverend J.T. Weeks, pastor of the First Baptist Church. Music was in charge of Mrs. K.K. Henness, assisted by her daughters, Mary Lou and Shirley.

Pallbearers were Mayor Charles S. Goff, Jack Clements, Frank Parks, H.O. Pace, J.R. Storey and Bill Killingsworth.

Interment followed in the Masonic plot at Mountain View Cemetery.

In addition to her husband, Mrs. Hoisington is survived by her parents, Mr. and Mrs. George Lingard; three sisters, Mrs. Paul Sisk, of Tucson; Mrs. Sam Montgomery, of Phoenix, and Mrs. Aubrey Van Zandt, of San Diego.
Carl Hoisington was apparently a veteran of World I. He is buried in Willamette National Cemetery in Portland, Oregon, according to Find A Grave, which lists his birth as occurring 14 Jun 1895, and his death 13 Dec 1971.
---
Mera. George and Eva's daughter Mera married Samuel A. Montgomery 1 May 1938. This was the article describing their wedding in the 6 May issue of the Casa Grande Dispatch:2
Sam Montgomery, Mera Lingard Wed At Garden Rites

In a ceremony performed in the garden at the home of the bride's parents, Miss Mera Lingard, daughter of Mr. and Mrs. Geogre Lingard, became the bride of Sam Montgomery, young business man, Sunday evening. The Rev. Norman Taylor of Tempe officiated. Miss Martha Lingard attended her sister as maid of honor, and Miss Alice Walker, of Santa Monica, a cousin, was bridesmaid. Bernard Shaner, of Prescott, was best man and Bob Montgomery, brother of the groom, was usher.

Preceding the ceremony, Mrs. K. K. Henness sang, "I Love You Truly" and "The Sweetest Story Ever Told." The bride, who was given in marriage by her father, wore pink net and lace, with pink tulle finger tip veil held in place by tiny pink rosebuds. Miss Martha Lingard wore gold lace and Miss Walker blue lace, each with white lace boleros and rose corsages.

Following the reception held in the garden, Mr. and Mrs. Montgomery left for a two-weeks trip to points in Colorado. On their return they will be at home in the Evergreen Gardens [in Casa Grande].

Mrs. Montgomery is a graduate of the local high school, and attended business college in Phoenix. Mr. Montgomery received his education in Kansas and the Arizona State Teachers college in Tempe, and the University of Arizona.
Sam and Mera moved to the Phoenix area, and lived the rest of their lives in Tempe and Mesa. Sam worked for an oil company. When he and Mera were enumerated in Tempe in the 1940 census, just a few months before Ron's birth, Sam was listed as the manager of a filling station. Mera kept in touch with her Walker cousins throughout her life and I can remember visiting her several times over the years while passing through the Phoenix area. She was very helpful about providing information on her family to me.
The following obituary for Sam appeared in the 28 May 1987 issue of the Casa Grande Dispatch:2
Samuel Montgomery

A memorial service is scheduled for 10:30 a.m. Saturday in Bunker's Garden Mortuary chapel, 33 N. Centennial Way, Mesa, for Samuel Montgomery, 76.

Mr. Montgomery died May 25, 1987, in Desert Samaritan Hospital, Mesa.

Mr. Montgomery, a former Casa Grande resident who later lived in Mesa, was born in Gypsum City, Kan., and moved to Arizona 54 years ago.

He was an employee of Standard Oil Co. for 25 years, and had worked as a high school teacher and a self-employed real estate salesman and broker.

Mr. Montgomery graduated from Arizona State Teacher's College (now Arizona State University) in Tempe after two years of attendance.

He was a member of the Methodist church, the American Association of Retired Persons, ASU alumni association and past president of the Lion's Club.

Survivors include his wife Mera Alice of Mesa; daughter Sharon Trump of Florida; son Ronald of California; brother Robert of California; sisters Mary and Frances Montgomery and Wanita George, all of California; four grandchildren and four great-grandchildren.
Mera died just two months short of her 90th birthday. This very brief obituary appeared in the 1 Aug 2014 issue of the Arizona Republic:
Mera Alice Montgomery, 89, of Mesa, Arizona, passed away on July 29, 2004. Visitation will be held Monday, August 2, 2004 from 6:30 - 7:30 PM at Allen Funeral Home, 1130 S. Horne St., Mesa, AZ. Services will be held Monday, August 2, 2004 at 7:30 PM at Allen Funeral Home, 1130 S. Horne St., Mesa, AZ. Contributions may be made to Hospice of the Valley, 1510 E. Flower St., Phoenix, AZ 85014. Arrangements entrusted to Arizona Cremation & Funeral Services.
---
Virginia. In 1941, Virginia married Paul Sisk:
CASA GRANDE, Aug. 17 -- A pretty home wedding took place in the residence of Mr. and Mrs. George W. Lingard on East 4th street at 6:30 p. m. Friday [August 15], when their daughter, Virginia, was united in marriage to Paul Sisk, by the Rev. Curry H. Love, retired pastor of the Presbyterian Church.

The bride was given in marriage by her father, and attended by Miss Virginia Kenyon, a lifelong friend, as maid of honor.

Matt Crouse of Bisbee, brother-in-law of the bridegroom, attended as best man. Only the immediate families witnessed the ceremony.

The bride wore a pink beige street ensemble with brown and navy accessories, and the maid of honor wore a blue crepe ensemble with white accessories. Both wore corsages of gardenias.

Mr. Sisk is a native of Missouri, where he received his education, and came to Arizona in 1930. For several years he has been with the Martin Drug Company of Tucson, and is manager of the branch store in Casa Grande.

Mrs. Sisk was graduated from Casa Grande High School and also attended the University of Arizona and a business college in Santa Monica, Calif. For six years she has been employed in the office of the Agricultural Adjustment Administration at the city hall in Casa Grande.

Present at the wedding were Mr. and Mrs. Matt Crouse and children of Bisbee, Mr. and Mrs. Sam Montgomery and small son of Tempe, Mr. and Mrs. Aubrey Van Zandt, Mrs. Jennie Kenyon and daughter Virginia, Mr. and Mrs. Lingard and the Rev. Mr. Love.

A wedding dinner was served in the home after the ceremony, and the bridal couple left immediately after for a short honeymoon trip to Catalina Island and Los Angeles. Upon their return, the newlyweds will be at home in the Beeler house on West Eighth street.
In 1940, Paul was living with his parents in Tucson and was working as a pharmacist. He and Virginia moved back to Tucson, where Paul worked for the Upjohn drug company. I can remember visiting them and their son Mike on trips to Tucson with my parents. A 1948 Tucson directory lists Virginia and Paul as living at 2819 E. 19th Street. Paul would give us samples of Upjohn vitamins when we visited.
Virginia's obituary was taken from her memorial at Find A Grave:1
Birth: 1911
Idaho, USA
Death: May 23, 1964

Funeral services were held at 1O a.m. today at Cole and Maud Chapel for Mrs. Virginia L. Sisk, 53, who died Saturday in Tucson. Rev. Richard Archibald officiated.

Mrs. Sisk was born it Shoshone, Idaho. She moved to Arizona 45 years ago and had resided in Tucson for the past 14 years. At one time she was employed by Pinal County.

Survivors include her husband, Paul, and a son, Michael, both of Tucson; her parents, Mr, and Mrs. George Lingard, of Casa Grande; her sisters, Mrs. Sam Montgomery, of Tempe and Mrs. Aubrey Van Zandt, of La Mesa, California.

Burial was in Mountain View Cemetery.
Another obituary appeared in the Tucson Daily Citizen, 25 May 1964:
Funeral Rites Today For Mrs. Sisk

Funeral services were held in Casa Grande today for Mrs. Virginia Sisk of 605 S. Santa Ana Place who died at Tucson Medical Center Saturday after a long illness. She was 53.

Mrs. Sisk was a Tucson resident for 20 years and was active in women's golf here. She was a member of the Randolph Women's Golf Association and City Women's Golf Association.

Born in Shoshone, Idaho, Mrs. Sisk spent her childhood in Casa Grande and attended schools there.

Survivors include her husband J. Paul Sisk; one son, Michael Paul of Tucson; her parents, Mr. and Mrs. George W. Lingard of Case Grande; and two sisters, Mrs. Martha Van Zandt, La Mesa, Calif. and Mrs. Mera Montgomery of Tempe.
---
Martha married Aubrey Van Zandt 4 July 1941 in Casa Grande. Van was born 2 April 1915 in Dallas, TX, and came to Casa Grande via Bisbee, AZ. In 1940, he was living in Casa Grande and working as a linotype operator for the Casa Grande Dispatch,2 where we found the following article in their 4 July issue:
Lingard Home Is Scene Of Wedding

Wedding rites will be solemnized for Miss Martha Lingard and Mr. Aubrey Van Zandt at the home of Mr. and Mrs. George Lingard, parents of the bride, at 7:30 p. m. with the two families and a few personal friends present. The ceremony will be performed by Rev. Wiley Henton, pastor of the Calvary Baptist church.

Following the ceremony the bride will cut the wedding cake at a buffet supper after which the young couple will depart on a trip to the northern part of the state.

Miss Virginia Lingard, sister of the bride will be bridesmaid, and Mr. Sam Montgomery will be best man. In attendance will be Miss Audrey Van Zandt, twin sister of the groom, and his parents, Mr. and Mrs. L. Van Zandt of Bisbee, and an uncle and aunt, Mr. and Mrs. Jim Bell.

The bride will wear a blue sharkskin sport dress with white accessories, and the bridesmaid will wear a rose pink spun rayon sport dress, also with white accessories. The groom and best man will be dressed in grey business suits.

Two vocal numbers, "At Dawning," and "Because," will be sung by Mrs. Don Prettyman, with Mrs. Donald Sell at the organ.

Miss Lingard is a graduate of Casa Grande union high school of the class of '36, and after finishing here attended State Teachers College at Flagstaff two years, where she majored in business administration. At present she is employed as bookkeeper at O'Malley Lumber company and expects to continue in this position after her marriage. Mr. Van Zandt is a native of Dallas, Texas, but came to Arizona with his parents in 1924, and is a graduate of Bisbee high school, class of '33. He finished at a technical trade school in Toledo, Ohio, in 1937, and for the past 18 months has been employed with the Casa Grande Dispatch as linotype operator.
Van served in the U. S. Marine Corps during World War II and he and Martha lived in San Diego, CA, until he died 12 Aug 1977. After Van's death Martha lived in Yuma, AZ, and in Wisconsin. We visited her in Yuma on our way to Tucson while on vacation in 1992, when she was living down the street from the San Diego Padres' spring training complex.
Van is buried in Mountain View cemetery in Casa Grande. According to his Find A Grave page:1
Birth: Apr. 2, 1915
Texas, USA
Death: Aug. 12, 1977

Graveside services were held at 10 a.m. today at Mountain View Cemetery for Aubrey Van Zandt, 62. Parker Smith of the Presbyterian Church officiated.

Mr. Van Zandt was born April 2,1915 in Texas. He died Aug. 12 in La Mesa, California. He and his wife, Martha, resided at 7576 Seneca Place, La Mesa.

Other than his wife, he is survived by one sister, Audrey Galusha, of Mesa.

Cole and Mortuary, 215 S. Washington, handled the arrangements.
Martha's obituary, from the 8 May 2009 issue of the Green Bay Press Gazette, was found in a Wisconsin obituary archive at RootsWeb:
Willems, Martha

Martha Willems, 90, De Pere, passed away Tuesday, May 5, 2009. She was born on Oct. 28, 1918, in Phoenix, Ariz., to the late George and Eva Lingard. The next year, the family moved to Casa Grande, Ariz. She went to grammar school and high school there and later attended Northern Arizona University in Flagstaff, Ariz., for two years.

In 1941, she married Aubrey Van Zandt and they moved to San Diego, California. During World War II she worked in an aircraft plant and later was a bookkeeper for a San Diego lumber yard.

When her husband, Aubrey, died in 1977, she moved to Yuma, Ariz. While there she met a Green Bay native, Louis Willems, who was there visiting friends. They were married in 1984 and lived in Yuma until they moved to De Pere in 1997. He preceded her in death in 1999. Martha was a member of First United Presbyterian Church in De Pere, where she was active with the Presbyterian Women's group. She enjoyed playing cards, reading, watching TV and visiting Door County.

She is survived by a niece, Sharon Trump, Orlando, Fla.; stepchildren, Patti (Howard) Hansen, Ephraim, WI; Peter (Connie) Willems, Milwaukee; Stephen Willems, New York; also five step grandchildren and two step great-grandchildren.

Martha is preceded in death by her sisters, Mera Montgomery, Virginia Sisk, Elsbeth Hoisington and a nephew, Ronald Montgomery.

Memorial services will be held at 11 a.m. on Saturday, May 9, 2009, at First United Presbyterian Church, 605 N. Webster Ave., De Pere, with a visitation a half-hour prior to the service. The Rev. Dr. Ted L. Tromble will officiate. Cotter Funeral Home and Cremation Service, De Pere, is assisting the family. Online condolences may be expressed at www.cotterfuneralhome.com.
Between Aubrey Van Zandt and Louis Willems, Martha was married to Jackson C. Tryon, who was born 11 Sep 1916 and died 16 Sep 1980. They were married in Las Vegas, 15 July 1978. Jackson is buried in St. David Cemetery in Cochise county, AZ.
---
Descendants
Here are three of George and Eva's descendants, whose pictures were sent to us by Craig and Marie Montgomery: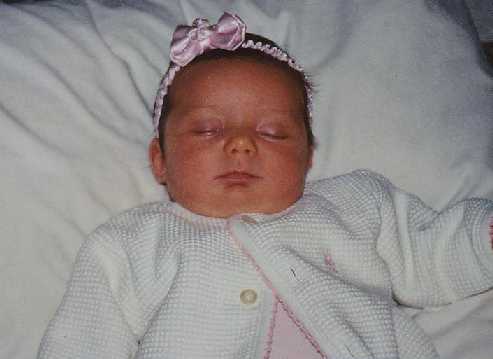 Samantha Ann Montgomery - born in 2002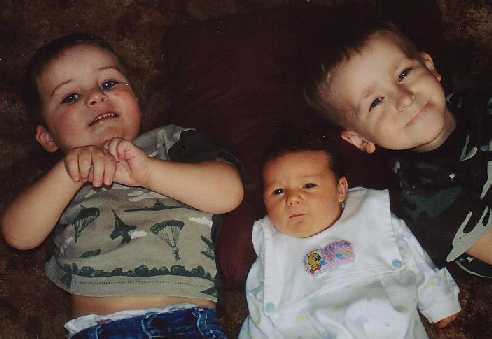 2-year-old Chris and 3-year-old Cole with baby sister Samantha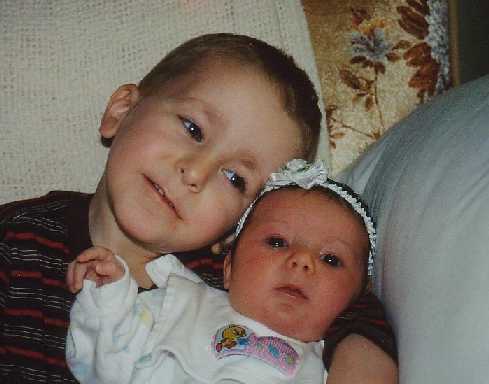 Samantha with proud big brother Cole (Cole has a fourth cousin, also named Cole, who has his own page in this album.)
---
1
These obituaries sound as if they were printed in a contemporary newspaper. They were placed on Mountain View's
Find A Grave site
by a dedicated volunteer named
Barb
.
2
There are several decades worth of
digital archives
of the
Dispatch
at the Casa Grande Public Library. A search on
Lingard
yielded more than a thousand hits. We'll definitely be adding information from these archives from time to time.
This page was last updated 18 Jun 2015.