George and Dell Walker
George Voss Walker was my grandfather, Charles Edward Walker's older brother. He was born in Bloomington, Indiana, 20 Oct 18711 to John Wesley and Sarah Elizabeth (Voss) Walker. In about 1890, he married Dell Strong. Although there were several Strong families in Bloomington at the time, I've been unable to verify Dell's relationship to any of them. There's no record of a Strong-Walker marriage in the Indiana marriage index.
George and Dell had two children, both of whom are buried along with George and Dell, at Rose Hill cemetery in Bloomington:
Nelle Lucile "Nellie" Walker,1 born 1891, died 1 Dec 1918.
Orville W. Walker, born 1894, died 1897.
The 1900 census lists George as a house painter at 222 North Dunn Street, Bloomington, born Oct 1870,1 with Della M., born Feb 1870, and Nellie L., born Aug 1891. He lived most of his life in that same house, working as a "painter and decorator" according to clippings in my grandmother's scrapbook. George and Dell were enumerated there in 1910, and again in 1920.
I met George and Dell in June 1949 during my family's cross-country trip. They were both approaching their 80th birthdays and were the oldest people I had ever met until then. They were a warm, hospitable couple who seemed to be extremely happy to see my mother and her family. Uncle George appeared hale and hearty, but Aunt Dell seemed very frail to me. She died 22 Jul 1951, and in January 1952, George drove across country in his 1934 Chrysler Airflow to visit my grandparents. He was with them at their Santa Monica home when Charley Walker died 29 Jan 1952.
George made several more trips to California, accompanied by his housekeeper, Mrs. Eldridge. During this period, he went through several serious illnesses, including cancer. I last saw him in August 1957, when I stopped off in Bloomington on my way home from my U. S. Navy midshipman cruise. He and Mrs. Eldridge took me out to dinner at one of their favorite restaurants in a nearby town, perhaps Bedford, Indiana. I have several pictures of Uncle George, taken during the 1950s, which I hope to add to this page soon.
George's very brief obituary, which gives his wife's name as "Ella". says he died on a Saturday. His tombstone says "Jan. 11, 1958", which was a Saturday. The Bloomington Herald-Telephone obituaries index lists an obituary printed 13 Jan 1958 for a "George Vess Walker", age 56. Could this be for Uncle George, who was 86 years old at death?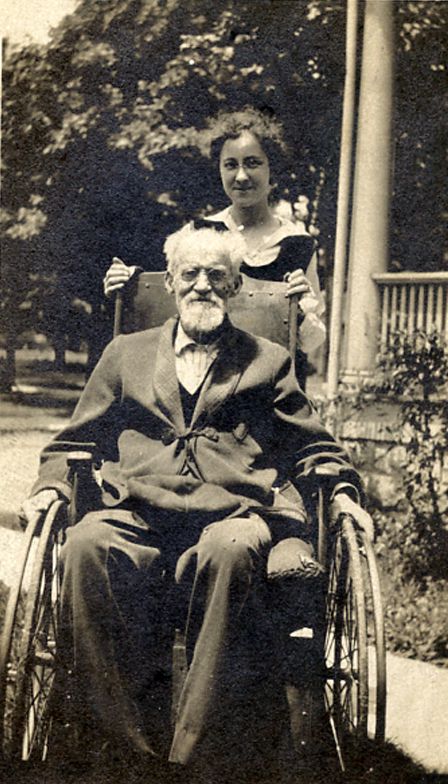 Nelle Walker. The Bloomington Telephone, 24 Jan 1905, reported on page 4:
At the end of next week 39 pupils will graduate from the common schools and enter the high school to acquire more knowledge. They are as follows: ...

Central--

... Nellie Walker...
Nellie subsequently attended, and graduated from, Indiana University. Years later, George gave me some of her college history textbooks. The following article appeared on the front page of the Bloomington Weekly Courier's 4 June 1915 issue:
HOLLAND-WALKER SOCIETY WEDDING

Marriage Was Culmination of a College Romance

The culmination of a pretty college romance took place last even at the home of Mr. and Mrs. George Voss Walker when their daughter, Nelle Lucile became the bride of Robert C. Holland of Buffalo, New York. The Rev. W. H. Smith performed the ceremony.

The bride is one of Bloomington's most accomplished young ladies, a graduate of Indiana's class of 1912 receiving her Master's degree the following year.

The groom since leaving college has been connected with the Buffalo division of the Diamond Rubber Company.

Both while in the University were members of the Independent Literary Society, the groom being also a member of the Phi Beta Pi fraternity.

The happy couple left immediately for Buffalo where they will make their future home.

The out of town guests for the occasion were Mrs. S. E. Holland and son, Ernest, of Buffalo, New York; Mrs. A. S. Cost and Mrs. W. D. Cost of Indianapolis and Miss Jess Hall of Gaston.
At time of her grandparents' fiftieth wedding anniversary, 19 Nov 1918, Nellie and her husband were living in Buffalo, NY. Aunt Elizabeth says Nellie's death, only 12 days later, was due to the influenza epidemic which swept the country in late 1918. This photo, of Nellie with her grandfather Walker, was taken during the last year of her life. Thank you, cousin Patty, for contributing, via cousin Karen, what may be our only picture of Nellie.
---
1 George's parents recorded his 20 Oct 1871 birth date in their family Bible, which I have in my possession. In the same Bible, they recorded their granddaughter's name as Nellie Luciel, but failed to record either her birth date, or the date on which George and Dell were married.
This page was last updated 17 Nov 2014.