Billy and Jennie Seward
William Henry "Billy" Seward was born 20 Mar 1857 in Bloomington, Indiana. He was the second of nine children born to Williamson Brewster and Elizabeth (Helton) Seward. It is likely that he was named for the U. S. Senator from New York, William Henry Seward (1801-1872), who was quite a well-known politician at the time. The Senator, who was no relation, was the frontrunner in the race for the new Republican Party's presidential nomination in the next election. Surprisingly, an obscure Illinois lawyer, Abraham Lincoln, ended up getting the nomination.
Jennie Lind Allen was born 30 Apr 1860 in Greenville, Indiana. She was the eighth of nine children born to Thomas Jefferson and Martha (Gibson) Allen. According to her granddaughter, Dr. Doris Seward, Jennie was given her name because, while her mother was expecting her, Jenny Lind, the singer known as "the Swedish Nightingale", who toured the United States in the 1850s, was passing through Indiana. Martha Allen wanted to go hear Jenny Lind, but couldn't. At that time, it was "not appropriate" for pregnant women to be seen in public. (This story is undoubtedly apocryphal, since there doesn't seem to be any evidence for the opera singer being in the U. S. A. around the time of Jennie Allen's birth.) Jennie Allen's name appears in some places as Virginia, but I don't have any evidence that she was ever known as anything but Jennie. Some sources give her birthplace as Bloomington, but her obituary says it was Greenville, where she was enumerated, as a baby, in the 1860 U. S. census.
Billy and Jennie were married 21 Dec 1880,1 in Greenville. The following article appeared on page 4 of the New Albany Daily Ledger-Standard for Wednesday, 22 December:
SEWARD-ALLEN

At Greenville, last night,1 at the home of the bride--Mr. and Mrs. John McKinley's--Hon. William H. Seward, of Bloomington, Ind., and Miss Jennie L. Allen, the ceremony being performed by elder R. L. Howe, of Charleston. Mr. and Mrs. Seward received the congratulations of many friends, and the wedding was quite a society event at Greenville. Mr. Seward is one of the State House Commissioners, and was formerly a member of the legislature from Monroe county. His bride is an accomplished and handsome lady.
It's highly unlikely that the young Mr. Seward could already have been a former legislator by age 23! The next article appeared on the front page of the Bloomington Courier's 25 Dec 1880 edition:
Will Seward Married in Floyd County

Mr. Will Seward of this city and Miss Jennie Allen of Greenville, Floyd County, Indiana, were married at the home of the bride on Wednesday last.1 The newly married pair arrived here on the 9:25 train Wednesday night and were met at the depot by the City Band who acted as an escort to the residence of the groom's father, the Hon. W. B. Seward. After a serenade by the band, Will invited the party to Hobson & McKinley's where an oyster supper was served. The bride is a sister of the wife of James D. Showers, is handsome and accomplished. There are very many friends here who wish Will and his wife a long life of happiness and prosperity.
It's possible they met through Jennie's sister or some other family member who had already moved to Bloomington. They lived at 420 North Washington Street, and had the following children, all born in Bloomington:
The following pictures of the Seward children were taken, I believe, in about 1890 and about 1908: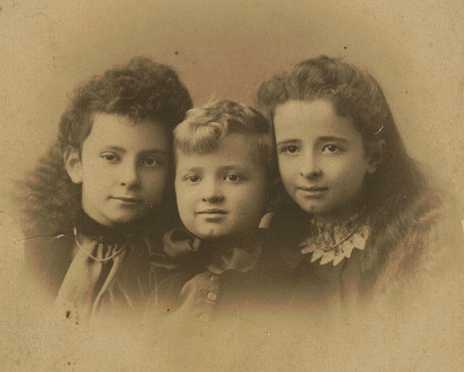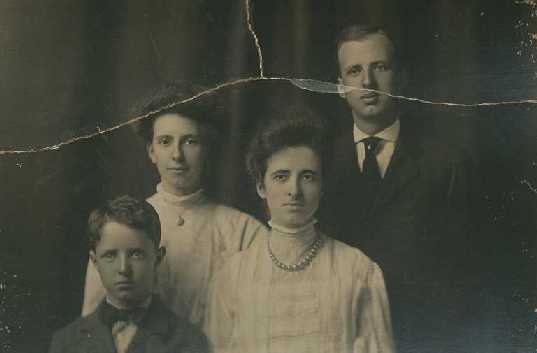 William worked at the Seward foundry and eventually became its manager. His 1900 census entry lists him as "foundry owner", while W. B.'s entry lists him as a "machinist". We aren't sure exactly when he took the helm at Seward & Co., but the following appeared in the Bloomington Republican Progress, 23 Apr 1890, and indicates that Billy was taking an active role in the foundry:
Mike2 and Will. H. Seward have purchased S.D. Noel's roofing and stove business, and will conduct it as heretofore, north of the foundry.
Randi Richardson, Monroe county GenWeb coordinator, wrote on 17 Aug 2001, "Several years ago while antiquing in Franklin, Indiana, I came across an odd wooden, hinged device marked Noel and Seward. I think it was also dated pre-1900. The guy in the shop told me it was probably used for shaping gutter..."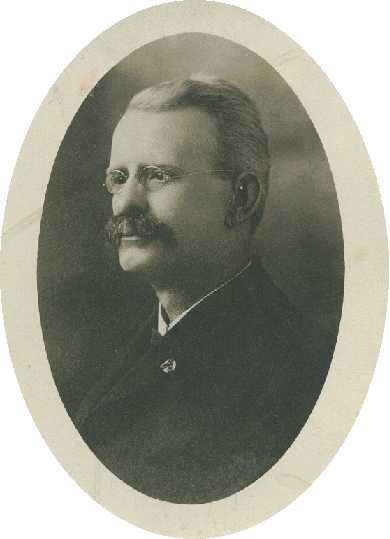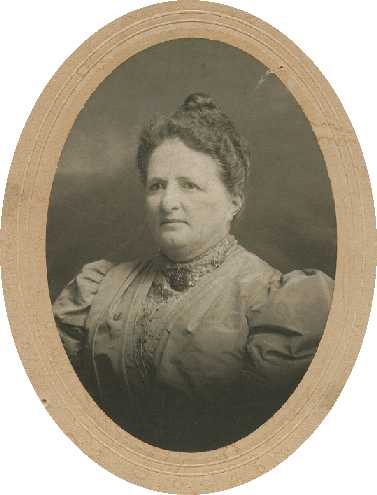 The four photos above were provided by Craig and Marie Montgomery. Craig is Billy and Jennie's g-g-grandson.
Billy died 19 Mar 1909 in Bloomington and is buried in Rose Hill cemetery there. The following obituary, which was copied by my uncle Bill Walker (Billy and Jennie's grandson) from a nearly illegible clipping, appeared in the 23 Mar issue of the Bloomington Telephone. This obituary, and Jennie's below, are full of names of family members whose relationships to Billy and Jennie are mentioned in this page's footnotes.
W. H. SEWARD PASSES BEYOND

Prominent Citizen and Lodge Man Dies This Morning.

From Friday's Daily.

William H. Seward, at the head of the Seward foundry and a leading citizen of Bloomington, honored and beloved on every side, died this morning at 8:15 o'clock at the home on north Morton street, the result of an attack of pneumonia, age 52.3

It was not long until the sad news, though not unexpected, was known in all parts of the city. For several days, the friends had realized his very serious situation, and in fact since last Sunday, it has only been hope against hope by those who knew his weakened condition. The trouble was a weak heart, and as he lingered, the danger grew apace, until yesterday morning there was little hope. Last night he was taken with a sinking spell from which he never rallied. About five weeks ago Mr. Seward had a light attack of pneumonia and was kept indoors for ten days or more. He had never been sick before, and with his rugged and perfect constitution he soon recovered, and in less than a week was at work in the foundry -- even against the advice of his doctor and friends. One day he became overheated, and going home was taken with a chill which foretold the relapse that ended fatally this morning.

Mr. Seward would have been 53 years old3 tomorrow, and was born and raised at the old home place corner of 7th and Washington streets. He was married in 1880 to Jennie Allen, who is a sister of Clarence and Thomas Allen and Mrs. J. D. Showers.

---

The untimely death fills with lasting sorrow a family circle. In the immediate family a wife and mother are stricken with the four children -- Mrs. Alice Walker, of Tucson, Ari., Mrs. Eva Lingard of Shoshone, Idaho, and the two sons, Fred and Austin of this city. The aged father and the mother also survive -- Mr. and Mrs. Wm. B. Seward, and the brothers and sisters are Mrs. A. B. Beldon4 and Mrs. Edward Hall5 of this city; Mrs. Ralph French6 of Ft. Wayne; George of Chicago, M. H.2 and Paul of this city.

In every walk of life Wm. H. Seward will be missed -- as a citizen, as a churchman, as a lodge member, as a Republican, and first and last of all within the family circle. He was the soul of honor and his life and character were above reproach. Almost without exception he was on the right side of every question -- not obtrusive but always firm and with good logic for the power that moved him. When such a man is stricken down, it is the loss of the entire community, and from every side today are expressions of regret and sorrow.

---

Mr. Seward's interest and life work was as a member of the Seward foundry company. As boy and man his life was spent in the business. He followed his father and for some years has been the head of this pioneer firm. In work as in everything else he was a leader and he was thoroughly versed in the iron trade and general mechanical affairs -- perhaps the equal of any man in the county.

Mr. Seward was a lifelong member of the First Presbyterian Church.

In city affairs he was active and his ideas always valuable. For a time he served on the council. In politics he was a Republican, and for the last term was a jury commissioner.

He was a natural musician and was one of the youngest members of the famous Seward band, then organized the Mechanics7 and more recently the Bloomington band, of which he was for a time the leader.

"Billy" Seward, as he was familiarly known and admired about town, was a leader in lodge affairs in Bloomington. He was not only a member of the leading societies, but he worked with enthusiasm within the lodge rooms, and was regarded as an authority, especially in Odd Fellowship, the Elks, and Pythianism. He knew the rituals by memory, and in the absence of any of the officers, he could always be depended upon to take their part. The laws and precedents were always at his tongue's end and his opinion was regarded as authority. His membership included --

Monroe lodge of Masons -- junior warden, through the chairs of the Blue lodge and the Royal Arch, a member since he was 25 years old.
Knights of Pythias -- past chancellor, keeper of record and seals for 20 years or more, often a delegate and one of the oldest members of Franklin lodge of this city.
Odd Fellows -- past noble grand, a member of all the branches, several times a delegate to the grand lodge, having occupied each chair in Cecelia lodge.8
Elks -- past exalted ruler, a delegate to the national convention at Buffalo and now chaplain of the local lodge.
Maccabees -- a leading member since organization here.
The report of Billy Seward's funeral is from an undated clipping in my grandmother's scrapbook:
Funeral of W. H. Seward.

The funeral of W. H. Seward was held at the First Presbyterian church yesterday afternoon at two o'clock in charge of the Rev. T. R. White, the pastor. It was one of the largest attended funerals held in the city. The large church was crowded to the doors and many were unable to find seats. The male quartette consisted of Messrs. Hughes, Wiltshire, Riley, and Springer. The songs were, "Abide With Me", "Beautiful Isle of Somewhere" and "Some Sweet Day." All those connected with the service were Knights of Pythias, the minister, the sexton, St. Clair, the undertaker, Templeton, and the ushers, John W. Cravens, Samuel Dodds and the quartette.

The service was opened by a song by the choir, followed by a prayer by Rev. White. The Scripture reading was 1 Cor. XV, 35-58, John XIV, 1-3, 15-20, 25-27. The text of Rev. White's remarks was 1 Cor. XV, 46, "Howbeit that is not first which is spiritual, but that which is natural, then that which is spiritual." In a very convincing way he showed the wisdom of so living in this world as to develop the ability to breathe the higher atmosphere of the life after death. The message of comfort to the family was based on the following passages of scripture: "Are the consolations of God too small for thee, even the word that is gentle toward thee. Jacob mourned for his son and his sons and all his daughters rose up to comfort him; but he refused to be comforted, and he said, for I will go down unto the grave unto my son, mourning. A voice is heard in Ramah, lamentation and weeping, Rachel weeping for her children. She refused to be comforted for her children, because they are not. The Lord gave and the Lord hath received, blessed be His Name."

The floral tributes from Mr. Seward's many friends and the lodges of which he was a member were most beautiful and lavish and showed the prominent place in the community and in the hearts of our citizens held by the deceased. The number of men in the audience was quite indicative of the kind of life led by Mr. Seward. Hundreds of sorrowing friends accompanied the family to the cemetery where the body found its last resting place under a bank of flowers. The funeral was an eloquent expression of Bloomington's admiration for the man and sympathy to the sorrowing family. Surely it is worth while to be an honest man and a good citizen.
Billy and Jennie's son, Fred, had gone to Globe, in the Arizona Territory, after attending Indiana University, to work in the copper mines and had to return home to take charge of the foundry at age 23. Billy's portrait is one of a triptych of pictures that were framed together and hung over the stairway at my grandparents' home in Santa Monica. Craig and Marie's pictures are very small copies of the portraits. I would welcome hearing from any of my other cousins who might have the original pictures and would like to scan them, or lend them to me, for this Family Album.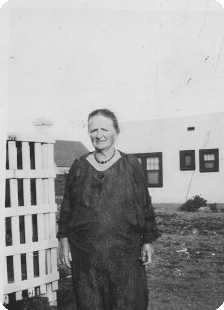 Jennie had Type 2 diabetes and had to inject the newly discovered drug, insulin, regularly in her later years to keep her blood sugar under control. My mother remembers watching her grandma giving herself shots in her leg. Jennie traveled frequently to California and Arizona to visit her children and grandchildren there. Her granddaughter, Mera (Lingard) Montgomery, remembers that she loved Jennie's visits to her family in Casa Grande, AZ. Mera marveled at the trunk she brought with her, and says they'd always have to go through the trunk and look at the things her grandmother had packed and that she would always bring candy in it for them. Some of her Walker grandchildren remember how Jennie liked to go to a park and ride on the merry-go-round with them when she came to visit. This picture of Jennie Seward was provided by my aunt, Alice Pollard, and may have been taken during one of Jennie's visits in Santa Monica.
Jennie Seward died 21 Sep 1934 and is also buried at Rose Hill cemetery. Her death and funeral were reported in several newspaper articles.
HEART AILMENT IS FATAL TO MRS. SEWARD

Prominent Bloomington Resident To Be Buried Monday

Mrs. Jennie L. Seward, 74, a prominent resident of Bloomington for the last 54 years, died at 8 o'clock last night in the Bloomington Hospital of heart trouble, having been ill for the last 10 weeks. Her husband, William H., died 25 years ago.

Mrs. Seward was born in Greenville, and resided there until 1880, when she was married and moved to Bloomington. Since moving to Bloomington, she has been active in numerous organizations. Mrs. Seward, in addition to being a member of the First Christian Church, was a member of the Rebeckahs, Pythian Sisters, Eastern Star, War Mothers and the American Legion Auxiliary.

She is survived by two daughters, Mrs. Charles E. Walker, Santa Monica, Calif., and Mrs. George W. Lingard, Casa Grande, Ariz.; two sons, Fred A. and W. Austin Seward, Bloomington; two brothers, Thomas Allen, Bloomington, and Lewis Allen, Pratt, Kas.; one sister, Mrs. Hettie Lepscum, Bloomington; eight grandchildren in California; four in Arizona and four in Bloomington.

Both daughters are in Bloomington, having been visiting with their mother, recently.

The funeral will be at 2:30 o'clock Monday afternoon at the First Christian Church, the Rev. W. E. Moore being in charge of the services. Burial will be in the Rosehill cemetery.

Pallbearers will be: Ethan, Edgar, and Frank M. Allen,9 Bert Beldon,4 Charles Hall5 and Wall Pauley;10 while the honorary pallbearers will include: J. D. Showers, A. H. Beldon,4 Dr. Burton D. Myers,11 Grover Bell,12 J. F. Regester, Paul Seward, W. C. Snyder,13 Joseph Robinson14 and Ralph Schmalz.15

The body will lie in state at the home, 420 north Washington street.

---

MRS. JENNIE SEWARD DIES AT HOSPITAL OF HEART DISEASE

Mrs. Jennie L. Seward, age 74, 420 north Washington street, died at the Bloomington hospital at 8 o'clock Friday night, from heart disease. She had been ill for the past ten weeks. Mrs. Seward was a member of the firm of Seward and Company, machinists, having operated the business with her sons, Fred A. and W. Austin Seward since the death of her husband.

She was born in Greenville, Ind., and lived there until her marriage to William H. Seward in 1880. Since that time she has lived continuously in Bloomington, with the exception of extended visits made to her daughters in the west. Her husband was the grandson of the founder of the Seward and Company, foundry, one of the oldest business firms in the city, and during his lifetime was head of the company. He died 25 years ago. Mrs. Seward was a member of the First Christian church and of the Pythian Sisters, Rebekahs, Eastern Star, War Mothers and American Legion Auxiliary.

Survivors are two sons, Fred A. and W. Austin, both of this city; two daughters, Mrs. Charles E. Walker of Santa Monica, Cal., and Mrs. George W. Lingard of Casa Grande, Ariz.; two brothers, Thomas A. Allen of this city, and Louis Allan of Pratt, Kas.; one sister, Mrs. Hettie Lepscum of this city; eight grandchildren living in California, four in Arizona and four in Bloomington.

The daughters were called here several weeks ago by their mother's illness and had remained.

Funeral services will be held at 2:30 p.m. Monday from the First Christian church and will be conducted by the Rev. W. E. Moore. Interment will be in Rosehill.

Those who will serve as active pallbearers are Ethan Allen, Edgar Allen, Frank M. Allen, Bert Beldon, Charles Hall and Wall Pauley. The list of honorary pallbearers includes J. D. Showers, A. H. Beldon, Burton D. Myers, Paul Seward, W. C. Snyder, Joseph Robertson,14 Grover Bell, J. F. Regester and Ralph Schmalz.

The body will lie in state at the residence, 420 north Washington street, after 5 p.m. today.

---

MRS. SEWARD IS BURIED

Funeral services for Mrs. Jennie L. Seward were held at 2:30 p. m. today from the First Christian Church and were conducted by the Rev. W. E. Moore.

Active pallbearers were Ethan Allen, Edgar Allen, Frank M. Allen, Bert Beldon, Charles Hall and Wall Pauley. Those who served as honorary pallbearers were J. D. Showers, A. H. Beldon, Burton D. Myers, Paul Seward, W. C. Snyder, Joseph Robertson, Grover Bell, J. F. Regester and Ralph Schmalz. Interment was made in Rosehill.

Mrs. Seward, who with her sons, Fred A. and W. Austin Seward, owned and operated the Seward and Co. foundry, died Friday night at the Bloomington hospital from heart disease, after an illness of ten weeks.
Both of Billy and Jennie's sons lived in Bloomington most of their lives, where they operated the family business, while the daughters stayed in the West. The next photo, also from Craig and Marie, may have been taken when the four Seward children got together in Bloomington in 1940.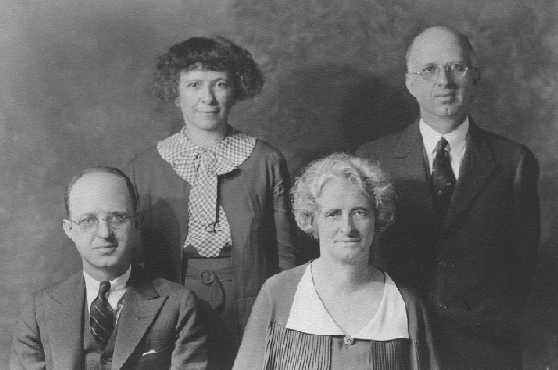 In August 2009, I was contacted by a woman who said she owned a set of 1904 Encyclopedia Britannicas with W. H. Seward's name plate in each volume. She said she had purchased them in Bloomington at an auction, no longer had room for them, and wondered if one of Mr. Seward's descendants might like to buy them. I sent out an e-mail message to as many cousins as I could find in my address book and, within a day, my first cousin Tom Michelsen came to the rescue! Tom lives in Indiana now and has arranged to buy this set of books which are still in near-perfect condition 105 years later: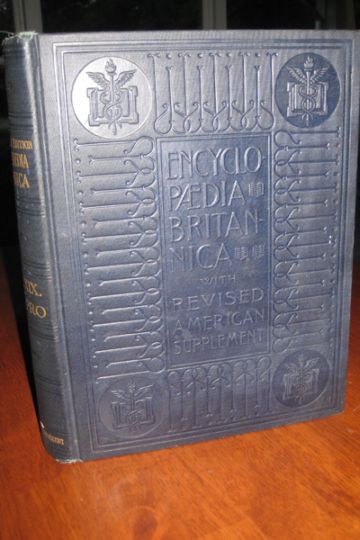 The Britannica was an essential part of well-eduated Americans' libraries at the turn of the Twentieth Century. Billie and Jennie's daughter Alice had the classic 1911 edition on her shelves in Santa Monica and I spent many childhood hours browsing through them there.
---
1
Note the seeming contradiction in wedding dates.
22
Dec fell on Wednesday in 1880. My grandmother told me they were married
21
December.
John McKinley
was Jennie's stepfather.
2
Michael Helton Seward
(1859-1931), was Billy's brother.
3
Billy Seward died on the day before his
52nd
birthday.
4
Billy's sister, Minnie May Seward (1865-1938) married Albert Herbert Beldon (1868-1938). Bert Beldon (1893-1966) was their son.
5
Billy's sister, Katherine Seward (1870-?), married
Edward Francis Hall
(1858-?). Charles Edward Hall (1897-?) was their son.
6
Billy's sister, Elizabeth Irene Seward (1879-1943), married
Ralph Wilson French
(1874-1934).
7
Billy is said to have played the drum in this marching band. We have a Bloomington newspaper clipping from circa 1946 which shows a vintage
photo
of the 1886 Mechanics Band, which included Billy and several other Sewards. Please allow some time for this large (160kb) image to download, then use your
BACK
button to return to this page.
8
The Bloomington
Weekly Courier
, for 30 December 1898, reported on page 4 that "Herndon Encampment of I.O.O.F. has elected the following officers: W. H. Seward, chief patriarch..."
9
Jennie's nephew, Frank M. Allen (1878-1953), was a son of her brother
William L. Allen
.
10
Lew Wallace Pauley (1862-?) was Billy's first cousin, the son of
Sarah Jane (Helton) Pauley
(1830-?).
11
Dr. Burton Dorr Myers (1870-1951) married Jennie's niece,
Maud A. Showers
(1878-?).
12
Grover Bell married Jennie's niece,
Edna Allen
(1886-?).
13
Winfield Christian Snyder (1851-?) married Billy's sister,
Flora Emma Seward
(1861-1895).
14
Joseph
Robertson
married Jennie's niece,
Nellie Allen
(1881-1947).
15
Ralph Schmalz married Jennie's niece,
Norine Allen
(1892-?).
This page was last updated 10 Sep 2015.