Uncle Charles
On 12 Feb 2002, I lost my uncle Charles Edward Walker, junior, with whom I always felt a special bond since he and I shared the same name and since our birthdays occurred only five days apart. He also shared my love of jazz, all the way from the early New Orleans sounds to the music of Thelonious Monk and beyond. Chuck Walker was cool long before that term even existed!
Chuck's younger brother, my uncle Bill Walker, prepared the following obituary for publication in a local newspaper. But in 2002, there's no longer any "local paper" in the Santa Monica area. The Outlook was closed down several years ago. Anyway, it's unlikely that there are still enough people around who knew Chuck to make it worthwhile publishing an obituary, whether in the Outlook or in the L. A. Times. Nevertheless, we'll publish that obituary on this web site and will also print it and mail it to any of Chuck's friends and family who might not be able to read it here.
Charles E. Walker

A memorial service for Charles E. Walker of Santa Monica was held Sunday, February 17, at Gates, Kingsley & Gates Moeller Murphy1 in Santa Monica.

Walker, 91, died at St. John's Hospital, Santa Monica, on February 12. A native of Bloomington, Indiana, Walker grew up in Tucson, Ariz., where his father was a bank executive. His family moved to Santa Monica in 1924 and he graduated from Santa Monica High School in 1929.

He worked several years as a color film processor at Technicolor and Multicolor labs in Hollywood. Before World War II erupted Walker had worked at several airplane plants in the Los Angeles area, including Vultee, Douglas and North American Aviation in Inglewood. When the war ended, he was final assembly foreman on the P-51 Mustang fighter line.

An avid photographer from his youngest days, he took up commercial photography after World War II, working out of the lab and darkroom of his Santa Monica home. He retired five years ago.

He was preceded in death by his wife, Helen Mattern, a brother Frank, and sisters Jeanette Carey, Louise Capp and his parents, Charles and Alice Walker. He is survived by a brother, William W. Walker, of McMinniville, Oregon; sister Patricia Plumb of Blue Bell, Pa.; sister Alice Pollard of Pismo Beach, Calif., and sister Elizabeth Young, of Bethesda, Md., and seventeen nieces and nephews.
My cousin Karen Walker Evarts compiled the following "collage of cousin memories, with a few sibling and in-law comments thrown in", which she shared with us at Chuck's memorial service:
"Charles and Helen lived with us in Santa Monica during the Depression. Housing was hard to get. Helen was like a sister to me. We had many laughs together. We even cooked some strange concoctions when Mother was working. This was in the house on 21st Street across from my junior high.2 I missed them when they moved to a house of their own. They really enjoyed jazz." -- Katie Beatty

"As for his mechanical ability, when Charles was a small boy we came upon him on the floor of the library at our home. He had taken a new clock entirely apart just so he could put it back together again. He was very mechanical." -- Elizabeth Young

"Two brothers in law, Lee Young first, and later Fay Plumb attested to that ability: 'Chuck was one of the outstanding aviation sheet-metal workers before and during WWII.' Fay recognized that talent during his own stint in the Navy Air Corps." -- Karen Evarts

"Charles always had a lively, if quiet, sense of humor, and he would always 'sanitize the jokes for the ladies'" -- Pat Plumb

"The last time I remember actually being with Uncle Charles was in August 1966 on Catalina at Patty's wedding. I had been walking in the hills back of Avalon, I guess the day before the wedding, when a few of us remembered that Uncle Chas was flying in on the amphibian (much cooler than the ferry, of course). He was really glad to have a welcoming party greet him down at the pier and we had a really pleasant walk back to the house on Claressa. He looked very dapper in baggy beige pants, sunglasses and some sort of panama hat -- a great weekend -- and such a great extended family." -- Marilyn Cheney

"Charles and Helen always looked like movie stars, he with his clothes and demeanor and she with her long blond hair. Uncle Charles did all of my wedding photography, and everything was very professional and comfortable." -- Patty Giles

"Chuck took our wedding pictures also, as his wedding gift to us. Even though his specialty was industrial photography, we thought he did an excellent job at our wedding." -- Chuck and Jeanette Carey

"I certainly remember being taken to his house, and listening to jazz while the adults had cocktails, and I remember thinking that Uncle Charles was 'cool' and kind of hip in that late 50's, early 60's kind of way. I loved his modern house, with wall-to-wall carpeting and low-slung furniture, so different from the Pennsylvania antiques and hardwood floors I thought were so old-fashioned." -- Trish Hartmann

"When I was editor of the USC yearbook, Charles loaned me his panoramic camera, which sat on a tripod and had a lens that swiveled. I took a picture of the main campus and had an artist do a line drawing that became the inside cover of the yearbook." -- Tony Young

"Trish (and I) remember seeing some of the jobs Uncle Charles was working on: photographs of machinery for some kind of manufacturing plant." -- Karen Evarts

"I last saw Charles when I was in town for Aunt Jeanette's 80th birthday party at a Mexican restaurant in Westchester. I picked up my mom and then Charles, who immediately asked if anyone minded if he smoked in the car. I said yes, I did mind, and Charles said that he understood, but he immediately lit up as he got out of the car, 5 minutes later, at the restaurant." -- Tony Young

"How Charles and Helen loved cats! My thought is that it's genetic, being descended from Grandma on Georgina, who once had maybe 17 cats?3 Aunt Helen was always very sweet and kind, and Uncle Charles looked like Frank, our dad, Charles' big brother and fellow lover both of cameras and of cats." -- Salli Sledge

"Last but not least, Chas was totally unmaterialistic, rather like some of the jazz musicians that he admired." -- Pat Plumb

"Chuck did really seem to perk up when you mentioned jazz, but it seemed to me that when I told him about Johnny and Michele's menagerie of 2 indoor and 12 outdoor cats, that really got his attention." -- John Carey, recalling the final visit which he and I paid Charles in the hospital.
The last time my brother John and I visited Chuck at St. John's hospital, we listened to a CD of Louis Armstrong's classic recordings. I asked him if he had ever been to New Orleans and he said he hadn't. According to the hospital, Charles Walker died at the stroke of midnight, Tuesday 12 February. It dawned on me later that that day was Shrove Tuesday, or as it's known in New Orleans, Mardi Gras. Could Chuck have heard the sounds of King Oliver and Louis Armstrong and Kid Ory tuning up their horns for the big parade and decided that this was a good time for him to join in the festivities?
Here are the first of several photos which we'll add to this page...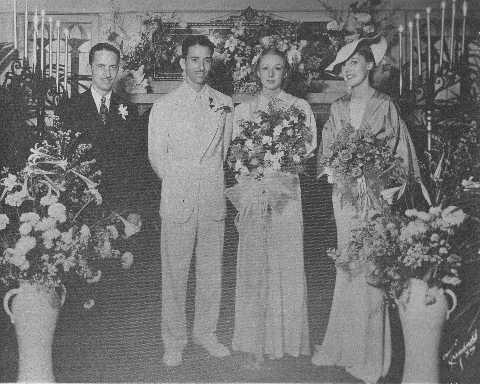 Chuck and Helen's wedding - 12 Sep 1936 in Santa Monica.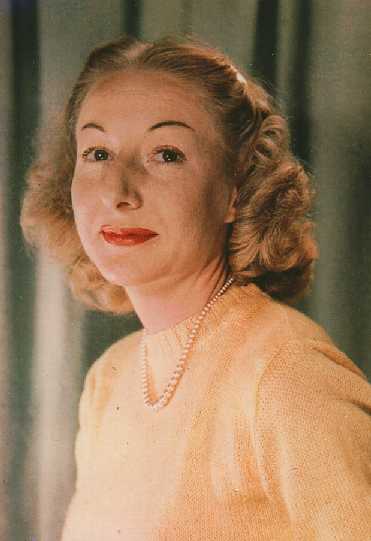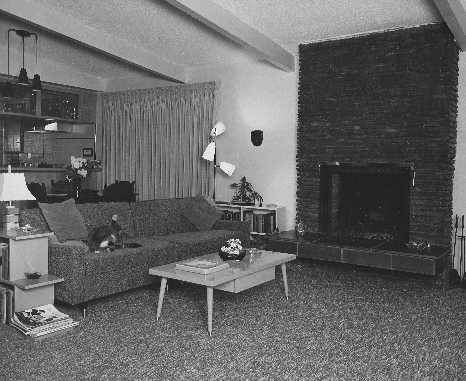 Chuck & Helen's living room on Sunset Avenue which Trish and all of us remember so well.
In my grandmother's scrapbook, I found the following articles, probably from the Outlook, reporting Chuck and Helen's wedding:
Mr. and Mrs. William M. Mattern of 405 Ninth street, Santa Monica this week announced the engagement of their daughter, Miss Helen Mattern, to Charles Edward Walker, Jr. Walker is the son of Mr. and Mrs.C. E. Walker of 621 Seventeenth street. Both Miss Mattern and Walker are Santa Monica high school graduates, and Miss Mattern is also a graduate of Willis Business college. [2 Jul 1936]

---

Helen Mattern Given Shower By Walkers

Mr. and Mrs. Frank Walker of 1652 Oak Street, Santa Monica were hosts Sunday evening at a combination buffet supper and miscellaneous shower given in honor of Miss Helen Mattern and her fiance, Charles E. Walker. Monopoly was the evening's chief pastime.

Among those present were Mr. and Mrs. Lee Young, Jr., Mr. and Mrs. Jack White, Mr. and Mrs. Robert Keenan, Mr. and Mrs. Robert Bryan, Mr. and Mrs. Don Gaston, Miss Jeanette Walker, Scott Stirling, Charles Mattern, the honor guests and the host and hostesses. [27 Aug 1936]

---

Helen Mattern Weds Charles Walker Jr.

In a quietly lovely ceremony Saturday in her own home, Miss Helen Virginia Mattern, daughter of Mr. and Mrs. William Martin Mattern, 405 Ninth st., became the bride of Charles Edward Walker jr. Frank Walker, brother of the groom, was best man and Mrs. Robert Bryan, of West Los Angeles, was matron of honor. The Rev. David John Donnan officiated.

The wedding too place in an improvised bower of ferns, palms, madonna lilies and white dahlias, near the fireplace in the Matterns' living room. The bride's gown was of white taffeta, floor length and very simple. With it she wore gardenias and waxed orange blossoms in her hair and carried a dainty shower bouquet of talisman roses, gardenias and bouvardia. The orange blossom ornament is over 60 years old and was first worn by Miss Mattern's grandmother and later by her mother at their weddings.

Mrs. Bryan wore pale pink crepe with a short jacket of French blue and a large picture hat trimmed in blue. She carried an old-fashioned bouquet of pink roses and delphinium.

Walker is the son of Mr. and Mrs. Charles E. Walker, 621 Seventeenth st. Both are graduates of Santa Monica High school and Miss Mattern was graduated from Willis Business college. They left, immediately following the ceremony, on a trip to San Diego and Ensenada and will make their home in Santa Monica on their return.
One of the many areas of technology which interested Uncle Charles was short wave radio. I found the following undated article from the Tucson Citizen in grandma's scrapbook:
MONTREAL, CANADA, RADIO STATION IS HEARD BY WALKER

Charles E. Walker, Jr., of 338 Granada street, reports to the Radio Editor of the Citizen that he heard, among other radio stations, Montreal, Canada, last night with his receiving set. Young Walker uses a one-tube honeycomb receiver, with excellent results.

Other Tucsonans are interesting themselves in the Citizen's radio department and are reporting stations they have heard, thus adding to the interest of all local radio fans. Call up the Radio Editor of the Citizen each morning and tell him the stations you heard the night before.
---
1
This is the same funeral home where former President Reagan's body was taken after his death in June 2004.
2
The junior high school (
Lincoln
) was actually on California Ave. between
14th
and
16th
Streets.
3
Bill says it was their sister Elizabeth who once had seventeen cats in Tucson, but Grandma certainly loved cats and passed her love of feline creatures on to many of her descendants, including Pat Plumb who I remember sometimes kept nearly a dozen cats at her Pennsylvania home. Our granddaughters always referred to Chuck's sister Jeanette as their "kitty cat grandma" because she would put out food for the stray cats in her neighborhood.
This page was last updated 12 Jul 2012.