John and Augusta Walker
My Walker family seems to include an unusual number of skilled photographers. One of the earliest Walkers to take an interest in photography was my great uncle, John William Walker. Although he earned his living as the clerk of the United States District Court, taking pictures was one of his great passions, going back to his arrival in the Arizona Territory at the beginning of the 20th century.1 The article below describes Uncle John as an "ardent camera fan", but that's an understatement! To see what I mean, please take a look at John Walker's Tombstone scrapbook.
This excellent biography appeared in the 18 August 1946 issue of the Tucson Daily Star:
WALKER, FEDERAL COURT CLERK,
RECALLS EARLY DAYS IN STATE
By Arnott K. Duncan

"Hear ye, hear ye, hear ye! This honorable United States District Court for the District of Arizona is now in session." Since 1903 that call, with variations, has been ringing in the ears of John W. Walker, 1009 East Speedway.

And conditions in the courts, except for the changes in statutory law and those caused by the switch from territorial to statehood status, are much the same, then as now, according to Walker, who came to Tombstone as the clerk for the federal and county court held there under the old territorial set-up.

Of course the old judges under the territorial government acted both as federal and county judges, Walker explained, having two sets of bailiffs and criers, and both a sheriff and marshal working for them. The clerk doubled in both courts, he added.

The crier for the federal court would open the calendar each morning, business for that court was taken care of, and then the county crier would take over for the same judge and county cases would be adjudicated. When the judges held court in other than their home county -- each had several counties for a territory -- they acted only in the county capacity. Federal court was held only in the home county.

Met Periodically

At that time there were five such judges in the state, Walker reminisced -- at Tombstone, Tucson, Globe, Phoenix and Prescott. They met periodically as the territory supreme court, the judge whose case was being reviewed dropping out temporarily.

The winter session of the old territorial supreme court was the cause of a very fancy social season in Phoenix, he said with a smile, because of the presence there of the court with its attendant attorneys and litigants.

Walker served as clerk in Tombstone under Fletcher M. Doan, Fred A. Sutter and Alfred C. Lockwood who later became state supreme court chief justice. He considers that Doan was an outstanding man.

In 1918 he moved to Tucson where he served as clerk under U. S. District Court Judge William H. Sawtelle until 1930, then under Judge Albert M. Sames until this year when Judge Sames retired. He is now secretary for Judge Howard C. Speakman. Admitted to the federal bar, he was for four years assistant U. S. Attorney in the early 1920's when Judge Sawtelle presided. Judge Sawtelle left in 1930 to accept a position on the bench of the Ninth Circuit Court of Appeals.

Once Studied Law

The white thatched secretary who still likes to roll his own cigarettes studied law at the University of Indiana during the gay 90's, but failed to finish and receive his degree. Later he worked for four years in a law office in eastern Indiana and was for a time law clerk for three Indiana counties, having an office over the building in Crown Point where Dillinger later escaped. Newton county -- George Ade's home county -- was one of the three.

Later he worked as a law clerk for a railroad company in Chicago, quitting to come to Arizona. Asked if he didn't know more law than many of the lawyers with degrees admitted to the state bar, he chuckled and said, "That wouldn't mean much. Many lawyers know very little law."

Although things were not as exciting in Tombstone when he got there as they had been in the days when the Earps were knocking off the Clantons and their buddies,2 Walker said that Tombstone's 600 to 800 miners made it a pretty busy little town.

He was there when the ordinance came out barring the presence of women in the saloons, many of which had dancing girls, and later when the state laws came out stopping the open gambling and prohibiting the sale of liquor. Arizona's prohibition came two years before the national Eighteenth Amendment, he recalls. He considers these three periods as outstanding among interesting times in Arizona law enforcement.

Silver Mines Flooded

Things quieted down pretty well in the "town too tough to die" when water flooded the silver mines up to the 1,000-foot level. A carload of oil a day had been used supplying the giant pumps on the 1,000-foot level before the owners finally gave up, he remembers. After the pumps shut down, the water came up over them within an hour. The run-off of millions of gallons of water a day from the pumps kept many small truck gardens and orchards going in those days. One man with about half a block of farm land sold $10 worth of tomatoes a day. And $10 in those days was real money in Tombstone.

Walker seldom goes back to Cochise County any more, most of his friends having left or died.

An ardent camera fan, he tried to get a picture of the halting of the pumps in the mine, but dripping water spoiled the early flash equipment he had.

He has thousands of negatives, some dating back before the turn of the century. He still has what he considers the poor ones taken in the mine. Taking pictures is his "greatest dissipation -- not my only one", he said, "but my greatest one."

He gives away most of the prints he makes in his own dark room "in the basement among the rats", but has negatives even from his Indian days and taken all over the U. S., Canada and Mexico.

Photographs Cacti

He is proudest of one of the world's largest collections of cactus photographs, many with beautiful cloud backgrounds.

He considers a love of unsweetened black coffee another dissipation. A hard and industrious worker, he relaxes Saturday afternoons and every Saturday at 5 p.m. his wife makes him a pot of coffee. He says he is no connoisseur, however.

In 1924 he married Mrs. Augusta Orbaugh in Florence. His stepson, H. T. Orbaugh, who graduated from the University of Arizona in the late 1920's, a head mechanical engineer for the York Ice Machine Corporation with headquarters in Seattle, Wash. At present he is in Alaska for a month to install refrigeration plants for salmon packers.

With Judge Speakman, Walker will leave Tucson about August 28 for the coast where they will attend a meeting of district judges beginning September 2. After the meeting Judge Speakman, accompanied by Walker, will take the bench in the district court in Seattle until the latter part of October.
The Tucson Daily Citizen also mentioned John's Seattle trip on page 3 of its 6 Aug 1946 edition:
Speakman To Preside In Seattle Court

U. S. District Judge Howard C. Speakman will leave Tucson late in August to attend the conference of Federal judges in San Francisco beginning Sept. 2, and to preside in the district court in Seattle during the month of September and part of October, it was announced yesterday.

Judge Speakman has been assigned to Seattle in order to help out with an unusually crowded court calendar in that city at a time when there is little on the docket in Tucson, he said.

He will be accompanied by his secretary, John W. Walker.
These news items indicate that John Walker remained active in his judicial duties until shortly before his death, which was reported in articles in the 27 Dec 1948 issues of the Arizona Daily Star, the Tucson Daily Citizen (front page), and in a third undated article:
COURT CLERK TAKEN IN DEATH

John W. Walker Dies Here At East Speedway Home; Served for 29 Years

John W. Walker, 72, U. S. District Court clerk in Tucson for 29 years, died yesterday at his home, 1009 East Speedway.

Mr. Walker is survived by his Wife, Mrs. Auguste Walker, and a Step-son, H. T. Orebaugh, of Seattle, Wash.

He was born and attended schools in Bloomington, Ind., entering the University of Indiana in 1895, where he studied law until 1897. He then studied shorthand reporting in Washington, D. C.

Mr. Walker's court career began in Winchester, Ind, where he was unofficial court reporter. He became official reporter at Rennsselaer, Ind., in 1899. In 1900 he was admitted to the Indiana state bar, and also admitted to practice before the state supreme court.

To State In 1903

He came to Arizona in 1903 and was appointed official reporter for the territorial court at Tombstone. He resigned In 1918.

In Tucson he became clerk under U. S. District Court Judge William H. Sawtelle. He served also under Judge Albert M. Sames, and finally under Judge Howard C. Speakman. He retired March 31 1947.

He was a member of all lodges affiliated with the Free and Accepted Masons. Funeral arrangements under the direction of the Masons, will be announced later by the Parker mortuary.

---

Retired Court Clerk Expires

Funeral arrangements will be announced by the Parker mortuary for John W. Walker, 72, former U. S. district court clerk in Tucson who died Sunday at his home, 1009 East Speedway. He had held that position for 29 years.

Born and educated in Bloomington, Ind., Mr. Walker attended law school at the University of Indiana until 1897, when he began to study shorthand reporting in Washington, D. C. He was unofficial court reporter in Winchester, Ind., becoming official reporter at Rensselaer, Ind., in 1899.

He was admitted to the Indiana state bar in 1900 and was also admitted to practice before the state supreme court.

Coming to Arizona in 1903, Mr. Walker was appointed official reporter for the territorial court at Tombstone, resigning in 1918. He served as clerk of the U. S. district court in Tucson under Judges William H. Sawtelle, Albert M. Sames and Howard C. Speakman. He retired Mar. 31, 1947.

Survivors are his wife, Mrs. Auguste Walker, and a stepson, H. T. Orebaugh, Seattle. Mr. Walker was a member of all lodges affiliated with the Free and Accepted Masons.

---

JOHN W. WALKER

Funeral services will be held at two o'clock this afternoon in the Parker mortuary chapel for John W. Walker, 72, of 1009 East Speedway, who died Sunday. Rev. Willard A. Schurr, of the First Methodist church, will officiate.

Burial will be in the Masonic plot of Evergreen cemetery, with Tucson Lodge No. 4, F. and A. M., officiating. Pallbearers are Oliver P. Lindsay, John Burke, Leslie Clawson, H. P. Orebaugh, John Epley, David H. Carey, and Paul Sisk.

Mr. Walker had been court reporter in Arizona territorial and disrict courts for 44 years when he retired in 1947. For 29 years he was law-clerk and reporter for the U.S. district Court in Tucson.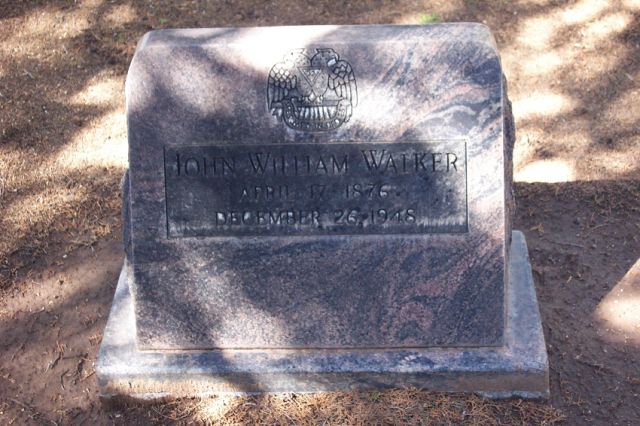 John Walker married Mary Elizabeth "May" Chamberlain 5 Apr 1913 in Cochise County, Arizona. According to their marriage record, May was born in 1883 in Indiana. Like John, she was a court reporter, or stenographer, and in the 1910 census, she and John were enumerated in Tombstone, one page away from each other, each as a "roomer" in a different household. In the 1920 census, they were enumerated together in Tucson.
Aunt Augusta
After being divorced from May, Uncle John married Mrs. Augusta (Theobald) Orebaugh in 1924. Aunt Augusta was born 2 Feb 1879 in Columbus, Ohio, to Frederick and Clara Theobald, with whom she was enumerated in Columbus in the 1880 census. Augusta grew up in Columbus' German Village. Her father was an immigrant from Bavaria and her mother was probably also of German descent. Although we knew her as Augusta, her name was often spelled Auguste, including on her grave marker (see below).
Some time after 1900, Augusta married Earle Orebaugh and had one child with him, Howard T. Orebaugh, born 19 Mar 1903.3 She moved to Seattle with Earle and their son, who was known as Theo. Between their arrival in Seattle and 1910, Augusta and Earle were divorced and Earle married a woman named Edith, or Edythe. We could find no trace of Augusta or Theo in the 1910 or 1920 censuses. In 1930, Theo was working as a draftsman in Seattle, living in a boarding house on Terry Avenue. My parents traveled occasionally to Seattle during the 1950s and '60s, and mentioned visiting Theo and his family there. He died in Seattle in March 1974.3
While I lived in Tucson with my parents, John and Augusta Walker were living in a spacious brick house at 1009 East Speedway. John had designed it himself and it had a large basement which he used for his darkroom. The house seemed to stay fairly comfortable during the Arizona summer without the benefit of air conditioning. John and Augusta were enumerated there in the 1930 census, which listed the house's value at $10,000. At that time, my mom's good friend, Kathryn Kinney, was living at 1027 E. Speedway with her parents Jack and Alice. The Kinneys' home was valued at $15,000, while the tiny house across the alley at 1124 N. Park Avenue, which Mom and Dad rented during World War II, was occupied by its owners, the Newman family, and was valued at $5,000.
In 1940, for whatever reason, John and Augusta weren't enumerated in the census, although other people who lived in their block on Speedway did get counted, including the Kinneys at 1027 with the little boy who became my best friend and playmate, John D. "Binky" Barkley. And our future home around the corner wasn't listed either.
After we moved in on Park Avenue in May 1942, I can remember spending a lot of time visiting John and Augusta and playing in their large back yard. Uncle John liked to "roll his own" Bull Durham cigarettes. Aunt Augusta was very helpful to Mom after the arrival of my twin brothers: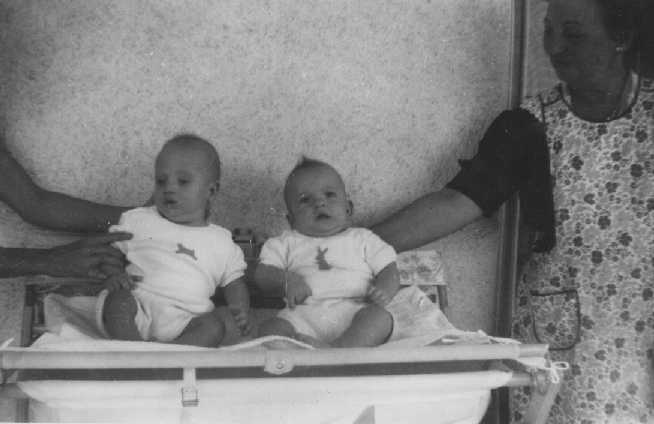 Speaking of the twins, my brothers have vivid memories of Uncle John even though he died when they were only five years old. Brother John mentioned how he enjoyed driving out to Sabino Canyon with John and Augusta, over a dirt road and through streams which flowed across the road. He remembers the sun tea Augusta would make, and eating grapes in the grape arbors in their back yard, and also foraging in the garage for nails to pound into boards.
After John's death, Aunt Augusta continued to live on East Speedway. Her name appears in the Tucson newspapers occasionally in lists of real estate transactions. She liked to travel, visiting Theo and his family in Seattle, and going to southern California to visit her Walker relatives there. I can remember visiting her in Tucson with my parents, and later with my own family. In Tucson, we would go out to lunch or dinner with Augusta at Mexican restaurants such as Pancho's or El Charro.
The University of Arizona expanded north across Speedway, buying up entire city blocks of property. The block where we, the Kinneys, and John and Augusta Walker once lived is now a parking garage. The school at the corner of Park and Helen which I attended during my kindergarten and first grade years is now a student housing project. I don't know whether these developments occurred before, or after, Aunt Augusta moved to her final home:
WALKER, Augusta T., 92, of 150 S. Eastbourne passed away June 25. Survived by son, Howard Orebaugh, of Seattle, Washington. Arrangements pending by Adair Funeral Home, Dodge and Speedway.

Tucson Daily Citizen, 25 Jun 1971, page 34

---

WALKER, Augusta T., 92, of 150 S. Eastbourne passed away June 25. Survived by son, Howard Orebaugh, of Seattle, Washington; 3 grandchildren; 6 great-grandchildren; sister Miss Hilda Theobald; brother Erwin Theobald, both of Ohio. Services will be conducted Wednesday 1:30 p.m. at the Adair Funeral Home. Reverend Everett McDowell will officiate. Interment in Evergreen Cemetery. Friends may call until service time Wednesday at the Adair Funeral Home, Dodge and Speedway.

Tucson Daily Citizen, 29 Jun 1971, page 35
Like John, Augusta is buried in Block 18 at Evergreen cemetery. Note the spelling of her first name on her tombstone: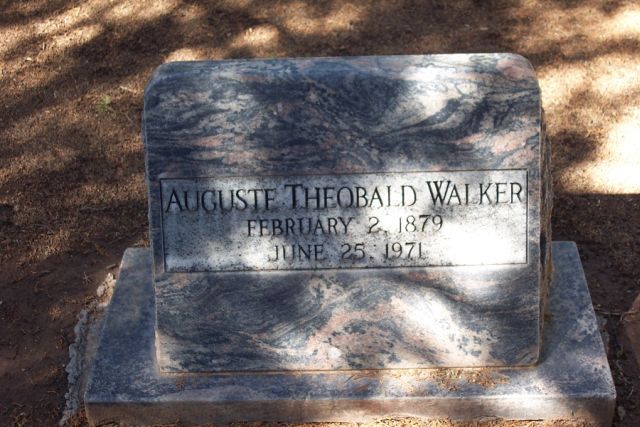 ---
1
John Walker's move to Tombstone may have been the result of the previous arrival of another young man from Indiana,
Lee O. Woolery
. Lee was already living in Tombstone at the time of the 1900 U. S. census. Although that census doesn't list his occupation, he was a lawyer who eventually found employment as the Assistant Cochise County Clerk. The two men may have known each other from Bloomington and frequently rubbed elbows in the courthouse in Tombstone. Although Leo wasn't related to John, he and I are descended from the same
Woolerys
.
2
John Walker arrived about 22 years after the famous
gunfight
at the OK Corral.
3
Theo's dates are taken from the Social Security Death Index. His middle name was quite likely
Theobald
.
This page was last updated 27 Jun 2015.