Aunt Alice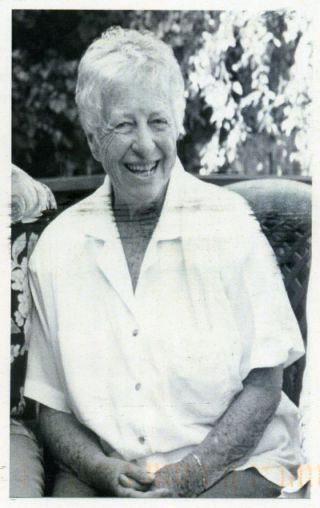 Recently we lost a very dear aunt about whom I could write several pages. This biosketch and picture were received from her children and sum up her life story as well as could ever be done in the space of an ordinary post card. There's lots more to come about Aunt Alice in this Carey family album. Your contributions are welcome!
Alice G Pollard died on April 23, 2012 in Healdsburg, Ca. Alice was born in Tucson Az on February 8, 1918. She was one of 8 children of Alice and Charles Walker. She moved to Santa Monica, Ca when she was about 6 years old. She married Harry Michelsen and eventually moved to Hermosa Beach where they raised their family. Alice was a very active member of the PTA at South School. She worked at the Public Library as well as at a music store. Alice was a life long jazz fan and loved classical music as well.

Alice loved visiting with family and friends in her home. She loved to cook and have people gather around the family dining table. Five years after Harry's passing she married Walter Pollard. Alice, with Walt, traveled all over the world. She lived in several countries as Walt worked for Union Oil. Alice and Walt retired to Shell Beach, Ca in a lovely home overlooking the Pacific Ocean. Alice was very active with the Jazz Society of Pismo Beach.
The following obituary appeared in The Windsor Times, in Sonoma County, California, 3 May 2012:
Alice Pollard

Alice Pollard passed away April 23, 2012 in Healdsburg. She was born in Tucson, AZ, on February 8, 1918, and from the age of five, raised in Santa Monica, CA. She was the sixth of eight children born to Alice and Charles Walker. She married Harry Lea Michelsen in 1941 and they raised three children in Hermosa Beach, CA.

Sadly, Harry passed away at the age of 48. Happily, she met and married a widower, Walter Pollard in 1966 and blended her family with his, managing a home with many teenagers.

She was a life member of the PTA, worked at a music store where she was able to listen to her favorite jazz and classical music, and as an assistant at the Hermosa Beach Public Library, where she was surrounded by books, another passion.

Alice and Walt spent their retirement years in Pismo Beach, CA and were fortunate to travel the world and live and work in South Korea and China. Walt passed away in 1991. She loved to cook and entertain, and was always happy to take friends and family to lunch. She, like all of her siblings, loved and cared for many cats in her life.

She is survived by her children, Nancy Michelsen Luther (Roland), Andrea Michelsen (Ted Crowell) and Tom Michelsen (Debi), her stepchildren Bill Pollard (Janis), Pete Pollard (Debbie) and Mary Pollard, eight grandchildren and three great grandchildren. She is also survived by two siblings, Patricia Plumb and William Walker, as well as many nieces and nephews who kept in touch with her throughout her long life. A memorial is planned for summer, in Pismo Beach, in the home she loved. Memorial donations may be made to Shell Beach Friends of the Library, 230 Leeward Ave., Shell Beach, CA 93449 or to Hospice of San Luis Obispo, 1304 Pacific Street San Luis Obispo, CA 93401.
On 5 Aug 2012, Alice's children hosted a memorial celebration at her home in Shell Beach. It was a wonderful occasion and we enjoyed getting together with our many cousins. We hope to provide photos of this gathering in the near future. Here's a photo of that beautiful house, just a short stroll from the beach, where Alice and Walt lived, which we remember from so many happy occasions: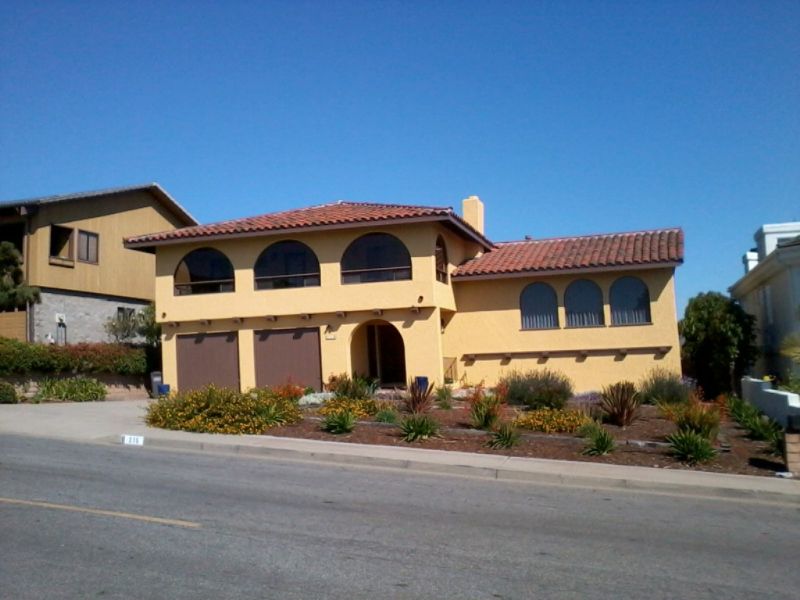 Here is a photo Alice's and Walt's kids, the Pollard/Michelsen clan, taken in Florida during the summer of 2013, at Sarah Luther's wedding: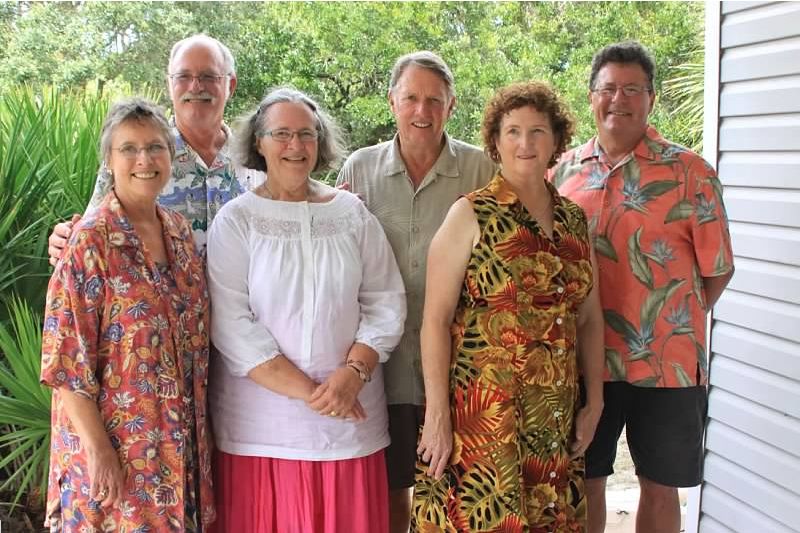 Andi (Michelsen) Crowell, Pete Pollard, Nancy (Michelsen) Luther, Bill Pollard, Mary Pollard, and Tom Michelsen
See Aunt Alice's slide show.
See a YouTube video from one of those "happy occasions" at Alice's home, a birthday party for her little sister, Pat Plumb.
This page was last updated 23 Aug 2014.