W. B. and Elizabeth Seward
Williamson Brewster and Elizabeth (Helton) Seward were my great-great-grandparents. W. B. was the son of the founder of the Seward foundry, Austin Seward. Most of what we know about W. B. and Elizabeth and their family is based on information given to me by my grandmother, Alice (Seward) Walker.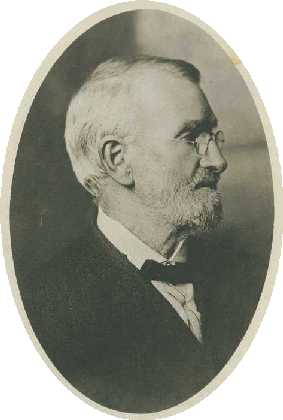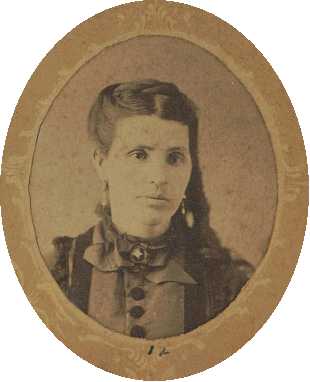 W. B. was the seventh of eleven children born to Austin and Jane (Irvin) Seward. He was born 20 Mar 1833 in Bloomington, Indiana. Elizabeth was the sixth of Andrew and Hannah (Woolery) Helton's eleven children and was born 7 Oct 1837 in Heltonville, IN, about 20 miles south of Bloomington. W. B. and Elizabeth were married 3 Oct 1854 in Bloomington and had the following children, all born in Bloomington:
Charles Mason Seward, born 7 Oct 1855, died 16 Aug 1865.
William Henry Seward, born 20 Mar 1857, died 19 Mar 1909. Married Jennie Lind Allen.
Michael Helton "Mike" Seward, born 7 Nov 1859, died 1931. Married:

Harriett Reddick.
Sarah Johnson.

Flora Emma Seward, born 30 Sep 1861, died 2 Dec 1895. Married Winfield Snyder.
George Morton Seward, born 1 Jan 1864, died 1926. Married Neti Summers.
Minnie May Seward, born 4 Dec 1865, died Nov 1938. Married Albert Herbert Beldon.
Paul Seward, born 3 Apr 1868, died after 1949. Married Lorena Hughes.
Katherine Seward, born 5 Apr 1870, died after 1949. Married Edward Francis Hall.
Elizabeth Irene Seward, born 25 Feb 1879, died 1943. Married Ralph French.
At least four of W. B. and Elizabeth's children may have attended Indiana University or its prep school. The following list is taken from Indiana University, Its History, 1828-1890, Theophilus A. Wylie, 1890, which doesn't distinguish between IU and prep graduates:
William H. Seward, 1875
Flora L. Seward, 1879
George Seward, 1882
May Seward, 1882
See the Seward family's 1880 U. S. census record, which lists all eight living children. A brief article on the front page of the Bloomington Republican Progress, 13 Jul 1897, describes an "invention" by W. B. which we never heard about from any of our Seward family members:
W.B. Seward has for some time been working upon a gasoline engine which he has at last perfected, and will make a specialty of these useful and popular machines. The engine invented by Mr. Seward has many points of excellence that have not been incorporated in the machines made by others, and we have no doubt they will be as popular with men using light power as any that have been manufactured.
After daughter Flora's death, W. B. and Elizabeth took in her two children, Nellie and Seward Snyder, who were both enumerated with them at 121 E. 7th Street in the 1900 census. Another daughter, Minnie, and her family were living next door at 129 E. 7th.
The razing of the home which W. B. and Elizabeth built shortly after their marriage is described in this undated clipping:
MEMORIES

Sewards Save Bannister From Old Homestead

Another residential landmark of Bloomington has been torn down.

The structure at Seventh and Walnut streets, razed to allow for addition to Indiana Bell Telephone Company's building, was the site purchased in 1856 by William B. Seward. in 1860 the residence constructed.

A surviving daughter of W. B. Seward is Mrs. Edw. F. Hall, 31[?] north Washington Street. Mrs. Hall, formerly Kate Seward, was born in the Seventh and Washington home [sic], and later was married there to Edward F. Hall, who conducted Hall's Dry Goods Store for many years on the west side of Courthouse Square.

Six living grandchildren of W. B. Seward are: Miss Josephine Hall, Charles, Ben and Curtis Hall, and Fred and Austin Seward, all of Bloomington.

Razing of the old home landmark recalled many good times to the grandchildren. And at least one souvenir of the old days was captured by the grandchildren before workmen demolished and hauled away the house.

They purchased the rail and posts that had formed the old stairway bannister - the one they used to slide down when they were youngsters - and plan to fashion appopriate souvenirs as reminders of the old home.
W. B.'s death on 1 Aug 1909 was reported in the 3 Aug 1909 issue of the Bloomington Telephone. The obituary was copied by my uncle Bill Walker (his great grandson) from a torn and nearly illegible clipping:
W. B. Seward Dies Suddenly

Summons Comes Unexpectedly to Veteran Citizen and Foundryman.

Answers Final Call After Long and Useful Career.

From Monday's Daily.

William B. Seward, aged 76, for almost a half century a leading citizen of Bloomington was summoned suddenly to his final reward Sunday morning, the result of an unexpected hemmorhage from the lungs. Though frail from almost four score years, death was unexpected.

Mr. Seward had been failing perceptably to family and friends for several months and for two weeks had not been about town. Only Saturday he remarked to a daughter referring to his health, "this has been the worst day of my life." A slight hemmorhage from the lungs was noticed during the day but through the night he rested quite well, but at 5 o'clock in the morning awoke complaining. He got up as usual but about 7 o'clock, complained to his good wife that he was [...]

[Mr. Seward is survived by his children... Mrs.] A. H. Beldon, Mrs. Edward F. Hall, of Bloomington, Mrs. Ralph French, of Fort Wayne, and George M., of Chicago. One brother, Robert D. Seward, also survives him.1

Since a young man, Mr. Seward was in the foundry business. In 1859 he was admitted to partnership in the firm of A. Seward & Co. Later the firm name was changed to Seward Bros., and then to Seward & Co.

For twenty years -- as long as he cared to be -- Mr. Seward was a member of the State Board of Agriculture, which controls the state fair, and at one time was its president. He was one of the commission that supervised the erection of the Indiana state house, which took nearly ten years in building.

Republican always, he cast his first vote for John C. Fremont [in 1856] and voted for every Republican presidential nominee since that time. For more years he was a member of the Merchants band. He was a member of the K. of P. lodge and of the First Presbyterian church.

---

The Wm. B. Seward funeral is Tuesday at 3 o'clock from the home on east 7th street, in charge of Rev. White of the 1st Presbyterian church. Burial at Rose Hill where the Knights of Pythias officiate. Pall bearer[s] are: Simpson Neeld, Wesley Walker, S. C. Dodds, Henry Tourner, J. D. Showers, Carter Perring.

The body lies in state at the residence, corner of Washington and 7th from [...] to 2:30 [...].
Elizabeth's obituary was also copied by Uncle Bill, from the 14 May 1915 issue of the Telephone, and was much more legible than W. B.'s obituary:
DEATH CLAIMS MRS. W. B. SEWARD

Widow of One of Bloomington's Pioneer Citizens Dies of Old Age.

Funeral Will Be Friday

Mrs. Elizabeth Seward, 78 years old2 and widow of the late William B. Seward, one of Bloomington's pioneer residents, died at 5 o'clock this morning3 of the infirmities of old age at the Seward residence, corner of Seventh and Washington streets. The Seward family is one of the best known in the county, the husband of the deceased being the founder of the Seward foundry business.4

Mrs. Seward was born at Heltonsville, Lawrence County, October 7, 1837, and moved to Bloomington when two years old. She was married in the fifties to W. B. Seward and there were nine children, the following being survivors: Michael H., and Mrs. Ralph French of Muscogee, Okla.; Mrs. Edward Hill, Mrs. A. H. Beldon, this city; George of Minneapolis, Paul of Indianapolis. Also the following brothers and sisters: Isaac Helton, of Chicago; Mrs. S. B. Hatfield and Miss Maggie Helton, this city.

Mr. [Mrs. ?] Seward was a faithful member of the First Presbyterian Church.

Funeral will be held at the residence Friday at three o'clock in charge of the Rev. John T. Newell. Interment will take place at Rose Hill cemetery. The pallbearers will be George, Mike and Paul Seward, the children, and Fred Seward, Bert Beldon and Seward Snyder, the grandchildren.
---
1 His sons Mike and Paul also survived him, and are listed in Elizabeth's obituary as surviving children. Perhaps their names appeared in the missing part of the obituary.
2 She was 77 years old.
3 Her tombstone, as well as information provided by my grandmother, gives Elizabeth's date as 13 May 1915.
4 Her husband's father was the founder.
This page was last updated 23 Dec 2009.