Winans in American History
There have been a number of Winans whose rôles in American history made them famous, or infamous. These brief biographies were taken from the National Cyclopedia of American History (NCAH), and the Dictionary of American Biography (DAB):
Edwin Baruch Winans [1-7-7-7-2-8]1 was the 22nd governor of Michigan, serving from 1891 to 1893. He was born at Avon, NY, on 16 May 1826, the son of John and Eliza Winans. Moved to Michigan in 1834, then to California in 1850. He was involved in gold mining until 1858, when he returned to Michigan. He lived in Hamburg, Livingston County, MI. He served as a state legislator, judge, and in the U.S. House of Representatives. He was a Democrat. He married Elizabeth Galloway on 3 September 1855. They had two sons, George Galloway Winans and Edwin Baruch Winans Jr. Edwin Baruch Winans died in Livingston County, MI, on 4 July 1894. -- NCAH, Vol 2, pg. 452.

James January Winans [1-5-1-1-3-10-2] was a congressman, having been elected to the U.S. House of Representatives from Ohio in 1868. He was born in Maysville, KY, on 7 June 1818, and moved to Ohio in 1819. He served as the Greene County clerk and as a state legislator. -- NCAH, Vol 3, pg. 509.

William Winans [1-5-1-1-7-5] was a Methodist minister who was born near Braddock, Allegheny County, PA, on 3 November 1788. In 1804, he moved to Clermont County, OH, and in 1810, to Natchez, MS, where was ordained. He was a leader in organizing the Methodist Episcopal Church, South. William Winans died 31 August 1857 in Amite County, MS. -- Vol 1, pg. 179; DAB Vol 10, pg 373.

Ross Winans [1-9-1-1-1-7] was an inventor who was born in Vernon, NJ, 17 October 1796. He was "sixth in descent from Jan Wynants" [John Winans] and was the son of William and Mary Winans, who were first cousins. Among his inventions were early types of railway cars, which led to him traveling to England. He was embroiled in a lawsuit with the Erie Railroad over the patent to one of his railway car designs and lost. On 22 January 1820 he married Julia DeKay, who died on 24 May 1850. They had four sons, among them Thomas DeKay Winans and William L. Winans, and one daughter Julia Winans. He settled in Baltimore, MD, after returning to the United States and died there on 11 April 1877. During the Civil War he was a Confederate sympathizer and was arrested more than once by the pro-Union government of Maryland. -- NCAH, Vol 11, pg. 358; DAB Vol 10, pg. 371.
Some additional Ross Winans resources:
An article on him on our Winans articles page.
There is information on Ross Winans' 1850-1851 letter book at the site of the Archives Center of the National Museum of American History.
Not only did Ross Winans design railway cars, but he also ventured into maritime design, with the revolutionary cigar ships, which have been documented by Michael and Karen Crisafulli.
The Greene county, NY, RootsWeb site includes a 1912 article entitled Some History of the Winans Family which chronicles the deeds of many prominent New York Winans.
For much more information on Ross Winans, his family and his inventions, go to the Vernon, NJ, web site. Be sure to read all four parts of the Ross Winans story by clicking on each of the four links at the top of the page.
Thomas DeKay Winans [1-9-1-1-1-7-1] was also an inventor. He was the son of Ross and Julia Winans and was born in Sussex County, NJ, on 6 December 1820. He traveled to Russia along with his brother William to represent his father's business and married Celeste Revillon, who was a Russian of French-Italian descent, in St. Petersburg on 23 August 1847. Thomas DeKay Winans died in Newport, RI, on 10 June 1878. -- NCAH, Vol 1, pg. 239; DAB Vol 10, pg 372.
Please see our Winans articles page for additional information on Thomas DeKay Winans, his son Ross and his brother William.
Edwin Baruch Winans was the subject of this biosketch in The Twentieth Century Biographical Dictionary of Notable Americans, Vol. 10, by Rossiter Johnson and John Howard Brown, 1904, The Biographical Society:
WINANS, Edward Baruch, governor of Michigan, was born in Avon, N. Y., May 16, 1826; son of John and Eliza Winans. He removed with his parents to Michigan in 1834; attended the public schools and Albion college, 1847-49, and was engaged in gold mining and other enterprises in California, 1850-58, after which he settled as a farmer in Hamburg, Mich., where he was married, Sept. 8, 1855, to Elizabeth, daughter of George Galloway. He was a representative in the state legislature, 1861-65; a member of the state constitutional convention, 1867; probate-judge of Livingston county, Mich., 1877-81; a Democratic representative from the sixth Michigan district in the 48th and 49th congresses, 1877-81, and Democratic governor of Michigan, 1891-93. Governor Winans died in Hamburg, Mich., July 4, 1894.
I had seen the name Samuel Ross Winans [1-7-1-5-9-4] mentioned in several places without knowing who he was until my researcher cousin Glen Richard Winans found the following information at the New Jersey Historical Society site:
Biographical Notes:

Professor Samuel Ross Winans (1855-1910) was a professor of Greek at Princeton University. He was an extensive collector of genealogical data, which is reflected in this collection.

Provenance:

This collection [Manuscript Group # 1459] was donated to the Society by Professor Winans at the time of his death. In the thirty years following his demise, from 1910 through 1939, Paul G. Burton was in possession of the papers and organized, catalogued and indexed the collection. The collection has since been placed in the possession of the Society by Paul G. Burton in the name of Professor Winans.

Scope and Content Notes:

The Professor Samuel Ross Winans Papers span the life of Samuel Winans (1855-1910) and are contained in 141 indexed envelopes and folders. Paul G. Burton authored an extensive calendar for this collection that is still intact and in the data file, with a duplicate for patron use. Paul G. Burton notes that the backbone of the papers is a series of letter books containing Professor Winans' outgoing genealogical correspondence from September 6, 1904 to July 4, 1910. These have been indexed. For the most part, this collection concerns the Winan family, though material on the Melyn, Woodruff, and allied families is also included. A brief obituary of Professor Samuel Ross Winans has also been included in the collection...
I believe it would be well worth the time of a Winans researcher to visit the Historical Society to explore the 12 boxes of papers which Professor Winans left behind! The following was his obituary, from the New York Times:
Prof. Samuel Ross Wlnans.

PRINCETON, N. J., July 28—Prof. Samuel Hoss Wlnans, Dean of Princeton University from 1899 to 1903, died at his home here last night after a three weeks' illness. He had been actively connected with the Faculty since 1878, and at the time of his death was Professor of Greek and Instructor of Sanskrit. Prof. Wlnans was born at Lyons Farms. N. J., March 1, 1855, the son of Samuel Ross Winans and Ann D. Woodruff, and was graduated from Princeton in 1874. He had taught Greek and Sanskrit at Princeton since 1876. Prof. Wlnans edited Xenophon's Memorabilia, 1880; Symposium, 1881, and Llbri 5ocratici, 1883.

Published: July 27, 1910 Copyright © The New York Times
A second Samuel Ross Winans collection which one would also have to visit in person was called to my attention by another cousin -- Princeton University's Winans Collection of New Jersey Documents, 1703-1883, which is described as follows:
Abstract: The Winans Collection of New Jersey Documents consists of almost 200 18th-century documents, mostly deeds to land, relating to several towns in Essex County, New Jersey, particularly Westfield, collected by Winans (Princeton Class of 1874).

Size: 0.90 cubic feet (2 boxes)

Call number: C0234
An interesting example of a Winans enterprise was the following advertisement which my cousin and fellow Winans researcher, Dawn M. Winans, found on page 2 of The Wolverine Citizen Weekly Newspaper, of Flint, MI, for Saturday, 13 Feb 1864:
PREVENTION OF INCRUSTATION IN STEAM BOILERS.
WINANS' ANTI-INCRUSTATION POWDER

Removes and Prevents the Deposit of Scale, and without
injury to the iron.

SEVEN YEARS IN USE.

References in all parts of the country, viz.: Albany Gas Co.; Eaton, Gilbert & Co., and others, Troy; Syracuse, Rochester, Auburn & c. & c.; John Gibson & Co., Phelps, Charles Ensign, John R. Evans & Co., Jewett & Root, and other, Buffalo; Cleveland, Columbus, Zanesville, & c. & c.; Geo. Shield, Miles Greenwood, Mitchell & Rammeslberg, and 40 others in Cincinnati; and throughout the West; Indianapolis, Dayton, Terre Haute, Logansport, Chicago, Springfield, St. Louis, St. Paul, & c. & c., & c. Cost about 60 to 40 cents per week. For circular, address

H. N. Winans
P.O. Box No 6
11 Wall St. New York
These are the Winans biographies which are available in the Biographical Directory of the United States Congress 1774 - Present...
WINANS, Edwin Baruch, 1826-1894
WINANS, Edwin Baruch, a Representative from Michigan; born in Avon, Livingston County, N.Y., May 16, 1826; moved with his parents to Michigan in 1834; attended Albion College, Michigan; went to California and engaged in mining on the North Yuba River, near Placerville, in 1850; worked in different parts of the State until 1857; returned to Michigan in 1858 and settled in Hamburg, Livingston County, where he engaged in agricultural pursuits; member of the State house of representatives 1861-1865; delegate to the State constitutional convention of May 15, 1867; probate judge of Livingston County 1877-1881; elected as a Democrat to the Forty-eighth and Forty-ninth Congresses (March 4, 1883-March 3, 1887); resumed agricultural pursuits in Livingston County, Mich.; Governor of Michigan 1891-1893; died in Hamburg, Mich., July 4, 1894; interment in Hamburg Cemetery.
WINANS, James January, 1818-1879
WINANS, James January, a Representative from Ohio; born in Maysville, Ky., June 7, 1818; moved with his parents to Greene County, Ohio; attended the common schools and the University of Lexington, Kentucky; studied law; was admitted to the bar in Lexington, Ky., in 1841 and commenced practice in Indiana; moved to Xenia, Greene County, Ohio, in 1843 and continued the practice of law; clerk of the Greene County Courts 1845-1851; served in the State senate in 1857; member of the State house of representatives in 1863; judge of the court of common pleas 1864-1871; elected as a Republican to the Forty-first Congress (March 4, 1869-March 3, 1871); unsuccessful candidate for reelection in 1870 to the Forty-second Congress; resumed the practice of law; died in Xenia, Ohio, April 28, 1879; interment in Woodlawn Cemetery.
WINANS, John, 1831-1907
WINANS, John [1-9-1-1-1-8-6], a Representative from Wisconsin; born in Vernon, Sussex County, N.J., September 27, 1831; studied law and was admitted to the bar in 1855; moved to Janesville, Rock County, Wis., in 1857 and practiced his profession; member of the board of aldermen of Janesville in 1861; city attorney 1865-1875; member of the State assembly in 1874, 1882, 1887, and 1891; delegate to the Democratic National Convention in 1864; served as colonel on the staff of Governor Taylor in 1874 and 1875; mayor of Janesville 1885-1887; elected as a Democrat to the Forty-eighth Congress (March 4, 1883-March 3, 1885); was not a candidate for renomination in 1884; engaged in the practice of law in Janesville, Wis., until his death January 17, 1907; interment in Oak Hill Cemetery.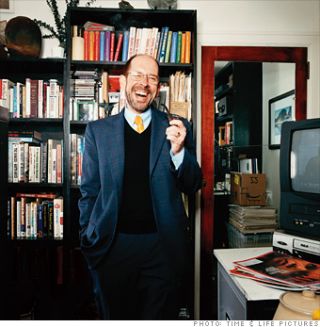 A Winans who was in the news in recent years is R. Foster Winans [1-7-1-5-9-3-2-5-1], a Wall Street Journal columnist who was convicted in 1986 of securities fraud when he gave brokers advance information on the contents of his articles. There are numerous references to his career on the internet which any search engine should turn up. Cousin Glen traced Foster's line back to an earlier Samuel Ross Winans (1796-1887) [1-7-1-5-9] of Lyons Farm, NJ. In 2010, CNN Money included cousin Foster's escapades in a list of "8 dumb insider-trading schemes" and provided this photo of him which appears to the right:
A Winans in the investments business who seems to have a better reputation is Kenneth G. Winans, who heads up a firm in Novato, CA, called Winans International. In March 2011, we learned that the "Holland Society of New York awarded its 2011 Gold Medal for Distinguished Achievement to Kenneth G. Winans... a direct descendant of Cornelius Melyn and Jan Winans. Both were leaders of Dutch settlements in New York and New Jersey in the 1600s." We don't know where Ken fits into our big Winans family tree, but from what we can see at his own web site, we look forward to learning more about him.
We didn't know what our connection was to the famous gospel singers BeBe and CeCe Winans, until Glen filled us in on the details. He found a biography of David "Pop" Winans (1934-2009), the singers' father, who was a talented singer in his own right, which mentioned Pop's grandfather Isaiah and his great-uncle Fred of Mississippi. Glen located Fred Winans, with his parents Lory and Liddie Winans in Beat 3, Amite county, Mississippi, in the 1880 census. This is close to Centreville, in adjoining Wilkinson county which was the home of Rev. William Winans. Since William was a slaveowner, it is likely these black Winans acquired their surname from his family.
Orin Winans provided a detailed biography of the Rev. William Winans on page 85 of his book, which we'll include here...
102 - 32. WILLIAM6 Winans (Same lineage as 98-32) [i.e., Craton (or Creighton)5, John4 & 2nd wife Jemima [Bryant], John3, John 2nd2, John1 & 1st wife Susanna] Born Nov. 3, 1788, "near the spot where Braddock's road crossed the Chestnut-ridge" in Pennsylvania. He joined the Methodist Church in 1804, was soon appointed a Class-Leader, and received his License to Exhort on Aug. 29, 1807. His widowed mother, Susanna, after the death of her husband, Creighton, in 1790, in a series of moves with her children, was in Clermont County, Ohio in 1805. on Sept. 14, 1813 or 1815 (both dates are given, perhaps the 1815 date is correct), William married Martha DeBose,2 who was born April 20, 1797, daughter of Daniel DuBose of Darlington District, South Carolina. Daniel DuBose is listed in DAR Patriot Index as born Oct. 19, 1737; died ca 1797; married (1st) Mrs. Frances Villapontout Simons, and married (2nd) Mary Nettles, and was 1st Lieutenant, and Patriotic Service, from South Carolina. The DuBose's were French Huguenot from Duppe,3 Normandy, France. Isaac DuBose came to America in 1689.

Martha died March 2, 1862, at Centreville, Mississippi. She is also said to have been a descendant of Stephen Hopkins, a Signer of Declaration of Independence. William went to Port Gibson, Miss., in 1810 to preach, and moved to Centreville, Mississippi before 1820, where he resided the rest of his life.

The following is a reprint from the book Moores Hill College-An Intimate History, by John W. Winkley, published by Evansville College, Evansville, Indiana: "The itinerant preachers promoted the cause of education and inspired boys and girls to seek training in these schools. The old-time circuit riders were often pictured as rough, uncouth, and uneducated. True, they lived impoverished lives, wore homespun clothes, and spoke the language of the common people. But, they were far from uneducated, and many of them, though dressed in rough garments, were commanding and graceful in appearance. Governor William Henry Harrison, at Vincennes, proudly welcomed the circuit rider, William Winans, to that community. Winans was described as a man of stately appearance, of good mind, easy and confident manner, and he spoke with a clear, mellow voice."

William was a Circuit-rider, planter, slaveholder, Presiding Elder, Conference Delegate, political candidate and Colonizer. It was estimated that he traveled 139,852 miles, mostly on horse-back. His 1847 will included 10 adult and 19 children slaves. Total holdings at his death, Aug. 31, 1857, numbered 389 acres of land and 19 slaves.

Children:

MARY SUSANNA7 Winans
MARGARET LOUISE CLAIBORN7 Winans
WESLEY7 Winans
ANNA ELIZA7 Winans

(Ref.: Miss Willie Rogers, of Mississippi)
Orin Winans further reports that William's son Col. Wesley Parker Winans was killed at Missionary Ridge 23 Nov 1863. Daughter Mary married Rev. Isaac Wall, and had a son Benjamin Wall who was killed in the Civil War, according to page 48 of the main section of Mrs. Egy's book. Mary and Isaac lived at Clinton, Louisiana, about 20 miles south of Centreville.
The Wikipedia online encyclopedia lists a number of Winans, including several people we mention in this Carey Family Album. For a list of Winans-surnamed individuals in Wikipedia, please visit their disambiguation page.
---
Winans in the Gold Rush? In addition to Edwin Baruch Winans, who is mentioned above, there were quite a few other Winans who traveled to California soon after gold was discovered in 1848. I discovered numerous mentions in Mrs. Egy's book of Winans who were born in California as early as the 1850s, and have transcribed several pages which list some of these pioneers.
While doing research into the life of uncle S. M. Perry (1835-1898), I found him listed in the 1860 census in Nevada county, CA, with several young Winans men, possibly acquaintances from Miami county, OH.
Cousin Glen located several other Winans:
A 6 Feb 1849 New York Herald article mentioned the following men who had sailed aboard the bark Strafford:

J. W. Winans, Finance Committee, and
J. C. Winans

The San Francisco Genealogy site also mentioned the Strafford sailing, as well as the following Winans who sailed aboard the bark Mara, from New York, 1 Feb 1849:

B. H. Winans
The J. W. Winans mentioned in the 1849 article turned out to be Joseph Webb Winans [1-5-6-2-6-2], who now has his own page in this Carey Family Album, while J. C. was his first cousin, John Carver Winans [1-5-6-2-9-2], who now also has his own page here.
---
1
The code in brackets is Mrs. Egy's i.d. for this individual. Clicking on it will take you to his biography in our transcription of her book.
2
Mrs. Winans' maiden name is consistently spelled
DuBose
in all other references to it which I've seen.
3
Orin may have meant
Dieppe
, France.
Last updated 11 Jan 2016.