Thomas and Lizzie Allen
Thomas Akers Allen was an older brother of my great-grandmother, Jennie Lind (Allen) Seward. He was born 4 Mar 1858, in Greenville, Indiana, the seventh child of Thomas Jefferson and Martha "Patsy" (Gibson) Allen, and was just two years older than great-grandmother. As I was putting this page together, I wondered if Thomas was named for a Revolutionary War soldier, Thomas Akers, who is buried in Floyd county. My cousin Phyllis Ewer, who filled in some of the details of this page, informed me that Thomas' aunt, Isabelle Gibson, had married a man named Thomas Akers.1 There are quite a few Akers listed in Floyd county records, so it's possible that Thomas Allen's uncle was related to the Revolutionary War soldier.
On 5 Oct 1880, Thomas married Elizabeth Emily "Lizzie" Voss, who was the daughter of Emery and Rachel (Pitts) Voss. Lizzie was born 30 Aug 1856 in Monroe county and was the first cousin of my great-grandmother, Sarah Elizabeth (Voss) Walker. She and Tom did not have any children, but were very helpful to their nieces and nephews. Phyllis has inherited several of their household items. Lizzie and Tom's wedding was the subject of a brief note in a 9 Oct newspaper:
On Tuesday the 5th at 3 o'clock at the M. E. church Miss Lizzie Voss to Thomas Allen, both of Bloomington. This couple had the honor of being the first married in the new church.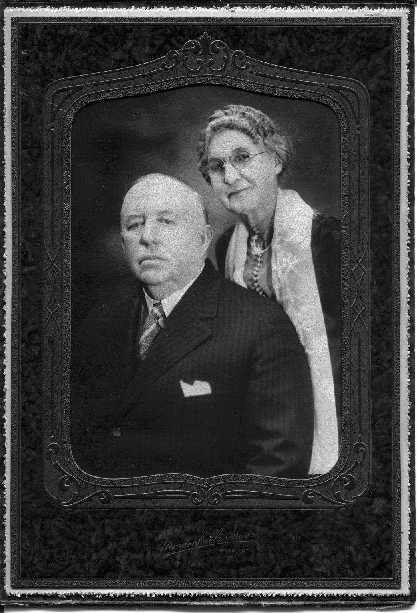 Most of my information on Thomas and his family comes from the following articles from my grandmother's scrapbook which appeared in newspapers at the time of his death. My grandmother had written "July 18 1936" on the first article:
WELL-KNOWN LOCAL MAN IS DEAD AT HOME

Thomas Allen Dies of Stroke This Morning.

Thomas A. Allen, aged 78, died at 9:45 a.m. today at his home, 419 north Indiana avenue, of paralysis, with which he was stricken Tuesday. Mr. Allen was found by his wife in an unconscious condition Tuesday afternoon on a couch where he had been sleeping. The stroke was believed to have been partially induced by the intense heat, although Mr. Allen had been in failing health for some time. He never regained complete consciousness after the first stroke, and suffered a second stroke Friday morning.

Mr. Allen is survived by his wife, Mrs. Elizabeth Allen, and one sister, Mrs. Hettie Lepscum, who made her home with her brother and wife. Several nieces and nephews live here.

Mr. Allen retired from business five years ago when he and L. R. Oakes, with whom he was associated in the Oakes Manufacturing company,2 at Tipton, sold their factory. He and Mrs. Allen returned here and purchased the Prof. Frank Mathers property at 419 north Indiana avenue, for a home. Mr. Allen, prior to his connection with the Oakes factory, was employed for a number of years at the Showers Bros. Company factory. He entered the Oakes factory before its removal from this city to Tipton and later acquired a half interest in the factory.

He was born in Greenville, Ind., on March 4, 1858 and was the son of Thomas J. and Martha Allen, deceased. He came to this city when a young man and was married to Miss Elizabeth Voss, who survives him.

He was a member of the First Methodist church and of the Odd Fellows and Knights of Pythias lodges.

Funeral services will be conducted from the First M. E. church at 2:30 o'clock Monday afternoon by Dr. C. H. Taylor. Interment will be in Rosehill cemetery.
My grandmother wrote "July 20 1936" on the following article. Like several other articles describing Bloomington funerals, Tom and Lizzie's obituaries are of interest for the number of relatives listed among the pallbearers. I'll try to identify these relatives where I can guess at who they are.
ALLEN RITES HELD TODAY

Final rites for Thomas A. Allen were conducted from the First Methodist church at 2:30 o'clock this afternoon, by Dr. C. H. Taylor. Interment was made in Rosehill cemetery.

Active pallbearers were Robert Allen,3 Wilbur Dinsmore,4 Austin Seward,5 Edgar Allen,6 Allen Carter,7 Charles Wylie,8 Edmond Strong and Allen Strong. The list of honorary pallbearers included: Wall Pauley,10 A. O. Henry, Dr. B. D. Myers,11 Henry Seward,12 Edgar Strong, Earl Wylie, Ed Williams, Thomas G. Karsell, John Foley, A. H. Berndt, Caryl Oakes, Elmer Morris, Thomas Allen, Carl Morsir, Guy Burnett and George V. Walker.13

Mr. Allen, who was 78 years of age, died Saturday morning at his home, 419 north Indiana avenue, after having suffered two paralytic strokes last week. He was formerly in partnership with L. R. Oakes in the Oakes Manufacturing company at Tipton, and returned to this city five years ago after having retired from business.
Lizzie Allen's obituary, marked "May 26, 1946", was also among the clippings in grandma's scrapbook:
Succumbs to Long Illness

Elizabeth Allen, 89, Dies Here Sunday

Mrs. Elizabeth Emily Allen, 89-year old widow of Thomas A. Allen, died at three o'clock Sunday afternoon at the family residence - 419 North Indiana Avenue following an illness of six years attributed to the complications of advanced age.

A native of this county, Mrs. Allen was born August 30, 1856 to Emery B. and Rachael Pitts Voss. She was united in marriage to Thomas A. Allen in 1880. In 1909, she and her husband moved to Tipton, Indiana, where he was associated in business with Lucian Oaks in the manufacture of incubators and other metal products. In 1930, Mr. Allen retired and they moved back to Bloomington where he passed away on July 18, 1936.

An accomplished musician,14 Mrs. Allen was organist in the Methodist Church for a number of years and was active in other phases of church work.

Funeral Rites Tuesday

She is survived by a number of nieces and nephews, four of whom are well-known Bloomington residents. Mrs. Jennie R. East and Mrs. Guy Burnett are nieces and Rev. W. H. Wylie8 and Edgar Strong are nephews. Other nieces and nephews who were former residents and who also survive, include Allen J. Wylie, of Tampa, Florida; Charles G. Strong9 of Clarksburg, Miss.; Harry Voss, St. Paul, Minn.; Emery Voss, Kankakee, Ill.; Mrs. James P. Sturgeon of Ft. Wayne; and Mrs. Mayo Foland of Marion, Indiana.

Funeral services will be held at two o'clock Tuesday afternoon at the First Methodist Church of which she was a member. She will lie in state for one hour preceding the services. Interment will be in Rose Hill cemetery.

Active pall bearers will be Robert Allen,3 Allen Carter,7 Dr. Charles Wylie,8 Robert and Wilbur Dinsmore,4 Guy Burnett, Jr., Glen Allen, and Austin Seward.5

Honorary pall bearers will be: Judge J. Frank Regester, Helton Pauley,15 Dr. B. D. Myers,11 Caryl Oaks, Judge J. B. Wilson and George Walker.13
Thomas and Elizabeth Allen's generosity to their nieces, nephews and other relatives extended beyond their earthly lives. At a time when just a few thousand dollars seemed like a fortune to many of us, the details of Lizzie's will were reported in a Bloomington newspaper and listed many close and distant relatives whose stories you'll find in other pages of this family album. My grandmother, who was one of Lizzie's many beneficiaries, clipped this article and saved it in her scrapbook:
Allen Will Probated
Leaves $100,000 To Relatives

Admitted to probate today in Monroe circuit court was the will of Mrs. Elizabeth E. Allen who died at her home here Sunday. The bulk of the $100,000 estate is divided among relatives of Mrs. Allen. Codicils make a few adjustments in the will in cases where those who had been left shares in the estate had been survived by Mrs. Allen.

The will was brought into court by Attorneys Regester & Regester. It was made on August 7, 1936. Terms of the will provide as follows:

Two thousand dollars each to the following: William H. Wylie,8 Allen J. Wylie, Jennie R. East, Henrietta Foland, Emery Voss, Edgar Strong, Frank M. Allen,3 Ethan Allen, Fred A. Seward,5 W. Austin Seward,5 Earl Allen and Maud Myers.

One thousand dollars to each of the following: Carrie Dinsmore, Jessie Carter, Edna Bell, Nellie Robertson, Norine Schmalz, Grace Wylie,8 Ruth Sturgis; Henry Seward,12 Mary Burnett, Harry Voss, Alice Walker,5 Eva Lingard,5 Mildred Ross, Allen Strong, Charlie Strong,9 Edgar Allen, Eugene Allen, Clinton Daily Seward, Charles B. Wylie,8 Edmond Strong. Five hundred dollars to each of the following: Opha West, Len Allen, Anna Lee Strong, and Margaret Barrows.

One thousand dollars was left to the Riley Hospital of Indianapolis.
---
1
Thomas and Isabelle Akers were enumerated in the 4th ward of New Albany in the 1860 census. The following note appeared in the
New Albany Daily Ledger
for 16 July 1850, on page 2:
Married,

In New Albany Indiana, July 14th, 1850, by Dr. D. G. Stewart, Mr. THOMAS AKERS and Miss ISABELLA GIBSON; all of this city.
2
Oakes' former Bloomington factory is on the
National Register of Historic Places
.
3
Robert was the grandson of Thomas' brother
William
and the son of Frank M. Allen.
4
Wilbur was the grandson of Thomas' brother
Clarence
, the son of
Carrie Allen
and
Leon Dinsmore
.
5
Alice, Eva, Fred and Austin were Tom's sister Jennie's children.
6
Clarence's son.
7
Allen was Clarence's grandson, the son of
Jessie Allen
and
Morton Carter
.
8
William H. Wylie, Grace V. Wylie and Charles E. Wylie were the children of Lizzie's sister
Catherine Voss
and
John H. Wylie
.
9
Charles G. Strong was Lizzie's nephew, the son of her sister
Sarah Voss
and
Robert R. Strong
. The other Strongs who are mentioned in the articles could be other descendants of Sarah and Robert.
10
Lew Wallace Pauley
was Thomas' brother-in-law
Billy Seward
's first cousin!
11
Burton Dorr Myers
was the husband of
Maud Showers
, daughter of Thomas' sister
Isabelle (or Anna Belle) Allen and James D. Showers
.
12
Lizzie's nephew, the son of
Mary Armenia Voss
and
Robert Doak Seward
.
13
Sarah Walker's son.
14
In her parents'
1880 census
record, Lizzie is listed as a "music teacher".
15
Wall Pauley's
10
brother.
This page was last updated 22 Apr 2009.