Emery B. and Rachel Voss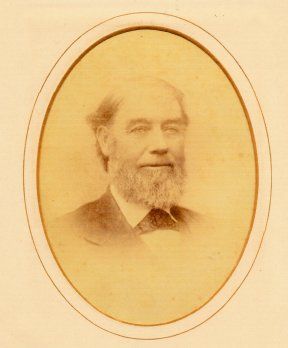 Emery Voss was a younger brother of my great-great-grandfather, William Voss. He was born in North Carolina 15 Oct 1815 and migrated with his parents, Clement and Mary (Britton) Voss, to Virginia and Tennessee as a boy before ending up in Monroe county, Indiana, as a young man. He worked as a plasterer. My grandmother told me that his wedding gift to my great-grandparents, John Wesley and Sarah Elizabeth (Voss) Walker, was the large family Bible which I still have in my possession. Emery, whose first name appears on his tombstone, and in some public records, as Emory, was Sarah Elizabeth's uncle. For photos of Emery and other Voss family members, please visit Sarah's photo album.
Emery Voss married Rachel Pitts 20 Mar 1838 in Monroe county. Rachel's obituary appeared on page 4 of the Bloomington Telephone, 25 Aug 1883:
Death has again removed from us one of our most worthy mothers and sisters, Rachel Pitts Voss, wife of Emery B. Voss, who was born in Stokes Co., N. Carolina, Dec. 10th, 1818. Removed to Shelbyville, Ind., Sep. 1833, and to this city in 1836, where she resided until her death, Aug. 7th 1883. She was the mother of twelve children, eight of whom survive.

She joined the M. E. Church under the ministry of Rev. Dr. Daily, 1836, and died in the faith in holy triumph. She was a woman of meek and quiet spirit, "a keeper at home," a kind neighbor, loving mother and an affectionate wife.

She was a great sufferer for nearly five months from Bright's Disease, but bore up patiently, and death to her was an "over coming." She has entered into the master's joy.

"Spirit thy warfare is o'er,
Thy earthly probation is run,
Thy steps are now bound for the untrodden shore,
The race of immortality begun."

J. E. B.
Rachel is buried in Rose Hill cemetery, where her name is spelled Rachael on her tombstone. The report of her funeral appeared on the front page of the Bloomington Telephone, 11 Aug 1883:
The funeral of Mrs. Emery Voss, one of the oldest and most respected ladies of Bloomington, took place Thursday afternoon, Rev. J. E. Brant of the M. E. Church officiating. Mrs. Voss had been sick for some time.
The following item, which appeared on the front page of the Bloomington Telephone, 15 Nov 1887, dates Emery's death as occurring Monday, 14 November 1887:
Emery Voss died at his residence on North College Avenue, Monday morning at 7 o'clock, age 73 years. He had been confined to his bed for many weeks. The funeral will be Wednesday at 10 o'clock. A more extended notice will appear in a later issue of the Telephone.
This slightly "more extended notice" appeared on page 4 of the Telephone's 19 Nov 1887 edition:
Emory B. Voss died at his home in Bloomington, on Monday morning Nov. 14th, after a painful illness of four months, aged 71 years and 32 days, Mr. Voss was born in Guilford county,1 North Carolina. Went with his parents first to Virginia, then to Tennessee, and came to Bloomington at fifteen years of age, where he lived to the time of his death. He was an excellent citizen taking an active interest in every good cause, and lived in the confidence of all who knew him. As a Christian he was unpretending but was regarded by all as a sincere and devoted man. He was a member of the Methodist Episcopal Church for more than fifty years. He had been married twice. On March 20, 1838, to Rachel Pitts, who died in 1883. And on Oct. 1st, 1886, to Miss Hanna Reeves who survives. The family desire to return thanks for the attention and kindness received at the hands of the people during their sickness and bereavement.
Emery's second wife, who died 15 Mar 1891, is listed as Emma Reeves on her tombstone in Rose Hill cemetery. The two newspaper accounts above differ by a year, in each direction, from the age that I would deduce for Emery from my grandmother's information and from census records. The following legal notice appeared on page 2 of the 29 Feb 1888 issue of the Bloomington Republican Progress and identifies his son Henry as the executor of his estate:
NOTICE OF ADMINISTRATION

Notice is hereby given, that the undersigned has been appointed by the Clerk of the Circuit Court of Monroe County, State of Indiana, executor of the will of Emery B. Voss, late of Monroe County, Indiana, deceased.

Said estate is supposed to be solvent.

Henry H. Voss, executor

January 18, 1888
James B. Mulky, Atty.
The following list of Emery and Rachel's children (all born in Indiana, probably in Bloomington) is based on information provided by my grandparents and on census records for 1860, 1870, and 1880:
William Daily Voss, born 1839.
Henry H. Voss, born 1841, died 16 Nov 1913 in Monroe county. Married:

31 Dec 1867 to Martha E. Hays
3 Feb 1885 to Sarah J. Clark

Mary Armenia Voss, born 13 Dec 1842, died 10 Jun 1909 in Bloomington. Married 28 Nov 1865 to Robert Doak Seward, who was a younger brother of my great-great-grandfather, Williamson Brewster Seward. See Mary and Robert's 1880 and 1900 census records.
James C. Voss, born 1845.
Harriett J. Voss, born 1 Oct 1846, died 9 Jul 1848, buried in Rose Hill cemetery, Bloomington.
Catherine Voss, born 1848, died 24 Mar 1929 in Indiana. Married 28 Sep 1869 to John H. Wylie. See their family's 1880 census record.
Sarah Voss, born 1851. Married Robert R. Strong. See their family's 1880 census record.
Charles E. Voss, born 1853. An 1883 news item mentions a visit by Emery and Mr. and Mrs. Thomas Allen to Charles Voss, who was living in Kankakee, Illinois, at the time.
Elizabeth Emily "Lizzie" Voss, born 30 Aug 1856, died 26 May 1946, in Bloomington. Was organist at First Methodist Church in Bloomington. Married 5 Oct 1880 to Thomas Akers Allen, who was an older brother of my great-grandmother, Jennie Lind (Allen) Seward.
John Voss, born 1859. Not listed in the 1870 census.
Edward M. Voss, born 1863.2
The inclusion of Harriett in the list above is based on information received from researcher Kent Gebhard in April 2011:
There is a Harriett Voss, 1846-48, findagrave #28858350, that I think may be an unidentified child of Emory B. and Rachael Voss. I had an e-mail from a volunteer today who inspected the stone and says it is E. B. & R. Voss noted as parents, not E. R. as shown on her memorial. I e-mailed the owner of the memorial to change that. Her father and both his wives are also there...
Two of Emery's sons may have attended Indiana University or its prep school. The following list is taken from Indiana University, Its History, 1828-1890, Theophilus A. Wylie, 1890, which doesn't distinguish between IU and prep graduates:
William Daily Voss, 1859
Edward M. Voss, 1881
The two photgraphs and articles below were from clippings headed "Our Bloomington of Yesteryear" which I found in my grandmother's scrapbook:
Photo Courtesy Rev. W. H. Wylie
By BENNETT P. REED

We show here the children of a well-known Bloomington family of a half-century ago. They are the sons and daughters of Mr. and Mrs. Emery B. Voss. The Voss residence was on the corner of Tenth and College. Photo was taken about the year 1905.

The three ladies in front, from left, are Mrs. Sarah Voss Strong, Mrs. Mary Voss Seward, and Mrs. Catherine Voss Wylie, who married John H. Wylie, the mother and father of our contributor, Rev. Wylie.

In the back row, from left, are Edward M. Voss,2 Mrs. Elizabeth Voss Allen, Henry H. Voss, James D. Voss and Charles E. Voss.

All those in the group are deceased.

Photo Courtesy Charles G. Strong3
By BENNETT P. REED

This photo, taken July 4, 1908, is of the Voss annual picnic reunion, which was held at the home of Robert R. Strong, Civil War Captain, East First Street.

In the photo, are twenty-five lineal descendants of Emory and Rachel Voss, who came to Bloomington from North Carolina, about the year 1830.

The flag in the background shows names of Civil War battles in which Capt. Bob Strong fought. He was Co. G, 31st Reg., Indiana Volunteers.

In the front row, are Mrs. Albert Seward,4 Albert Seward5 and son Clinton;6 Mary Frances Seward,7 Allen East,10 Mary East,10 Edmond R. Strong, Ed East,10 Grace Wylie,11 Mrs. Tom Allen and Capt. Strong (seated in chair).

Second row: Mrs. Della Voss, Charles E. Wylie,11 Mrs. Charles E. Wylie, Edgar R. Strong, Mrs. Charles E. Voss,2 Allen V. Strong, Mrs. Robert Seward, Robert Seward, Mrs. Robert R. Strong.

Back row: Allen Wylie, Mrs. Allen Wylie, Hazel Voss, Mary Voss,12 Henrietta Voss,12 Emory Voss, Ruth Wylie, Henry Seward,5 Mrs. Lee V. Strong, Lee V. Strong,3 Mrs. Henry Voss, Mrs. John Wylie, Rufus H. East,8 Mrs. Rufus H. East,9 Henry Voss, Ed Voss, Mrs. Ed Voss.

About twenty of the group are now deceased.
Emery and Rachel's numerous descendants must have had frequent reunions. Do any of my Voss cousins have better copies of these, or other, photographs? Can anybody help me with some of the "unidentified" people?
"Captain Bob" died 3 Apr 1924 and the following day's Bloomington Daily Telephone reported on its front page:
FUNERAL WILL DO HONOR TO OLD SOLDIER

War Veterans Will Pay Tribute to Captain Strong

Funeral services for Captain Robert Strong will be held at the home, 209 E. First Street, at 2 o'clock tomorrow afternoon. His nephew, the Rev. William Wylie of Vincennes, will have charge of the services. Capt. Strong was one of the few remaining old soldiers, veterans of the Civil War.

Mr. Strong's body was removed to his home, 209 E. First Street, today from the Modern Funeral Home, and will remain there until after the funeral services Saturday.
---
1
This is the only mention I've ever seen of
Guilford
county as an origin of the Voss family. It is located immediately southeast of
Stokes
county, which most Voss researchers give as the one-time Voss home.
2
The 1870 census lists a 7-year-old
Edwin Voss
. The 1880 census has an
Edwin N. Voss
who was 17 years old at the time. I found a 46-year-old
Edward Voss
in the
1910 census
, living at 608 N. College Ave. in Bloomington. I suggest that Edwin and Edward are one and the same person. An item on page 4 of the
Bloomington Telephone
for 23 July 1910 states:
Edward Voss, the popular north end mail carrier, and wife, go to Tipton as guests of Mr. and Mrs. T. A. Allen and wife [sic] for the next week.
This could refer to this Edward visiting his sister Lizzie, who did live in Tipton.
3
Charles G. Strong
(1874-?) and
Lee Voss Strong
(1879-?) were Sarah and Robert's sons.
4
Jennette Hovious
(1880-?) married Albert Seward.
4
5
Albert Daily Seward
(1870-1914) and
Henry Austin Seward
(1878-?) were Mary and Robert's sons. In the
1910 census
, Albert and his family were living at 246 W. 10th Street.
6
Clinton Daily Seward
(1899-?) was Albert and Jennette's son. The use of
Daily
as a middle name for a son, grandson and great-grandson strongly suggests that it was a surname in Rachel's family, perhaps her mother's. We don't know whether the Rev. Dr. Daily, who was the minister when Rachel joined the Methodist Episcopal Church, was also related.
7
Mary Frances Seward
(1901-?) was their daughter.
8
Rufus Hale East
(1867-1921) married Rachel Seward.
9
9
Rachel Jannette Seward
(1868-?) was Mary and Robert's daughter.
10
Rachel and Rufus' children included
James Allen East
(1887-?),
Edwin Seward East
(1894-?) and
Mary East
(1897-?). All the members of this family were listed in the
1910 census
at 602 N. College, around the corner from Henry and Edward Voss' and Albert D. Seward's families.
11
Catherine and John's children included
Grace V. Wylie
(1873-?) and
Charles E. Wylie
(1875-?).
12
Henrietta Voss
(1887-?) and
Mary Voss
(1891-?) were daughters of Henry and his second wife, Sarah.
This page was last updated 19 Apr 2011.