Clarence Allen
John Clarence Allen was an older brother of my great-grandmother, Jennie Lind (Allen) Seward. He was known by his middle name. Most of the information on this page was provided by his great-granddaughter, Phyllis Ewer,1 and by his great-great-grandson, Robert Allen Dinsmore.
Clarence was born 3 Jan 1847, in Greenville, IN. He was the second child, and oldest son, of Thomas Jefferson and Martha "Patsy" (Gibson) Allen. The child in this photograph isn't identified, but Phyllis believes him to be Clarence. It looks like it was taken in the same New Albany studio where photos of Clarence's parents were taken. It must date to the mid-1850s.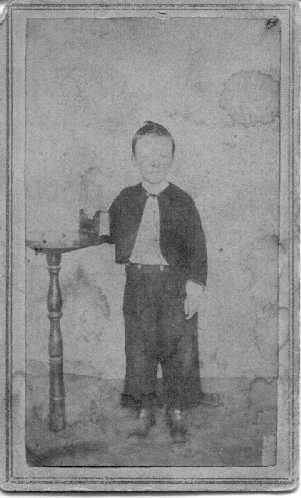 Clarence came to Bloomington as a very young man to work in the furniture factory operated by his brother-in-law, James Showers. He married Dona Martha Butcher, who was born about 1851 in Indiana, and died 10 Oct 1928 in Monroe county. They had the following children, all of whom were born in Bloomington:
John Allen, born 1875, died 1875.
Carrie Osacia Allen, born 24 Oct 1876, died 28 May 1946, married Leon Wade Dinsmore.
Jessie Olive Allen,1 born 23 Dec 1878, died 10 Jan 1966, married Morton C. Carter.
Nellie Florence Allen, born 15 Mar 1881, died 6 Aug 1947, married Joseph Robertson.
Ethan Clarence Allen, born 7 May 1883, died 1959, married:

Lena Mood
Grace Richardson

Edgar Allen, born 4 Jun 1886, married Bessie Rice.
Edna Allen, born 4 Jun 1886, married:

Grover Bell
James Sappenfield

Martha Belle Allen, born 8 Apr 1890, died 21 Jan 1916. Known as Belle.
Norine Allen, born 3 Oct 1892, married Ralph Schmalz.
Eugene Allen, born 3 Oct 1892, married:

Audrey Turner
Edith Wilson
The 1880 census lists Clarence and Dona in Bloomington with Carrie and Jessie. Phyllis supplied this photo of their family and credits Wilbur Dinsmore with identifying their children:
The following was daughter Belle's obituary, from the front page of the 21 Jan 1916 issue of the Bloomington (IN) Weekly Courier:
DEATH CLAIMS MISS BELLE ALLEN

Miss Belle Allen, daughter of Mr. and Mrs. Clarence Allen, 805 North Lincoln, died this morning at nine o'clock after a lingering illness of tuberculosis.

Miss Allen was born in Bloomington, on April 8, 1890, she is survived by her parents and the following brothers and sisters: Mrs. Wade Dinsmore, Mrs. Morton Carter, Mrs Joseph Robertson, Ethan Allen, Edgar Allen, Miss Edna Allen, Eugene Allen and Mrs. Ralph Smaltz, of Greencastle.

Miss Allen graduated from the Bloomington High School in 1908 and for a while was a student in Indiana University. She was a member of the Baptist Church. In 1910 she accepted a position as telephone operator at Indiana University and soon afterwards was promoted to the position as record clerk in the Registrar's office, which she held until ill health caused her to resign one year ago today. Soon after she left the office she went to the sanitarium at Rockville, where she remained for six months but her condition steadily grew worse. She returned to Bloomington last August and was at home from that time until her death.

For five years Miss Allen was at the University and today Secretary John W. Cravens said "when Miss Allen's health became such that it was thought advisable she was given a leave of absence and was told that her position would be held open for her and that no matter how long she remained away her place would be waiting for her upon her return. Miss Allen was one of the most conscientious women I ever knew. Her work was at all times of a high grade. In a position where there were opportunities to make hundreds of mistakes, she was remarkably accurate. She was modest, industrious and efficient. She had official loyalty. In the five years she was at the University I never heard her speak ill of any one. Day in and day out she could be depended upon. Her personal and official life was worthy of highest praise and as one who knew her well, I am glad to give this tribute."

The funeral will take place at the residence Saturday afternoon at 2:30 and will be in charge of Rev. C.T. Holman of the Baptist Church and Rev. W. H. Smith of the Christian church. The pallbearers will be Fred Seward, Howe Garten, Oscar Sparks, Frank Allen, Thomas A Cookson and Lee Robertson. The flower bearers are Misses Norine Carmichael, Edna Campbell, Kathryn Kemp, Julia Lively and Sarah Kirby.
Phyllis tells us,
Belle had red hair. She has been blamed for the many red headed children who have appeared among her nieces and nephews. When called upon jokingly by my father to explain the red hair of my sister, my mother would just shrug and say "Well, Aunt Belle had red hair."
This is a photo of Clarence in his later years which Phyllis sent me: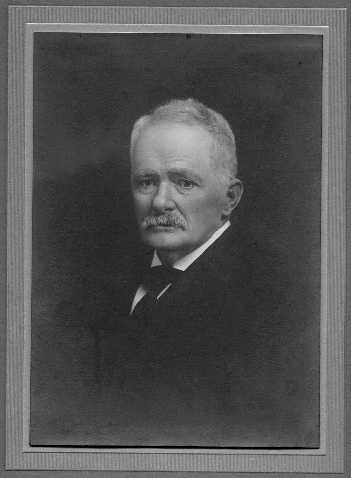 Clarence Allen died 3 Feb 1924 in Bloomington. The following article and photo, which I found in my grandmother's scrapbook, were printed in the Showers employee newsletter:
CLARENCE ALLEN, AN OLD EMPLOYEE, PASSES AWAY

Clarence Allen, 77 years old, who until several years ago worked for the company in Cabinet No. 2, died last Sunday at 4 o'clock in the afternoon, from an attack of paralysis. Clarence started to work for the company when he was 19 years old and but for a few years which he spent in carpentering, was connected with the firm pretty steadily for more than 50 years. The factory was located over in "Bucktown" when he first started working. In the years that followed he worked in almost every department and during the last few years that he was here, he nailed on binder on tops over in Cabinet No. 2. He can truly be called on[e of] the veterans of furniture makers in the city. No doubt he has helped many men in the furniture game who are still with us. He had a thorough knowledge of furniture making.


CLARENCE ALLEN - For more than 50 years an employee
of our Company, passed away last Sunday.
Two other daughters' obituaries were among the clippings in my grandmother's scrapbook. Carrie's had the date "May 28, 1946" written on it:
Mrs. Carrie Dinsmore, 69, Dies Tuesday

Mrs. Carrie Allen Dinsmore, age 69, died at 3:25 p. m. Tuesday at her home, 721 Hunter Avenue, after an illness bf several months. She had suffered a stroke last September and had never recovered. She was a niece of Mrs. Elizabeth Emily Allen, whose funeral services were held only an hour before her death. She is survived by two sons, Joseph R. Dinsmore, of Bloomington and Wilbur A. of Chicago. She also leaves the following brothers and sisters: Mrs. Jessie Carter, Mrs. J. M. Sappenfield, Ethan and Edgar Allen, all of Bloomington; Mrs. Nellie Robertson of New York City, Mrs. Norrine Schmalz of Jeffersonville, and Eugene Allen of Austin, Texas. She also leaves two grandchildren.

Mrs. Dinsmore was born October 24, 1876 to Clarence and Martha Butcher Allen in Bloomington and has passed her lifetime here. She was married to L. W. Dinsmore who preceded her in death, passing away on May 21, 1934.

Funeral services will be conducted at three o'clock Friday at the Christian Church of which she was a member. Burial will be in Rose Hill cemetery.

Honorary pall bearers will be Herschell Black, A. H. Berndt, Judge J. Frank Regester, Fred Dodds, George Walker, Hays Buskirk and Lester H. Smith. Active pall bearers will be Glen Allen,2 John W. Allen,2 Allen Carter,2 Dale Smith, Nat U. Hill, and Clifford Renaker.

---

County Woman Dies Wednesday

66-Year Old Widow Dies in New York

Mrs. Nellie Robertson, 66-year-old widow of Joe Robertson and a native of Monroe county, died Wednesday afternoon at the home of her daughter, Mrs. Virgil Reed In New York City. She had been in ill health for the past 18 months, suffering from heart trouble.

The remains will arrive in Bloomington early Friday morning and will be taken to the Greene and Harrell funeral home. Funeral services will be held at 3 p.m. Saturday at the First Baptist church of which she was a member. Interment will be in Rose Hill cemetery. Rev. George Dick will officiate.

The pallbearers, nephews, will be Allen2 and Don W. Carter,2 Wilbur and Robert Dlnsmore, Paul Armstrong, and J. Bertrand Ewer.3

Survivors include the daughter, at whose home she passed away; three sisters, Mrs. J. M. Sappenfield, Mrs. Ralph Schmalz, and Mrs. Mort Carter, all of Bloomington; three brothers, Ethan and Edgar Allen of Bloomington and Eugene Allen of Austin, Texas.

A native of Monroe county, she was the daughter of Clarence and Donna Allen, born on March 15, 1881. Several years ago she left Bloomington to go to New York for residence.
Carrie's son Wilbur served in the U. S. Army during World War II and was the subject of this item which I found among grandmother's clippings:
IN CALIFORNIA

Captain Wilbur A. Dinsmore, formerly of 417 North Indiana Avenue and an Indiana University graduate, writes to his mother that he is now stationed at Gilroy, Cal., following his graduation from training school at Ft. Benning, Ga. Captain Dinsmore, who entered army service in April, 1941, can be reached by addressing, Captain Wilbur A. Dinsmore, 125th Infantry U. S. Army; Gilroy, Cal.
In June 2004, Wilbur's grandson Rob, who is my third cousin one generation removed, stumbled over this page and graciously provided us the photo on the right of his grandparents, Wilbur and Elizabeth Dinsmore, taken during WWII. Rob's father, Phil Dinsmore, was a distinguished architect who designed a number of buildings in the Tucson area. We highly recommend visiting the tribute site created by Rob's brother, Kerry Dinsmore. Rob also contributed Wilbur, Elizabeth and Phil's obituaries which appear below:

Wilbur Allen Dinsmore

DINSMORE, Wilbur Allen, born in 1916 to Leon Wade and Carrie Allen Dinsmore in Bloomington, IN, passed away October 2, 2002 in Tucson.

Attended Bloomington schools, and graduated from Indiana University with a Bachelor in Business Administration in 1939. Commissioned in the U.S. Army upon graduation. Worked in Chicago until called to active duty in WWII. He was an Infantry Company Commander with the 1st Division through the Hurtgen Forest and the Battle of the Bulge. He came to Tucson in 1952 and worked for Grand Central Aircraft, then for Hughes Aircraft Co. In later years, he was a real estate broker specializing in Skyline Country Club and other foothill properties. Formerly, Mr. Dinsmore was a member of the U of A Foundation. St. Andrews Presbyterian Church and Skyline Country Club. Survived by his wife, Elizabeth Hill Dinsmore; children, Philip (Mary Kay) Dinsmore of Tucson, Margaret Dinsmore Psaltis of Fair Lawn, NJ, and Paula (Christopher) Daman of Arroyo Grande, CA; grandchildren, Robert (Caroline) Dinsmore, Kerry (Carole) Dinsmore, Marc (Kristine) Psaltis, Matthew Psaltis, Paul, Kristen, Carolynn and Alexander Daman; and great-grandchildren, Michael and Andrew Psaltis. Private services arranged by EAST LAWN PALMS MORTUARY.

Elizabeth Hill Dinsmore

Daughter of Nathaniel Usher Hill and Elizabeth Van Valsah Hill, born in Bloomington, Indiana on July 28, 1918. Deceased November 29, 2003.

She moved to Tucson, Arizona in 1927. She attended Roskruge, Tucson Senior High School and the University of Arizona where she graduated in 1940 with a Bachelor's Degree in Business Administration. While there, she belonged to Kappa Alpha Theta, Alpha Epsilon Women's Business Honorary, and Phrateres. After graduation she was employed by the National Youth Administration and worked in Pima, Pinal, Cochise, and Santa Cruz Counties.

Elizabeth married Lt. Wilbur A. Dinsmore on December 7, 1941. Immediately after World War II they lived in Elmhurst, Illinois, but returned to Tucson in 1952 with their young family.

Throughout the years, she worked as a volunteer for various philanthropic and cultural organizations. She was a charter member of both Assistance League and Tucson Alumna Panhellenic. At her death she maintained membership in St. Andrews Presbyterian Church, Kappa Alpha Theta, Arizona Historical Society, Assistance League of Tucson, Tucson High School's Badger Foundation and Chapter E, PEO.

Preceded in death by husband, Wilbur A. Dinsmore; son, Philip W. Dinsmore; brother, Nathaniel U. Hill III; sisters, Anna Jane Andrews and Margaret H. Pruitt. She is survived by daughters, Margaret J. Psaltis (Fairlawn, NJ), Paula E. and A. Christopher Daman (San Luis Obispo, CA); daughter-in-law, Mary Kay Dinsmore (Tucson, AZ); grandchildren, Marc (Kristy) and Matt Psaltis; Paul, Nicki, Carolynn and Alex Daman; Rob (Caroline) Dinsmore, Kerry (Carole) Dinsmore; and great-grandchildren, Michael and Andrew Psaltis.

Memorial Service Thursday, December 4, 2003, 3:00 p.m., EAST LAWN PALMS CHAPEL, 5801 E. Grant Rd.

Memorial gifts may be made to the Tucson High School's Badger Foundation or the Assistance League of Tucson.

Philip Wade Dinsmore

November 4, 1942 to January 28, 2003

Long time Tucsonan, prominent architect and community leader. Born in Gilroy California to Wilbur (deceased) and Elizabeth Dinsmore of Tucson. Survived by wife Mary Kay Dinsmore, Tucson; sons, Robert (Caroline), Redwood Shores, CA, and Kerry (Carole), Tucson; sisters, Margaret Psaltis, Fairlawn, NJ and Paula (Chris) Daman, San Luis Obispo, CA; and many nephews, nieces and cousins. A UA graduate of Architecture (1965), Dinsmore designed many award winning buildings throughout the state. He was a leader in his profession, serving 12 years at the national level of the American Institute of Architects and was awarded a Fellowship for his design talents and service. He served his community as well - board positions included the Educational Enrichment Fund, College of Architecture National Advisory Council, YMCA of Metropolitan Tucson and The Arizona State Board of Technical Registration. A celebration of his life is being planned for a later date. The family wishes memorial gifts to be made to UA Foundation for the College of Architecture, P.O. Box 210109, Tucson AZ 85712 or YMCA of Metropolitan Tucson, P.O. Box 1111, Tucson, AZ 85702. Arrangements by EAST LAWN PALMS MORTUARY.
---
1
Grandmother saved this undated clipping which reported Phyllis' birth:
Former Residents Parents of Girl

A daughter, Phyllis Ann, was born Monday morning to Mr. and Mrs. J. Bertrand Ewer, of Marion. Mrs. Ewer is the former Audrey Carter, daughter of Mrs. Morton Carter, South Grant street. The baby weighed six pounds 12 ounces. Both Mr. and Mrs. Ewer are graduates of Indiana University. Mr. Ewer is now employed as attorney with the Connecticut Mutual Life and Farm Insurance company.
If I understand correctly the relationships described above, Phyllis and I are 3rd cousins!
2
Phyllis identifies Glen Allen as Ethan's son, John W. Allen as Edgar's son, and Allen Carter as Jessie's son. Phyllis Ewer tells us: "Don Carter is
not
Jessie's son. I don't know who he is. As far as I know he is not in my Carter family. There were several other Carter families in Bloomington."
3
Jessie's son-in-law.
This page was last updated 5 Apr 2007.