Thomas and Martha Allen
Thomas Jefferson and Martha (Gibson) Allen were my great-great-grandparents. I started their page with just a handwritten sheet given to me by my grandmother, Alice (Seward) Walker, and filled it out with references to them in newspapers and census records, as well as with information provided by one of their descendants, my third cousin Phyllis Ewer. I had never seen any pictures of these ancestors until Phyllis sent me the ones which appear on this page.
Thomas was the son of another Thomas Allen and Nancy (or Eliza) Brown. He was born 25 Nov 1822 in Greenville, Floyd county, Indiana. According to my grandmother, he "owned a store in Greenville", which was confirmed by Phyllis and by U. S. census records. Greenville is about 12 miles from the county seat, New Albany, which is directly across the Ohio River from Louisville, Kentucky.
Thomas died 14 Feb 1873, according to this very brief notice on page 4 of the New Albany Ledger-Standard for Monday, 17 Feb 1873:
THOMAS J. ALLEN died at his residence in Greenville last Friday, and was buried yesterday. He was a good man, a prominent citizen and a member of the Odd Fellows' fraternity.
Thomas and Martha are buried in Section 8, Property 93, of Greenlawn (or Greenville) cemetery in Greenville. The inscription on his gravestone reads:

"Our father has gone to a mansion of rest
From a region of sorrow and pain
To a glorious land by the Diety blest
Where he never can suffer again."1
Martha was the daughter of John (or William) Gibson and Sarah Ann Pearson. She was born 11 Mar 1822 in Indiana and died 8 Feb 1901 in Bloomington, IN.1 The following photos, which Phyllis says are of Thomas J. and Patsy Allen, were taken in New Albany, and appear to have been made in the same studio in the mid-1850s:
After T. J. Allen's death, Martha married:
Nehemiah Tower, 23 Sep 1874.
John McKinley, 28 Feb 1878, in Clark county, IN. According Ruth and Steve Turner's family tree site, John was the son of James McKinley II and Genesis "Jincy" Packwood. He was born 9 Nov 1820 in Indiana and died 7 Jan 1898 in Clark county, IN.
Martha was enumerated along with her third husband John McKinley and her daughter Jennie in Greenville in the 1880 U. S. census, and with the family of her daughter Anna Belle (or Isabella) in Bloomington in 1900. According to Phyllis, her nickname was Patsy. The following picture looks as though it was taken in her later years: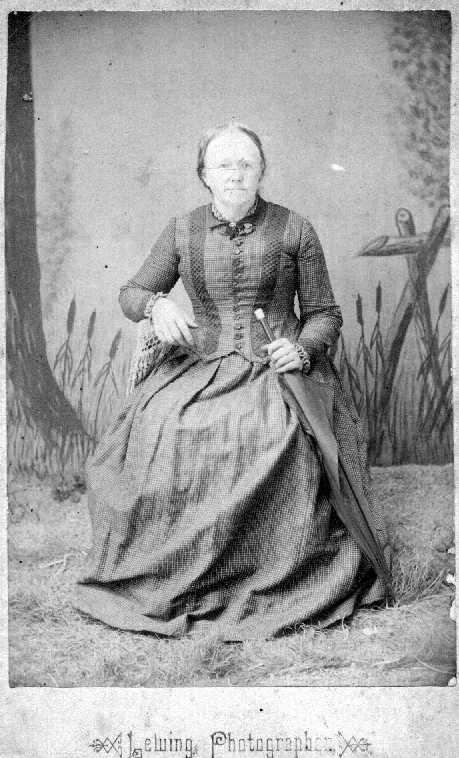 The picture below is a tintype of Martha / Patsy's parents. My grandmother told me that she thought Mr. Gibson's first name might have been John, but that she wasn't sure. Phyllis says it's William. Their surname sometimes appears as Gipson. In the 1850 census, they were listed two households after Thomas and Martha, in Greenville. Grandma thought they were from either North or South Carolina. The census reports that both were born in North Carolina and that William was a butcher.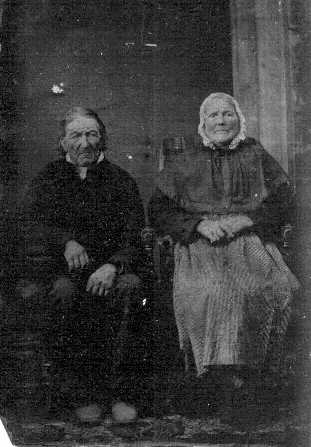 Thomas and Martha were married 13 Jun 1844 in Floyd county, according to the Indiana marriage index. They had the following children, the first three of whom were enumerated with them in the 1850 census, which listed Thomas as a "laborer". The first eight were enumerated with them in the 1860 census, with Thomas now listed as a "store keeper":
Isabelle (or Anna Belle) Allen. Born 18 Aug 1845, died 23 Dec 1926 in Monroe county, Indiana. Married James David Showers in 1866 or 1867 in Floyd county.
John Clarence Allen. Born 3 Jan 1847, died 3 Feb 1924 in Monroe county. Was known as Clarence. Married Dona Martha Butcher.
William Lawrence Allen. Born 29 Jan 1849, died 24 Aug 1884. Married Mahala Gwyn 18 Jul 1874 in Floyd county. Mahala was born 15 Jun 1840, died 13 Sep 1922.2 In 1870, William was living with his brother Lewis in Greenville, working as a farmer. The 1880 census lists him and his family in Greenville. That's about all the information we have on William, but we do have an excellent biography of his son Frank M. Allen, which was a part of Frank's obituary.
Lewis Marion Allen. Born 4 Apr 1851, died between 1934 and 1936. Married Mary Gunter 29 Mar 1877 in Iowa. The 1880 census lists him and his family in Udell, IA. An item in the Bloomington Courier for 1 Oct 1895 mentions that "Lewis Allen has returned to his home in Unionville, Iowa, after a pleasant visit to his brothers, Thomas and Clarence of this city."
Hester E. "Het" Allen. Born 15 Sep 1853, died after 1941. Married James C. Lepscum 9 Feb 1873. Phyllis provided this picture of Hester:

Phyllis writes:

I think it is safe to say that Aunt Het died after 1941 because I remember her... When she got cancer, my Grandmother [Jessie Olive (Allen) Carter] took care of her. She died in Bloomington so we should be able to get a death certificate.

According to Phyllis, Het spent considerable time in mental institutions. She was enumerated, along with several hundred other individuals, in the 1880 census in the Indiana Hospital for the Insane at Wayne, in Marion county. In the same census, James was listed as a boarder with the Avery family in Greenville and was working as a blacksmith. James eventually remarried and moved to Kansas City, MO, where he was enumerated in 1900 with his second wife and their daughter.
Caroline Victoria Allen. Born 15 Jan 1856. There is a tombstone in the Greenlawn cemetery for:
"Carrie Allen
Daughter of T. & M. Allen
Born 1856
Died 1876"
Thomas Akers Allen. Born 4 Mar 1858, died 18 Jul 1936 in Bloomington. Married Elizabeth Emily "Lizzie" Voss 5 Oct 1880.
Jennie Lind Allen. My great-grandmother. Born 30 Apr 1860, died 21 Sep 1934 in Bloomington. Married William Henry Seward 21 Dec 1880.
Lydia Gould Allen. Born 21 Mar 1862.
Neither Caroline nor Lydia was listed with their family in the 1870 census and may have died during childhood. But, if Caroline is the Carrie buried at Greenlawn in 1876, where was she in 1870?
The birth dates given above are based on my grandmother's handwritten notes. It is likely that all of Thomas and Martha's children were born in Greenville. There are many mentions of people with the Allen surname in the census and other public records in both Floyd and Monroe counties during the late 19th and early 20th centuries, but only a few of them can be identified as members of our Allen family.
Martha's third husband's death was reported on page 4 of the New Albany Weekly Tribune, Friday, 14 Jan 1898:
To the TRIBUNE.

BORDEN,3 Jan. 10, 1898.

Died, of paralysis, January 7th, 1898, John McKinley, Esq., in the seventy-eighth year of his age. A prominent citizen, respected and esteemed by all, has fallen, leaving a large circle of relatives and friends to mourn his absence, but we trust he will awaken, and stand in his place, when the awakening angel sounds the jubilee. For three years he lingered, deprived of speech and muscular motion, but, now, his afflictions have ceased to trouble, his warefare has ended. Let not your heart be troubled; so says the Master; neither let it be afraid or doubt.

RUSTICUS.

---

One of the earliest friends the editor of the TRIBUNE had after coming to New Albany was John McKinley, of Borden. He was a model man and citizen and worthy of the high esteem in which he was held by all who knew him. His life was pure and honorable and his taking away is like the gathering of corn that is ripe and ready for the sickle. He was one of whom it may be truly said, he has wrapped the drapery of his couch about him and lain down to pleasant dreams. He was a good man and that is enough.
Another obituary for John, from an unknown source:
Mr. John McKinley died at his home on Friday, January 7, 1898, after a lingering illness of paralysis. He was born in this township on November 9, 1820. He had been connected with a number of business enterprises here in the early days of Wood township. He was married to Miss Martha Johnson in 1843, from which union there were two sons and two daughters, the two daughters and wife having died several years ago, and the two sons, Washington and Milburn, survive him. He was again united in marriage to Mrs. Martha Tower in 1878, who survives him, and is about seventy-eight years of age. The funeral was held at the Union Church house Sunday at 11 o'clock, conducted by Rev. Quincy Short. The house was crowded with friends and relatives, notwithstanding the steady downpour of rain. The remains were placed in the Pleasant Ridge cemetery.
These notices of Martha's death appeared on page 7 of the New Albany Weekly Tribune, Friday, 15 Feb 1901:
Mrs. Martha McKinley, aged 79 years, died on the 8th at Bloomington, Ind. The remains arrived here Sunday morning and were taken to Greenville, her former home, for interment.

---

The remains of Mrs. Martha McKinley, formerly of Borden, whose death occurred at the home of her daughter in Bloomington, arrived over the Monon at 7 o'clock Sunday morning and were taken to Greenville. The funeral took place at 10:30 o'clock from the Greenville Christian church. The remains were accompanied from Bloomington by Mr. and Mrs. T. A. Allen, Mr. and Mrs. J. D. Showers, Mr. and Mrs. J.C. Allen and Mr. and Mrs. W. A. Seward.4
---
1
The information on Thomas and Martha Allen's deaths and burials is available thanks to the kindness of the librarians of the
Indiana History Room
at the
New Albany-Floyd County Public Library
, who have also provided several pages of burial listings for Allens, as well as the obituary clippings you see on this page.
2
The dates for William and Mahala are also from the tombstone listings provided by the public library. Mahala's birth date may be in error, since the 1880 census lists her as
32
years old.
3
Borden is in Wood township, Clark county, about ten miles north of Greenville.
4
This was probably
W. H. Seward
, Martha's son-in-law.
This page was last updated 27 Feb 2012.