About this article:
This article was published in the 1995 issue of Grandstand Baseball Annual1 and won the 1996 SABR MacMillan award as one of the best baseball research articles of the year. It includes details of Walter Johnson's pre-major league career which were discovered as a part of the research that went into Henry W. Thomas' definitive biography of Johnson. There was more here than would fit into that book, but Hank and I felt that the full story needed to be preserved and published.
The 1995 GBA soon went out of print, so we asked for, and received, permission from GBA's editor and publisher, the late Joe Wayman,2 to make this article available on the World Wide Web. Hank and I welcome your comments, especially if you have more information on any of the events described in this story.
Enjoy!

Chuck Carey
Anaheim, CA
This article is listed in: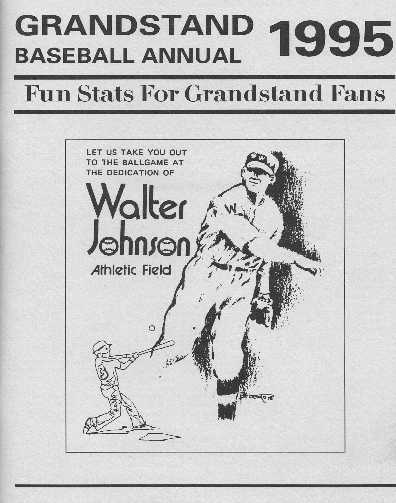 "THE CALIFORNIA COMET"?
WALTER JOHNSON IN THE GOLDEN STATE
By Hank Thomas and Chuck Carey
The research work for this story of an almost-forgotten period in Walter Johnson's career was a labor of love for two SABR members. Hank is Walter's grandson and lives in Washington, D.C., while Chuck is a more distant relative who lives in Anaheim, not far from the scenes of many of Walter Johnson's early pitching exploits. They had not met until the GBA editor, knowing of each one's search for information on Johnson's California background, put them in touch with each other. Hank has written the definitive Walter Johnson biography. -- Editor
"At the time, the only contact I had with baseball was playing Sundays on a semipro team called the Hoegee Flags. We were sponsored by a sporting-goods house, and on our backs we had flags of all nations. We played teams all over southern California, and I still remember the one that was the toughest. It was a team down by Santa Ana, for which Walter Johnson pitched. If people think Walter was fast later on, they should have seen him then. Whew! Most of the time you couldn't even see the ball!" (Fred Snodgrass, from "The Glory of Their Times")
Introduction
Most baseball fans, hearing the name or seeing a picture of Walter Perry Johnson, make an immediate connection with the city of Washington, D.C. The white "W" on the cap, the larger blue "W" on his sleeve are fitting reminders of "The Big Train"'s glorious quarter-century with the Washington Senators. The simplicity of "Washington-1907-1927" on his Hall of Fame plaque and the appropriateness of "Washington, D.C." as the place of death in the Baseball Encyclopedia are confirmations of this association. Indeed, it is so fixed in the mind that the occasional picture of Johnson in a Cleveland uniform brings a momentary reflex of protest -- "Wait a minute..." -- before it is recalled that he did manage the Indians briefly.
But those with only a passing knowledge of the Johnson biography will make other geographical connections: Kansas, where he was born and raised and returned to live for many years in the off-season. The "Kansas Cyclone", "Humboldt Thunderbolt", and "Coffeyville Express", were standard nicknames in the early years. To several generations of mid-westerners, the modest and plain-spoken Johnson -- not Ruth, or Cobb, or Mathewson -- was the outstanding figure in baseball, because he was one of them. And Idaho -- is there a more compelling story in all baseball lore than that of the teenage Walter Johnson, toiling in obscurity in a bush league out in the wild west, discovered by a traveling salesman who wrote the Senators that this phenom "knows where he's throwing, because if he didn't there would be dead bodies strewn all over Idaho."
For most casual fans and students of baseball history alike, this three-fold itinerary of Washington, D.C., Kansas, and Idaho covers the significant territory traveled by Walter Johnson on his journey to everlasting fame as one of the game's great figures. It will come as a surprise to many to learn that Johnson's formative baseball years -- from the first time on a baseball diamond to his ascension to the major leagues -- were spent in California. The fundamental characteristics of his personality and demeanor were forged on a Kansas farm, but his phenomenal rise in baseball was the direct result of the development of his awesome natural talents in the semipro leagues of Southern California.
The recorded evidence of Walter Johnson's seminal ballplaying years has been buried for nearly a century within the pages of a dozen or so small-town newspapers, long gone and of little interest to baseball history buffs. But because this was the boom time for "town ball" throughout America, and especially in the west, coverage of these local affairs was surprisingly extensive, typically with box scores and long narrative accounts. These Sunday (and holiday) contests were major events for a small community, drawing a thousand or more people to the ballpark in towns where the population wasn't that big, and were treated as such by the local press.
His case may not be unique, but it is certainly unusual for a player of Walter Johnson's stature to have no "official" record of the developments leading up to his emergence onto the national scene -- no minor league statistics, no high school or college record, no games even with an "outlaw" league (the California League flourished during Johnson's time on the coast). To many observers through the years, looking back at Johnson's career, he must have seemed like the fictional slugger Joe Hardy in "The Year the Yankees Lost the Pennant": "I've played quite a bit of sandlot ball" in "...Hannibal, Missouri," Hardy fabricated when pressed by reporters to explain where this greatest of all hitters had been hiding before exploding onto the scene with the Washington Senators. What follows is Walter Johnson's "Hannibal" -- actually Olinda, Anaheim, Santa Ana, Rivera, San Diego, and the other towns of the semipro leagues of southern California where he apprenticed for his unparalleled career in the major leagues.
The story of this early-century town- and company- sponsored baseball is itself fascinating -- full of colorful characters, improbable aggregations, and unlikely happenings. With "bushers" playing alongside past, present, and future major league stars; with players changing teams, teams shifting leagues, and leagues coming and going in the constant struggle to survive on the bottom rung of the professional baseball ladder, stability was nonexistent. But this also opened up opportunities for many, Walter Johnson among them. Together with the story of his two summers in Idaho (in the article following this one), Johnson's complete pre-Washington experience is chronicled, most of it for the first time. This is "organized baseball" only in the sense that these games were played on regulation fields, with umpires, and followed the rules, more or less. But considering Walter Johnson's place in baseball's pantheon, the circumstances of his development in the game are certainly worthy of exposure and analysis.
---
1"Copyright 1995 by Joseph M. Wayman - ISBN 0896-5501... articles printed in GBA are the author's, publication, etc. -- permission to quote or reprint must be received by them..."
2Read a SABR Salute to Joe Wayman.
---