George Carey's Birth and Ancestry
Where was George Carey born? George was never asked about his birthplace by a census taker. That information only began to be recorded in 1850, about four years after his death. As far as I know, none of his children survived until 1880 to be asked by a census taker, for the first time, where their parents were born. We only have the testimony of some of his descendants, as follows:
The biography of George's grandson, David Clark Carey, appeared in the Historical Atlas of Paulding County, published by The Western Publishing Company of Madison, Wisconsin, in 1892, and states:

George Carey, the paternal grandfather, was a native of Essex county, N. J., and of English extraction. The Carey family were among the early settlers of Essex county, and date their settlement in this country back to the colonial period, being one of the prominent families of that day...

David, who was still alive when his biography was written, was about 20 years old at the time of his grandfather's death. I presume he had some conversations with George in which George mentioned his own origins to the boy. David's parents may have also passed on information to him as to his family's origins.
George's great-granddaughter, Anna Cora Enyart, wrote a letter in 1911 to Major Ira Winans in which she tried to sum up her knowledge of her ancestors. In the letter, she mentions extracting information from her uncles on her various ancestors, saying "My uncles are not posted on the family history. One says George and Phebe Carey both from N.J. had seven children..."
One of the "Illinois Clarks", Robert Davis Clark, writes in yet another letter to Major Ira of his father's Aunt Phebe coming from New Jersey along with her husband, George Carey.
Oral tradition within my own family has it that our ancestor was a New Jersey native.
But where in New Jersey was George Carey born? The only information I had ever seen gave his birthplace as Essex county, in the Elizabethtown area. This is where his children's births were also said to have occurred. This is where most of the Winans, Clark and other New Jersey-to-Ohio migrant families are supposed to have originated.
In October 2005, I received e-mail from Michael Koseruba, who is a fellow descendant of George and Phebe Carey. Michael has been researching our common ancestors for quite awhile and has provided me a lot of food for thought. He suggests that we need to include some of the neighboring New Jersey counties, e.g. Morris and Somerset, in our search for Carey origins. I will summarize Michael's findings and theories as follows:
George Carey married Phebe Clark in Basking Ridge, Bernards township, Somerset county, where several Clark families were living during the 18th century.
George may have been the son of another Isaac Carey who lived in Morris county and who was descended from Carey families in Connecticut and Massachusetts.
George may have had an older brother, Abram Carey, who went to Ohio's Miami valley shortly before George.
Abram lived in Mendham, in Morris county, in the vicinity of numerous Hudsons, including two of Shadrach Hudson's children, who married two of George's children after both families migrated to Ohio:
An 1853 map on page 144 of Our Hudson Family History shows homes of Hudsons near those of S. Carey and Carey along Mountainside Road, between Mountain Road and Pitney Road, on the north edge of Mendham. And there's an N. Carey on Mendham's main drag, the Washington turnpike, and a J. Carey on Talmadge Road. There's also a Corey Lane east of town which we thought might have something to do with our Careys, but that's only a guess. If our Careys indeed came from the Mendham area, they seem to have left quite a few relatives behind when they left for Ohio.
Many of the New Jersey Hudsons migrated to the Miami valley at about the same time as the Careys, Clarks, Winans, etc.
Michael's grandfather, Shadrach Hudson Carey III, told him the Careys had come to New Jersey from New England via New York.
The distinctive style of the house built by Isaac Carey in Paulding county, pictured below, which is still standing, is very similar to the style of houses of Bridgewater, MA, and hints that its builder was aware of New England architectural styles.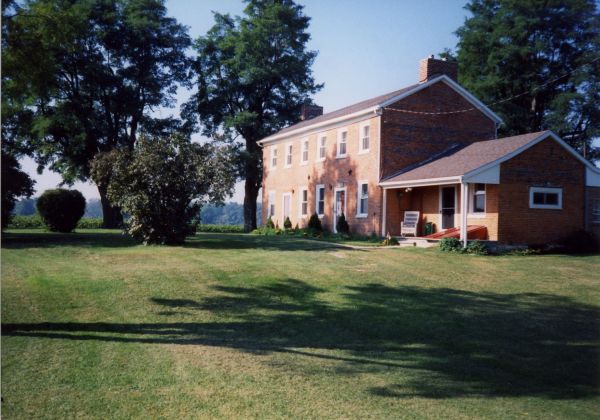 Acting on Michael's suggestion that Mendham, NJ, may have been George Carey's home before his move to Ohio, I searched the earliest New Jersey census available, that of 1830, for familiar names. In the not very legible pages for Mendham township, I was able to distinguish the following numbers of households:
Cary - 4
Clark - 6
Hudson - 2
Marsh - 2
Stites - 1
Woodruff - 2
It was especially interesting to discover, on successive lines, the households of a Daniel Cary and an Abraham Hudson. If the oldest persons in each household are husband and wife, then Daniel was in his 50s and his wife in her 60s, while Abraham was in his 50s and his wife in her 40s. All these people with familiar surnames in a small New Jersey township may or may not be related to any of our known ancestors, or even to each other.
When was George Carey born?
Census records:
1790-1800-1810 — No records available for NJ or OH.
1820 — Staunton Twp, Miami Cty, 45+ years
1830 — Staunton Twp, Miami Cty, 60-70 years
1840 — Auglaize Twp, Paulding Cty 60-70 years
The 1820 record is next to useless. The 1830 census implies a 1760-1770 birth year, while the 1840 census implies 1770 to 1780. My own family history files say George was born "about 1759", but I'm not sure on what authority. I've seen a variety of dates in various GEDCOM sites on the world wide web.
Who were George Carey's ancestors?
Cousin Eric Elliott steered us to a family tree at the Ancestry.Com site which mentions a Jacob Carey whose wife was named Hannah Marsh. Further investigation of this family shows that Hannah is tied in to some of the other New Jersey families who are a part of our own family tree. But as for Jacob himself, his information is too vague to enable us to connect him with George or any other Carey:
Born: WFT Est. 1713-1746
Married: WFT Est. 1754-1787
Died: WFT Est. 1754-1826
("WFT" stands for "World Family Tree".) The fact that our George and Phebe named one of their sons Jacob suggests that this mysterious Jacob could have been George's father or uncle, or even his older brother. The Jacob and Hannah duo shows up in several other family histories on the World Wide Web, but with no more information than what I've just given.
The Paulding county history quoted above mentions English ancestry. While I doubt that George's ancestors were a prominent family, I accept the English extraction part of the story. Late colonial New Jersey was an area which was being settled mainly by the English. The heavy Scots-Irish migration of that time took other paths and I've never seen a Carey among the Scots-Irish settlers anyway. The influx of Irish settlers which brought significant numbers of Careys to the United States didn't begin until well after George Carey had migrated from New Jersey to Ohio.
Michael Koseruba suggests a connection via George's likely father, Isaac Carey, to earlier New England Careys. This is worth investigating, along with the rest of Michael's information. I will update this page whenever we make any new discoveries or whenever we are able to confirm or disprove any of the theories advanced here.
Other Careys in New Jersey?
Cousin Glen Winans sent us these two items from New Jersey's Supreme Court Case Files, 1704-1844 which may involve Careys who were in New Jersey before and after George:
Richard Carey V Nathaniel Salmon
Case #8682
Carey, Richard (Plaintiff)
Case Type, Debt
County, Essex
Year 1764

---

Thomas G. Carey (Plaintiff) V William Woodruff, Defendant
Case #9341
Case Type, Trespass
County, Essex
Year 1834
There's no way to tell whether either of these two Careys is related to our George. They were both (probably) in the right county and have names which appear among George's descendants. George named one of his sons Thomas and Thomas may have named a son Richard.
This page was last updated 26 Apr 2010.