Who Was Phebe Clark?
This little bit of information I have on my g-g-g-grandmother, Phebe (Clark) Carey is imprecise and contradictory. I will add whatever I can find out about her as I come across more data.
It is likely Phebe came to the Miami Valley of Ohio from New Jersey along with her husband, George Carey, in about 1807, after the birth of their youngest child, Sarah. Phebe was the daughter of David Clark and Sarah Winans. Her brother, Rev. David Clark, also married a woman named Sarah Winans, which may lead some researchers to confuse the two Davids. Some sources list one or both of the Davds as David Ward Clark. Phebe's brother was a minister, but we have found no information on the occupation of her father, or as to whether he had a middle name.
Birth. I have seen dates varying from 1759 to 1765 for Phebe. The earlier date seems unlikely if it is true that her last child, Sarah, was born around 1805 to 1807. I've even seen her birth year (and also George's!) given as 1786 in gedcoms on some web pages. This latter year seems ridiculous in view of the birth dates of Phebe's children -- David, who was probably her first child, was born about 1790! -- and of her mother Sarah Winans' fairly well-recognized birth date of 25 Feb 1737. Could there be other Phebe Clarks and George Careys in NJ whose data has become confused with ours?
In George Carey's entries in the 1820 Federal census, there is one female aged 45+. In the 1830 census, there is one female aged 60-69 years. George and Phebe's entries in the 1840 census for Paulding county, Ohio, only confuse matters, since the couple is listed as 60-69 years of age, the same as in 1830!
Marriage. No information.
Death. Phebe is believed to have died in 1849, in Miami County, OH, and to be buried at Raper Chapel graveyard, near Troy, along with her husband. Nobody has ever reported finding their tombstones or any written record of their burial there. When I visited this graveyard in 1993, I could see that most of the grave markers from the 19th Century were weathered to the point of illegibility.
Out of nine Clark children, Phebe and three younger brothers, David, John Winans and Isaac migrated from New Jersey to Ohio at about the same time. The other five siblings are believed to have remained in New Jersey or New York. Around 1830 David, John and Isaac moved West to settle in Illinois, where many of their descendants live to this day. Please read the Robert D. Clark letter for the recollections of one of those descendants. Another Illinois descendant, my cousin, Lyle Black, has done a great deal of research into the Clark family in Illinois which he has been kind enough to share with me. This research will certainly shed some light on the Clarks' New Jersey and Ohio roots.
Here's a recent picture of Lyle and a friend: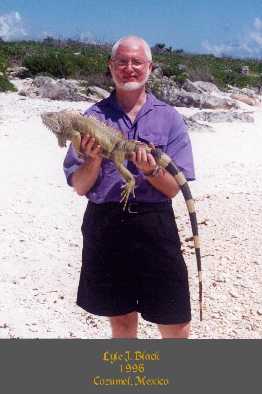 This page was last updated 22 Sep 2011.