David Clark Carey
Our first Carey ancestor who settled in Ohio was George Carey. George is said to have arrived in Miami county from New Jersey in about 1807 and to have worked as a stonemason on the Miami Canal. George, his wife Phebe, and some of their children moved north to Paulding county. George is said to have died there in 1846; Phebe is said to have died in Miami county in 1850. Their son Isaac spent the rest of his life in Paulding county and raised his family there. This biography of Isaac's son, David Clark Carey, along with the engravings of David and his wife Sarah, appeared in the Historical Atlas of Paulding County, published by The Western Publishing Company of Madison, Wisconsin, in 1892. A big thank you to cousin Eric Elliott, who is a descendant of Isaac and David, for sending them! We've taken the liberty of breaking the biography into paragraphs for ease of reading.
Hon. David C. Carey is a worthy descendant of one of Paulding county's pioneer settlers. He was born in Auglaize township of the above named county, January 21, 1826, and is a son of Isaac and Abigail (Hudson) Carey.

George Carey, the paternal grandfather, was a native of Essex county, N. J., and of English extraction. The Carey family were among the early settlers of Essex county, and date their settlement in this country back to the colonial period, being one of the prominent families of that day.

The maternal grandfather was Shadrach Hudson, a native of New York state and a descendant of an English family. He served gallantly in the war of 1812, and subsequently settled in Miami county, Ohio, being one of the early residents of that section. In 1821 or 1822 he removed to Paulding county, and it is claimed that he erected the first dwelling in the county. He was a teamster in the war of 1812 and was at the battle which resulted in the defeat of St. Clair. He was a man of medium stature and possessed intelligence as was rarely found in the men of that day. His family consisted of six sons and four daughters, the last one dying in Defiance, in 1890, at the age of seventy years.

Isaac Carey,1 the father of our subject, removed, with his parents to Kentucky, when he was five years old, and afterward located with them in Miami county, Ohio. He enjoyed but few educational advantages, being raised upon the farm, and engaged in learning the trade of the stone mason, and brick-layer. In 1823 Mr. Carey decided to locate in Paulding county, and, in company with his wife and son, Shadrach H.,2 he traveled overland to Paulding county, and settled in the wilderness. Isaac Carey was a hardworking man, and devoted the better part of his life to his trade and in making a home for his family. He was an advocate of education, and sent his children to the schools of the neighborhood, which he and two neighbors established in a private way. He raised a family of five sons and four daughters, the subject of this sketch being the only living member of the family. Mr. Carey was a consistent and life-long member of the Methodist Episcopal church. After a life of usefulness and probity, he died at the age of fifty-one years, bearing with him to the grave the esteem and love of all whose fortune it had been to know him.

David C. Carey3 was the first white child born in what is now Paulding county. He was raised upon the homestead farm in Auglaize township, and was given an education such as could be obtained in the township schools. He also attended school at Defiance. Remaining at home he worked upon the farm and later taught school. After his marriage he located on section 20 of Brown township, and commenced the process of clearing and improving a farm, where he continued to live until 1870, when he was elected probate judge and served till 1875, having been re-elected after the expiration of his first term. In 1877, Mr. Carey removed to Hutchinson, Kan., and engaged in farming. In the fall of 1878 he returned to Brown township and located upon the homestead farm, where he resided until 1882, when he settled in Oakwood, where he has since lived. Mr. Carey has always been an active and ardent republican, and acceptably filled the office of mayor of Oakwood. He enlisted during the late war in Company H, One Hundred and Ninety-first Ohio volunteer infantry, on February 20, 1865, and saw active service until August 27th. While going to the Ohio river and into the Shenandoah valley, he contracted a cold from the effects of which he has never fully recovered.

Mr. Carey was married May 22, 1848, to Miss Sarah Lydia, the accomplished daughter of Josiah and Lydia (Goodell) Talbert. The maternal grandfather of Mrs.Carey was William Goodell, a native of Massachusetts and a soldier in the Revolutionary war. He was a descendant of a Puritan family. Josiah Talbert, the father of Mrs. Carey, settled in western New York in 1815, where he and his wife died, leaving a son and two daughters, Mrs. Carey being the only living member of her family. She came to Defiance in 1836 with her sister, Mrs. Allen, wife of Dr. O. H. Allen, and received a liberal education in the schools of that place, completing her course in Oberlin college. This cultured lady became the mother of [sic] ten children, whose respective names are as follows:

Sarah A. (deceased);
Annie, wife of C. B. May;
Harriet (deceased), who married J. L Shively;
Clark T., publisher of the Oakwood Sentinel;
Lucy C., wife of Levi C. Keck;
William E. (deceased);
Alice and
Mary, who died in infancy, and
Mary L., the wife of L. J. Cristy.

Mr. and Mrs. Carey are both consistent members of the Methodist Episcopal church, the former having become a member at the age of thirteen years. He has lived an exemplary and temperate life, never having indulged in the use of liquors and tobacco. He enjoys the confidence and respect of the people of Paulding county, and is a man of much prominence in the community. Mrs. Carey is known among the people of Brown township and Oakwood as a true Christian woman, and in the hour of sickness and trouble it is she who administers to the afflicted in her quiet and unostentatious manner, doing deeds of kindness and charity.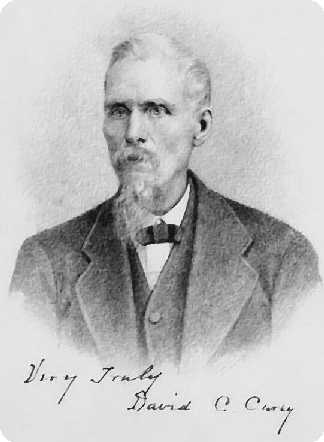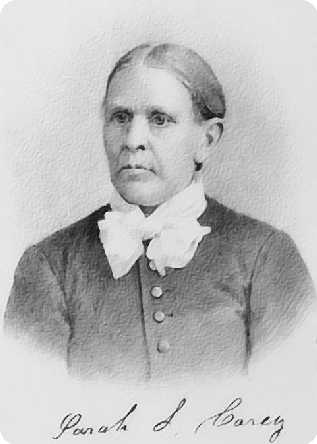 The coming of Isaac Carey and Shadrach Hudson to Paulding county is described in this excerpt from Sketch of the Early Settlement of the Maumee Valley, by Horatio Nelson Curtis:
About this time [1825] Brown township was organized. This township was up the Auglaize River south of Defiance; the first settlers were Shadrack Hudson, Isaac Cary, John Kingery, and Christopher Srokfe. The township took its name from a small Fort or stockade, that was built by a part of Gen. Harrison's army in 1812 or 13. It stood on the point at the junction of the little and big Auglaize River. A part of the pickets or palisades were still standing, and seen by the writer in passing down the Auglaize River in the spring of 1825. This was called Ft. Brown, and was I think so marked upon the early maps of the country.
Isaac Cairy's household was listed on the last line of the 1830 census for Defiance township, Paulding county, with 2 males under 5 years old, one 5-10, one 30-40, one 30-49, and one female 20-30 years old. Shadrich Hudson's household is a few lines above Isaac's, with one male 5-10, 3 10-15, one 30-40, one 50-60, one female 15-20, and one 40-50.
The following biographies of David C Carey and his son Clark were transcribed by Janet Kwasniak and Mike Sandridge from The History of Northwestern Ohio & History of Paulding County, H H Hardesty & Company Chicago IL/Toledo OH 1882, pg 226:
David C. Carey was born in this county, January 21, 1826, and married in Defiance, Defiance county, Ohio, May 22, 1848, his choice being Sarah L. Talbert, whose birth took place in Niagara county, New York, December 23, 1828. Her parents were Josiah and Lydia (Goodell) Talbert, both of whom died in Niagara county. The children of Mr. And Mrs. Carey are:

Sarah A., born May 31, 1849, died February 15, 1853;
Anna E., January 6, 1851;
Harriet L., December 24, 1852;
Clark T., August 21, 1855;
Lucy C., September 7, 1857;
Alice M., August 1, 1860, died October 26, 1861;
Mary, August 12, 1862, died October 3, 1878;
Fanny G., July 18, 1869, died September 3, 1872.

Mr. Carey's parents were Isaac and Abigail (Hudson) Carey, both deceased. He has held the following offices: Justice of the Peace in 1866, Probate Judge, 1870 until 1875. He was in Company H, 191st. Ohio; was discharged in August 1865. His brother, William S., died in Ringgold, Georgia, with the measles. Mr. Carey took a trip to Kansas in 1875, returning in 1878, when he was elected Justice of the Peace, which office he still holds. Both himself and wife are members of the Methodist Episcopal Church. Address, Oakwood, Paulding county, Ohio.

---

C. T. Carey was born in Brown township on the 21st of August, 1855, and was married to Victoria McCreary, January 1, 1877. She was born in Paulding county, November 4, 1858. They have three children,

Hallie, born April 4, 1878, died July 4, 1879;
Edward E., May 4, 1880;
Willie H., November 28, 1881.

Mr. Carey's parents are D. C. and Sarah (Talbert) Carey. His wife's parents are Robert and Martha (Sneer) McCreary. Mr. Carey is a mercantile man, and his address is Oakwood, Paulding county, Ohio.
The last two biographies were found on the Paulding county GenWeb site, which has a wealth of information for researchers of that area. Keep your eye on Eric's own site for additional information on Isaac and David Carey and their descendants. See also David and Sarah's 1880 census data.
David Carey died in Oakwood, 30 October 1893, and is buried in Kingery cemetery there. Sarah died 7 March 1900, also in Oakwood.
My great grandfather was also named David Clark Carey and was the first cousin of the subject of this biographical sketch. He was also born in Paulding county, "near Defiance", some twelve years later, but moved to Miami county at an early age, then on to Champaign county after also serving in the Union Army. Like his namesake, he married a woman named Sarah - Sally Perry. I hope this information will help clear up any confusion which might exist about the identity of the two David Clark Careys.
---
1
Isaac was enumerated in the
1850 census
in Auglaize township along with his second wife
Aurel Sessions
.
2
Shadrach and his second wife,
Delilah Winans
, were listed in the
1850 census
for Brown township immediately after David and Sarah's entry.
3
See David and Sarah's
1850 census
entry.
This page was last updated 24 Jun 2009.