[19] Abigail7 Hudson (1800-1847)
of Auglaize Township, Ohio

ABIGAIL71 HUDSON (Shadrach6, Abraham5, Samuel4, Samuel3, Robert2, Robert1) was born in Miami County, Ohio, 24 August 1800, and died in Junction, Ohio, 30 May 1847.

She married in Miami County, Ohio, 20 January 1820, ISAAC CAREY2 (brother of Sarah Carey who married James Hudson, Abigail's brother) who was born in Essex County, N.J., 13 August 1799, and who died at Oakwood, Ohio, 25 October 1850,1 and who was the son of George Carey,3 a native of Essex County, N.J., and of English extraction.

The Carey family were among the early settlers of Essex County, N.J. and date their settlement in this country back to the colonial period, being one of the prominent families of that day.3

The 1840 U.S. Census lists George Carey, age 60-70, in Auglaize Township, Paulding County, Ohio, with a female, age 60-70, probably his wife.4

Isaac Carey moved with his parents from New Jersey to Kentucky (possibly as a result of the passage of Acts of Congress abolishing surveying fees and providing for the sale of lands in quarter-sections) when he was five years old and afterward settled with them in Miami County, Ohio. He had limited educational opportunities, being raised on the farm, but he learned the trade of stone mason and brick layer.3

With his wife "Abby" and son, Shadrach Hudson Carey, Isaac Carey came to Paulding County in 1823 and settled in the wilderness in Auglaize Township, one mile east of Junction, on a farm adjoining the farm of his father-in-law, Shadrach6 Hudson.5

On 21 January 1826, their second son, David Clark Carey, was born—the first white child known to have been born in Paulding County.3

The following are extracts from an address made by Isaac Carey's son, David, at one of the pioneer meetings held at Paulding, Ohio, in 1885:6

"The first fall after my father (Isaac Carey) moved from Miami County to the wilds of the Maumee Valley, he had to cast about and study how to make a living. He wasn't much of a hunter, nor much of a farmer up to that time, as his occupation had been that of a stone and brick mason. Seed wheat was very scarce. He had a little seed wheat, so he proceeded to clear off a patch of ground and sowed the seed. The following harvest he had as good and as clean a crop of wheat as he ever saw or ever afterward raised. That was how my father got his start in wheat."

Isaac's son David continues: "Forty or fifty years ago our fathers were out in the mighty forests which covered our land, with no tools, save an ax and maul, without nails, glass, plaster (excepting mud mortar), lumber, brick, or anything with which to build a shelter for their wives and children, save forest trees and their few tools. Out there in a covered wagon, upon which fell the driving rain, the biting frosts of autumn, or the piercing blasts of winter. Out there alone—two, three, perhaps five miles from any human habitation."

Abigail was of a kind and generous disposition and amiable to all. She helped the poor and needy and set high moral standards for the family. Her son, David, described an incident when Isaac, as was his custom, drank some liquor sweetened with sugar before breakfast and offered the last dregs in the glass to his son. Abigail reproached her husband, saying that it would be better for him to teach the boys their prayers rather than to teach them to drink spiritous liquors. The episode was not repeated, and soon the bottle was banished from the house.

Abigail helped her husband roll logs and pick and burn brush in their first clearings. Many a day she would spin and work until after midnight. She was endowed with a deep belief in God and gave loving Christian training to her children. She sang hymns and Isaac attempted to follow her lead but she claimed he could sing more tunes for the same hymn than anyone she knew. Abigail was well equipped to face the ruthless requirements of pioneer life.7

The early settlers got their grain converted into flour and meal at a mill, often many miles away from their homes. The journey to the mill was sometimes by ox team, sometimes by boat on the river. The journey to and from the mill often took several days and was full of hardships and danger. During these excursions to the mill, the wife and little ones remained at home alone, often with scanty fare, and with anxious hearts, awaiting the return of the husband and father.8

In 1822, Shadrach and Lydia Hudson2 deeded to Isaac Carey, their son-in-law, for $1,000, 77 acres of land located along the eastern bank of the Auglaize River in the southeastern portion of Section 19 in Auglaize Township. Their son, David Hudson, was a witness to this document.9

Isaac Carey was a hardworking man, and devoted his life to his trade and in making a home for his family. He was an advocate of education, and sent his children to the schools of the neighborhood, which he and two neighbors established and supported financially.

He was a life-long member of the Methodist Episcopal Church of Defiance County, Ohio, located on Lot 78 of the original plan of Defiance. The property was purchased for this purpose on 13 March 1827 for the sum of $30 by John Partee, Nathan Shirley, James7 Hudson, John7 Hudson, and Isaac Carey.10

How Isaac Carey intended to profit by being a stone and brick mason in the dense forests of the "Great Northwest Territory" was his own secret.

When his skill as a stone and brick mason was not in demand in Paulding County, Isaac Carey packed up his tools and walked 40 miles to Fort Wayne, Indiana, or 60 miles to Toledo, Ohio, to find work. He built chimneys for the Indians at Fort Wayne, and constructed the old stone jail that stood there for many years until replaced with a modern structure."

Because it took two days or more to make the trip to or from his home, Isaac remained away from home until the construction work that he had started was completed. For ten or more hours of labor, he may have received as much as $1.50 per day. During these periods when he was away from home, his wife, Abigail, was left alone to watch over the children and their home in the wilderness, surrounded by wild beasts and the country full of Indians.

With his brother-in-law, John7 Hudson, Isaac Carey built three noteworthy houses in the 1830's. The houses were almost identical in plans, built in a Virginia Colonial Style3 with three large rooms on the first floor and five rooms on the second floor. The houses were made of brick baked in a kiln constructed on the site for that purpose. The house was heated by four huge brick fireplaces.12

One of the houses was occupied by John Hudson and his wife, Rhoda, and later by Isaac and Abigail Carey. This house has been preserved by descendants and still stands as a masterpiece of early construction. This house, known as "The John Hudson House," is on County Road 179 across the Auglaize River from Charloe, Ohio... It was the second stop on Paulding County's Bicentennial Tour of historic homes in Brown Township.13 Present occupants are Mr. and Mrs. Glen Harshbarger. Mrs. Harshbarger is the former Irene Mead, great granddaughter of Isaac and Abigail Carey.14

A number of the Ottawa Indians that lived about four miles south of the Carey farm and up the Auglaize River at the village of Charloe (named after one of their chiefs), were in the habit of storing their firearms at Isaac Carey's cabin. One day a party of Indians were returning home with a pack of wolfish dogs in the advance, and the dogs attacked some of the swine belonging to the Careys. Isaac obtained one of the stored muskets and shot the dog that had done the most damage to his hogs. The Indians took note and thereafter they muzzled their dogs and abandoned the practice of storing arms at the Carey farm.15

In 1891, Isaac Carey's son, David Clark Carey, described the time in 1830 or 1831 when the legendary Johnny Appleseed (Jonathan Chapman, born in Massachusetts in 1775) visited the Carey farm.16 Johnny, who took his sack of apple seeds to Ohio, sowing them along roadways, by rivers, and in forest clearings, was a bachelor who "lived for others solely" and was never molested by the Indians, who considered him crazy, as he travelled through the wilds. When Johnny arrived at Isaac Carey's house he was "clothed in rags, and with shoes bound on his feet by strings to hold them on his feet and to hold the pieces of shoes from parting company."

Johnny distributed religious literature at every cabin where people could read. He did not preach fire and brimstone and said that "the worst part of hades would not be worse than smoky houses and scolding women." Isaac gave him a nearly new pair of shoes, expecting that he would put them on; but instead, Johnny packed them away saying they were too good to wear but "would make a fine present for some needy person."

The first school taught in Brown Township was by John D. Carlton in the year 1834 in an unoccupied cabin on the Isaac Carey farm near Charloe; 15 to 20 pupils were in attendance.17

The 1830 U.S. Census lists Isaac Carey as the head of a family in Defiance Township, Paulding County, Ohio, with a female, age 20-30 (his wife, Abigail), two males under 5 (his sons, David Clark and Granville Edwards), one male 5-10 (his son, Shadrach Hudson).18

The 1840 U.S. Census lists Isaac Carey as the head of a family in Auglaize Township, Paulding County, Ohio, with a female 30-40 (his wife, Abigail), two females 5-10 (his daughters, Eliza Jane, and Lydia Ann), one male under 5 (his son, James Kendrel), one male 10-15 (his son, William S.), and one male 15-20 (David Clark). (The Census Certification was witnessed by [18]4 John Hudson, probably the son of [13] Shadrach6 Hudson.)19

Isaac Carey purchased over 250 acres on 1 March 1842 and 10 January 1845 in Sections 17, 20, and 21 in Brown Township along the east bank of the Auglaize River...

After the death of his first wife, Abigail, on 30 May 1847, Isaac Carey married Aurel Sessions,20 born in 1812. The 1850 U.S. Census lists Isaac, occupation brickmason, as living in Oakwood, Brown Townhip, Ohio, with Aurel Sessions, his wife, and their daughter, Marina.21 Marina Inez Carey was born in 1848, died in 1926, and married in 1868, George Squire.22

At one time, Isaac Carey was Mayor of Oakwood, Ohio.

In 1850, just six months before his death, Isaac and his second wife, Aurel (Sessions) Carey, sold his land in Brown Township to his sons at $1,000 each. Section 20 land went to David Clark Carey, and the land in Section 21 went to Shadrach Hudson Carey.23 5

Abigail was fondly remembered by her son, David Clark Carey: "The race was short, but she fought the good fight. She now rests from her labors and her works follow her."24 David also remembered: "My mother was my ideal of womanly nobility; she was fifty years ahead of the times in which she lived on some moral questions."

Isaac and Abigail (Hudson) Carey are buried in the Hudson-Potter-Klein Cemetery located on the Shadrach6 Hudson farm property, near the Auglaize River in Auglaize Township, Paulding County, Ohio.1

Children of Isaac and Abigail (Hudson) Carey:

19-1
i.
Shadrach Hudson Carey8, b Miami County, Ohio, 1823, d 4 Feb 1854, m(1) 17 Nov 1842, Rachel S. Shirley,25 b Ross Co. near Chillicothe, Ohio, 22 May 1821, d 3 Dec 1843, dau of Col. Nathan and Mary Shirley. Shadrach is buried in the Kingery Cemetery, Brown Twp., Paulding, Ohio. Nathan Shirley was the older brother of Robert Shirley, Jr., and Elias Shirley who married Sarah7 Hudson and Phebe7 Hudson, respectively, sisters of Abigail (Hudson) Carey.

Nathan Shirley was a man of temperance principles. He moved into his new two-story frame house, located five miles up the Auglaize River from Defiance, just in time for the wedding of his eldest daughter, Rachel, to Shadrach Hudson Carey. Rachel died shortly after childbirth and is buried in the Hudson-Potter-Klein Cemetery. Shadrach Hudson Carey m(2) 6 Aug 1846, Delilah Anne Winans, b 1828, d 1884.26

Delilah m(2) Ezra J. Smith after Shadrach died in 1854. Delilah Smith owned 126.60 acres in Section 21 in Brown Township...
[37]
ii.
David Clark Carey, b 21 Jan 1826, d 30 Oct 1893.
iii.
Granville Edwards Carey, b 29 Nov 1828, d 10 Sept 1830,
19-2
iv.
Eliza Jane Carey,6 b 24 Jan 1831, d 21 Dec 1885, m 23 Nov 1848, William Allen, said to be a descendant of Col. Ethan Allen,27 leader of the "Green Mountain Boys" who captured Fort Ticonderoga from the British on 10 May 1775.

Eliza had a pretty voice. She sang together with her brother Clark and was in the Presbyterian Church choir. She had blue eyes and was pretty and witty.

When first married, Eliza and William rode horse-back to their home in Defiance, Ohio. Later they lived on a farm in Adams Township, Defiance County, Ohio, where William had purchased Federal land in 1845. To reach this farm there was no road, only a blazed trail. William's land was called Allen's Prairie, a swampy region that took years to clear the timber. The eventual owner of over 1,000 acres in Adams Township, William was said to have once traded a horse and saddle for 40 acres. He blamed the hard work in clearing the land for the early deaths of his sons.
[38]
v.
Lydia Ann Carey, b 5 Mar 1833, d 13 July 1888.
vi.
Lucy Cornelia Carey, died at the age of eleven.
vii.
James Kendrel Carey, b 25 Jan 1838, d 12 Sept 1839.
19-3
viii.
William C. Carey, b ca 1838, m Loraine A. Stewart, b ca 1838. William and Loraine lived for a few years in Wisconsin but had returned to Charloe, Ohio, by 1860.28 7

He served in the 38th Ohio Volunteer Infantry in the Civil War, and died of measles at Ringgold, Georgia, a few months after enlistment.29 Loraine in her later years was said to have moved to California where her grandchildren lived.
ix.
Abigail H. Carey, b 14 Nov 1845, d 12 Feb 1847

---

19-1
Children of Shadrach Hudson and Rachel S. (Shirley) Carey:
i.
Rachel Almira Carey9, b 17 Nov 1843, d 13 July 1862, m Alfred M. Russell who died before 1900. Rachel was 16 days old when her mother died.

She was a school teacher at age 16.30 Rachel is buried near her father in the Kingery Cemetery, Brown Twp., Paulding Co., Ohio.
Children of Shadrach Hudson and Delilah Anne (Winans) Carey:
ii.
Mary Ann Carey, b 8 Mar 1848, d Nov 1856.
iii.
John C. W. Carey, b 16 Feb 1851, d 21 Dec 1855.
19-4
iv.
Shadrach Hudson Carey II, b 5 Apr 1853, d 14 Mar 1936, m(1) Louisa Mowery, d ca 1895, m(2) Mary Magdalena Mowery, b 24 Mar 1871, d 8 May 1972. Louisa and Mary were sisters, dau of William and Louisa (Leonhardt) Mowery.

Shadrach Hudson Carey was known as "Hud." His property, 49.57 acres on the east bank of the Auglaize River in Section 21 is shown on the 1892 map of Brown Township, Paulding County, Ohio.31 His mother, Delilah Anne (Winans) Carey Smith, owned 126.60 acres next to this land. When Shadrach sold the property on 2 Mar 1903, he gave a deed for the entire 176 acres.

He was engaged in various businesses in Defiance, Ohio, including road contracting and an implement dealership. He lived near Oakwood, Paulding Co., for a number of years where he operated a grocery until retirement in 1921. His last years were spent in Defiance. One of his homes was built on the farmland that had originally belonged to Isaac Carey.

---

19-2
Children of William and Eliza Jane (Carey) Allen:32
i.
Charles Allen9, died as infant.
ii.
Maria Allen, b 21 Aug 1854, d 16 May 1899, m William Travis.
iii.
Charles Allen, b 1857, d 14 Aug 1917, m Maggie Miller.
19-5
iv.
William Allen, Jr., b 8 Aug 1859, d 8 Aug 1895, m Lucy Sawyer. His estate provided means to run the farm and raise her family.
v.
Samuel Allen, b 18 Apr 1862, d 26 Aug 1889, m Blanche Root.
vi.
Elizabeth Allen, died young.
19-6
vii.
Victoria Allen, b 10 Nov 1867, d Jan 1955, m William Purcell Harper. She was the author of a manuscript history used as a reference for a number of chapters in this book.33

In the Preface to the manuscript, she wrote: "The preparation of the story has been both an interesting and a difficult piece of work; but it has been constructed as well as possible from the information available after the lapse of years and the loss of many records that would have cleared up much that is hazy."

Although the record is not complete, these facts and traditions have been collected from a great number of sources including Histories of Defiance and Paulding Counties, newspaper clippings, family "scrap books," letters both old and more recent, [???] of diary, cemetery inscriptions, unpublished manuscripts, and old Bible Records.
viii.
Lucy Allen, died as infant.

---

19-3
Child of William C. and Loraine A. (Stewart) Carey:
i.
Cornelia E. Carey9, b Wisconsin ca 1858.34

---

19-4
Children of Shadrach Hudson II and Louisa (Mowery) Carey:35
19-7
i.
Shadrach Hudson Carey III10, b 14 Oct 1887, d 14 Nov 1962, m(1) Lulu Fern Brickel b 30 Dec 1888, d 13 Dec 1918, m(2) Blanche Stafford, b 8 Sept 1899. He lived most of his life in Frankfort, Ind., where he owned a roofing and paint store that Blanche helped run.
ii.
Charles Elmer Carey, b 23 Dec 1888, d 7 Dec 1955, m Elizabeth MacIntosh. Lived in St. Clair, Mich., where he worked for a rubber company. Children: Virginia Carey11, Eloise Carey, Lorraine Carey and Gerald Carey (deceased).
iii.
Anna Louise Carey, b 24 Oct 1890, m James Reese. Lives in Banning, Calif. She was a secretary and bookkeeper. Children: James A. Reese11 and Bruce H. Reese (deceased).
iv.
Nell Carey, b 9 Dec 1892, d 12 Mar 1981, m Earl Craft. One child: Roger Craft11.
v.
Suzi Carey, b 19 Sept 1894, d Sept 1894.
Children of Shadrach Hudson II and Mary Magdalena (Mowery) Carey:
vi.
Mary Florence Carey, b 28 June 1896, d 20 Mar 1963 m Jack Clancy. They lived in Detroit, Mich., until his death. She now lives in Defiance, Ohio.
vii.
John Mowery Carey, b 30 Jan 1899, d McConnelsville, Ohio, 24 May 1981, m Ethel Radcliffe, of Athens, Ohio. He was an electrician and mechanic.
19-8
viii.
Patrick Robert Carey, b 15 Jan 1902, d 12 Feb 1977, m(1) 1929, Georgiana Arthur, m(2) Louise McPherson. He was a plasterer and home builder.
ix.
Ruth Alice Carey, b 11 Aug 1905, m John Waxler. Lives in Alliance, Ohio. Children: Mary Jane Waxler11, Ann Waxler, and Len Waxler.
x.
Helen Kathryn Carey, b 20 Feb 1908, d 17 Dec 1952. She was a nurse.
xi.
Val Eugene Carey, b 8 Oct 1910, d Defiance, Ohio, 17 Sept 1969. He was a seaman in World War II. He worked at a Johns Manville plant.

---

19-5
Children of William and Lucy (Sawyer) Allen, Jr.:
19-9
i.
John Allen10, b 1880, d 1943, m Julia Ann Stelter. They cut timber on their land for farm buildings. He loved machinery, was an early car owner in the district. In 1909 they moved to Defiance, Ohio.
ii.
Pearl Allen, b 1885, died young.
19-10
iii.
William Allen III, b 1890, d 1979, m Stella Kline.
19-11
iv.
Hazel Allen, b 1893, m Clayton Archambeauet.

---

19-6
Children of William Purcell and Victoria (Allen) Harper:
i.
Hattie Harper10, b 18 Feb 1889, d 24 Dec 1908, m Ernest Baer.
19-12
ii.
Victoria Harper, b 26 Oct 1890, m 17 Aug 1912, Harvey Read.
19-13
iii.
Purcell Harper, b 26 Nov 1892, m Edna Newell.

---

(For additional descendants of [19] Abigail (Hudson7) Carey in the 11th through 13th generations, see Volume II of this Book.)

---

NOTES AND REFERENCES8

Tombstone, Hudson-Potter-Klein Cemetery, Auglaize Township, Paulding County, Ohio.
Marriage Records of Miami County, Ohio, Vol. I, 1807-1865.
Historical Atlas of Paulding County, Ohio, Western Publishing Co., Madison, Wisconsin, 1892, Reprinted by Taylor Publishing Company, Dallas, Texas, 1978, p 46A.
1840 U.S. Census, Auglaize Township, Paulding County, Ohio.
19-6 Victoria (Allen9) Harper, unpublished manuscript history of the Allen, Carey, Shirley, and Hudson families of Ohio, December 1937, p 143.
Supra note 3, p 15A.
Supra note 5, p 114, 117, and 121.
Supra note 3, p 17B.
Volume of Deeds in the Recorder's Office of the Paulding County Courthouse.
Supra note 5, p 182.
Supra note 5, p 114, 115, and 122.
[76] Gladys Marie (Cunningham) Kohart, Family Focus-Hudson House at Charloe, article in newspaper Paulding Progress, 7 April 1976.
Newspaper, Paulding Progress, Paulding, Ohio, 5 Nov 1975, p 1.
53-4 Irene Dell (Mead10) Harshbarger (Mrs. Glen Harshbarger).
Supra note 5, p 119.
Supra note 3, p 17B.
Supra note 3, p 17.
1830 U.S. Census, Defiance Township, Paulding County, Ohio.
1840 U.S. Census, Auglaize Township, Paulding County, Ohio.
Supra note 5, p 177.
1850 U.S. Census, Brown Township, Paulding County, Ohio.
Supra note 5, p 177.
Volume of Deeds in the Recorder's Office of the Paulding County, Ohio, Court House.
Supra note 5, p 122.
Paulding County, Ohio, Marriage Certificates 1839-1860, p 7.
Tombstone, Riverside Cemetery, Defiance, Ohio. After the death of her husband, Shadrach Hudson Carey, Delilah was appointed on 26 Apr 1855 the guardian of the children. On 11 July 1863 Smith Mead, husband of [38] Lydia Ann Carey, became guardian of 19-4.
Supra note 5, p 180.
1860 U.S. Census, Charloe, Ohio.
Supra note 5, p 180
Molly Weible stated under oath that Rachel A. Carey died intestate 13 July 1862 at the age of 18 years leaving widower Alfred M. Russell. Also, in the 1860 U.S. Census, Auglaize Township, Paulding County, Ohio, Rachel A. Carey, age 16, was listed as a school teacher living on the farm of her uncle and aunt, Smith and Lydia Ann (Carey) Mead.
Historical Atlas of Paulding County, Ohio, Western Publishing Co., Madison, Wisconsin, 1892, Reprinted in 1978 by Taylor Publishing Co., Dallas, Texas, Map of Brown Township, p 93. (See Map 22-A)
Information on descendants of 19-5 was provided by 19-20 Violet (Allen11) Beck of Defiance, Ohio.
Supra note 5.
Supra note 28.
Information on descendants of 19-4 was provided by 19-16 Mary Jeanette (Carey11) Tustison of Defiance, Ohio.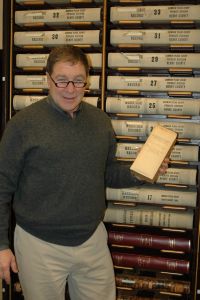 1
The numbers appearing immediately after individuals' names refer to the generation numbering scheme of this book. Abigail belongs to the seventh, of fourteen, generations of Hudsons documented.
2
Isaac's mother-in-law was yet another
Winans
, although we aren't sure how she fits into that family. We can't find her in Mrs. Egy's
Winans Genealogy
.
3
Isaac's descendant,
Michael Koseruba
, suggests this
house
is actually an example of
New England
colonial architecture. That's Michael on the right, engaged in family history research in an Ohio courthouse.
4
The codes which appear in
green
for various people were assigned by the
OHFH
authors for identification purposes.
5
Shadrach and his second wife, Delilah Winans, are listed in the
1850 census
for Brown township immediately after his brother David's entry. I didn't know who the 8-year-old
Rachel W. Winans
in their household was until I located, in
Winans Genealogy
, a person by this name who was born Nov 1841 and who was Delilah's sister. Delilah and Rachel's mother had died shortly after Rachel's birth. At the time of the
1860 census
, Rachel was living with her father and his second wife.
6
An inquiry by a researcher as to whether Eliza Jane's husband might be related to some of my
Allen ancestors
prompted me to look up Eliza and William's census records. I located them in Defiance county in:
Jane C. Allen
in 1880, and is said to be "insane" in both 1860 and 1880. (Her aunt
Sarah
was also listed as "insane" in
1860
.) It is hard to determine William's birth date since there are great variations in his age, as listed in the various censuses. The family's net worth appeared to be fairly substantial, compared to some of their neighbors. I could find no trace in any census of the
Maria Allen
who is listed as Eliza and William's child above. The statement that William is "said to be a descendant" of Ethan Allen is typical of claims often made in early genealogies.
7
The
1860 census
found William and Loraine and their 2-year-old daughter,
Cornelia
, living in Brown township with Robert and Julia Shirley's family. Obviously, the
Shirley
,
Hudson
and
Carey
families of Paulding county were very much interrelated!
8
These are Eberhardt and Hudson's footnotes, which are keyed to
blue
superscripts in the text. My own footnotes are keyed in
red
.
This page was last updated 6 Jan 2011.