Rev. George E. and Melissa Carey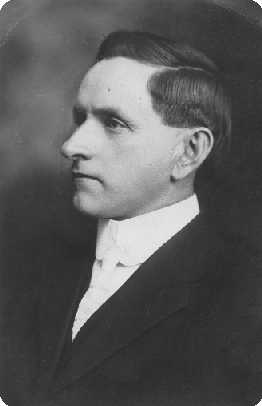 The Rev. George Edward Carey was a minister in the Methodist Church. He was born near Urbana, Ohio, September 12, 1870, probably in New Salem township, the son of David Clark and Sarah Jane (Perry) Carey. In the early days of the 20th Century, he served a number of small congregations in rural Ohio. In true Methodist "circuit rider" tradition, he drove from Urbana in horse and buggy each Sunday to preach at churches in such tiny hamlets as Lena, Conover and Fletcher.
At first, George wasn't a full time minister. The 1900 census lists him as a broom sewer, and the 1910 census as a rural mail carrier. He and his brother, the Rev. Charles J. Carey, who was a minister in the Evangelical Friends denomination, sometimes painted houses and barns during the week to make ends meet.
George married Melissa Waldron 3 Oct 1894 in Urbana. Melissa was the daughter of James Hamilton and Sophia (Long) Waldron, and was born in Champaign county 19 Sep 1871. They had the following children, all born in Urbana:
Warren Earl Carey, born 29 Jan 1896, died 20 Aug 1963 in Los Angeles.
Ruth Mildred Carey, born 6 Sep 1897, died 3 Nov 1976 in Los Angeles.
George Paul Carey, born 5 May 1900, died 17 May 1991 in Stanton, CA.
From about 1914 to about 1920, George was the pastor at Raper1 Chapel, near Troy, a rural Methodist church which had been attended (and possibly founded) by his Carey and Winans ancestors in the early 19th Century. He became interested in learning more about these ancestors and corresponded with Maj. Ira Winans, who was trying to compile a history of John Winans' descendants in North America. George's research was expanded upon by his son, Col. Warren E. Carey, and is the basis of much of what you see in these pages.
In the early 1920s, George and Melissa and their grown children moved to Los Angeles. We're not sure of the exact time of their move. He was enumerated in Troy in January 1920, listed as a "Minister of Gospel". In Feb 1921, his father's obituary mentioned that George was one of the pallbearers. On 2 June 1921, George presided at the wedding of the parents of my 5th cousin, Don DeWeese, in Ohio. George's younger brother, Sam, who is my grandfather, moved his family to Santa Monica in October 1921, and a postcard written soon after their arrival mentions George's two sons visiting them.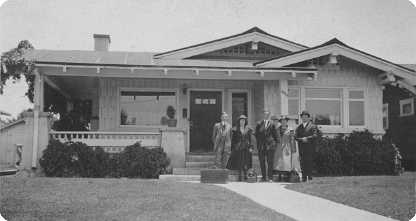 This picture was taken in front of George and Melissa's new home. Its address, "4312" is visible on the post behind them. The note on the back of the photo may establish the date of their arrival in L.A., or may be simply the date they moved into this house:
The Careys home during their stay in California. Picture taken upon their arrival June 10, 1922.
The next photo was taken on the front porch of George's aunt and uncle's home in Santa Monica. It's blown up from the picture which appears on another page...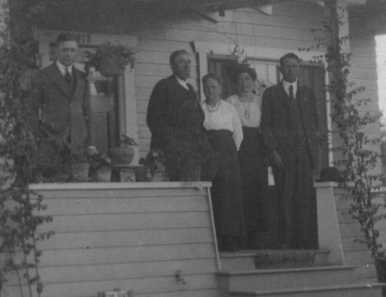 On the back of the photo, Ruth Carey wrote:
This is Uncle John's. Warren took this picture of us. See the flowers blooming at side of yard. Uncle, Auntie, Geo, Will & I, in this picture.2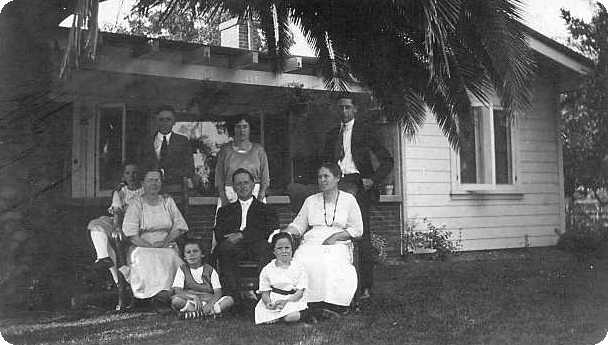 This picture was taken when George and Melissa visited George's first cousin and John and Lucinda Perry's daughter, Fannie, and her husband, Jesse Willhite, at their home at 335 E. Commonwealth in Fullerton. The note on the back of the photo reads:
At cousin Fannie's home, Fullerton, Cal, June 25, '22. Fannie & three youngest girls.
I'm not sure which older woman is Fannie and which is Melissa. The young adults who are standing are George, Ruth and Warren. The three children are the Willhites' daughters, Esther (11 years old), Juanita (6), and Wanlyn (9).
At the time of his brother Will's death in 1925 or 1927, George was living at 2344 W. 31st Street, in Los Angeles. By the time I knew him, he had moved to Clarissa Avenue, in the Los Feliz district of L.A.
Melissa's obituary, which appeared in an Urbana newspaper after her death in 1930, provides some details of George's career:
Mrs. George Carey, wife of Rev. George Carey, died at 11 p.m. Saturday at her home, 2344 West 31st Street, Los Angeles, after a long illness. She was formerly Miss Melissa Waldron, and besides her husband is survived by three children, Warren, Ruth and George, Jr., all of Los Angeles; her mother, Mrs. J. H. Waldron, Springfield, a sister, Mrs. James O. Cox, Valparaiso, Ind.; five brothers, Fred R., Terre Haute, Ind.; Grover C., Columbus, and James H., H. A., and Wilbur W., all of Springfield, and a sister-in-law, Mrs. Hattie Walker, East Church street, Urbana.

Rev. Carey was formerly of the West Ohio conference, Springfield district, and previously had churches in Tremont City, New Moorefield, Westville, Terre Haute, and Concord, being transferred west to aid his health.

Funeral services for Mrs. Carey were held Tuesday at 10 a.m. from the home in Los Angeles, with interment in Forest Home [sic] cemetery, Glendale, Calif.
Another obituary appeared in the Methodist Episcopal Church's conference memoirs3 in Ohio:
MRS. GEO. E. CAREY

Melissa, daughter of James H. and Sophia Waldron, was born in Mad River Township, Champaign County, Ohio, on September 19, 1871, and parted this life at her home at 2344 West 31st Street, Los Angeles, on November 15, 1930. She was the eldest of a family of seven children, five brothers and one sister - all survive her, who with aged mother reside in the Middle West, while her father preceded her in death in the year 1919.

Early in her life the family moved to the county seat, Urbana, where she attended the public and high schools, and was graduated from the latter in the class of '89. After following the vocation of instructress in the schools over a period of four years, she followed her natural inclinations and was united in marriage to her sweetheart from childhood, George Edward Carey, on October 3, 1894, the ceremony being solemnized by the late Rev. Samuel W. Carey, uncle of the groom.

To this happy union were born three children, Warren Earl, Ruth Mildred, and George Paul, all of whom survive to mourn the irreplaceable loss sustained through the passing of a loving and solicitous wife and mother.

In early childhood she offered herself and her all to Christ her Master on confession of faith, and allying herself with the First Methodist Episcopal Church of Urbana, has ever continued a willing and faithful servant in his vineyard never, however, forgetting her position in the home as a guide and loving counselor to those who placed their trust and confidence in her worthy care. Being ever deeply interested in the many activities of the church, served admirably to fit her for the position of an earnest and efficient co-laborer for God beside her husband, upon his entry into the work of the Christian ministry following their marriage, in the old Cincinnati (now the Ohio) Conference of the Methodist Episcopal Church. This ardent desire to be of constant service and spiritual comfort to her fellow men manifested itself up to the hour of her departure into the bigger, fuller life, affording help and comfort to the remaining loved ones.

"Sometimes long after the sun is gone,
As we watch at the close of day,
The sky is bright, with a lingering light,
'Midst the evening shadows gray.

"Long after a beautiful life is gone
To that fairer land on high,
Our lives are bright with a lingering light--
For a true life cannot die."

--Written by her son, Geo. Carey, Jr.
After George Carey's move to California, he served at Los Angeles' First Methodist Church. He baptised me and my brothers and officiated at the funerals of several Carey and Perry family members. The following obituary, also from Ohio sources,3 appeared after his death:
GEORGE EDWARD CAREY

This beloved brother and member of the Ohio Annual Conference fell asleep in Jesus November 28, 1945. He was born near Urbana, Ohio, September 12, 1870, the son of David Clark and Sarah Jane Carey. Previous to his uniting with the Conference in 1918, he was for some years active as a local preacher, holding revivals in schoolhouses and halls, winning many to Christ. During the few years of his effective relationship in the Conference he served pastorates at Troy Circuit,4 New Carlisle, Westville and Concord, Bradford, Tremont City, and McComb. On account of impaired health he took the retired relation in 1929,5 and moved to Los Angeles, California, where he died.

In California his health improved sufficiently for him to carry on such work as teaching in the Sunday school, and in pastoral visiting. A few years after going to California he was added to the staff of First Church, Los Angeles, as "Pastor of Visitation." Failing health compelled him to resign this position some months before his death. During the later months of his life he suffered much, but his faith did not waver. As a pastor-visitor he entered multitudes of homes, and his ministry was blessed of God. He brought comfort to thousands of bereaved and sorrowing people, and conducted as many as eighty funerals in a single year.

He was married to Melissa Waldron in October, 1894, and to them were given three children, Warren, Ruth, and George who, with their mother,6 reside in Los Angeles.

Funeral services, with Dr. Don H. Tippett pastor of First Church in charge, were held in the church December 2 -- the largest funeral ever held in First Church -- and interment was made the next morning in Forest Lawn Memorial Park.

"Servant of God, well done!
Thy glorious warfare's past;
The battle's fought, the race is won,
And thou art crowned at last."

D. F. HELMS
The next, briefer, obituary appeared in the 29 Nov 1946 edition of the Urbana Daily Citizen:
Rev. George E. Carey

Rev. George E. Carey died at his home in Los Angeles, Calif., at 7 a. m. Wednesday.

Born near Urbana he is survived by two sons, Colonel Warren Carey and George Carey, both of Los Angeles; a daughter, Ruth Carey, of the same city; a sister, Mrs. Mae Powell of Urbana; and two brothers, Charles Carey of Ypsilanti, Michigan, and Sam of Santa Monica, Calif.

Funeral services and burial will take place in Los Angeles.
The following obituary was printed on page 7 of the 30 Nov 1945 issue of the Los Angeles Times:
Retired Pastor Dr. Carey Dies

Funeral services for Rev. George Edward Carey, 75, an associate pastor of First Methodist Church of Los Angeles from 1934 until his retirement a year ago, will be conducted at 2:30 p.m. Sunday at the church, 813 S. Hope St.

Dr. Carey,7 who died Wednesday at his home, 4403 Clarissa Ave., was born in Ohio where he became a "circuit rider" covering eight pastorates in a horse and buggy for the West Ohio Conference of Methodist Churches.

He came to Los Angeles for his health in 19258 and in 1931 became a teacher of the First Methodist Church Knights of St. Paul. He later became minister of visitation and conducted as many as 80 funerals a year.

He leaves two sons, Army Col. Warren E. Carey, former head of the Los Angeles Civil Aeronautics Authority, and George P. Carey, and a daughter, Miss Ruth M. Carey. Funeral arrangements are under direction of Tassell-Maynes Co.
Of George's three children, Warren and George each married, but had no children. Ruth never married. I was given Warren's name as my middle name. He was my inspiration for taking up genealogical research.
---
1
William Raper was an early pastor of Troy Methodist Church. -- Beers'
History of Miami County
, page 379.
2
From left to right are son George Carey, uncle John L. Perry, aunt Lucinda Perry, Ruth Carey and Will Carey.
3
I'm grateful to the
Ohio Wesleyan University library
, where the archives of the United Methodist Church and its predecessor denominations in Ohio are maintained, for providing these obituaries.
4
The "Troy circuit" may have included Raper chapel, which is on the edge of the present town of Troy. A
list
of burials at Raper chapel is available on the world wide web.
5
This date doesn't agree with the likely date of George's arrival in Southern California, from the note on the picture above.
6
This piece of misinformation also indicates a lack of familiarity on the part of the author with his subject, who by this time had been away from Ohio for a quarter-century. On 12 Jan 1937, George married
Anna Elvina (Purdue) Plunkett
, who died on 5 Sep 1946.
7
As far as I can ascertain, Uncle George never attended college, much less received a doctorate. He died of cancer of the liver.
8
This is also an error, in view of the dates on two of the photographs above.
This page was last updated 22 Sep 2011.