John and Mary Ann Perry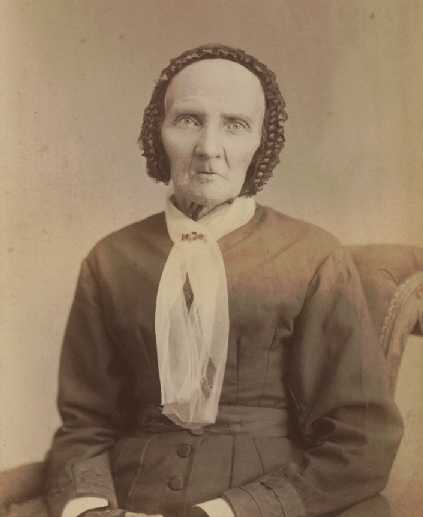 The picture above is the only one I've ever seen of Mary Ann (Smith) Perry. It hung in my parents' living room for awhile, along with a photo of her husband, John Perry. Perhaps they took it down because they were afraid it frightened us kids. I didn't know quite who the lady was at the time, but several relatives have identified her as my great-great-grandmother, who was born 25 Jul 1810 in Pennsylvania and died in Dec 1880 in Urbana, Ohio. She was obviously near the end of her life and in need of a wig and a good set of dentures. On the back of the photo is the imprint of DeVoe's "Artistic Photography and Portraiture", at 18 Monument Square, in Urbana. The picture below is of Mary Ann's husband John and was sent to us by Nancy Scott and is almost certainly another copy of the picture I remember: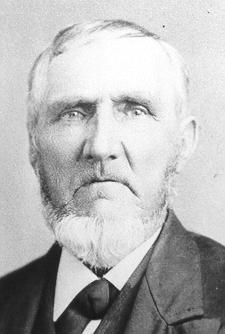 This was John Perry's obituary:
John Perry was born December 5th, 1802, in Venango County, Pa., and died May 23, 1889, near Urbana, Ohio, aged 86 years, 6 months and 18 days. On the 4th of June, 1834, he was united in marriage to Mary Ann Smith, who for forty-six years worked faithfully by his side, and then, about nine years ago, passed on before him to the better world. They had nine children, five of them boys and four of them girls. Seven are still living. One died in infancy, while Anna, well-known to many here present, died in Los Angeles, California, March 5, 1887. Of those still living, one, S. M. Perry, is in California; while James and William live in Indianapolis and John L. resides in Kansas. Mrs. Snyder and Mrs. Carey, as also D. S. Perry, reside in or near Urbana.

Father Perry left the place of his nativity in 18471, the five oldest children having been born in Pennsylvania. He and his family descended the Alleghany and Ohio Rivers in a family boat constructed for the purpose, to a point near Gallipolis, Gallia county, Ohio, where they resided for three years. From there they removed to Piqua, Miami county, Ohio,2 and from there, in 1862, to Champaign county, where he has lived most of the time since, except two years in Indiana and Kansas,3 while living with his children.

Father Perry was originally a member of the Seceder church, now the United Presbyterian, having been united with that religious body in early boyhood, and was one of the strictest of the sect, and especially so in regard to Sabbath observance. His children still have a vivid recollection of the Shorter Catechism, and the invariably enforced rule with the older children was to read from three to six chapters of the New Testament and to recite portions of the Catechism every Sabbath, while laughing aloud, whistling or any other amusement was not permitted.

During his residence in Indiana in 1867, there being at that point no United Presbyterian church, he united with the Methodist Episcopal church, and has ever since been a very enthusiastic member of that denomination. He greatly prized, appreciated and enjoyed the institutions of Methodism, especially the class meeting, which he loved as few love it, and which he never failed to attend as long as his health would permit. Brother Perry had a profound experimental knowledge of religion. He was quite familiar with the Scriptures and with the best hymns of the church. His class meeting experience added to his store of religious knowledge. He was of an emotional temperament and it was a common thing for him to break out in praises to God when some blessed truth of religion had been uttered. His favorite expression was "Glory to God", which he always spoke slowly and with emphasis, indicative of the reality of the feeling corresponding to the words. I saw him and conversed with him quite often, and his religious fervor was like an unfailing stream, for it had its source in the fountain of eternal life.

The one thing that impressed me most in Father Perry was the blessedness and comfort which genuine religion gives to its possessor in age and feebleness extreme. Although he had every care and attention which could be bestowed upon him by loving hands, and was constantly surrounded by loving hearts, yet Christ was his portion, and in Him he found his chief joy in his declining years. He loved society, but it was the society of the godly; and when with them he seldom talked except upon the subject of religion, the one subject of all absorbing interest to him. -- C. W. Rishell.
In contrast to John's very lengthy obituary, Mary's passing received only the barest mention in the 16 Dec 1880 issue of The Urbana Citizen:
Died at her residence on Church Street 13th Dec, Mrs Mary A Perry, aged 70 years.
The following report of John Perry's 85th birthday party, which may have been condensed somewhat by its transcriber, was sent to us by a fellow Champaign county researcher:
A surprise party at the res of John W Snyder on the 5th of December for Mr Perry. He was 85 years young, born Venango Co, PA, Dec 5, 1802; md 4th June 1844 Miss Mary Smith of Venango Co, Pa; she died 13th Dec 1879.4 He came to Ohio 18441 and Champaign County 1862. He is the father of 8 children, 5 sons and 3 daughters, all living except a dau Miss Anna who died 5 Mar 1887 in Los Angeles. His other children are S M in Los Angeles; D S in Urbana; James and John in Iola, KS; William in Indianapolis; Mrs David Carey and Mrs John W Snyder of Urbana.5
John and Mary Ann are buried together at Oakdale cemetery in Urbana, along with their daughter Sally, her husband David Carey, and several of their descendants. Please follow the links at the top of this page to the stories of their migration from Pennsylvania to Ohio, of their children's migration from Ohio to California, and of their great 1908 reunion in Urbana.
---
1
We believe this journey took place no later than 1845, since the birth of John and Mary Ann's sixth child, Phebe Ann (Anna), is usually listed as having occurred that year in Ohio.
2
John and Mary and their family were listed in Piqua in the 1850 and 1860 census, and in Salem township, near Urbana, in 1870, then with James' family in Urbana in 1880. We've found data for them and their children in several different U. S. censuses, all of which can be examined via our
Census Central
page.
3
The travels of son James in these states have been chronicled in some detail, thanks to the efforts of James' grandson,
Walter Scott
.
4
That's
two
wrong dates in one sentence! See Mary Ann's
obituary
above which gives the same date, but in
1880
. However, her tombstone says
15 Dec
1880. The
1844
marriage date is an obvious typo.
5
Source: Champaign Co, Genealogical Society, by Pat Stickley and Denise Kay Moore,
Champaign Co Ohio-Newspaper Abstracts 1884-1888,
(Urbana Daily Citizen
1/1884-12/1888), pg 163, 17 Dec 1887
Sent by:
Sandi Evilsizer Koscak
.
This page was last updated 21 Apr 2004.