Aunt Jeannette
I prepared this page shortly after returning from McMinnville, Oregon, where I attended the memorial service for a dear aunt, Jeannette Walker. I knew Aunt Jeannette for more than fifty years, having attended the wedding at Hollywood Methodist Church at which she became a member of our Walker family. She was a very warm and hospitable woman who, over those years, always made us, even our three lively children, feel welcome in her home. She was a fellow music lover whose taste ran more toward classical music than mine, but was nonetheless a kindred spirit. I envied her for having a chance to work with some of the superstars of the music world. I hope to add some pictures to this page as soon as possible.
The picture you see here, of Jeannette as a young woman, may be one we found among Bill's papers after his death in 2015. On the back of it, in an unknown handwriting, were written:

Dec. 18, 1939
Jeannette - 20 yrs.
Hollywood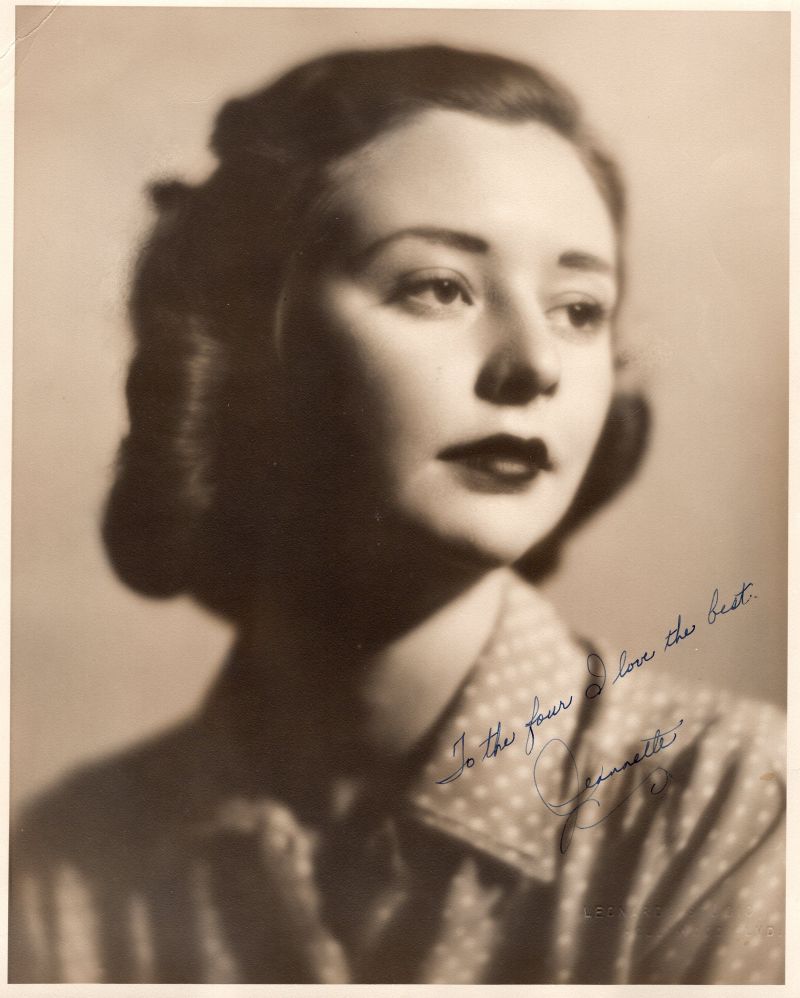 The obituary below was written by her husband, my uncle Bill Walker, and appeared in the McMinnville News-Register on 17 April 2001.
Jeannette S. Walker

A memorial service for Jeannette S. Walker of McMinnville will be held at 1:30 p.m. Friday in the chapel of Macy & Son Funeral Directors, McMinnville.

Mrs. Walker, 81, died April 15, 2001, in Willamette Valley Medical Center, McMinnville.

She was born Sept. 10, 1919, in Montrose, Mo., the daughter of George and Orlette Schiller. She started high school in Montrose and finished in Nogales, Ariz. After graduating, she attended the University of Arizona, majoring in business administration.

During World War II, she worked for the U.S. Army Corps of Engineers in Washington, D.C., and Big Spring, Texas. In 1945, she moved to Los Angeles and started a 20-year career in the retail music business, managing the Steinway Piano Concert and Artists Department of the Penny-Owsley Music Co. There, she worked with prominent pianists, including Alfred Brendel, Artur Rubenstein, Van Cliburn, Leonard Pennario, Peter Nero, Rudolph Serkin, Vladimir Horowitz, John Browning, Lili Kraus and Roger Williams.

She and William Walker, a newspaperman, were married Oct. 8, 1949.

In 1967, they moved to Bakersfield, Calif., where Mrs. Walker headed public relations for a hospital, then served as director of fund raising and public relations for the American Cancer Society. Her husband taught journalism at Bakersfield College. In 1986, the couple moved to Oregon, settling north of Neskowin. They moved to McMinnville in 1996.

In McMinnville, Mrs. Walker was active in PEO and often played piano for meetings. She was a charter member of the gourmet section of the Newcomers Club. She enjoyed bridge, gin rummy, nature, music and traveling. She spent nearly a year in Europe on different trips.

Survivors include her husband and a niece, Sylvia Simpson Burton of Little Silver, N.J.; two grand-nephews and two grandnieces.

She was preceded in death by a sister, Hildegarde Simpson.

Memorial contributions may be made to the PEO Chapter Y Scholarship Fund or a music scholarship fund to be established at Linfield College in care of Macy & Son, 135 N.E. Evans St., McMinnville, OR 97128.
The following article describing the circumstances of Jeannette and Bill's meeting, and their wedding plans, appeared in the Los Angeles Herald-Express 7 Oct 1949:
Love Through a Lens

Bill Walker, Herald Photog, to Marry Girl He Filmed

Wedding bells will ring tomorrow for William (Bill) Walker, Herald-Express photographer, because two years ago, on a "What Folks Think" assignment, he happened to "shoot" a pretty brunet secretary and ask her the question: "What do you think of the 'New Look?'"

The subject, Miss Jeannette Schiller, opined that as for her she didn't like the "New Look" because how was a working girl to buy an entirely new wardrobe overnight and who were those people in Paris anyway?

So Bill recorded her face and her opinion for the column and then, in the following weeks, just kind of got to dropping around at Jeannette's office in the Penny-Owsley Music Co., at Wilshire boulevard and Catalina.

One thing led to another and finally Bill forgot about the "New Look" and changed the tune of his questions. Jeannette said "Yes" in due time, so the wedding will be at noon tomorrow in the chapel of Hollywood Methodist Church.

Fred Barnes, the man who introduced them, will play the wedding march.

Miss Schiller is the daughter of Mrs. George Edward Schiller, 1523 North McCadden place, Hollywood. She attended Nogales High School and the University of Arizona.

Walker, son of Mr. and Mrs. Charles Walker, 713 Georgina avenue, Santa Monica, was graduated from the University of Southern California with the class of 1940.

After a three-week honeymoon in northern California the Walkers will live at 229 South Elm drive, Beverly Hills.
The circumstances of Jeannette's job at Penny-Owsley were recalled in a letter to the editors which Bill wrote to the USC Trojan Family Magazine, which appeared in their Summer 2005 issue, in response to an article he had read in that magazine:
You Gotta Have Hartke

I so enjoyed your article on Stephen Hartke ("Pure of Hartke," Winter 2004, p. 38). I wish my wife Jeannette, who died Easter Sunday of 2001, could have read it. She worked with Steinway Artists for 20 years, handling pianists such as Roger Williams, Peter Nero, John Browning, Arthur Rubenstein, Andre Watts, Rudolph Serkin, Leonard Pennario and others. When we lived in Bakersfield, we were active with Kern Symphony and hosted receptions for Watts and Pennario.

I still recall Jeannette and Pennario dueting on the Steinway in my living room, which was Jeannette's going-away present from Steinway when she followed me to Bakersfield in 1967.

Bill Walker '40, MA '69
McMinnville, OR
This page was last updated 29 Nov 2017.