Methodist (and other) Preachers
(and some lay people, too!)
When I first attended a Methodist church, about 1948, I had no idea that Methodism had been a tradition in my family for several generations, or even what was involved in the history of Methodism in the United States. Since I began doing family history research, I've found a lot of information about my ancestors' involvement in the Methodist, and other, churches, both as ministers and as active lay members. I'll attempt to document some of that involvement here.
An important part of our Methodist tradition was the "circuit rider",1 a preacher who usually served several small country churches and visited each church on horseback, or later via horse and buggy or automobile. One of the earliest Methodist meeting places where circuit riders stopped in Miami county, OH, was supplied by my Winans ancestors. My great uncle, Rev. George E. Carey, had four small Methodist churches in his charge in the same area of rural Ohio a century later. His brother, Rev. Charles J. Carey, after whom I was named, was an Evangelical Friends pastor in the same area. Their uncle, Samuel W. Carey, was a pastor at Methodist churches in several other small Ohio towns during the late 19th century. The story of his life gives us a hint of how difficult the existence of an "itinerant" Methodist pastor and his wife might have been during the 19th Century. On my dad's mother's side of the family, her uncle, Rev. David Plank, was an Amish or Mennonite minister in Logan county, also in western Ohio.
On my mother's side, my great-great-great-grandfather, John Cook, about whom I know little else, was listed in the 1860 U. S. census as an "M. E. Minister"; his daughter Elizabeth married into a family so strongly Methodist that two of her brothers-in-law, Francis Asbury Voss and Lorenzo Dow Voss, were named for the most noted Methodist preachers of their time.
The Methodist minister in this 1920 picture may or may not have been a circuit rider, and is only distantly related to me, but I wanted to include his photo on this page as a salute to all those fearless country preachers who spread the Gospel in the early days of our country.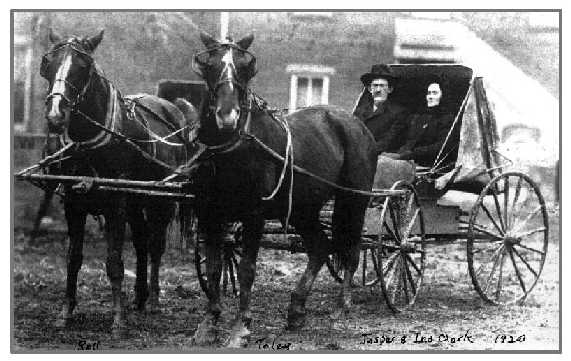 An Illinois cousin, Lyle Black, sent me the photo and explained,
It is Jasper Nuton Clark with his second wife Ina (Mary Ina Burnside) and horses, Roll and Toley. They lived on a farm just up the road about 1/4 mile from the farm where I was raised. They were both deceased long before I was born.
Lyle drove over to Liverpool, IL, to take the pictures of Jasper's church which appear below and sent me so much other information that I started a separate Jasper Clark page. Jasper's great uncle, David Clark, was also a Methodist preacher in Illinois. Be sure to read Lyle's Oct 2003 message for a discussion of the Liverpool and Mount Pleasant churches.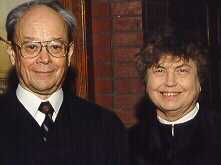 When I received Lyle's note, with Jasper's picture, I forwarded it to another cousin, Walter Scott, and his wife Nancy, who are retired Presbyterian ministers and also live in Illinois. To show what a small world it is, Nancy answered that she had served as a student pastor at two little United Methodist Churches in Fulton County. Nancy wrote...

This pewter piece was produced for Central Illinois Conference, United Methodist Church, on the occasion of the bicentennial of Methodism in America. John Wesley said, "If a sermon is worth preaching once, it's worth preaching forty times!" Methodist circuit riders went out to all the settlements on the frontier. Today every town in the midwest has a Methodist church.


Student pastorates today in the United Methodist Church remind me of the circuit riders. An hour's drive from home were the two little churches which I served for six months in early 1986. They were in the small towns of St. David and Liverpool, Illinois. I was 56 years old, completing my seminary work with some field education. The United Methodist Church in Liverpool, Illinois in 1986, was a one-room white frame building with an outhouse. It is the same building surely in which Jasper Nuton Clark preached those wonderful sermons.

The church had been closed for a few years, but the women asked that it be reopened, since it was the only church in a town of two hundred permanent residents. I never had the key to either of those churches, nor to the outhouse. It was in a drawer in the table in the church. No one ever thought of it. Liverpool Methodist Church had in attendance five elderly women, six neighborhood children, and a dog. Usually, the dog stayed home! He interrupted the baptismal service, thumping in the entryway, like a knock on the door!

The women had me do visitation in the hospital and in homes for the whole town, nevermind church membership. On Sunday afternoon and Monday I made the calls. The first hospital call I ever made, without any training as yet, was to see a woman who was having surgery for a brain tumor. After that call, I dropped in at the chapel and received communion with the Catholics!

The river was everything to that town. About half of the homes were seasonal. The people called themselves "river rats," because they made their livng by fishing. My supervising elder (the minister at Lewiston) said that I should have a special day, invite the town to a picnic, and preach from a boat in the river. People would never forget it. This old woman said, "That's right! They'd say, 'You know what that crazy lady preacher did?!'" His photo had recently been in the newspaper, eating his Sunday dinner on the church roof, because he had successfully challenged his congregation to have over 200 people in worship on a certain Sunday.

The church yard slopes down to the Illinois River, a distance of a city block. In the basement the women quilt weekly, finishing up the tops that others have made. Often these are heirlooms and highly valued by the owners. In February 1986 the river flooded for the fourteenth year in a row. Lyle Black's antique newspaper accounts often mentioned the height of the river, and years later this was still the major concern. Many of the houses are built up so that the main floor of the house is on the second level, with storage for cars and boats in the open on the ground floor. The permanent residents living in those houses do not leave during a flood. They lay in a supply of groceries as the river rises, and when it is at its height, they go out and about by boat. When the flood came into the church basement, the men came in and emptied the basement of valuables. Each rolled-up quilt was laid carefully across the tops of several pews. As the flood rose and threatened the sanctuary, the men came two to a boat, and put a quilt across their shoulders, and carried them out. The flood touched the ceiling of the basement, but did not rise into the first floor.

The church was closed for five weeks. I conducted Sunday School classes in the town building for the children of the community. On the day that we gathered in the church again, I was walking to church with a little girl. I asked her how she got out of the flood. Had she walked out in ankle-deep water, as many people had? Had she gone out in a boat? She looked up at me in wonderment that I didn't know. She said, simply, "My father carried me!"

I can just picture that couple in black coming to Liverpool to preach. Thanks for the picture and for stirring up these memories.
And we thank you, Nancy, for sharing your experiences, and the circuit rider statue, with us. We also have a long Presbyterian tradition among my mother's Seward and Irvin ancestors, extending from colonial times in the Shenandoah valley down to modern day Bloomington, Indiana, where my great uncle Fred Seward sang in his Presbyterian church choir until, as one of his daughters put it, "they made him stop".
In the Perry line which I share with Walter Scott, there is a long history of involvement with both the Presbyterian and Methodist churches. Our common ancestor, David Smith, was among the founders of Rockland Methodist Church nearly two centuries ago. Uncle John Lane Perry was a lay member in Methodist churches most of his life. The files of the First United Methodist Church of Fullerton, CA, record that he and his wife Lucinda were "received 'by certificate M.E. South'" on 4 Jun 1905, and were removed from the rolls 12 Jun 1908 "by letter". (The Methodist Church in the U.S.A. had split in 1845 over the slavery question and didn't reunite until 1939. The Perrys had moved here from Texas, so were coming from an M.E. South church.) Coincidentally, our own church, Orangethorpe United Methodist, was founded in 1955 by people from Fullerton First who lived in the fast-growing area to the west of downtown Fullerton.
At about the same time as he was joining the local Methodist Episcopal church, John L. Perry was also involved in bringing the Gospel to the oil field workers in Olinda, where he lived. In the 8 Jun 1905 Fullerton Tribune, there is a mention of a committee in Olinda, which includes a "Mr. Perry" which is striving "to erect an undenominational church ... on a lot to be donated by the Santa Fe [Oil Company]." Church services had been held Sunday afternoons or evenings at the school, usually conducted by the Methodist Episcopal pastor from Fullerton. The Olinda "undenominational church" was dedicated in October and regular news items began appearing about its Sunday evening worship services and other activities. It was located just south of the barber shop.
Another Perry cousin, George Davis Bradley, a grandson of James Perry served as a "tent-maker" minister in the Christian Church (Independent). (See Acts 18:3.) He was employed in industry, and was pastor of a congregation weekends and evenings.
We'd be remiss not to mention a strategic role in history by a Langton. Jeanette's father, Cecil Langton, told us about the famous archbishop whose place in history is described in the following article, from A General Introduction to the Bible, pp. 340-341, by Norman L. Geisler and William E. Nix, Moody Press, Chicago, 1986:
The English New Testament. It was not until the thirteenth century that those sections [the division of the New Testament into sections done by the historian Eusebius of Caesarea in about the 5th century A. D.] were changed, and then only gradually. Stephen Langton, a professor at the University of Paris and afterward Archbishop of Canterbury, divided the Bible into the modern chapter divisions (c. 1227). That was prior to the introduction of movable type in printing. Since the Wycliffe Bible (1382) followed that pattern, those basic divisions have been the virtual base upon which the Bible has been printed to this very day, as the Wycliffe Bible has been basic to subsequent versions and translations.
According to one story I heard, the archbishop divided the books of the Bible into chapters so he could read a little at a time while journeying on horseback. Geisler and Nix mention some differing views on the origin of the New Testament divisions, but refer to the "traditional view" as being that they were developed by Archbishop Langton. We're not quite sure how Cecil was related to Stephen.
On pg. 11 of the Disciple Bible Study Manual, Second Edition, Abingdon Press, 1993:
The division of the Bible into our present chapters was probably done by British churchman Stephen Langton (1150?-1228), who was consecrated as Archbishop of Canterbury in 1207.
Steven Langton is the subject of a lengthy and interesting article in Wikipedia.
---
1
For details of the life of an early Methodist circuit rider in Indiana, vist the interesting
page
dedicated to Robert Richford Roberts, "Frontier Bishop".
This page was last updated 15 Feb 2013.