David Smith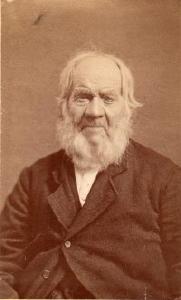 David Smith was my great-great-great-grandfather. According to the biography of his grandson David S. Perry:
The parents of D. S. Perry were born, reared and married in Pennsylvania, in which State the maternal grandfather, David Smith, was born, and in his longevity showed a truly remarkable hold on life, attaining to four months less than one hundred years. He married Ann Lane,1 who was of Welsh descent, and who died at a comparatively early age...
David was blessed with an unusually common surname, which causes extreme difficulty in identifying him and his family in any kind of public record. We hope we haven't confused him with any of his similarly-named neighbors while assembling this page! His photo, on the left came from cousin Meredith Renard's family history site, and we hope it is of the "right" David Smith.
When David Smith was enumerated in Venango county, Pennsylvania, in the 1880 U. S. census, he gave his age as 98. According to information which was handed down through my family, he was born 23 Dec 1781 in Trouptown, Union county, PA,2 and died 18 Aug 1880 in Venango county. If these dates are both correct, he was just short of 99 years of age at his death. However, his reported ages in the 1850, 1860 and 1870 censuses -- 64, 75 and 85, respectively -- cause us to wonder if he was really as old as claimed in the 1880 census or in his grandson's biography.
We are indebted to Nancy Scott's research, as published in page 187 of her book, Westward, Ho!, for filling in more details of David Smith's life:
David Smith, the oldest son of Stephen and Maria, was probably born in Straubstown which later was known as Freeburg in Penn Township, Northumberland County.2 He learned the milling trade and worked in Potter's Mill in Centre County, Ohio.3 As a young man in 1804 he set out to join the Lewis and Clark expedition, but in Illinois he discovered that they had already left. He returned to Pennsylvania, but on this trip he had visited the few log huts and a stockade that were Cincinnati and the large village of Indians which was where Chicago grew up.

After he had come home to Pennsylvania, his sweetheart Sarah Lane's guardian refused to allow their marriage, so they eloped to the nearest preacher, Presbyterian pastor William Stuart. In 1818 in the winter, David and Sarah and their family moved their belongings with a sled and two horses from Centre County to Venango County, Pennsylvania. He and his brother Daniel were the first blacksmiths in Rockland Township. David held several offices in the the township: supervisor, auditor, constable, tax collector and tax assessor 1820-1828. He invested in many mercantile businesses. "It was mainly through his earnest labor that the Township was carried for the free school system."4 About 1833 he moved to a farm on Smith's Bend on the Allegheny River. In both Rockland Township and in Sandycreek Township, David and Sarah were founders of Methodist Churches. Before the buildings were built the services were often held in the Smith home. Sarah died in 1825, and soon he was married again to Mary Ann Pryer, the daughter of John Pryer and Hannah Lovell of Rockland Township. Later he retired to Franklin, Pennsylvania. His obituary describes him:

Uncle Davy was a man of active habits and outspoken principles. He practiced what he preached, the poor and needy were never turned away from his door, and it was said without fear of contradiction that he had not an enemy anywhere.
I found the following mention of David and Daniel, among other Rockland township pioneers, in Chapter 33 of History of Venango County, Its Past and Present, Herbert C. Bell, Chicago, Brown, Runk & Co., 1890:
David and Daniel Smith, the first blacksmiths, were brothers from Penn's valley nine miles east of Bellefonte, Centre county. David was the first to locate here, and his land, now the property of Abraham Lusher, was half a mile east of Davis' Corners. He brought no stock except two horses. Daniel brought five cattle and twelve sheep; he paid one hundred dollars for the transportation of his family and household effects, the means of conveyance being a five-horse wagon. The journey required ten days. His brother had come out in the winter, and brought his effects on a sled. Several years later Jacob Smith removed from the Nittany valley, Centre county. He bought the farm of Squire Crawford, at Barr's Corners.
---
Marriages. David Smith was married twice:
5 Oct 1809 to Sarah Lane, who was born about 1785 in PA, and died about 1825. She was a daughter of John Lane.
About 1826 to Mary Ann Pryer. Born 1805/1808 in PA. Died 15 Jan 1876 in Franklin, Venango county, after being listed with David in the three preceding censuses.
---
Children. David Smith's children include:5
Mary Ann Smith. My great-great-grandmother. Born 25 Jul 1810 in Northumberland county, PA. Married John Perry 4 Jun 1834. Moved to Ohio about 1847. Died 15 Dec 1880 in Urbana, Champaign county, OH.
Sarah Smith. Born 12 Nov 1812 in Northumberland county. Married Adam Webber 13 Dec 1835. Died 14 Mar 1896 in Venango county.
John Lane Smith. Born 8 Mar 1815 in Centre county. Married Eve Carner 1 Jun 1843. Died 3 Oct 1864 in Rockland township, Venango county.
Mariah Smith. Born between 1810 and 1820. Married, and divorced, John McDonald. Died 2 Apr 1903 in Franklin, Venango county.
Jane Smith. Born Jan 1820 in Rockland township. Married John L. Tibbens 26 Jul 1838. Died 20 Jan 1904 in Findley, OH.
Stephen Decatur Smith. Born about 1826 in Rockland township. Married Elizabeth Irwin 10 Aug 1859. Died in Mercer county, PA.
Hannah Smith. Born 1829? in Rockland township.6 Died 7 Oct 1908 in Franklin. Buried in Franklin cemetery.
Sidney Smith.7 Born about 1831 in PA.
Sidania Smith.7 Born 1832 in Rockland township. Married Philander Pitt Brown. Died 1877 in Mercer county, PA.
Martha D. Smith. Born 1 Aug 1834 in Rockland township. Married William Burgwin 2 Jun 1855. Died in California.
Almira Louisa Smith. Born Dec 1837 in Sandy Creek township. Married Floyd C. Ramsdell 14 Jun 1860 in Franklin. Died 1927 in Denton, MD.
Nancy Scott reports that David and Mary Ann had three other children who died in infancy.
---
David Smith and several of his family members were among the founders of the local Methodist church, according to the following item, which I formerly attributed to the 1890 History of Venango County, but which may actually be from another source:
Rockland Methodist Episcopal Church
(Rockland United Methodist Church)

Rockland Methodist Episcopal Church, was organized in 1825 by Reverend Dorsey, of the Shippenville circuit, at the home of David Smith, which was where the early services were held.

Originally the congrgation consisted of seven members:

David Smith
Mary Smith
Peter Lovell
Polly Lovell
Mrs. Lovell (Peter Lovell's mother)
John Prior
Hannah Prior

During the Revival held in 1830-31 by Rev. J.C. Ayers, the congregation increased to 30-60 members...
The following description of the early days of the Rockland Methodist church is from the History of Venango County, chapter 33:
Rockland Methodist Episcopal Church.-- The first class was organized by Reverend Dorsey of Shippenville circuit with seven members, viz.: David and Mary Smith, Peter and Polly Lovell, Mr. Lovell's aged mother, John and Hannah Prior. The organization was effected at the house of David Smith. In 1830 a very effective revival was held under the ministry of Reverend J.C. Ayers, resulting in thirty conversions. Among the early pastors were Reverends I.C. Sacket, A.A. Callender, J. Johnson, Job Wilson, John Scott, and A. Jackson. Rockland circuit was formed in 1862 and has received the following appointments: C.W. Bear, 1862-63; A.H. Bowers, 1864-65; J. Abbott, 1866-67; R.B. Boyd, 1868-70; McVey Troy, 1871; J.W. Wilson, 1872; E.M. Kemick, 1873-74; W.M. Taylor, 1875-76; W.S. Shepard, 1877-78; J. Garnett, 1879-80; R.M. Felt, 1881-83; W.A. Baker, 1884-85; L.W. Showers, 1886; W.E. Frampton, 1887-88. In 1832-33 the first church edifice was erected. It was replaced by the present building in 1867-68. The ground was given by Jacob Smith. The cemetery under control of the trustees of this church comprises an acre of ground jointly given by Daniel Smith and Abraham Lusher, since enlarged by purchase.
David Smith farmed in Rockland township, which borders Scrubgrass township, where our Perry ancestors lived, and later in Sandy Creek township, which is about halfway between Scrubgrass and Franklin, the county seat. The value of his lands increased steadily until they were listed at $12,000 in 1870, which was quite a lot in those times. His occupation was listed as "old gent" in that census! He was now enumerated in Franklin borough. According to the 1880 census, he lived on Liberty street in Franklin.
---
1
Her name is given in family archives as
Sarah
. Her grandson's biography is the only mention of another name. It contains several errors, so any statements it makes should be considered suspect.
2
Snyder county was formed out of Centre county in 1855. Centre had been split off from Northumberland county in 1813. The birthplaces given above reflect the county boundaries at the time of the person's birth. There is no
Trouptown
, but there is a
Strouptown
.
Straubstown
, or
Freeburg
, is also in Snyder county now and is about nine miles away. Venango county had already been in existence for a long time when the Smiths moved there, having been formed in 1800.
3
There is no Centre county,
Ohio
; Nancy must have intended to write
Pennsylvania
.
4
This information, and much of the other data on David Smith's family, is attributed by Nancy to
Kipp Melat
.
5
We've used Nancy Scott and Kipp Melat's research to identify those children who weren't listed in a census with David. He was listed as
David Smith Sr.
in the 1880 census, which is a hint there could have been a son (or grandson!) who was also named David Smith.
6
Hannah's age was reported, with varying degrees of legibility, in the censuses from 1850 to 1880 as 21, 27, 34 and 51, respectively. Since the 1850 and 1880 readings agree with each other, this hints that she was born in 1829. Nancy lists her birth as occuring in December 1829.
S. M. Perry
mentions in the Marysville portion of his diary (1860-62) having received a letter from Aunt Hannah.
7
The 1850 census very clearly lists a 19-year-old
male
Sidney Smith. Given the usual impreciseness of ages in the U. S. census, could Sidney and Sidania have been twins?
This page was last updated 6 Jan 2016.