Phebe Perry
Phebe Perry was a younger sister of my great-great-grandfather, John Perry. In fact, she was born exactly one year after him, 5 Dec 1803, in Venango county, Pennsylvania. She, and other brothers and sisters, remained in PA after John and his family moved to Ohio about 1845. Cousin Mary Pierotti has provided most of the information we have on Phebe, which is contained in the obituaries below. Mary says, "I was working with Kelly Marshall on the Perry, Hovey, Truby and Robinson families. I wanted to explore the possible connections."
The following obituary is from the Venango County Genealogy Project Obituary Board:
PHEBE PERRY MARSHALL (1803-1885)

Phebe Perry Marshall was the wife of Samuel Marshall, Esq. (1801-1835). After his early death in Lawrenceburg, Armstrong County, Phebe remained unmarried for the next fifty years - the matriarch of her extensive family. The Marshalls (and their kinfolk the Hoveys, the Trubys, the Rohrers, the Baileys and the Robinsons) were early settlers of the area known now as Parker, Pennsylvania - at the extreme northwestern tip of Armstrong County, on the west bank of the Allegheny. There Samuel Marshall lies buried in the Presbyterian churchyard. Their children were:

Simeon Hovey Marshall (1824-1912),
Sarah Marshall McGough (1827-1904),
Isabella (Belle) Marshall Phipps (born about 1829), and
Martha Marshall Welsh (born 1834).

Posted By: Kelly Marshall
Date: February 12 2005
The following obituaries appeared in the local press after her death:
Mrs. Phebe Marshall

After many days of prostration, the result of the infirmities of old age, the spirit of Mrs. Phebe Marshall passed calmly and peacefully from earth at entered into rest at 6:30 o'clock a.m. on Tuesday last, Dec. 15th, at the residence of her son-in-law, Dr. W. S. Welsh, of this city.

Mrs. Marshall was born Dec. 5th, 1803, and at the time of her death was aged 82 years and ten days. She was the daughter of Moses and Sarah Perry, who emigrated from New Jersey near the close of the last century, and settled in Scrubgrass twp., this county, and located on the farm which David Perry, one of her only two surviving brothers now resides. About 1824 she was married to Samuel Marshall, whom she survived about fifty years. She leaves one son, S. N. [sic] Marshall, now living in Virginia, and three daughters, Mrs. Sarah McGough and Mrs. Martha P. Welsh, of this city, and Mrs. Belle Phipps, of Newark, Ohio.

Mrs. Marshall was a woman of rare virtue, kind and charitable to all, and thoroughly devoted to the best interests of her friends and relatives. Early in life she became a member of what was then known as the Seceder Church, and on her removal to Franklin became a member of the Presbyterian Church, then under the pastoral care of the Rev. Dr. Eaton. Her religious life was characterized by a firm and unquestioning faith in Christ as her Savior and Redeemer, and an exemplary life of unusual devotion and calm trust in God.
-- The Citizen Press
Franklin, Pennsylvania
17 December 1885

---

The death of Mrs. Phebe Marshall, which occurred last Tuesday morning at the residence of her son-in-law, Dr. W. S. Welsh, removed another of the older residents of the county. Mrs. Marshall's home for many years was in Scrubgrass township, but the latter yeas of her life were passed with her daughter, Mrs. Welsh. Mrs. Marshall was a woman of much force of character, performing well all the duties of life, and commanding the love and esteem of all who knew her. Ten days before her death, she passed her 82nd birthday. The funeral will take place at her late residence at 10:30 a.m. on Thursday, 17th.
-- The Venango Spectator
Franklin, Pennsylvania
17 December 1885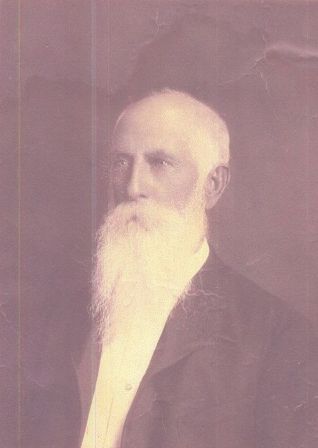 Samuel Marshall was appointed Postmaster of Foxburg, in Venango county, by the Jackson administration in February 1833. According to Kelly Marshall:
Samuel's widow Phebe became postmistress at Parker's Landing after his death. This is an indicator that the extended family had both political connection and also the wherewithal to provide a building in which post office business could be handled. Often, a general store was the site. And it would be interesting to know how many women were serving in similar positions in the United States in the late 1830s!
A widowed Phebe Marshall was enumerated in Scrubgrass township in the 1840 census. All four children were living with her. Her entry was between those of her father and her brother David, so she wasn't far from her family. She was living in Scrubgrass at the time of the 1850 census, along with her son Simeon's family and her youngest daughter Martha. Simeon (photo on right) is listed as a merchant. After Phebe's daughter Martha was married, Phebe moved to Parkersburg, VA, to live with Martha's family. If the census records are accurate, their stay in Parkersburg was brief, since both of Martha's children -- Walter in about 1857 and Sallie in about 1861 -- were born in Pennsylvania. Even though Parkersburg, across the river from Ohio, wasn't in a war zone, the outbreak of the Civil War may have prompted the family to return to Franklin. Dr. Welsh served in the Union army. We found listings in the National Park Service's Soldiers and Sailors System for a Walter Scott Welsh in the 14th West Virginia Infantry Regiment who mustered in and out as Assistant Surgeon and for a Walter S. Welsh in the 15th who mustered in as Assistant Surgeon and out as a Surgeon.

The biography of Martha's husband appeared in pages 813-814 of History of Venango County, Pennsylvania, Chicago, Brown, Runk & Co., 1890:
WALTER S. WELSH, M. D., deceased, was born at Butler, Pennsylvania, in July, 1826. He received his education at the public schools of Butler and at Washington and Jefferson College, subsequently teaching languages at Brady's Bend, Armstrong county. His medical studies were begun at Brady's Bend and Worthington, Armstrong county, and in that county his practice was commenced. At the outbreak of the civil war he was residing at Parkersburg, West Virginia, and was appointed assistant surgeon of the Fourteenth West Virginia Infantry August 23, 1862, and surgeon of the Fifteenth, March 15, 1863, subsequently rising to the rank of brigade surgeon. In 1865 he came to Franklin and was in active practice until 1887, when failing health compelled him to relinquish professional work. His skill as a physician was generally recognized, and as a man his character commanded public confidence. Genial in temperament and a thorough scholar, his mental scope had been enlarged by extensive reading and observation. He was a member of the Methodist church, the county medical society, and of Mays Post, G. A. R. His death occurred at Ocean Grove, New Jersey, August 8, 1889. His wife, Mrs. Martha Welsh, nee Marshall, and an only daughter, Miss Sallie Welsh, survive him. Politically he was a Republican, and served as mayor of Franklin one term.
After adding this page to our web site, we heard from Kelly Marshall, who is a descendant of Samuel Marshall's brother, John Marshall (1803-1889), and who has his own web site, devoted to the descendants of Samuel Marshall's father, John Marshall (1761-1806). Kelly has made available transcriptions from the Estate File of Samuel Marshall. They include details of the settlement of Samuel's accounts which seem curious to us, 170 years later, such as Dr. Dunn's claim for a total of $11.00 for attending Samuel during his final illness, "sitting up all night & staying all day" from 22 to 25 Feb 1835. Many of the entries in the estate file are either cryptic or mundand. For instance, there is mention of legal actions of his estate against Ephraim Galbraith, who was Samuel's brother-in-law, which could either reflect a joint business venture, or some family debts. Samuel and Ephraim are mentioned together in page 554 of History of Venango County, Pennsylvania, published in 1890 by Brown, Runk & Co., Chicago:
Lisbon was laid out in 1854 by Thomas Robinson and John Smith on land formerly included in the farms of Moses Perry and Elizabeth Riddle. It is situated at the intersection of the road leading from Scrubgrass to the Butler line with the main road from Emlenton to Clintonville. Emlenton, the nearest railroad point, is five miles distant. The first house was built in 1834 by Ephraim Galbraith and Samuel Marshall, who also opened the first store...
Kelly is an Episcopal priest who lives in Boardman, OH, about an hour's drive from Venango county. He was kind enough to send us all the photos which appear on this page. In October 2007, he started a new web site dedicated to the descendants of Catharina Truby Rohrer Marshall (1763-1806). If you are even remotely related to these Marshalls of western Pennsylvania, we highly recommend visiting Kelly's One Huge Family site which, as of July 2008, includes a page for Simeon Hovey Marshall.
They didn't take her back to Parker to be buried beside her husband, who had died 50 years before her death. I'm attaching another photo of Phebe's grave (in the foreground) with the Welsh graves in sight.

Phebe Perry Marshall is buried in the Franklin Cemetery, Venango County, Pennsylvania (the Welsh Plot: Section B, Lot 25). This is the burial site of Phebe's daughter Martha "Mattie" P. Marshall Welsh, her husband, Dr. Walter Welsh, and their daughter Sarah "Sallie" Welsh. Phebe Marshall made her home with this family and is shown living with them in every census record from 1860 through 1880. In 1860, they are in Parkersburg, Virginia (now West Virginia) on the eve of the Civil War. In 1870 and 1880, they are living again in Franklin, where Phebe died in 1885. The grave marker for Phebe Marshall is obviously not the original stone. It matches identically-designed stones placed nearby on all the McGough graves (Section D, Lot 56); Sarah Marshall McGough was Phebe's oldest daughter.
Notes on the Samuel Marshall Gravestone: This photograph is the oldest photo I have of the marker. It was taken when there still was an iron fence around the Hovey-Robinson Plot in which Samuel was buried in the Presbyterian churchyard of Parker, Pennsylvania. He was reared from the time he was five years old by his Aunt Mary Ann Truby Hovey, his deceased mother's sister. Although the marker shows a birth year of 1800, baptismal and family Bible records give his birthdate as 13 June 1801. The marker is only a remnant of the original. It was reset at some point into a cement base, and the remaining inscription has been lost. The stone is deteriorating rapidly.
The following biography of Phebe and Samuel's grandson appeared in pages 811-812 of History of Venango County, Pennsylvania, Chicago, Brown, Runk & Co., 1890:
THOMAS MCGOUGH, attorney at law, is a son of Peter and Sarah (Marshall) McGough. The former was born near Blairsville, Indiana county, Pennsylvania, September 30, 1822, and is a son of Thomas McGough, a native of Cambria county and Catharine (Gamble) McGough, born in Indiana county, both of whom are dead. In 1848 he married, in. Venango county, Sarah Marshall, born in March, 1827, in Lawrenceburg, Armstrong county, Pennsylvania. She is a daughter of Samuel and Phoebe (Perry) Marshall, and the mother of six children: Samuel; Thomas; Doctor Peter McGough, of Pittsburgh; Phoebe; Catharine, and Blanche.

Peter McGough was in early life a teacher, subsequently a merchant and banker, and for several years has been engaged in the insurance business. Politically he is a Republican, and for five years held the office of United States collector for the twentieth district of Pennsylvania.

Thomas McGough was born at Parker's Landing, Armstrong county, and came to Franklin with his parents. He received his early education in the schools of Franklin, and graduated at Princeton College in 1873. He then commenced reading law with C. Heydrick of Franklin, and was admitted to the bar in July, 1876.

Mr. McGough was married in January 1886, to Miss Lydia, daughter of General Alfred B. McCalmont. She was a native of Franklin, and died after a brief illness, November 24, 1889. In 1879 Mr. McGough was elected district attorney and twice re-elected, holding the office until 1888. Politically he is a Republican, and a member of the A. 0. U. W. The family belong to the Presbyterian church.
This page was last updated 8 Dec 2008.