David Perry
David Perry1 was a younger brother of my great-great-grandfather John Perry and the ninth, and last, child of Moses and Sarah (Russell) Perry. He was born 11 May 1811 in Scrubgrass township, Venango county, PA.
David married Susannah Calvert 24 Nov 1835. Susannah was born in 1816. She was the daughter of Robert I. Calvert. They lived on Moses Perry's farm in Scrubgrass township the rest of their lives. This property was bequeathed to them in Moses' will.
Children. David and Susannah had the following children, all born in Scrubgrass township:
Elizabeth Jane Perry, born about 1835.
Ann Perry, born about 1840.
Olive M. Perry, born about 1843.
Martha Perry, born about 1845.
Moses Thomas Perry, born Feb 1850.
Mary Perry, born about 1855.
Sarah Ann Perry, born about 1857.
There may also have been a son, born before 1840, who died in childhood.
The 1850 census lists David and family in Scrubgrass township. They were still there for the 1880 census, with a 20-year-old grandson whose name was transcribed by FamilySearch as Edward P. McQuatly. I've seen this census record and am not sure that's a correct rendering of the young man's last name. It could just as easily be McInnity or McGinnity. There is a 10-year-old Edward, with no last name given, listed with David and Susannah in the 1870 census, who may be the same person.
Death. David died in 1892 and Susannah in 1893, both in Venango county. They are buried under the same marker at East Unity Presbyterian Church, in Cherry Valley, across the county line in Butler county, where Kelly Marshall photographed their tombstone in December 2008: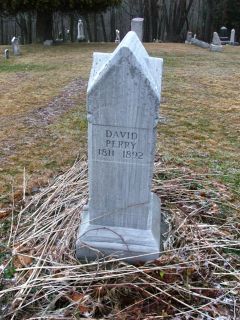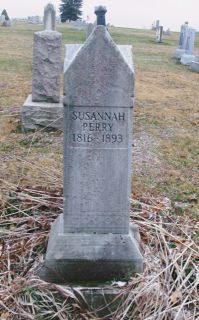 Moses T. Perry, David and Susannah's only son, remained in Scrubgrass township, marrying Nancy Milford about 1878. Moses and Nancy had twelve children, of whom six survived infancy. Their family was enumerated in Scrubgrass in the 1900 census.
---
1
The information in this page is based on the research of
Nancy Scott
, as found in
her book
,
Westward, Ho!
.
This page was last updated 12 May 2011.