Nathaniel Sterrett
Jeanette's great-great-grandfather was Nathaniel Sterrett. He was born 20 Oct 1813, the last of 13 children born to Robert Sterrett (1763-1843) and Rosannah Green (1772-1845), who were both born in Lewistown, Mifflin county, PA. Nathaniel died 18 Jul 1887, probably in Minnesota.
Nathaniel's first wife was Mary Allison. She was born 2 Feb 1816 in Pennsylvania, and died 22 Feb 1854, probably also in Pennsylvania. Nathaniel and Mary were married 10 Mar 1841.1
Nathaniel and Mary had the following children, all born in Mifflin county:
Elizabeth K. Sterrett, Jeanette's great-grandmother, born 3 Jun 1842, died 21 Nov 1916 in Denver, CO.
William Robert Sterrett, born 3 Feb 1846, died 23 Mar 1910 in Wabasha county, MN.
James Allison Sterrett, born 11 Nov 1849.
Emma Green Sterrett, born 8 Nov 1853, died in Minnesota 18 Mar 1871.
After Mary's death, Nathaniel married a woman who is only identified as Maria C. in the census records. Maria was born about 1811 in Pennsylvania. I had once wondered about William and Joseph Townsend, who were listed with Nathaniel and Maria in 1860, guessing they were her children by a previous marriage. Eventually, I located Maria C. Townsend, with the two Townsend boys, in nearby Derry township in the 1850 census. They were living in the household of a 75-year-old farmer, William Shaw. The value of Mr. Shaw's real estate was listed as $20,000, a huge amount in 1850, while Maria's was listed at $4,000. Could William have been Maria's father? Or the father of her deceased first husband? Did she inherit the Shaw farm after William's passing? Maria is listed as 36 years old in 1850, which is slightly at odds with her information in other censuses, but such discrepancies are not at all unusual.
Some time between 1860 and 1870, Nathaniel and Maria, three of William's children, and the Townsend boys, trekked halfway across the continent to "a little town on the edge of the prairie", Mount Pleasant, Minnesota, in a rural area of Wabasha county, on the western edge of Lake City, not far from the Mississippi River. Before 1880, the census didn't give the relationship of the persons counted to one another, but the two little Townsend children2 enumerated with them in 1870 appear to be Maria's grandchildren. The Sterretts must have been prosperous, judging by the property values given in the censuses, and by their ability to hire "house servants" and "farm hands".
Census data. Nathaniel Sterrett was enumerated in the following U. S. censuses:
1840, the second line of the census for Armagh township, Mifflin county, PA, lists the household of Nathaniel W. Sterett, which includes one male in each of the under 5 and 20-30 age groups, and one female in each of the 10-15, 15-20, and 60-70 age groups. If the adult male is "our" Nathaniel, who are the other people?
1850, in Armagh, with Mary.
1860, in Armagh, with Maria.
1870, in Mount Pleasant, Wabasha county, MN, with Maria.
1880, in Mount Pleasant, with Maria.
Children. Elizabeth married a fellow Mifflin countian, James Langton 9 Feb 1865 and the couple moved to Moultrie county, Illinois, then to Nebraska, then back to Illinois, then on to Colorado by the 1890s. Elizabeth's birth date of 3 Jun 1842 was provided by her daughter, Fannie (Langton) Fenstermacher, and agrees with the date given in The Sterrett Genealogy.
James married Jennie W. Carson. Jennie was born about 1863 in Pennsylvania. Between 1892 and 1896, they moved across the Mississippi to Salem township in Pierce county, Wisconsin, where they were enumerated in 1910 along with two of their five children.
William married Susan Margaret Caldwell 9 Nov 1881. Susan was born 10 Nov 1852 in Mifflin county and died 13 Dec 1918 in Wabasha county. William and Susan and their three children were enumerated in the 1900 census in Lake City. William was listed as a teamster. This group picture which includes their daughter, Inez Viola Sterret, was provided by a descendant of one of the other young women:
Gail Finn, our informant, is the granddaughter of Hazel Vosburgh. We hope the information she sent us will be helpful to the descendants of the other young women in the picture:
I'll try to give a little background on the couple ladies that I do know. I have quite a bit of information for my Keith's, Ingham's, Morehouse's, Vosburgh's, and Dorwin's. Maybe somehow we'll find the connection between these ladies!

Cora M. Keith, born October 25, 1878, Frankfort, Pepin County, Wisconsin. Died May 27, 1937, Hawarden, Iowa. Cora married John B. Alfs (I've been told but not sure if I have the correct spelling) June 11, 1912 in Marshall, Minnesota. Her parents were LaFayette Keith and Alice Ada Ingham. I have Cora with her parents in the 1880 Census living in Frankfort, Pepin County, Wisconsin. In 1900 Cora is a school teacher living in Lake City, Wabasha County, Minnesota. I haven't been able to find her in the 1910, 1920 or 1930 Census. That's why I wonder if her married name of Alfs is correct...

The mother of Cora, Alice Ada Ingham was living in Mt. Pleasant, Wabasha County, Mn in 1870 with her father, Jonathan A. Ingham and her uncle James B. Morehouse. In 1860 she was with her parents in Florence Township, Goodhue County, Minnesota. In 1900 Alice was in Lake City, Wabasha Co where she died in 1909.

Hazel Bell Vosburgh was born April 29, 1890 in Arkansaw, Wisconsin. died 1960 Detroit, Michigan. Hazel's parents were Francis S. Vosburgh and Hattie Ingham (Cora Keith's mother, Alice Ada and Hattie were sisters) Hazel lived in Pepin County until sometime between 1901 and 1909. When the family moved to Lake City, Minnesota. Hazel attended teacher's college in Mankato, Minnesota graduating in 1911. She taught in Minnesota for a couple of years before moving to Hudson, Wisconsin about 1912 where she taught school.

Jessie Grew or Grey??? Here's an interesting little bit... If I copied the last name of Jessie wrong and it's Grey instead of Grew, then Mable Grey could be her sister. Roy Merrill Keith, the brother of Cora Keith married a Jessie Ethel Grey, born feb. 22, 1886. They lived in Marshall, Lyon county, MN, as well as Lake City where they died. Another interesting tidbit is that Roy was a photographer and eventually had his own studio! I really wonder if he took this photo!!!

I also wonder if that is who got my grandmother, Hazel interested in photography... she had a camera from at least 1911 onwards. She took pictures all her life and these pictures have helped me track her movements, to some degree, before she was married.
The information which Gail sent us caught the eye of another visitor to this page. In July 2010, I received the following message from Nancy (Keith) Fitterer, who is Roy Merrill Keith's daughter:
Roy Theo Keith (not Roy Merrill Keith) married Jessie Gray. They had two children Warren Gray Keith in 1908 (?) and Roy Merrill Keith 12/8/1920-4/20/1985. The part about him being a photographer and having his own studio is correct. I never met Roy Theo Keith or Jessie (Gray) Keith, they had both passed before I was born. Both Roy Theo Keith and Jessie (Gray) Keith are buried in the Lake City, MN cemetery.

Warren Gray Keith married Fannie Bear and moved to Birmingham, AL where he became the head of the Engineering Department at the University of Alabama. They had two children James Keith and Carolyn Keith 1/1949(?). Carolyn is married to Newt Person Jr. and still lives in the Birmingham, AL area. I can get you her email if you would like. James Keith is married to Becky (maiden name I do not know), and I believe they live in the Mobile,AL area. Both Warren and Fannie Keith have passed away and I do not have any of that information to share with you.

Roy Merrill Keith was married to a woman named Betty, they had two children, Bobby and Deanna I believe, and later divorced (I believe in the Marshall, MN area). I do not have much information on her or her two children. Roy Merrill Keith married Judith (Judy) Nelson April 1955 in Hibbing, MN and adopted Judy's son Ronald (Ron) 2/16/1945-5/2006 from a previous marriage. They went on to have four more children - Scott Warren 1-10-1958, Thomas Richard 1-12-1959, Terry Russell 3-13-1961, and Nancy Ellen (me) 1-7-1964. Roy and Judy moved to Minneapolis in 1962 I believe.

Roy passed away suddenly in April 1985, 1 week after their 30th wedding anniversary. Judy passed away September 2002. The two of them together had decided to donate their bodies to science at the University of Minnesota Medical School. Their remains are now buried in the Lakewood Cemetery in Minneapolis, MN in a mass grave.

The head stone on the site reads "University of Minnesota — For those whose generosity span beyond life itself."

Please feel free to contact me if you need any additional information.

I do have access to more of the Gray family history as well if you need anything.
We hope Nancy's information will also be helpful to descendants of these women, or to researchers who are interested in the history of Lake City, Minnesota.
In 1905, Inez Sterrett graduated from Lake City High School. Gail sent us this picture of the graduating class, which she found in the folders that belong to the Lake City Historical Society in the City Hall there. She believes Inez to be the young woman at the left end of the back row: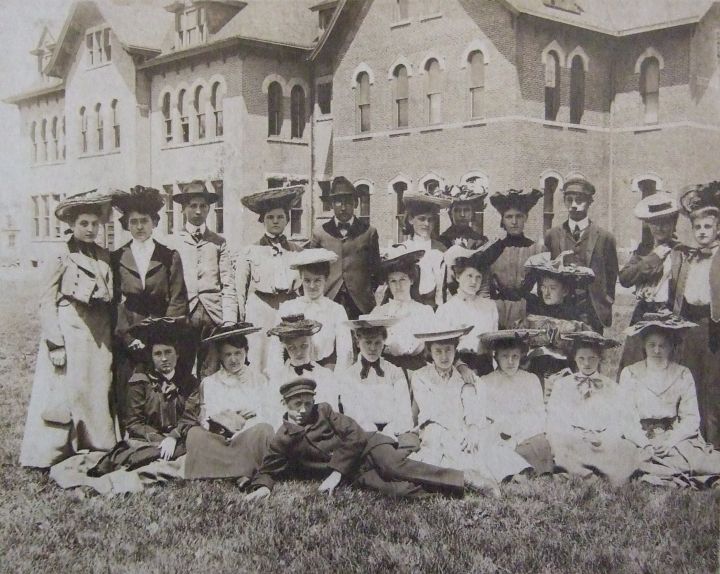 This photocopy of the program from her graduation ceremony lists Inez as the salutatorian of her class: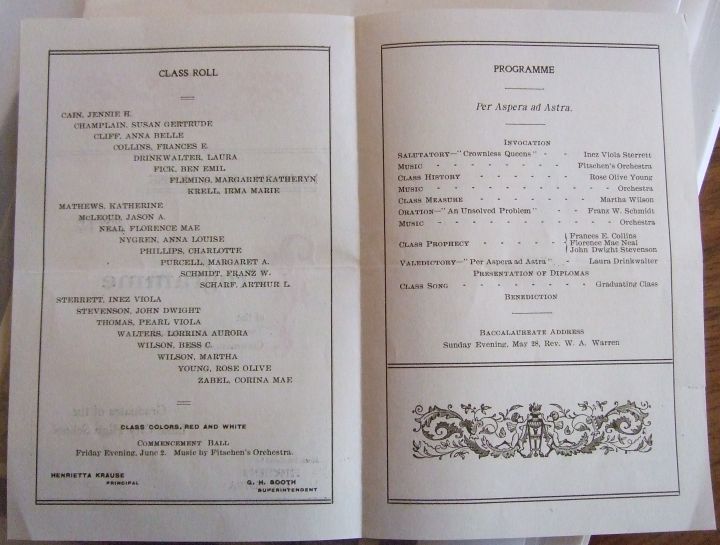 I can't help but wonder what influence Inez Sterrett might have had on the decision of her first cousin, Mack Langton, to name his daughter Inez in 1904. I didn't know Inez was such a common name in those days until I tried to trace Inez Sterrett through census records. I located her in Lake City in the 1910 census, living with her recently widowed mother and both siblings, but I had no success locating her in subsequent census records. In 1910, she was a student in a "normal school", i.e. teachers college. Did she go on to a teaching career? Did she marry?
Gail writes that Nathaniel's daughter Emma is buried in the German Methodist Cemetery (formerly Harmony Presbyterian), in Mount Pleasant Township, Wabasha County, Minnesota, along with several Townsends.2
While visiting the city hall in Lake City, Gail also photographed a 1901 picture of the local women's club which was hanging there. The president was none other than William's wife Susan: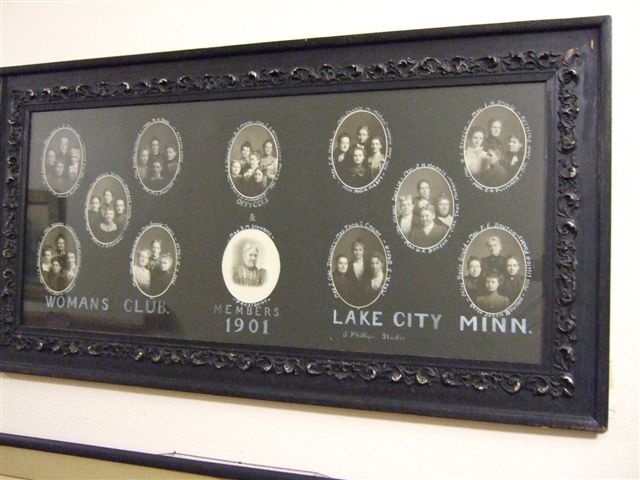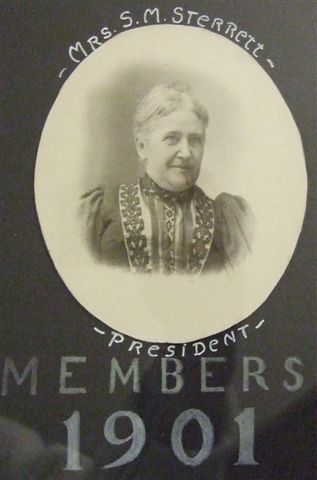 Gail visited the Sterrett plot in Lakewood Cemetery, in Lake City, where the Sterretts are buried near her Vosburgh ancestors. There's a large stone identifying the plot, which included Susan and William's smaller stones: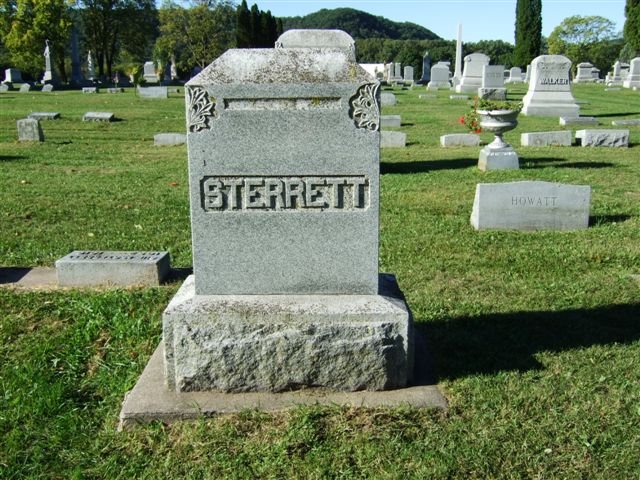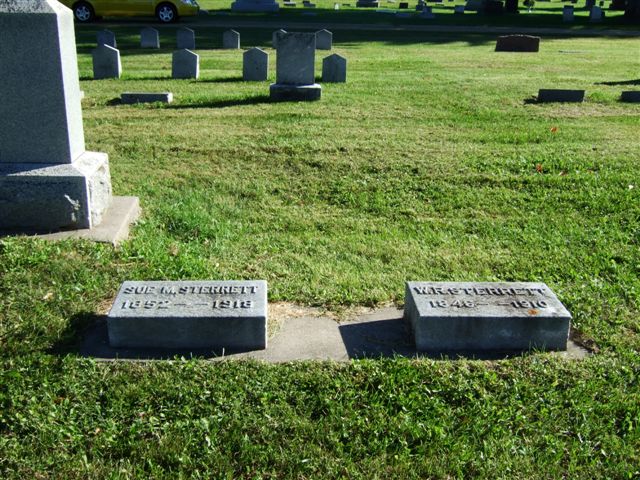 In addition to Susan and William, their daughter Agnes B. Sterrett (1884-1918) is also buried in this cemetery. We have yet to locate Nathaniel and Maria's burial places.
---
1
Information on Nathaniel and Mary's family's birth and death dates is based on
The Sterrett Genealogy
, by T. Woods Sterrett, The Tuttle, Morehouse & Taylor Company, Connecticut, 1930, and on information found at the
Serventi-Sanker genealogy site
.
2
The following children of
Joseph F.
and
Sarah Townsend
are buried in the same plot in the
German Methodist Cemetery
:
Isaac N. Townsend, born 16 Mar 1862, died 24 Jul 1873.
Mary C. Black, born 19 Sep 1863, died 9 Nov 1880, the wife of John W. Black.
Harry F. Townsend, born 30 Oct 1874, died 8 Jul 1885.
This page was last updated 13 Aug 2010.