Gladys Emilyn Walker
Bill Walker, a younger brother of prospective husband Frank, remembers Gladys's remark, as she was first being introduced to the Walkers, "What a large, wonderful family ... I want to be part of that bloodline!"
Gladys was a "pull-yourself-up-by-your-bootstraps type," who was also variously described as very wise, very confident in her opinions, and quite unafraid to make them known. A sister-in-law, Jeannette Walker, was so impressed with her intuition, that she was sure she had ESP! Some Gladys-wisdom that her daughter Karen remembers in particular: that one's left hand should never know what the right hand is doing; that the death penalty is an abomination; that one must always honor "weddings, funerals, and hangings"; that daughters must always be self-sufficient (i.e., never rely on a man); that every woman should have a child, whether or not there's a husband in sight! And she will never forget the moment when her brother Jon told his mother that, contrary to her wishes, he did not want to become an Eagle Scout. Karen also remembers how proud her mother was of her matchmaking skills, when she'd found a second husband--housepainter Jack Bell--for her niece Peggy Johns.
Sister-in-law Pat Plumb said that Gladys was always very practical with money, especially during the Depression, remembering how she wisely managed a small, modest beach property in Ocean Park, which brought in a much-needed small income for the family. Pat also remembers how thoughtful Gladys was of people during unhappy moments in their lives, such as having sister-in-law Alice and her young children out to the Valley for a BBQ and a swim after Harry Michelsen had died so suddenly; and how thoughtful she was of Bob Key and his brothers after their mother, Nira, had died of cancer.
Gladys's niece, Patty Capp Giles wrote: "My memories of Aunt Gladys are of a warm friendly lady that always seemed stylish (in the 50s & 60s era styles)--hair curled, suits, and wearing what are now referred to as vintage eyeglasses. My most vivid memories are of the family gatherings at her house in Van Nuys at Easter. It was always an adventure to pile in the car in our spring outfits (documented by numerous photos) and head out to the country (aka 'the Valley'). It seemed like a long ride and my favorite part was going through the Sepulveda tunnel, because my Dad would turn on the headlights and blow the horn to hear it echo. Then, when we arrived, there was always a large gathering of cousins, aunts, uncles, lots of food, Aunt Gladys & Uncle Frank to greet us, and the lure of the 'back 40,' complete with iris fields, chickens, and the goat."
Another niece, Andi Michelsen Crowell, said, "I remember Aunt Gladys helping me to 'buck up' when I spent the night and got so homesick. Also she made good cookies and I remember the big pantry in her kitchen. Later, I remember that I was so impressed that she went back to college to study art, clearly something she loved. We didn't see many grown women with families pursuing their dreams back then, so it stood out for me. Her paintings were beautiful. When my mom Alice married Walt Pollard, and they moved into a big house in Hermosa, Gladys painted a beautiful picture that hung in the dining room, the perfect accessory to Grandma Walker's dining room furniture. Of course, I remember the chickens too! Thanks for bringing back some memories!"
At about the time she was completing her B.A. in Art at Cal State Northridge, Gladys dyed her hair auburn, the color of her youth. She was reading Betty Friedan's Feminine Mystique, while touting the life-benefits of drinking "tiger's milk," a brewers yeast concoction from Adele Davis's book Let's Eat Right to Keep Fit. She also stunned the family--at least, that's Karen's memory--with the announcement that she wanted her dentist son Jon to pierce her ears (which he did!) so she could wear diamond stud earrings for her graduation. "Fashion-wise," it was several more years before her own daughters could catch up with her.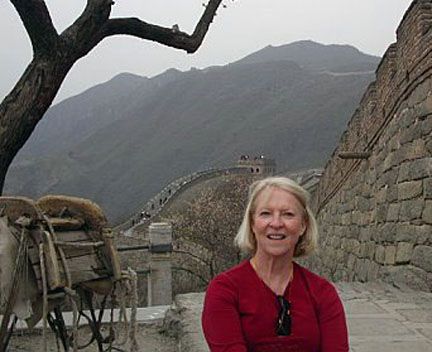 Karen Walker Evarts
March 2004
[pictured at right Apr 2006 on China's Great Wall]
Thank you, Karen, for contributing this wonderful collage of memories of Aunt Gladys. In January 2007, Karen shared some thoughts about Gladys' Southern heritage, prompted by a book she was reading:
My book club is reading an intriguing book, Slaves in the Family, by Edward Ball. I've already asked niece Cindy about Gladys's plantation forebears, learning that the family moved from the Carolinas in 1820 when the soil failed. Many of those who moved south continued to be slave-holders, whereas those who went north mostly chose otherwise...

Gladys' forbears were also Scots-Irish (or, in the vernacular, Scotch-Irish)...

Gladys spent her youth in Alabama, with a few stints in Michigan and in Texas, even though she was born when Big Mama1 got off the train in Gaffney, South Carolina (I photographed that train station about 3 years ago). My niece Cindy is the keeper of the family lore on that side of the family, and writes:

"Alexander Walker born SC who moved to AL on his death owned one negro woman Silla, one negro boy Arter and two negro girls Litha and Nancy. All were sold to various people on his death in 1835. Alexander's son bought Nancy. This son was William Wiley Walker who was Ruby's1 grandfather. No idea if Ruby's father Thomas had slaves... Probably did since the line wasn't poor."
---
1 Gladys' mother was called affectionately, by all her grandchildren, Big Mama, and by the rest of us, Mrs. Robelen or Grandma Robelen.
This page was last updated 28 Apr 2007.