Thomas D. and Lydia Voss
Thomas D. Voss was the fourth of Clement and Mary (Britton) Voss' six sons. The only evidence I once had of Thomas' existence was a handwritten list of Voss births and deaths tucked between the pages of my great-grandmother's family Bible. Even though the list included Thomas' birth, Clement's death in 1862 and Thomas' brother John's death in 1872, there was no mention of Thomas' death. None of my Voss cousins or family members could tell me about Thomas or his descendants until I heard from my cousin, Delores Voss Starkman, in early 2007. I am indebted to her for filling in most of the information on Thomas and his family which you see on this page. Delores says that she, in turn, would like to thank her cousin, Bonnie "LadyBonita" Hillmer for much of what she knows.
Birth. Thomas D. Voss was born 18 Dec 1813 in Stokes county, North Carolina. He moved with his parents to Virginia, then Tennessee, then finally, around 1833, to Indiana.
Marriage. Thomas Voss married a woman named Lydia before 1840. There's no record of such a marriage in the Indiana marriage index, so it's possible their marriage took place in Kentucky, where Lydia seems to have had ties. Lydia was born between 1815 and 1820 in Tennessee. Her father and mother were born in Virgnia and North Carolina.
Children. Thomas and Lydia had the following children:
Thomas C. Voss, born 1842 or 1843 in Indiana.
Martha J. Voss, born about 1846 in Kentucky.
Washington Taylor Voss, born 22 Feb 1849 in Kentucky.
Residence. Thomas was listed in Monroe county, IN, in the 1840 census on page 76 with a household consisting of one male and one female, both in the 20-30 age group, and no children. His brother, Francis A. Voss, was listed near the bottom of page 75. In 1850, Thomas and Lydia were listed in the census for Louisville, KY, along with their 3 children. Thomas was working as a shoemaker.
Death. In the 1860 census, Lydia was listed in Bloomington, Monroe county, IN, without Thomas, but with the three children. Lydia is said to have been born in "E. Tennessee". Coincidentally, on the same census page are listed John F. and Sarah (Green) Walker, whose son John Wesley Walker later married Thomas and Lydia's niece Sarah Elizabeth Voss. Clement Voss' will, written in 1861, mentions "my grand children Thomas Martha & Taylor Voss, children of Thomas D. Voss, deceased." We must conclude that Thomas died during the 1850s, possibly in Kentucky.
---
Lydia. By 1870, Lydia has returned to Louisville, KY, where she is working as a seamstress and living alone with the family of Thwaite (?) and Mary Satler. It has been suggested that they are Lydia's relatives, but their birthplaces are listed as PA and NY, respectively. I couldn't locate this couple in any census before or after 1870.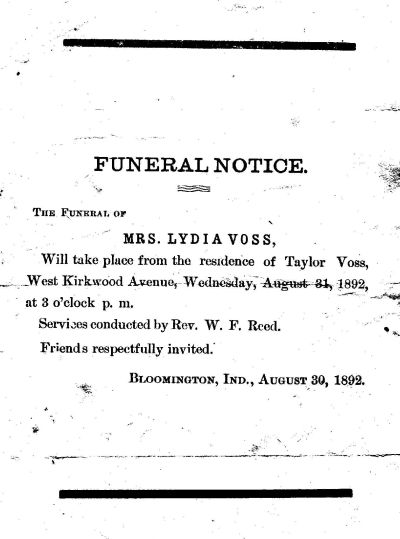 In 1880, Lydia is living with her son, listed as Will. T. Voss, and his wife Julia on Walnut Street in Bloomington. According to the RootsWeb death records data base, Lydia Voss died 30 Aug 1892 at age 77 in Monroe county. On the right is Lydia's funeral notice, which Taylor's first cousin Sarah Elizabeth had saved between the pages of her family Bible. I never knew who these Vosses were until Delores and LadyBonita solved the mystery for me.
---
Thomas C. Voss served in the Union army with the 5th Kentucky Infantry regiment. He died, or was killed, before December 1863, when Lydia filed a pension application. His regiment was organized in September 1861 and saw action in a number of bloody battles including Shiloh and Chickamauga.
---
Martha J. Voss. We've found no trace of Martha after her mention in her father's will in 1861. No marriage record has turned up for her and there are just too many Marthas born around 1846 to hazard a guess at which one could be this Martha.
---
Washington Taylor Voss lived in Bloomington most of his life and, although I saw his name any number of times in files of old newspapers and other documents, I never knew he was one of "my" Vosses until Delores and Bonita helped me make the connection.
There are entries for a Taylor Voss at the Civil War Soldiers and Sailors site who was in the 11th and 12th Kentucky Cavalry regiments. Although I was skeptical that Washington Taylor Voss could have served in the Civil War at all, Bonita located, at ancestry.com, a copy of Taylor's file card showing that he applied for an invalid's pension in 1887 and that Julia applied for a widow's pension in 1927. Bonita also discovered that Taylor enlisted in the 11th Cavalry twice, first on 6 Sep 1862 then again in 1864. She speculates that the first time he tried to enlist, "they may have realized he was too young and sent him home." She also found a notation on his record that he was a prisoner of war at the infamous Andersonville, GA, prison camp, although she couldn't find his name on the list at a government site which lists Andersonville prisoners.
The following article, confirming Taylor Voss' membership in the GAR, was on the front page of the Bloomington Weekly Courier for 24 May 1910:
Eight New G.A.R. Members

Eight new members were mustered into the Grand Army Post Saturday afternoon at interesting exercises held at the Post quarters.

The new members are: Silas Grimes, Fred Sexton, John David, Solomon Lawson, Taylor Voss, John Clay, John Brown, Joseph H. Kirby.
Besides being a soldier, Taylor must have also been something of a sailor, to judge from this article which appeared on page 3 of the 3 Aug 1881 edition of the Bloomington (IN) Republican Progress
Josh. Howe, Kearney Buskirk, Taylor Voss, Henry Voss and Dick Houston left for Gosport last Monday taking with them Howe's steamboat in which they propose to go 25 miles down White River in search of fish and fun. Chambermaid, Buskirk; Cook, Henry Voss; Chaplain, Taylor Voss; Pilot, Dick Houston, and Captain, Josh Howe.
The following article, which appeared in the 26 Feb 1897 edition of the Bloomington Telephone, should help explain the origin of Taylor's true first name:
SURPRISE PARTY FOR TAYLOR VOSS

Mrs. Taylor Voss assisted by her niece, Miss Grace Daugherty, succeeded in giving Mr. Voss a genuine surprise Monday night, it being his 48th birthday.Among those present were Mrs. David Lively, Miss Anna Turner, Mr. and Mrs. William Ransom and children, Mrs. Will Johnson and children Birdie and Frank, Mrs. John Browning and son Porter, Mrs. Ward, Ben Vandyke and sister Miss Minerva, Alice Briscoe, Hannie Cooper and Mrs. Hydenrich. All left wishing Mr. Voss many more such happy birthdays at that of February 22, 1897.
The 1900 census lists Taylor and his wife Julia in Perry township, Monroe county, IN. Taylor's mother-in-law, Isabella Hydenrich is living with them, which may help identify Julia's maiden name. According to census columns which list number of children, Taylor and Julia have never had any children. Taylor and Julia were still living in Perry township in 1910.
The 1920 census finds Taylor (now listed as Wash. T. Voss) and Julia once again in Bloomington, living at 614 N. Grant St. According to the RootsWeb death records data base, Washington Taylor Voss died 27 Jul 1927 at age 78, and Julia B. Voss died 24 Apr 1931 at age 72, both in Monroe county. Delores located a file card via National Archives and Records Administration publication T289, Pension Applications for Service in the U. S. Army Between 1861 and 1917, which shows Taylor's death date.
This page was last updated 1 Mar 2009.