Amish ancestors – the Plank family
In this page, I will trace one of my Amish Mennonite lines – the Planks – from an ancestor's arrival in the New World, down to the 20th Century in Ohio, where I eventually met some of them – my father's cousins – in 1949.
The following article, which attests to the prominence of the Plank / Blank family in Mennonite history, was found in the Global Anabaptist Mennonite Encyclopedia Online (GAMEO):
Plank Family

Plank, a Mennonite family name found principally in Pennsylvania, Ohio, and Indiana, but also represented in Illinois, Iowa, Missouri, and Kansas, as well as other western states. In 1958 there were five Planks in the ministry of the Amish and Mennonite churches. Among the prominent representatives of the family was David Plank (1833-1912), an Amish Mennonite bishop of Logan County, Ohio, and a descendant of Melchior Plank.1 Samuel Plank2 (1809-79), David's father, who moved to Logan County from Mifflin County, Pennsylvania, in 1845, served as an Amish Mennonite deacon for thirty years. Solomon K. Plank (1837-1912) served as deacon for forty-two years, mostly in Wayne County, Ohio. D. J. Plank was ordained bishop by the Douglas County, Illinois, Old Order Amish in 1892. Peter Plank, who served as bishop in the Conestoga, Pennsylvania, Amish Mennonite (as merged into Mennonite Church [MC]) Church 1808-31, was a great-grandson of a French Huguenot doctor who settled in Berks County, Pennsylvania. Perhaps through the influence of his wife, he became a Mennonite. He was the successor of the first bishop of the Conestoga Amish Mennonite Church. Following him as bishop was John Blank (1831-35) (C. Z. Mast), who may possibly be an ancestor of the A.M. Blanks in eastern Pennsylvania, although other Blank families were among the early immigrants to Pennsylvania. C. Henry Smith listed Hans Blank and Christian Blank for 1751, and Jacob Blank, Nickolas Blank, and Frederick Plank for 1752.

There is confusion concerning the relationship of the Blanks and Planks. John Horsch listed Blank as a Mennonite Palatinate name of Swiss origin. Christian Blank was an active participant on the Amish side of the Ammann-Reist controversy in Switzerland in 1693. The name Blank was found among South German Mennonites as late as 1940. In America evidently some members of the family changed the name to Plank.

Most of the Mennonite Planks of the central states, however, are descendants of Melchior Plank,1 or more specifically Johann Melchior Blankenberg, who arrived in America from Holland and was sold as an indentured servant for a five-year term to Jason Cloud on 27 November 1767. In Berks County, Pennsylvania, on 16 January 1769, Jason Cloud assigned his servant to Howard Hughes for the remainder of his term and on 22 June 1772, Hughes dismissed Blankenberg upon his payment of five pounds, as shown by the photostatic copy of the indenture in the Goshen Archives of the Mennonite Church. According to family tradition Blankenberg was a Swiss Mennonite in Holland, who with his wife visited friends sailing for America on a ship docked in a Dutch port. While they were on board ship it left the harbor.

To the Melchior Planks were born six children, the oldest of whom was Jacob (1768-1851). To Jacob and his wife Mary Yoder Plank were born 12 children, 3 in eastern Pennsylvania and 9 in Mifflin County, Pennsylvania. In 1821 Jacob moved to Wayne County, Ohio. The Planks of Wayne County, Ohio, and Lagrange County, Indiana, are descendants of Jacob.
First generation
John Melchior Plank (PK4)3 was my 4g-grandfather. He was born around 1742-1744, probably in Switzerland. The story of his migration to America around 1767 makes very interesting reading. His surname may originally have been Blank, and was changed to Plank some time after his arrival in America. I will list the siblings of each of my own direct ancestors, as an aid to fellow researchers.
Melchior married a woman named Margaret, probably before coming to America. They had the following children, all born in Pennsylvania:
Jacob Plank (PK41), born 6 Nov 1767, died 10 Jan 1851 in Warren county, OH.
Christian Plank (PK42), my 3g-grandfather, born 1771, died 4 May 1851 in Mifflin county, PA.
John Plank (PK43), born 1774, died 1825 in Holmes county, OH.
Barbara Plank (PK44), born 1776.
Margaret Plank (PK45), born 1779.
Peter Plank (PK46), born 1783.
Second generation
Christian Plank (PK42), my 3g-grandfather, married Barbara Yoder (YRB3?). Barbara was born in PA 20 Jun 1766 and died in Mifflin county, PA, 13 Apr 1850. Christian and Barbara had the following children, all born in Lancaster county:
John Plank (PK421), born 3 Jul 1793, died 20 Apr 1868.
Magdalena Plank (PK422), born 25 Sep 1794, died 10 Mar 1891 in Logan county, Ohio.
Christian Plank (PK423), born 1796, died by 1830 in Mifflin county.
Barbara Plank (PK424), born 1 Jan 1798, died 1 Feb 1881 in Logan county.
Isaac Plank (PK425), born 2 Oct 1799, died 5 Nov 1879 in Mifflin county.
Jacob Plank (PK426), born 1 Nov 1803, died 15 Dec 1882 in Lawrence county, PA.
Joseph Plank (PK427), died young.
Samuel Plank (PK428), my great-great-grandfather, born 20 Jul 1808, died 11 Dec 1878 in Logan county.
Christian and Barbara remained in Pennsylvania after most of their children moved west. Barbara died just before the 1850 census, when Christian was enumerated in Union township, Mifflin county, PA, with their daughter Barbara. They are buried in Locust Grove cemetery, in Belleville, Mifflin county, along with their son Isaac, at least a dozen Planks and several hundred Yoders.
Third generation
Samuel Plank (PK428), my great-great-grandfather, married Juliana Hertzler (HZ1114) 6 Mar 1830 in Pennsylvania. Juliana was born 9 Jun 1810 in Mifflin county and died 11 Apr 1879 in Logan county. Samuel and Juliana were a part of a great Mennonite migration to Logan county, Ohio, around 1845. They had the following children, the first 6 being born in Mifflin county and the remainder after arriving in Logan county:
Joseph C. Plank (PK4281), born 28 Aug 1831, died 3 Nov 1920 in Logan county.
David Plank (PK4282), born 15 May 1833, died 14 Oct 1912 in Logan county.
Leah Plank (PK4283), born about 1836, died 11 Mar 1876.
Elizabeth Plank (PK4284), born 17 Sep 1838, died 2 Feb 1895 in Logan county.
Magdalena Plank (PK4285), also known as Mattie or Martha, born 8 Aug 1840, died 13 Dec 1922 in Mifflin county.
Barbara Plank (PK4286), born 7 Oct 1842, died 28 Sept 1924 in Logan county.
Juliana Plank (PK4287), also known as Anna, born 25 Nov 1847, died 14 Apr 1925.
Samuel Washington Plank (PK4288), my great-grandfather, born 22 Feb 1850, died 22 Aug 1891 in Logan county. AAMG doesn't give a middle name, exact birth date, or death date for Samuel.
May Plank (PK4289), born 10 May 1852, died 10 Oct 1912 in Logan county.
From here on, our information is from sources other than the AAMG, which usually lists only those persons who born up to the 1850s.
This generation of Planks were very active in the Mennonite church. Page 525, History of Logan County, published in 1880 by O. L. Baskin, Chicago, under the history of Union Township, tells how the Ormish, a division of the Mennonite denomination, came to the area in about 1840:
They soon got strong enough to erect a church in Liberty township, which served until 1875, when the present building was erected on land given by D. D. Yoder... There are about 150 members, with Dan. F. Yoder as deacon, David Plank and Samuel Headings as local preachers, and John Weary as bishop...
The Planks, and related families, are also mentioned in Logan County, Ohio 1982, Volume One, A Collection of Historical Sketches and Family Histories Compiled by Members and Friends of the Logan County Genealogical Society, Bellefontaine, Ohio, pp 115-116, in its description of the South Union Mennonite Church:
The South Union Mennonite Church has its roots in an Amish settlement that began in the year 1840. The first to come were Peter and Charity Yoder from Wayne County, Ohio, who purchased a farm in the northern part of Union Township. A year later Daniel and Nancy Yoder came from Mifflin County, Pennsylvania.

In the next four years the families of Jacob Yoder, Daniel Yoder, Christian Yoder, David Yoder, John B. Yoder, John D. Yoder, Jonas Troyer, Joseph Kauffman, Jacob Hooley, Christian Kauffman, Joseph H. Kauffman, Samuel Plank and others arrived from Holmes County, Ohio, and Mifflin County, Pennsylvania...

David Plank was ordained to the ministry in 1859 while a young man. In 1863 with the consent of the congregation, he organized the first permanent Amish Mennonite Sunday School to be held in a meeting house...

David Plank was ordained as bishop in 1895. He served the congregation of Walnut Grove and South Union as minister and bishop for 52 years.
In 1850, the census taker found Samuel and Juliana (listed as Juliann) and their first seven children in Union township, Logan county, Ohio, where the value of their farm was greater than that of most of the other nearby properties. Samuel's obituary appeared on page 17 of the January 1879 issue of Herald of Truth:
Dec. 11th, very suddenly, near West Liberty, Logan co., Ohio, Bro. SAMUEL PLANK, aged 70 years, 4 mos. and 21 days. He was a deacon in the Amish Church about 30 years, which office he filled faithfully. Buried the 13th, in the presence of a large concourse of friends, acquaintances and neighbors. Appropriate remarks for the occasion were delivered by David Hartzler and Jonas Yoder in the German language and Pre. Howbert in the English. Text: Matt. 24:44. He was a kind neighbor an affectionate father, and an exemplary Christian. He lived in Mifflin and Lancaster Cos., Pa., until 1845; when he moved to Logan Co., Ohio, where he lived on the same farm until his death.
Juliana's obituary is from the Herald of Truth for May 1879, pp 96, 97:
April 11th, in Logan Co., Ohio, of typhoid fever, Sister JULIANA PLANK, aged 68 years, 9 months and 22 days. She was the widow of the late Deacon Samuel Plank, who preceded her in death only 4 months. She was buried on the 13th in the presence of an immense concourse of friends, neighbors and acquaintances. Remarks by S. Headings in the German language and by Jacob Frantz in English. Text: 2 Tim. 4: 7-8.

Mother Plank was a faithful member in the Amish Church, an affectionate mother and a kind neighbor. Sister Plank and her husband together, brought up in the nurture and admonition of the Lord, 9 children, 3 sons and 6 daughters, all of whom became members in the church. The oldest daughter preceded her mother in death 3 years and one month, 8 are still living to mourn their loss, but they mourn not as those who have no hope, as they may in faith and hope say,

Thus father and mother are gone home to dwell,
With the angels in heaven where all is well;
They are resting sweetly together above,
There beyond where all is peace, and joy, and love.
Fourth generation
Samuel Washington Plank (PK4288) married Elizabeth Wilhelm 6 Mar 1871 in Bellefontaine, Logan county, OH. Elizabeth was born 19 Dec 1852 in Warren, Michigan. She came from a German, but not Amish Mennonite, background. She had moved to Dayton, Ohio, with her family when she was three years old.
Samuel and Elizabeth had the following children, all born in Logan county:
Amanda Lucretia Plank, born 11 Feb 1872, died 22 Aug 1947 in Bellefontaine.
David Plank, born Jan 1873, died 20 Aug 1874 in Union township.
Mary E. Plank, born 20 Aug 1875, died 11 Oct 1877 in Union township.
Ida May Plank, born 3 Dec 1877, died 7 Feb 1880 in Union township.
Kathryn Alameda Plank, my grandmother, born 21 Jan 1882, died 21 Oct 1939 in Santa Monica, CA.
Artie Leona Plank, born 17 Jul 1888, died 18 Jul 1890 in West Liberty.
After Samuel W. Plank's death, Elizabeth married David D. Yoder (YRB185) (1830-1922). By my grandmother's generation many Planks had joined other churches. Grandma was a Lutheran, as was her mother.
The only one of grandma's five siblings who survived to adulthood was her sister Amanda Lucretia Plank (1872-1947), who married William Walter Lakin (1873-1942), 13 Nov 1895 in West Liberty, Logan county, Ohio. Here is a clipping describing Amanda and Bill's 40th wedding celebration: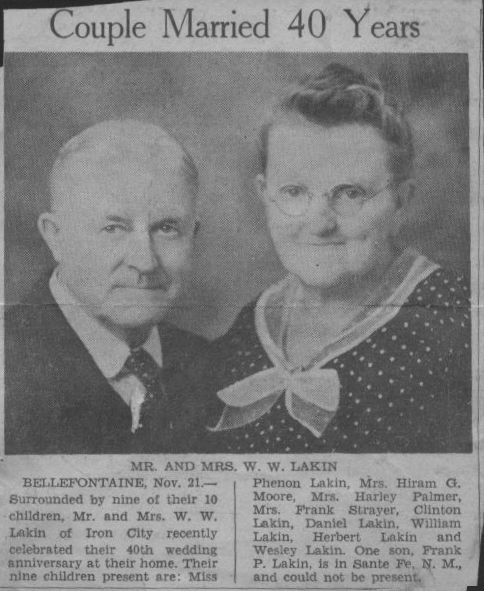 William and Amanda Lakin and nine of their ten children were enumerated in the 1920 census on West Liberty Pike in Iron City. Their daughter Gladys had just married Clarence Stultz and moved to Springfield, Ohio. Clarence died in 1926 and Gladys later married Harley Palmer. Iron City is now a part of the city of Bellefontaine. West Liberty is about seven miles south of Bellefontaine, OH. When my family visited Bellefontaine, in 1949 and 1953, most of grandmother's ten Lakin nieces and nephews were living there, and one of them showed me a typewritten document from which I copied an account of the Planks' coming to the New World. I felt it would be worthwhile to reproduce that account here, since it appears, with some variations, in several other places:
According to facts given by Father David Plank to General Robert P. Kennedy of Bellefontaine for his book, The Historical Review of Logan County, Melcher Blanck1 was born in either Germany or Switzerland, living there until manhood and marriage. Accompanying some friends on board a vessel bound for the New World, he was persuaded by the captain to remain on board over night. He had been told that the vessel would not start until the next day, but in the morning he found that they were far from land. He then realized that they had been kidnapped by so-called pirates.

On reaching Pennsylvania he was sold to a Mr. Morgan living in either Lancaster or Berks County to pay his passage. Mr. Morgan was a farmer by occupation and a member of the Mennonite Church.

According to the history, Melcher Blanck (Blanck was later changed to Planck and then to Plank) had a son, Christian Plank,4 a native of Berks County, Pa. Christian united in marriage with one Barbara Yoder, had a son, Samuel Plank,2 born July 20, 1808 in either Berks or Lancaster County, Pa.

Samuel Plank and his wife, Julianna Hartzler Plank, were engaged in agricultural pursuits in the Keystone State until the fall of 1845.

Born to Samuel Plank and his wife, Julianna, while still in Pennsylvania were the following children, respectively:

Joe,
Dave,
Mattie,
Elizabeth,
Barbara, and
Leah.

Samuel Plank came to Ohio, buying a farm in Union Township consisting of 140 acres on which he later brought his family to live. Joseph, the eldest son started ahead of his family on horseback to Ohio, but was overtaken by the covered wagons in which his family was riding.

Three children,

were born to Samuel and Julianna after moving to Ohio.7
The David Plank who was the source of this information is undoubtedly my great grandfather's older brother. We've transcribed his biography from Gen. Kennedy's history and, not coincidentally, it includes much the same story as you see above. The D. D. Yoder on whose land the Mennonite church was built was the same David D. Yoder (1830-1922) who was great-grandmother's second husband. The Yoder surname8 was at least as plentiful as Plank among Mennonites in PA and OH.
Many Planks lived in the West Liberty, OH, area over the years. This handbill was photocopied and sent to me by a fellow Plank researcher, Cathy Mere. Does anybody know anything about the annual Plank reunions? Have more reunions been held in recent times?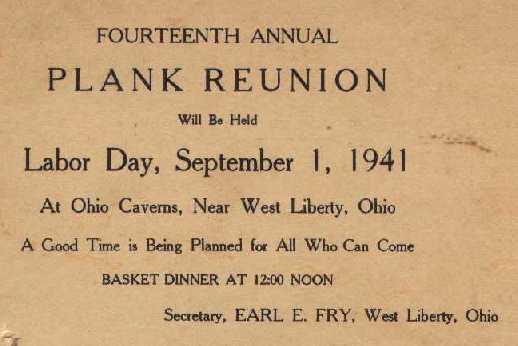 There is an excellent site, maintained by David Burton, which includes many Plank and Yoder individuals, at ancestry.com. His site is definitely worth visiting if you are researching any of these surnames in Berks or Mifflin counties.
Eddie Plank? One of the all-time great pitchers in baseball history was Eddie Plank (1875-1926) who won more than 300 games and pitched Connie Mack's Philadelphia Athletics into several World Series. Known as Gettysburg Eddie, due to his birth in Gettysburg, PA, this Plank doesn't seem to be any relation to my family. His parents, David and Martha, both born in 1849, aren't listed in AAMG. In fact, that very comprehensive book doesn't list any Planks in Adams county, PA, where Gettysburg is located.
---
1
My 4g-grandfather.
2
My great-great-grandfather.
3
Information on names and dates of children and spouses is based on information handed down within my family, mostly via cousin
Margie (Bowers) Calkins
, and also on Gingerich & Kreider's
Amish and Amish Mennonite Genealogies
(AAMG). AAMG is also the source of codes beginning with
PK
,
HZ
,
YR
, etc., which identify various individuals. My copy of AAMG is the original 1986 edition. There have been more recent reprints. If you have one of these later editions, please inform me if you detect any differences between what you see here and what you see in
your
copy of AAMG.
4
My 3g-grandfather.
5
This daughter was also known as
Anna
or
Julianna
.
6
My great-grandfather, Samuel Washington Plank (1850-1891).
7
This story was researched and many of its details corroborated in an article which appeared in 1984 in the
Pennsylvania Mennonite Heritage
magazine. That article is now available
elsewhere
in this Carey Family Album.
8
There is a very informative
article
on the
Yoders
in America, including a discussion of their migration westward through Mifflin county, at the Yoder Newsletter
web site
. If you are researching any of these interrelated Mennonite lines, you'll find the article worth reading.
This page was last updated 5 Jun 2013.