Amish ancestors – the Hertzler family
In this page, I will trace one of my Amish Mennonite lines, from an ancestor's arrival in the New World, down to the arrival of his descendants in Ohio, where I eventually met some of them – my father's cousins – in 1949. I will list the siblings of each of my own direct ancestors, as an aid to fellow researchers.
First generation
Jacob Hertzler (HZ)1 was my 6g-grandfather. The Hertzler surname often appears as Hartzler. Jacob was born in Switzerland about 1703. During the early 1700s, Amish Mennonites began migrating from Switzerland to North America. Many of them settled in Berks county, in the eastern part of Pennsylvania.
By 1740 the Amish had developed into their first organized congregation in the vicinity of Hamburg and by 1749 they had received their first pastor and leader from Switzerland, Bishop Jacob Hertzler (1703-1786), who had been ordained in Switzerland. The congregation was known as Northkill, having derived the name from a creek and a fort built of palisades in that community. In the assaults made (1754-1764) by the Delaware Indians in their desperate effort to reclaim the land, some of the Amish fell victim to the tomahawk in 1757. As a result most of the Amish from this area at the foot of the Blue Mountains moved to other parts of the county and province, and the Northkill congregation died out.2
Many of the Amish settlers moved on to what later became Mifflin county, in the center of the state:
Family names of early Amish settlers who came to Mifflin County from Lancaster, Berks, Chester, and Union counties were Yoder, Zook, Byler, Hooley, Hartzler, Peachey (Bitsche), Renno, and Kauffman.3
Jacob Hertzler's name appeared on the list of passengers on the St. Andrew for 9 Sep 1749. He was married twice, but the name of his first wife is unknown. They had the following children, both born in Europe:1
John Hertzler (HZ1), my 5g-grandfather, born 1728 or 1729, died April 1801 at Womelsdorf, Berks county, PA.
Catherine Hertzler (HZ2), born about 1731, died 1800 in Somerset county, PA. It is uncertain which wife was her mother.
Jacob's second wife was Catherine Ruegy (or Knegy), who was born in 1713 in Switzerland and died in 1773 or 1774 in Berks county, PA. They had the following children, all born in Europe:
Jacob Hertzler (HZ3), born 1733, died April 1795 in Berks county, PA.
Veronica Hertzler (HZ4), died 1819. "Position in family is uncertain."
Christian Hertzler (HZ5), born 1740, died 18 Feb 1817 in Mifflin county, PA.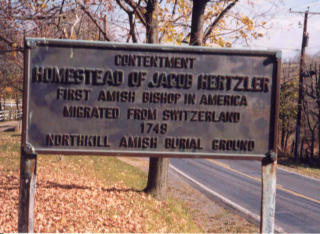 Jacob Hertzler died March 1786 in Berks county, PA, and is buried at Northkill. According to the Mennonite Church USA's Northkill Amish Settlement page, which was also the source of the photograph of the historical marker:
Seven miles east are two other memorials to the former Amish community--the homestead of Jacob Hertzler and the Northkill cemetery. A marker by the buildings names the property "Contentment." The well-preserved stone house and stone-gable barn are currently owned by a former New Jersey resident who welcomes visitors. If he's not too busy, he will invite visitors to sign his guest book.

The Northkill cemetery, and Jacob Hertzler's burial there, is documented at Find A Grave, but without any phograph of his grave. This tiny photo was taken from the Mennonite Church's page.
Second generation
John Hertzler (HZ1), my 5g-grandfather, married a woman named Veronica about 1755. There has been some difference of opinion about her surname. The information I had in my files says it is Reichenbach. AAMG says it is Yoder, but with a question mark, listing her among the children of "the widow Barbara Yoder whose husband died at sea... in 1742... on the way to America", a birth year for Veronica (YR19) of about 1736 in Europe, and a death year of 1806 in Mifflin county, perhaps in Belleville. AAMG, in note B(3) on page 492, states:
HGR24 and its footnote state that John Hertzler (son of *Jacob Hertzler5) was married to Veronica Reichenbach a daughter of John and Veronica Reichenbach of CBP,6 John Reichenbach on the ship of 9/29/1733. No trace of this John Reichenbach has been found, in CBP or elsewhere, and no other children have been attributed to this marriage in Amish annals. It has long been felt by genealogical researchers that this information is at best dubious since there is no supporting evidence and since the Amish Reichenbachs have all been accounted for and completely outlined by Amos L. Fisher in "The Diary" for Apr to Aug 1972. Thus it seems likely that HGR2 is mistaken and that John Hertzler's wife was Veronica Yoder — Barbara Shirk's sister.
John and Veronica had the following children, all born in Berks county, PA; all died in Mifflin county unless otherwise indicated:
John Hertzler (HZ11), my 4g-grandfather, born 17 Jan 1757, died 22 Mar 1836.
Barbara Hertzler (HZ12), died 23 Mar 1838 in Berks county.
Jacob Hertzler (HZ13), born 25 Jul 1764, died 1824.
Elizabeth Hertzler (HZ14), born 27 Jun 1766, died 6 Mar 1842 in Berks county.
David Hertzler (HZ15), born 26 Jan 1768, died 21 Oct 1855.
Christian Hertzler (HZ16), born Apr 1770, died 30 Aug 1826.
Veronica Hertzler (HZ17), born about 1772, died by 1828.
Catherine Hertzler (HZ18), born about 1776, died ?.
Third generation
John Hertzler (HZ11), my 4g-grandfather, married Anna Rickenbach (RB33). Anna was born 14 Jan 1760 in Berks county and died 19 Apr 1832 in Mifflin county. My family history files listed John's wife as Ulrica Reichenbach, but according to AAMG:
That John Hertzler's wife was Anna Rickenbach and not Ulrica Reichenbach as given in HGR34 is shown by deeds of 5/7/1785 CBP and 6/8/1789 CBP and a release 4/24/1792-8/30/1793 in the estate of John Rickenbach.
John and Anna had the following children, the first 8 born in Berks county, and the last 4 in Mifflin county.
Jacob Hertzler (HZ111), my 3g-grandfather, born 14 July 1780, died 2 Jan 1832 in Mifflin county.
Sarah Hertzler (HZ112), born 27 Oct 1781, died Sep 1805, in Huntingdon county, PA.
Mary Hertzler (HZ113), born 25 May 1783, died 1859 in McLean county, IL.
Catherine Hertzler (HZ114), born 31 Dec 1784, died ? in Mifflin county.
David Hertzler (HZ115), born 4 Jun 1786, died May 1857 in Mifflin county.
Elizabeth Hertzler (HZ116), born 14 Apr 1788, died 1805 in Mifflin county.
Rebeca Hertzler (HZ117), born 28 Aug 1789, died 14 May 1854 in Union county, PA.
John Hertzler (HZ118), born 31 May 1791, died 27 Apr 1853 in Wayne county, OH.
Christian Hertzler (HZ119), born 29 Apr 1793, died 7 Jul 1870 in Mifflin county.
Joseph Hertzler (HZ11a), born 15 Jul 1795, died 8 Mar 1874 in Wayne county, OH.
Anna Hertzler (HZ11b), born 14 Jul 1800, died 31 Mar 1877 in Mifflin county.
Jonathan Hertzler (HZ11c), born 3 Nov 1803, died 26 Jun 1890 in St. Joseph county, MI.
Fourth generation
Jacob Hertzler (HZ111), my 3g-grandfather, married Christina Kauffman (KF431). Christina was born in Berks county 15 Feb 1783 and died 26 Feb 1871 in Mifflin county. They had the following children, the first 3 of whom were born in Berks county and the remainder in Mifflin county; all of them died in Mifflin county, unless otherwise indicated:
Leah Hertzler (HZ1111), born 8 Feb 1806, died 17 Sep 1877.
David Hertzler (HZ1112), born 30 Jul 1807, died 20 Oct 1879.
Joshua Hertzler (HZ1113), born 29 Sep 1808, died 1 May 1880 in Logan county, OH.
Juliana Hertzler (HZ1114), my great-great-grandmother, born 9 Jun 1810, died 11 Apr 1879 in Logan county, OH.
Miriam Hertzler (HZ1115), born 16 Apr 1812, died 11 Mar 1850.
Sarah Hertzler (HZ1116), born 4 Aug 1814, died 18 Jul 1848.
Abigail Hertzler (HZ1117), born 23 Aug 1816, died 19 Apr 1903 in Buffalo county, NE.
Nicholas Hertzler (HZ1118), born 21 Mar 1819, died 8 Jun 1902.
Timnah Hertzler (HZ1119) (a female), born 22 Feb 1822, died 28 Apr 1886.
Jacob Hertzler (HZ111a), born 6 Apr 1824, died 3 July 1897.
Fifth generation
Juliana Hertzler (HZ1114), my great-great-grandmother, married Samuel Plank (PK428) 6 Mar 1830 in Pennsylvania. Please see our Plank page for their descendants.
---
1
Information on names and dates of children and spouses is based on information handed down within my family, mostly via cousin
Margie (Bowers) Calkins
, and also on Gingerich & Kreider's
Amish and Amish Mennonite Genealogies
(AAMG). AAMG is also the source of codes beginning with
HZ
,
YR
, etc., which identify various individuals. My copy of AAMG is the original 1986 edition. There have been more recent reprints. If you have one of these later editions, please inform me if you detect any differences between what you see here and what you see in
your
copy of AAMG.
2
From:
Global Anabaptist Mennonite Encyclopedia Online (GAMEO) | Berks County (Pennsylvania, USA)
3
From:
GAMEO | Mifflin County (Pennsylvania, USA)
4
HGR
refers to Hertzler, John,
Brief Biographical Memorial of Jacob Hertzler and a Complete Family Register
, 1885. The
2
or
3
may be a page number within that work.
5
In AAMG, an asterisk before a man's name identifies a bishop or elder.
6
CBP
is AAMG's abbeviation for Caernarvon township, in Berks county, PA.
This page was last updated 20 Aug 2011.