John W. and Ann Clark
John Winans Clark was a brother of my g-g-g-grandmother, Phebe (Clark) Carey. He is said to have been born in Basking Ridge, Somerset county, New Jersey, 17 Jan 1779. He was a part of the westward migration of Clarks and related families from New Jersey, through Kentucky, to Ohio's Miami valley, then on to Illinois. He married Ann "Nancy" Isgrig 15 Feb 1805 in Paris, Bourbon county, KY. Ann was born 27 Jan 1783 in Joppa, Baltimore county, Maryland.
Nancy Isgrig was the daughter of Daniel and Margaret Cole (or Coles) Isgrig. Their name also appears as Isgrigg. Robert D. Clark's letter of 25 Sep 1922 to Major Ira Winans establishes her "real" first name as Ann, rather than Nancy which some sources give.
In his letter of 17 Oct 1914, to Major Ira Winans, descendant Albert Clark states:
Grandfather John W. Clark was born in or near Rahway, N.J. and emigrated to Kentucky where he married and about 1807 moved to Ohio, near Piqua, where they resided till 1837, when they moved to Sangamon Co., Ill., and settled at Hurricane Point (now Chestnut) where they remained and died.
John and Nancy had the following children:
Hannah Isgrig Clark, born 25 Nov 1805 in Bourbon county, KY. Hannah was married 11 Mar 1825 in Miami county, OH, to Asa French. She died 23 Nov 1866 in Chester, Logan county,IL, and is buried in Downing cemetery.
Margaret Ann Clark, born 25 Jan 1808 in Bourbon county. Margaret was married Apr 1829 to Rev. Richard Winans Clark. She died 21 Dec 18671 in Logan county.
David Ward Clark, born 30 Sep 18092 in Bourbon county. David was married 7 Jul 1831 in Miami county to Hannah Stought. He died 3 Feb 1892 in Mt. Pulaski, Logan county, IL, and is buried in Mt. Pulaski cemetery.
Daniel Isgrig Clark, born 8 Mar 1812 in Miami county. Daniel was married 23 Dec 1838 in Illinois to Eliza Lowery. He died 31 Jul 1888 in Logan county, and is buried in Laenna cemetery.3
Phoebe Clark,4 born 1 Apr 1814 in Bourbon county. Phoebe was married:

7 Feb 1833, in Ohio to David Brooks,
in 1846, to Samuel Dement.

She died 4 Mar 1892.
Nancy Clark, born 17 Mar 1816 in Miami county. Died 7 Sep 18195 Miami county, OH.
Isaac T. Clark, born 24 Oct 1818 in Miami county. Isaac was married 27 Apr 1853 to Emma Jewel. He died 27 Jan 1872 in Logan county and is buried in Laenna cemetery.
Sarah Winans Clark,6 born 28 Mar 1820 in Miami county. Sarah was married 13 Jul 1843 to Norman Norton. She died 2 Feb 1908 in Logan county.
Mary F. Clark, born 15 Sep 1822 in Miami county. Mary was married:

3 Aug 1843, to Robert Kenny,
28 Jan 1847, to Marquis Candy.

She died 3 Mar 1887 in Hays county, Nebraska.
John died 5 Mar 18597 in Yankeetown, Logan county, IL, and is buried in Laenna Cemetery, along with Nancy, who died 8 Dec 1867 in Yankeetown.
Most of the information on this page was provided by my Illinois Clark cousin, Lyle Black. The birthplaces of John and Ann's children are in agreement with what appears in the 1850 census.
Another cousin,Cheryl Rothwell, who has her own J. W. Clark page, reports that John Winans Clark was a veteran of the War of 1812, providing these file cards which document his service in the 3rd Kentucky Mounted Volunteers: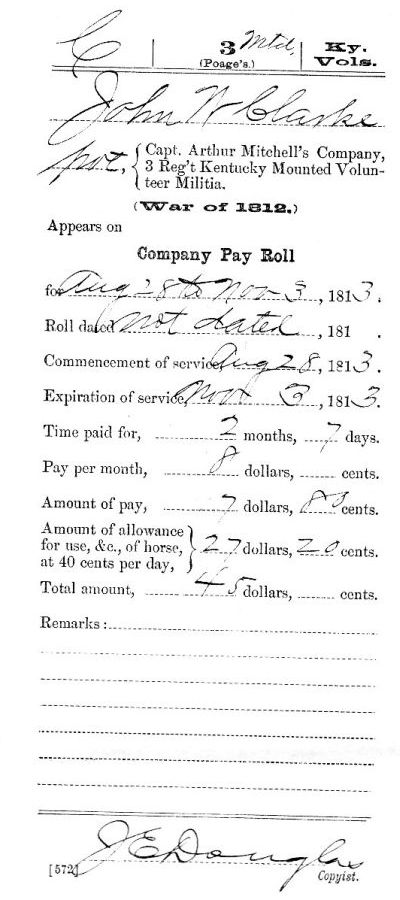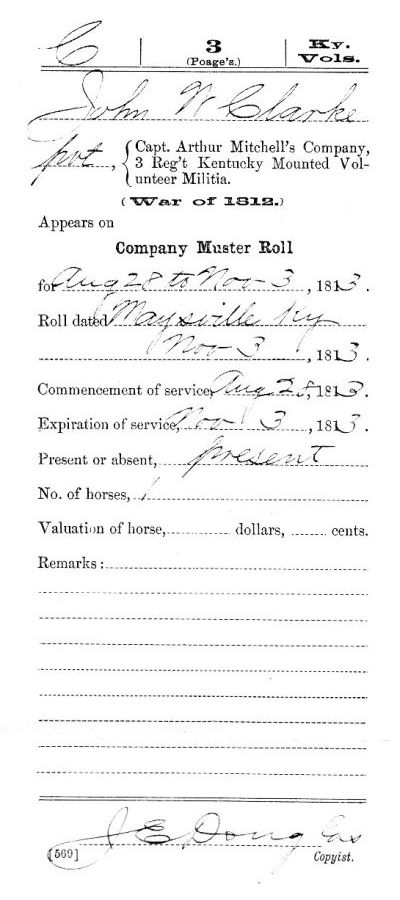 John's tombstone will soon include a plaque provided by the National Society U. S. Daughters of 1812: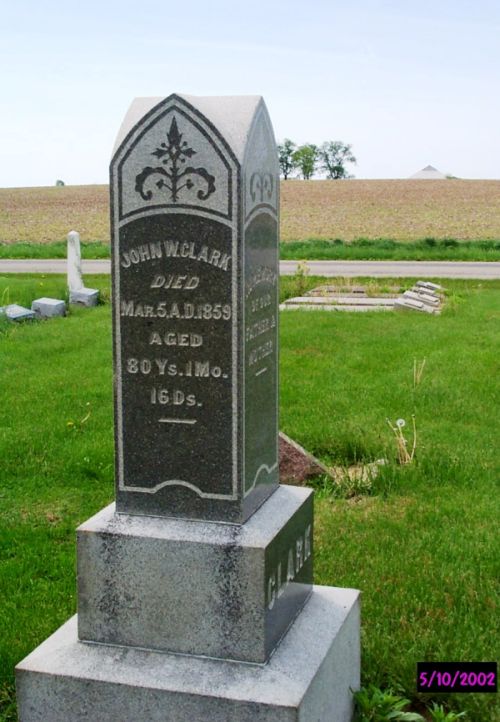 ---
1850 census. John and Ann's extended family stayed nearby, at least for a few years. In the 1850 U. S. census records for Logan county, we found the following entries within a few pages of each other:
---
1
Lyle says Margaret "may have died 12/21/1863."
2
In his 1922 letter, David's son Robert mentions:
Abraham Lincoln was born 1809 also. He and my father were good friends. My father used to help him when he was surveying in Menard Co., Ill., and he went to my father's house for dinner at least on one occasion. That was before my time however, but I have seen Lincoln several times, in fact quite often. He used to plead cases in the building which is now our P. O. It was then the county court house.
David's birth date appears as 30
Apr
1809 in some records. Cheryl Rothwell has verified that 30
Sep
is carved on his tombstone. This date also may be calculated from his funeral card:
Died at his home in Mt. Pulaski, Ill., at 6:40 a.m., Wednesday, February 3, 1892.
D. W. CLARK,
Aged 82 years, 4 months and 3 days. Funeral services will be conducted by Elder L. M. Robinson at the Christian church. at 1 p.m., Thursday, 4th, inst. Interment in Mt. Pulaski cemetery. All friends are respectfully invited to attend.
3
Burial information on John W. Clark and many other Clarks who are buried in this cemetery can be found at the
Logan county ILGenWeb site
.
4
Lyle writes:
Phebe Clark was a cousin of David Brooks' mother, who was Sarah Clark and a daughter of James Clark. She [Sarah] married Clarkson Freeman Brooks, who built the Brooks Mill north of Yankeetown on Salt Creek.
5
Lyle says Nancy "may have died 9/7/1817."
6
Lyle says Sarah was called "Aunt Jane".
7
John's death date appears in some places as
1850
. I am using here the date given in Ira Winans' notes and in correspondence with Lyle.
This page was last updated 27 Mar 2009.