William Perry
This page isn't complete yet. Work is in progress on incorporating numerous messages from our Perry cousins into its data.
William Perry "senior" was an older brother of my great-great-grandfather, John Perry. He was one of the many Perry family members who remained in Pennsylvania after John and his family moved to Ohio in about 1845. His biography appeared on page 976 of the History of Venango County, Pa., published in 1890:
WILLIAM PERRY, eldest son of Moses and Sarah Perry, was born near Harrisburg, Pennsylvania, in January 1792;1 he came to Venango county with his parents before the dawn of the present century and spent the remainder of his life in Scrubgrass township. He was twice married, first to a daughter of James Anderson,2 who died without issue; as his second wife he married Elizabeth Craig, a daughter of James Craig. They were the parents of nine children, seven of whom, four sons and three daughters, grew to maturity; only two of these are now living: Mrs. Norman [Sarah] Patterson and Mrs. R. K. [Jane] McBride.

Mr. Perry was a man of recognized ability, and a prominent figure in local public affairs fifty years ago. In 1838 he was elected on the Democratic ticket county commissioner, and several years afterward he represented Venango county in the legislature. He was a substantial, well informed man, and is still kindly remembered by a large circle of friends. He died upon his farm in Scrubgrass township April 29, 1877,1 in his eighty-sixth year. His son, William Perry, Jr., survived him ten years and died on the old homestead, now the property of Miss Elizabeth Riddle, June 21, 1887.
William Perry's obituary appeared in the Venango Spectator's 16 May 1878 issue:
PERRY, William, died in Scrubgrass township, April 27, 1878,1 in the 85th year of his age. In 1847 Mr. Perry represented the then Assembly District including Venango county, and was previous to that time a member of the board of County Commissioners.
William junior's obituary appeared in the 30 June 1887 issue of the same newspaper:
PERRY, William of Scrubgrass township, died on the 21st instant. Mr. Perry was a son of William Perry, who represented this district in the Legislature many years ago, and was the last of 4 sons. The deceased was in his 53rd year and unmarried. His farm, the old homestead of his father, is one of the finest in the county. His remains were interred in the Clintonville cemetery.
Yet another Spectator obituary, from the 14 Dec 1864 issue, seems to identify another of William and Elizabeth's sons:
PERRY, Mr. T. B., died on the 4th inst., in Scrubgrass tp., son of Wm. Perry, aged 23 years.
This son is possibly the Benton Perry, who is listed in the 1850 and 1860 censuses. All three of the above obituaries were provided by Kelly Marshall.
According to information developed by our fellow Perry researchers, William Perry is buried at East Unity Presbyterian Church, in neighboring Allegheny township, Butler county, PA. His second wife Elizabeth died 23 Apr 1851.1
William's daughter Sarah is buried along with her husband Norman Patterson in Slippery Rock cemetery, near Centerville, just off route 108 in Butler county. Mary Pierotti has visited this cemetery, taken pictures of tombstones and compiled an excellent study of Norman and Sarah's descendants and Norman's ancestors. Sarah Perry Patterson's gravestone is inscribed "1831-1922", and Norman's "1827-1898". Quite a few other Pattersons are buried nearby.
According to Mary Pierotti's study, Sarah and Norman had the following children:
Benton P. Patterson, born about 1864.
Mary A. Patterson, born 1866, died 1953.
William James Patterson, born 1867, died 1904.
Clara Patterson, born 1870, died in infancy.
Elizabeth J. Patterson, born 1870, died 1905.
Eleanor "Etta" Patterson, born 1873, died 1944.
If you're researching this family, we highly recommend contacting Mary for further details.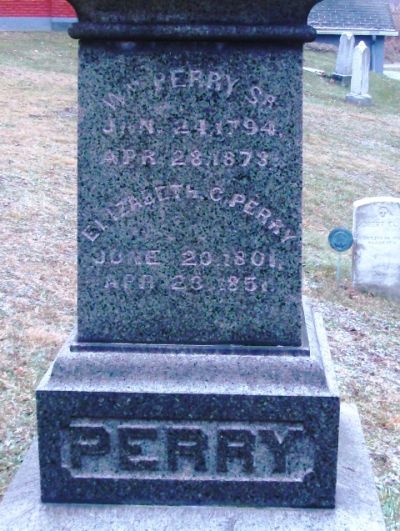 ---
1
The 1792 birth date is probably in error. Our information via Perry family sources gives 24 Jan 1794, which agrees, sort of, with William's
1850
and
1860
census data. William and Elizabeth's grave at East Unity was photographed (see above) December 2008 by
Kelly Marshall
. William's dates are clearly legible as
JAN 24 1794-APR 28 1873
, however the last digit of Elizabeth's death date is illegible.
2
The
Venango county genealogy web site
, which has brief biographical sketches of many early settlers, identifies William Perry's first wife as
Nancy Anderson
. It also agrees with this biography on the identity of his second wife. There are several mentions of Norman Patterson in the Slippery Rock township chapter (42) of the
History of Butler County Pennsylvania, 1883
, available online at the
Butler county RootsWeb site
.
This page was last updated 13 Dec 2008.