Earl Perry
One of the first things I learned when I started to do research into our Perry line was that John L. Perry and many of his family members had moved to southern California around the turn of the 20th century to work in the then-booming oil fields. Several of his sons and grandsons followed careers in the oil industry all their lives, which took them to such exotic locations as Tampico and Bakersfield.
It wasn't until much later in my Perry research that I discovered that some Perry kin who stayed behind in Pennsylvania also got involved in oil. Was it coincidental that the first commercial oil well in the United States was drilled in Venango county, PA? This was where Moses Perry settled before 1800, and where several of his children and siblings remained after his son John and his family floated down the river to Ohio in the 1840s.
When a fellow Perry researcher, George Teslik, sent me this clipping, I was fascinated by the story of Earl Perry's miniature oil field. George writes that his wife, Grace (Perry) Teslik, says that "each Christmas when she was growing up the living room was closed off to all children as her Dad, Ralph Guy Perry [1899-1968], and his brother Earl played the elves as they erected the Christmas decorations. A miniature, working oil field was constructed surrounding the tree. I think it was a smaller version of the one described in attached..."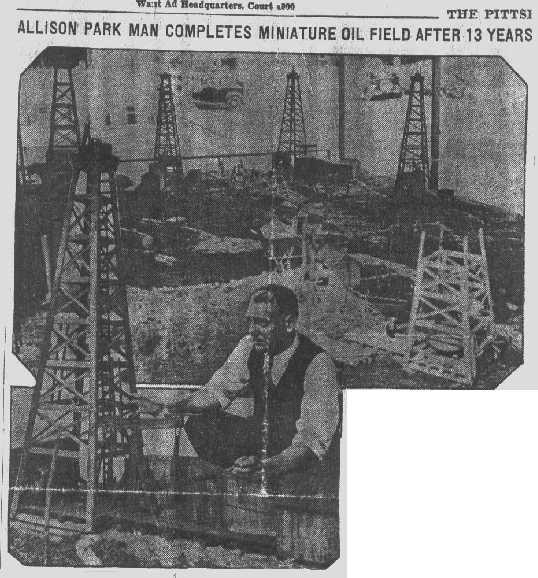 General view of the miniature oil field and a close-up of one of the derricks and Earl Perry, owner and builder.
The article which accompanies the photo reads:
LAYOUT COVERS 20 SQUARE FEET

Derricks, Drills, Tanks, Cars All Accurately Reproduced

Five derricks working their drills up and down . . . tanks of crude oil . . . trucks . . . tank cars . . . pipe lines . . . telegraph wires . . . a complete oil field in operation.

This layout, owned by Earl Perry of Allison Park, however, is done in miniature, covering less than 20 square feet on the parking lot of the Sears, Roebuck and Company, East Liberty.

For 13 years, Mr. Perry spent his odd moments welding the minute pieces of machinery, fashioning the valves and pistons, riveting the boilers, building the oil truck and tank cars, and carving materials for the derricks and the set of farm buildings.

Mr. Perry, who spent 10 years in the oil fields of Pennsylvania, West Virginia and Oklahoma, said his field is the smallest in the world.
This page was last updated 21 Apr 2003.