Maggie Logan
The pages of this Carey Family Album include the complete transcription of a book which traces some of our Scots-Irish ancestors from their arrival, in mid-18th Century, in the Shenandoah valley of Virginia down to our grandmother's generation, in the early 20th Century:
Irvins, Doaks, Logans and McCampbells of Kentucky and Virginia, by Sarah Margaret (Logan) Morris.
The author of the book modestly wrote next to nothing about her own life story. She gives herself the briefest mention among her siblings near the bottom of page 70 of her book. Until September 2008, that was all I knew about "Maggie" Morris. Then I was contacted by Thelma Teasley Rhoades, who has been kind enough to share the information she had on Maggie, who was her grandmother's aunt. Thelma sent me the documents and pictures you see in this page, including a copy of Maggie's obituary, which she found pasted in a scrapbook. It is yellow with age, but still quite legible. It has a pencilled notation, "died Sept 27 1932" on it:
Mrs. Maggie Logan Gibson Succumbs To Prolonged Illness

Genealogist, Artist, Historian -- Former Superintendent of Cornelia Memorial Orphans' Home

Shortly after four o'clock Tuesday morning the spirit of Mrs. Maggie Gibson took its flight into the Great Beyond, having passed her eighty-third year. The deceased passed away after more than three months' illness during which she suffered intensely.

Funeral rites for the deceased will be held Thursday afternoon at two o'clock at the Corydon Presbyterian church conducted by the pastor, Rev. Wilbur Hoffer, with burial to Cedar Hill cemetery. Music will be by the church choir. Pallbearers will be E. S. Bulleit, Guy Bulleit, F. A. Bulleit, V. J. Bulleit, Joe Bender and Arthur R. Richert.

Sarah Margaret Logan was born June 21, 1849 in Lincoln county, Missouri, being one of a family of twelve children of Robert Reynolds Logan and Elizabeth Eleanor Irvin Logan. Her parents went West from Shelbyville, Ky. When a young girl about seventeen she returned to Indiana to attend school and spent the greater portion of her life here at Corydon with her uncle, the late Dr. James D. Irvin.

It was on December 18, 1883 that she became the bride of Henry Maurice Morris, that union being dissolved June 26, 1895, when he was accidentally killed in a glass factory at Alexandria where he had employment, and where they were residing. Twenty five years later, on November 4, 1920, she was united in marriage to Robert Gibson, he having preceded her in death on June 1st, 1926. They resided during their married life at Corydon. Since that time she had made her home with her sister, Mrs. Ella Logan Bulleit, where she died.

Besides Mrs. Bulleit, the deceased is survived by three brothers, two sisters and a half sister, Robert Irvin Logan, Troy, Mo.; Rev. Wm. Bryson Logan, Eldorado Springs, Mo.; Rev. Preston Breckenridge Logan, Farrell, Penn.; Mrs. Olivia Dodson, Troy, Mo., and Mrs. Martha J. Wood, Sadler, Texas.

Mrs. Gibson was an active member of the W. C. T. U. and of Hoosier Elm Chapter Daughters American Revolution. She was at the time of her death and for some time previous chapter historian and had served the chapter as regent at one time during her membership covering a period of twenty-two years. For nine years she was superintendent of the Cornelia Memorial Orphans Home in New Albany and many of the children who came under her care learned to love her and continued that relation until her death. She had no children, but adopted and reared one girl, Isabelle Boothe, who married and died a few years ago.

Mrs. Gibson was a member of the Presbyterian church from early girlhood and lived each day an active Christian life being an invluence for good wherever she labored. She was never idle. She was a student and a writer. Some years ago she gathered and compiled into book form a history of her family which is a large volume. She did considerable genealogical and historical research work and was honored this year by having her name included in the list of the leading active genealogical researchers of the Untied States in the "Handbook of American Genealogy" recently issued by the American Genealogy Institute of Chicago, thus giving her recognition in not only the U. S. but in sixteen foreign countries. In her early youth she showed a talent in art and her picture of the Old State Capitol has for many years hung on the walls of the State Library in the State House of Indianapolis. A crayon portrait of Col. Thos. B. Posey and also one of her uncle Dr. James D. Irvin, both former Worshipful Masters of Pisgah Lodge, F. & A. M., hang in the Masonic Temple at this place.

Mrs. Gibson was kind and sympathetic, being a lover of nature. She was young in mind and spirit, retaining those qualities to the end. She was highly esteemed by all and will be greatly missed from her circles.
After Maggie's death, her brother Robert wrote this letter to their niece (Thelma's grandmother):
Corydon, Ind. October 5th 1932

Mrs. William Jefferson
Troy, Missouri

Dear Sister:-

Our dear sister Maggie passed away on Sep. 27th, 1932 at 4 o'clock a. m. aged 83 yrs 3 mo - 6 days. She began to sink at 12 o'clock (midnight) and her breathing became shorter each moment until death came quietly and without a struggle as if she went to sleep as in a natural state of health. She suffered intensely for nearly 24 hours before she became as we thought better, and as she usually went to sleep as soon as she became quiet we thought she would sleep until daylight, but instead her spirt took its flight into the untried realities of the eternal existence. She is enjoying the rest that is sweet and refreshing to the weary and toil worn pilgrim who seeks a heavenly country. She departed and is a citizen of that celestial city whose architect and builder is God where mansions await his redeemed children, where sickness and sorrow and tears are not known. And there shall be no night there and they will need no candle neither light of the sun for the Lord God giveth them light and they shall reign forever and ever.

In her delirious times (which were almost continuous) she seemed to be in great distress and would beg for some one to help her. She called on us individaully to please help. Her mind reverted back to childhood days and she would call for Father and then for Mother, and then for our half sister, Ann Eliza, then as if she thought we did not care, in despair she would say, "If my Mother was here she would help me." It was a pathetic situation and a grief to us because we could not help. We did all that human hands could do.

The funeral service was held at the Presbyterian church here at 2 o'clock p. m. by Rev. Wilber Huffer. The service was beautiful and appropriate and a display of natural flowers was given by friends and neighbors in token of friendship and sympathy. Brook was the only one of the family that could come. Some cousins of the Seward family were here. The hymns sung were: Wonderful Place, No Night there, Abide With Me and Holy Spirit Faithful Guide. I will not be home till next spring. Will write more parts on loss later.

Your uncle Robert
The following undated article appeared in a Corydon newspaper near the end of Maggie's life:
Corydon Genealogist Honored

Mrs. Margaret Gibson, of Corydon, who has won local recognition for her work in genealogical and historical research, has been honored by being included in the list of the leading active genealogical researchers in the United States, in "The Handbook of American Genealogy" recently issued by the Institute of American Genealogy of Chicago.

Recognition in this field affords access to the extensive lineage files of the National Clearing House for Genealogical Information, as well as professional contact with genealogists in 1,331 counties throughout the United States and in 16 foreign countries, which will enable her to expand the scope of her work very materially.

It will be of interest to the members and prospective members, and especially to the registrars of the Daughters of the American Revolution, Colonial Dames, and other hereditary-patriotic societies to learn that a local resident has formed these international contacts, because they will make possible the necessary genealogical research to qualify for membership without outside aid.
Thelma also sent me the pictures below. She writes,
I believe Maggie Logan Morris was my Grandmother Ann Elizabeth Hopkins Jefferson's Aunt. I have a lot of VERY old pictures that my Grandmother had. She was born in 1874. She referred to her as Aunt Maggie. I also have a few corrections entered in the book I have by others (perhaps my Grandmother) who was a remarkable lady in her own right.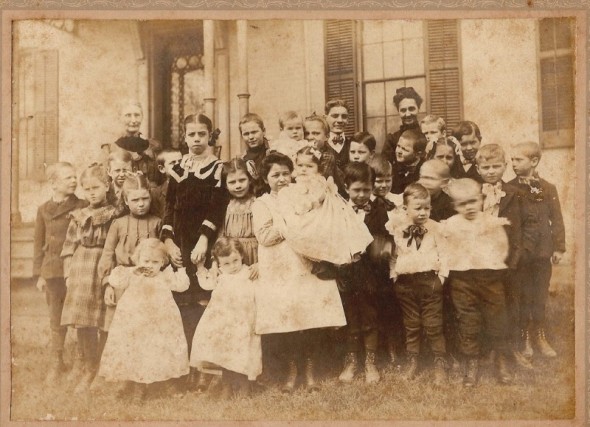 Thelma's grandmother wrote on the back of this picture that it was of Maggie with the children at the orphans home. That looks like Maggie standing in the left rear part of the photo.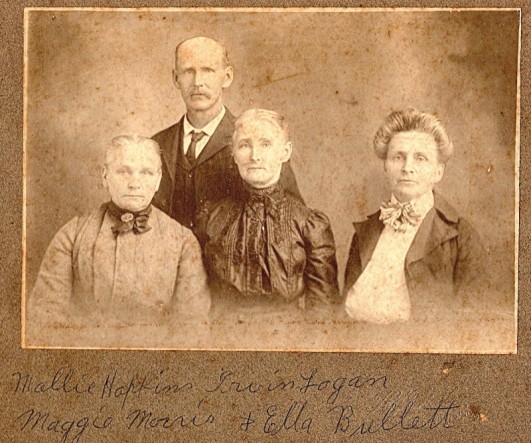 The Logan siblings, who are identified on the frame at the bottom as:

Mollie Hopkins [Mary Louisa (Logan) Hopkins]
Irvin Logan [Robert Irvin Logan]
Maggie Morris [Sarah Margaret (Logan) Morris]
Ella Bullett [Amantha Eleanor (Logan) Bulleit]
This page was last updated 18 Dec 2008.