WARNING! All rights reserved! The information on this page may not be copied, reproduced or published without the written permission of Mac Elliott. You are welcome to link TO this page from your own page. Please be aware that some of the information here is SPECULATIVE and is subject to change. Your corrections and comments are always welcome.
This is only a summary of the information available at the DNA Project site; it is possible I've confused the data of one Abraham Helton with another, or that there's more than one Arnold Helton.
0
Many of the people mentioned in this page are buried in Gilgal Cemetery. We've flagged, with a
0
footnote, those whose names we found in the
Gilgal burials list
provided by the INGenWeb's Lawrence county site.
1
Another researcher,
Judy Porter
, suggests that there may be more than one Arnold Helton in the early days of Lawrence county:
I believe the Arnold Helton who married Sarah Johnston (or Johnson) in Monroe co. in 1825 to be another Arnold Helton other than the one in Lawr. co. and buried in Gilgal, possibly a son of John Henry Helton, who was a brother to our Arnold.

There was a Sarah Helton who married Joshua Hendrickson in Monroe co. in 1833. This could be the same Sarah Johnston Helton. She was age 31 (born abt. 1801) when she married Joshua. They are listed on 1850 Monroe co. census. Maybe this Arnold Helton who she married in 1825 had died before her 1833 marriage.
We believe the
John Henry Helton
mentioned by Judy to be the same person as the
Henry Helton
of
Madge Peters
'
story
.
The Indiana marriage index lists a marriage between
Sarah Helton
and
Joshua Hendrickson
21 Jan 1833 in Monroe county. In the 1850 census, a 73-year-old Joshua and a 48-year-old Sarah Hendrickson are listed in Marion township, at the far end of Monroe county. I don't know whether this Sarah is related to my own Helton ancestors and doubt that she is the same Sarah as married Arnold in 1825, died in 1827 and is buried next to him at Gilgal.
There are several persons named
Sarah Helton
and
Arnold Helton
in southern Indiana at this time. We welcome your input on these subjects!
2
Chapter 3 of the
History of Lawrence and Monroe Counties, Indiana
, Indianapolis, Ind., B.F. Bowen & Co., 1914, available at the
Lawrence county GenWeb site
, gives a list of the earliest settlers in Pleasant Run township, which indludes several familiar names:
PLEASANT RUN TOWNSHIP

The northeast corner of Lawrence county is the location of Pleasant Run township, and it was created when the county was organized in 1818... Back, Leatherwood, Little Salt and Pleasant creeks cross the township, and from the latter the name is derived. In the list of Lawrence county townships Pleasant Run had the fewest settlers until 1829, having but twenty-three land entries, as follows: Jesse Gilstrap, 1820; William Clark, 1820; Adam Helton, 1820; William J. Anderson, 1818; Arnold Helton, 1818; F. Terrill 1820; Heirs of Abraham Martin, 1820; Rene Julin, 1818; R. Brooks. 1820; Samuel Gwathney, 1820; Joseph Dayton, 1816; Joseph Trimble, 1820; E. Parr, 1820; Edmund Garrison, 1820; James Mundell. 1816; John McClellan, 1820; David McKinney, 1816; Edward Moore, 1820; Cuthbert and Thomas Bullitt, 1820; Vana Wilson, 1817; Jacob Woolery 1820; Edward Tewell, 1820; and John N. Nichols, 1817.
The following map shows Pleaant Run township. Gilgal cemetery is located beneath the letters "NT" of "PLEASANT RUN". The dashed line across the map indicates the southern boundary of national forest lands.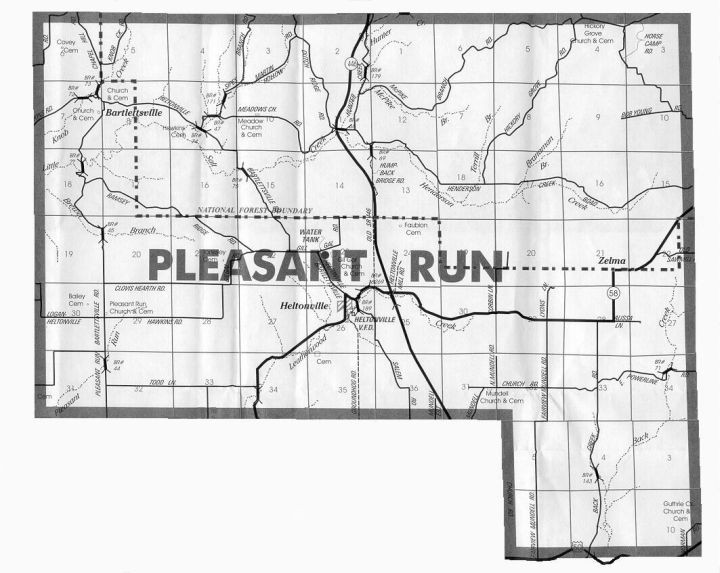 Among only
684
households in Lawrence county, Indiana, for the 1820 census we find the following
20
heads of household who are either mentioned above or who have the same surnames:
Name
Males
Females
0-9
10-15
16-18
16-25
26-44
45+
0-9
10-15
16-25
26-44
45+
Page 127:
Thos. Clark
1
1
Henry Clark
1
1
1
Page 130:
Peter Stephenson
1
1
2
1
Page 131:
John Henderson
1
1
1
1
1
1
1
Page 139:
Jacob Woolery
1
1
5
1
1
Page 140:
Edmond Tarrill
2
1
1
1
2
1
Arnold Helton
4
1
1
2
1
1
1
1
1
Jeremiah Henderson
3
1
1
1
2
1
1
1
William Clark
3
1
1
1
Alexander Bails
1
1
1
1
2
2
1
William Bails
1
1
1
1
Thos. Todd
1
1
1
Page 141:
Elizabeth Todd
1
2
1
George Todd
3
2
1
1
1
Page 144:
Michael Woollery
2
1
1
1
4
2
1
William Terrel
1
1
Page 146:
Nancy Terrel
1
2
1
1
Page 147:
John Terrel
1
1
1
Page 149:
Daniel Henderson
3
1
1
2
1
Page 151:
Alexander Clark
1
1
1
Jacob Woolery is identified by some transcribers as
Jacob Wooley
, Arnold Helton as
Arnold Hilton
, William Terrel as
William Turet
. There are also at least 8
Johnson
households and a number of names which are totally illegible.
3
There are are several contradictions between, or questions raised by, these dates...
If Polly's birth date, and her parents' marriage date, are both correct, she was born three years before their marriage. Polly's descendant, Jackie Hough, supplied her death certificate, which lists this birth date on the back. Mac Elliott had also noticed the contradiction and guessed that Polly was born "about 1825". The 1824 marriage date is taken from the Indiana marriage data base.
Mac had given us a range of "1804/1810" for Celia's birth. 1810 would be extremely unlikely if Polly was born in 1821! While we don't put great faith in ages found in census records, Celia was listed as 56 years old in 1860, which lends credence to the earlier date.
Jackie supplied the following obituary for Polly Helton Clark, which appeared in the
Bedford Weekly Mail
14 Nov 1902. She also noted the erroneous age and date of her death, as well as the error in the recency of her husband's death (she also supplied a copy of James' death certificate), and informed us that Polly and James are both buried in Gilgal cemetery...
Mrs. Polly Clark, 70 years old, died last night at her home near the Monroe and Lawrence county line of pneumonia. She was born in Kentucky but had resided in this State for 50 years. Her husband died three years ago. She leaves five children as follows: A. J. Clark, W. J. Clark, Doc Clark, Mrs. Celia Clampitt, Mrs. Rebecca Mitchell. The funeral was held this afternoon - Bloomington World.
I came across the following biography of Polly's son
Andrew J. Clark
at the Indiana Biographies site's
Pleasant Run township page
:
ANDREW J. CLARK, a progressive farmer and large land owner of Pleasant Run Township, was born May 30, 1844, in Lawrence County, Ind., and is the second son in a family of nine children born to James and Mary (Helton) Clark, who were natives of Kentucky and Indiana respectively. Andrew J. secured only a common school education and when rebellion was threatening to overthrow our country, he went to the front and although yet a boy did effective service in his country's cause as a member of Company G, Fiftieth Regiment Indiana Volunteer Infantry. Early in 1861 was the date of his enlistment, and January 7, 1865, the date of his discharge. Mr. Clark has followed agricultural pursuits through life and by industry and good management has secured 515 acres of good land. As a Democrat in politics, he has served his township as Assessor with credit, and in matters of a laudable public character he is ever ready to lend a helping hand. July 27, 1865, he was married to Miss Mary A. Kinser, who was born December 15, 1842, to Hezekiah and Mary (Hellenberg) Kinser, and by her is the father of this family: Dawson L., David M., Dalton N., Dorothy O., Dora P., Daisy Q. (deceased), Dilesta R. and Dilland S. - History of Lawrence, Orange and Washington Counties, Indiana, Goodspeed Bros. and Co., 1884
4
Yet another cousin,
Phyllis Phillips
, compiled the following description of the settlement of Lawrence county, plus further information on Billy and Rebecca (Bales) Clark, which she has permitted us to include in this page:
Lawrence County was originally part of Knox and Harrison Counties. In 1814 it was a part of Washington County and in 1816, the same year that Indiana gained its statehood, it was a part of Orange County. In 1818 Lawrence County was created.

According to the historians of Lawrence County, IN, the area was situated on the border between several tribal Indian districts and permanently occupied by none. On the whole they were nomadic bands. Some of their favorite camping grounds were near the what is now Heltonville and Springville on the tall bluffs nearby, with easy access to water, and lots of wild game for hunting. William and Rebecca continued to allow the Indians to camp on their land when they came through.

WILLIAM AND REBECCA CLARK settled in Pleasant Run Township, at the NE corner of Lawrence County. Lawrence County history records reveal WILLIAM CLARK as among the first 23 land entries in the township in 1820, which was made of 60 sections. Along Salt Creek in those early times, distilleries were an institution of common occurrence. One of the principal stills in the township was kept by William CLARK, familiarly called "Billy". His was the frequent resort of the people, with their "little brown jugs," for in those days whisky was considered almost as necessary in the household as bread. Another distiller was JOHN HUNTER.

WILLIAM CLARK, known as "Billy" CLARK, born May 4, 1791 in North Carolina, and died September 9, 1869 in Lawrence County Indiana. He took a license to marry REBECCA BALES in Clay County, KY November 15, 1810, although the license was never returned. Rebecca died June 30, 1872 in Owen County, Indiana. They are both buried at the Old Clark Cemetery on private property in Lawrence County in Pleasant Run Township

Rebecca BALES, born October 13, 1796, was the daughter of James BALES and Rebecca BRACKEN. REBECCA BRACKEN was the daughter of MATTHEW and ABAGAIL unknown BRACKEN. Research was from Diane Jones.

Karen Baldwin writes: "In June of 1812 England and the United States were at War. WILLIAM volunteered as a private in CAPTAIN GERRARD's company of COLONEL WILLIAM JENNINGS' regiment at Manchester, Kentucky in August of 1812. His enlistment was for six months and he served from Sept 1, 1812 to Jan 17, 1813 when he was discharged for disability at Fort Jennings."

The company muster roll shows Dec 1, 1812 to April 1, 1813, including the marching of two hundred and seven miles to the place of rendezvous and the same distance returning from the place of discharge at 15 miles per day. Widow's Pension Claim #8444.

WILLIAM and REBECCA CLARK are found in 1820, 1830, 1840, 1850 and 1860 censuses in Lawrence Co IN, living in Pleasant Run Township. In later life, William farmed in Bartlettsville, Indiana until he died.
Phyllis has extensive information on the descendants of Billy and Rebecca Clark.
5
The
Indiana marriages
data base lists the marriage as between Joseph Terrill and
Cecly
Helton.
Marriage Volumess of Lawrence County Indiana, 1818-1886
, by James E. Goff, Williams IN, has the same information and gives the bride's name as
Ceily
.
6
I believe Jane is the daughter of Revolutionary War veteran
Thomas Todd
(1761-1843) who is buried in Gilgal cemetery.
7
There is yet another 1880
census record
, from Bloomington, IN, which raises more questions than it answers, such as:
The 68-year-old Absalom Helton just might be the one listed above. The census taker lists him as single, but would widowed be more appropriate?
Is he the twin of the Arnold Helton (junior) listed above?
If Catherine's age (65) is listed correctly, that makes a 26-year span between Arnold's oldest and youngest child. Was Arnold married more than twice? Or was his anonymous first wife a child bride?
Where does the 40-year-old single niece, Martha Baley, fit in? We don't have any information on any of Arnold's daughters marrying a Bailey. Or should Martha be listed as widowed? Or is she the niece of Absalom's brother-in-law, David Lively? Or is her surname actually Bales?
Why are most of the group's parents' birthplaces left blank?
Are the Heltons in this census record even a part of the family above? We've found the name Absalom numerous times among various Helton families. Perhaps these people are only cousins?
We hope our cousins can provide us some answers to these, and other, questions from their voluminous research files!
This page was last updated 18 May 2012.