Adam and Polly Helton
Adam C. Helton was my g-g-g-grandfather's oldest brother. He was the son of Arnold Helton and of a woman whose name we've been unable to ascertain. He was born 17 May 1789 in North Carolina, and died 21 Sep 1843 in Lawrence county, Indiana.
In about 1811,1 in Hawkins county, Tennessee, Adam married Polly Starnes. Polly was born 3 Jan 1795, in Hawkins county, TN,2 and died 11 Aug 1888 in Lawrence county, IN. They are both buried in Gilgal Cemetery, near Heltonville in Pleasant Run township. It is believed that Polly was a daughter of John Starnes and Sarah Adams.3 I've seen this surname spelled Stearns or Stearnes in some records. Our Gilgal cemetery photo album includes pictures of Adam and Polly's grave markers, as well as those of several of their children.
Adam and Polly Helton were among the earliest settlers of Lawrence county. According to History of Lawrence and Monroe Counties, Indiana, Indianapolis, Ind., B.F. Bowen & Co., 1914, they arrived in 1820, although their son's biography says they arrived in 1822. They lived in Pleasant Run township the rest of their lives. Arnold Helton is listed in the 1820 census in Lawrence county, but we haven't been able to locate Adam in that census in Indiana or anywhere else.
Adam Helton operated a mill, according to the following item in the history of Pleasant Run township, on page 59 of the History of Lawrence and Monroe Counties, Indiana:
Mills and distilleries were the chief vocations during the early days of the county. Adam Helton and a man named Mitchell owned a few of these mills, but on account of the scarcity of water they were compelled to wait until a storm before they could grind at all.
Polly Starnes Helton was a midwife who lived to the age of 93. There is said to be a Polly Helton Hill in Pleasant Run township. Her picture below may have been taken as early as the 1840s and was provided by Tony Jarvis. Tony has obtained a copy of Polly's death certificate which states that she died at her home of breast cancer at age 94 and was the daughter of John Stearnes and Sarah Adams, both of whom were born in Tennessee. The informant was listed as her son Pleasant.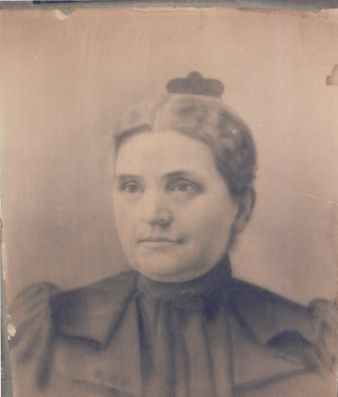 PLEASE NOTE — There is a fair amount of speculation and even some disagreement as to the names and sequence of Adam and Polly's children. Your input is welcome!
Adam and Polly Helton had no less than fourteen children, according to their descendant Madge's story, and also according to the following list compiled by Tony Jarvis, with some corrections or different dates supplied by Mac Elliott:
Sarah Ann "Sallie" Helton, born 14 August 1812 in Hawkins county, TN. Died 21 October 1896 in Monroe county, IN. Buried in Gilgal cemetery. Sallie married Thomas Todd, 14 October 1833 in Lawrence county. Thomas was the son of George and Sallie (Brooks) Todd. Here's a news item which appeared in the Bedford Weekly Mail 9 Aug 1901:

Thomas Todd and family have gone to Heltonville to spend ten days with Mr. Todd's relatives. A group photograph will be made today which will include four generations – Mr. Todd's grandfather, aged 86; his father, aged 62; himself, 42 and son 17.—Bloomington World.

It is possible the 86-year-old mentioned here is the man who married Sallie Helton. We're not sure who his 42-year-old namesake is; there's a 3-year-old child listed in Thomas and Sallie's 1860 census record who is about the right age. Do any of our cousins have a copy of the group photo among their family memorabilia?
Pleasant Meadows "Pleasie" Helton, born 24 December 18144 in Hawkins county, TN. Died 3 December 1897 in Lawrence conty, IN. Buried in Gilgal cemetery. Pleasant married:5

Milley Julien, 1 January 1842 in Lawrence county.
Rebecca (Hanna) Cain, 3 May 1849 in Lawrence county.

Elizabeth Helton, born 1815 in Hawkins county, TN. Married 7 May 1835 in Lawrence county, to Henry C. Clark.
Margaret "Peggy" Helton, born 8 June 1817. Died 25 October 1892 in Lawrence county. Buried in Gilgal cemetery. Married Abner Lee Gilstrap, 12 May 1833 in Lawrence county.
Catharine Helton, born 15 March 1819 in Hawkins county, TN. Died 16 July 1890 in Lawrence county. Buried in Gilgal cemetery. Married 9 November 1837 in Lawrence county to Moses Stinson Martin.
Nancy Helton, born 1821 in Lawrence county.6 Married: John Clark 9 August 1838 in Lawrence county.
John S. Helton, born 1823 in Lawrence county. Married 11 December 1842 in Lawrence county, to Martha Jane Woods.
Adam Arwine Helton, born 16 February 1825 in Lawrence county. Died 18 September 1879 in Benton county, Arkansas. Adam married:

Julia Ann Julien, 7 June 1847 in Lawrence county.7
Agnes Gregory, 12 March 12 1851 in Jackson county, IN.

Mary Jane "Polly" Helton, born 28 March 18268 in Lawrence county. Died 25 October 1917 in Morgan county, IN. Buried in South Park cemetery, Morgan county. Polly married:

David E. Clark, 28 March 1844 in Lawrence county.
Isaac McCoy Neal, 1 October 1874 in Monroe county, IN.

Samantha Jane Helton, born 29 August 18289 in Lawrence county. Died 31 May 1915. Buried in Gilgal cemetery. Married 18 August 1853 in Lawrence county, to Joshua Duncan Blackwell.
Amanda Ann Helton, born 1831. Died in Monrovia, Hendricks county, IN. Married 10 November 1853 in Lawrence county, to Alexander "Alec" Henderson.
George W. W. Helton, born 7 Aug 1833 in Lawrence county. Died 28 July 1912 in Galena, Cherokee county, Kansas. Married 10 June 1857 in Monroe county, IN, to Louisa Todd. The following item from the 19 Oct 1900 issue of the Bedford Weekly Mail may pertain to George:

George HELTON, one of the old settlers of Pleasant Run township, who moved to Kansas about 20 years ago, is visiting relatives near Heltonville, and was in town Friday.

Louisa L. Helton, born 20 June 1836 in Lawrence county. Died 10 February 1885 in Lawrence county. Buried in Gilgal cemetery. Married 10 November 1853 in Lawrence county to John S. Henderson, son of Jeremiah Henderson Jr.
Delitha Ann Helton, born 7 July 1841 in Lawrence county. Died 20 March 1911 in Monroe county, per that county's death records. Buried in Gilgal cemetery. Married 7 January 1858 in Lawrence county to James Henderson, another son of Jeremiah Henderson Jr.
After Adam Helton's death, Polly stayed in Pleasant Run township, surrounded by her extended family. A quick scan through available U. S. census records turned up the following entries:
1850. Nearly a whole page of her descendants, in four consecutive households:
1860. Once again, four consecutive households on the same page:
1880.
The following biography of Adam and Polly's son Pleasant was transcribed from History of Lawrence, Orange and Washington Counties, Indiana, Goodspeed Bros. and Co., 1884, and is available on the Lawrence county biographies page:
PLEASANT M. HELTON, a native of Hawkins County, Tenn., was born December 25, 1816,4 and is the oldest son of Adam A.10 and Polly Helton, who immigrated to the Hoosier State the fall of 1822, finding homes in Pleasant Run Township. His mother, Polly Helton, was a physician and for eleven years practiced medicine and midwifery extensively over a wide scope of country. This lady is yet living at the advanced age of eighty-nine years, and is the grandmother of 128 persons. Pleasant M. Helton was raised to manhood on the farm of his parents, receiving such educational advantages as the schools of that early day afforded. Miss Milly Julian was his first wife, and this lady dying he married Mrs. Rebecca (Hanna) Cain, a widow lady, by whom he is the father of five children, named Alfred, George R., Mary A., Joseph T. and Pleasant P. Mr. Helton has made farming his life occupation and is the owner of a farm containing 120 acres. In politics he is a Democrat and is one of the popular men of his township.
If Polly had 128 grandchildren at that time, it is likely that by now, 120 years later, she and Adam have thousands of descendants. We hope they will find this page helpful and that some of them will get in touch with us.
Jackie Hough sent us this obituary of Polly and Adam's grandson, and Pleasant M. Helton's son, who is referred to simply as P. C. Helton. It appeared in the 29 Nov 1912 edition of the Bedford Weekly Mail:
SHORT ILLNESS
Results In The Death Of P. C. Helton At Heltonville Sunday Night At 8 O'clock.
FUNERAL OCCURS AT GILGAL

P. C. Helton, a highly respected resident of Heltonville, died at his home in that place Saturday night at 8 O'clock following a short illness with bowel trouble.

He is survived by a wife and three daughters.

Funeral services were conducted Monday at 11 o'clock from the home at Heltonville. Burial was at Gilgal.
This grandson's headstone in Gilgal cemetery gives his name as Pleasant P. Helton and lists his dates as 5 Jul 1858 to 23 Nov 1912.
---
Jackie Hough sent us the following article which was written by Adam and Polly's great-great-grandchild, Madge (Peters) Clancy, in 1926 while she was in the sixth grade. Madge died 12 Aug 1991. We've left the article intact, exactly as Madge wrote it. We're sure that a lot of this story reflects information which was passed from generation to generation within the Helton family in Lawrence county.
Henry Helton11 and his wife moved to what is now Heltonville. They started a store and more settlers moved in. The old inn is still standing near the railroad, and the settlement was called Heltonville.

In the year of 1818 his nephew, Adam Helton, who was 29 years old and his wife Polly, who was 23, came from Tennessee with others to Indiana, in an ox wagon. The road was hard to travel, and many times they had to stop, and cut roads. The women knit stockings of yarn, so no time was lost while roads was being cut. They knit their winter stocking before they reach their new home. Polly had a four years old baby,4 who walk with her and help her drive the cows. When he was tired he rode in the wagon with small children.

They settled on Little Salt Creek, two miles north of Heltonville. They had no fences so their cattle and hogs ran out. There were some horses in the settlement. In winter they made flannel clothes and in summer their clothes were made from the flax they raised.

Adam and Polly had fourteen children, most of them were borned in their new home. They had to work hard to make a living. The little children did what they could. Learning to work was part of their schooling. Many children in those days could not read or write. The school house, close to Salt Creek was made of logs with a fire place in each end of the house to keep them warm. The floor was made junch in12 floor. The benches and the desks were made from slabs hewn from logs. The windows were small, but the children enjoyed their living very much as we do now. They started to school after all fall's and winter's work was done and stopped as soon as spring work began, making about three months in all.

One time something came to their corn field and clawed up the dirt, the fences were torn down every morning. After animal came serveral night. They sharpened sticks at both ends and drove them into the ground where they thought the animal leaped the fence. The next morning they were surprised to find a deer on the sharpened sticks. They did not know that there were deer in this part of the country.

They raised cain and used sorghum molasses instead of sugar. They raised most of what they ate. They made their own shoes of leather that came from the tannery.

Pleasie was what they called the little boy, four year old boy. He could remember the first person buried in Gilgal Cemetery. They were brought on sleds drawn by oxen. The old log Church which has been torn down had a balcony. That was one of the first churches ever build in Pleasant Run Township. People would come for miles around for big meetings. All the families that live close would keep them [...]

Adam Helton died at the age of forty-six. His grave is marked be a big slab of stone. The grave of Pleasie's first wife also has a large slab of stone, it has a wall builted to hold the slab. Polly Helton died at age of ninty-three. They were all buried at Gilgal Cememery, which lays on an old Indian Trail.

The trail starts at Leesville, run through Heltonville up the tan yard hollow to Little Salt Creek up Hunter Creek to an old Indian Village.
When another cousin, Kat Rodenberger, read Madge's story, she was inspired to send us this story which her father had typed, along with a picture of Eva:
When I was a little boy my grandmother, Eva Peters,13 told me a story from her childhood. I wish now that my memory of it was clearer, but this is how I recall it. This was before the days of the horseless carriage, and she was a young girl. They had a horse and buggy, and the buggy had a holder for the whip. Her father had told her if she ever got lost in the buggy to just tie the reins to the whip and the horse would take her home.

One time she was riding on the windy back roads in the hills of Lawrence County and she lost her way. At every turn she was sure she would see something to give her a clue where she might be and how to get home. As it got later and later panic set in and as the sun set she was no closer to finding her way. She tied up the reins and cried herself to sleep on the seat of the buggy. When she awoke at home her father wanted to know why she was out so late. When she told him her story he reminded her of what he had already told her. "The horse always knows its way home."

This is the story I remember my grandma telling me. I'm sure she told many others but this is the one I can recall.

Francis E. "Gene" Rodenberger
April, 2012
---
1
Tony Jarvis gives 1810 as a wedding year, while Mac Elliott says "about 1811". It wasn't at all uncommon for girls to marry at an early age on the frontier.
2
Although Tony Jarvis lists Polly's birth as occurring in Hawkins county, TN, all three of her census entries which I've been able to find give her birthplace as
North Carolina
.
3
For information on Polly's siblings and parents, see a
page
compiled by a descendant of one of her brothers.
4
According to Gilgal cemetery records, Pleasant was born 24 Dec 1814. This agrees with Tony's date and with Madge's story. I also received a birth date of 15 Dec 1816 from another source. For whatever it's worth, the 1850 census lists him as
34
years old, the 1860 census as
44
years old, and the 1880 census as
64
years old. But if a late 1816 date were correct, it would conflict with Peggy's birth date.
5
Tony Jarvis suggests that Pleasant was married first, about 1834, to an unknown woman. This information conflicts with Pleasant's biography.
6
Tony says that Nancy was born 1818 in VA, based on her 1850 census entry. Hawkins county is in the northeast corner of Tennessee, along the Virginia border, so a Virginia birthplace isn't illogical. If Madge's information as to Adam and Polly's arrival in Indiana is correct, Nancy
would
have been born in IN if her birth occurred in 1821.
7
Julia appears to have died by the time of the 1850 census, since Adam A. was included in his mother's entry.
8
Tony gives a birth year of
1824
for this daughter; for whatever it's worth, the 1880 census is in closer agreement with the
1826
date given by Mac. Descendant
Judy Porter
tells us:
I just checked her obit and it stated she was 90 years 2 months and 15 days when she died on October 25, 1917. I did a calculation and came up with August 10, 1827 as her birth date...
Judy, we'll include the obituary in this page whenever you send it! We must avoid confusing this Mary Jane "Polly" Helton with her first cousins:
Polly Helton, who was born in 1821, in Lawrence county, to James Helton and Celia Bales, who married James Joseph Clark.
Polly Helton, born in 1832, also in Lawrence county, to Andrew Helton and Hannah Woolery, who married Absalom Ketcham.
9
Mac has corrected Samantha's birth year from the
1826
given by Tony. This is based on a re-reading of Gilgal cemetery stones. In the 1850 census, Samantha's age is given as
24
, but in the 1860 census, she is
30
years old, and the 1880 census says she's
51
!
10
The writer of this biography may have confused Pleasant's father's middle initial with that of his brother. The father's appears as
C.
on his tombstone and other sources.
11
This is the only mention I've ever seen of Arnold Helton's siblings. It has been suggested that this man's complete name may have been
John
Henry Helton.
12
Madge may have meant
puncheon
, the term used for the rough wooden floor usually found in frontier log cabins.
13
Madge's mother,
Eva (Helton) Peters
, not to be confused with her sister,
Eva (Peters) Chilton
.
This page was last updated 16 Jan 2013.