"The old Walker cradle"
In these times of disposable, expendable and recyclable artifacts, it is very rare to see anything still in use which was made more than a few years ago. The Walker cradle is one such exception. We're not sure exactly how old it is. My mother told me once that it wasn't used for her generation of Walker children, but that her father and his brothers may have been put in it when they were babies in Bloomington, Indiana.
If that theory is true, then this cradle could date to the 1870s or 1880s. John Wesley Walker was a carpenter and could have made the cradle himself for his and Sarah's children.
The cradle turned up at my grandparents' home in Santa Monica some time during the early 1940s and was undoubtedly used by most of their 17 grandchildren. Here are my brothers Bill and John at an early age, during a visit to Santa Monica from their first home in Tucson: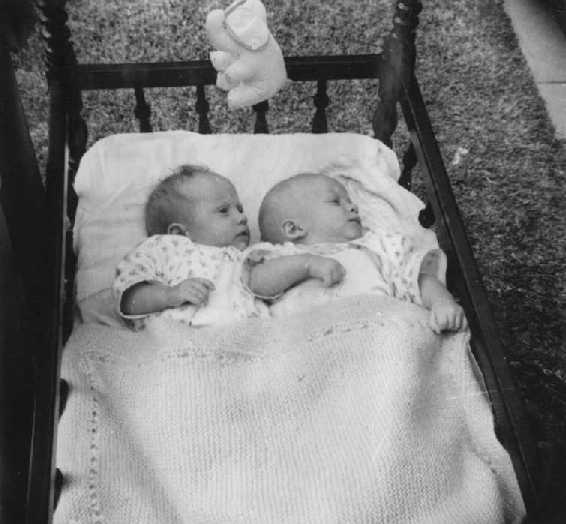 In 1962, we came home on vacation from México and took our first child, David, to Santa Monica to visit his great grandmother. He and his friend, Boy, seem to be enjoying the old cradle: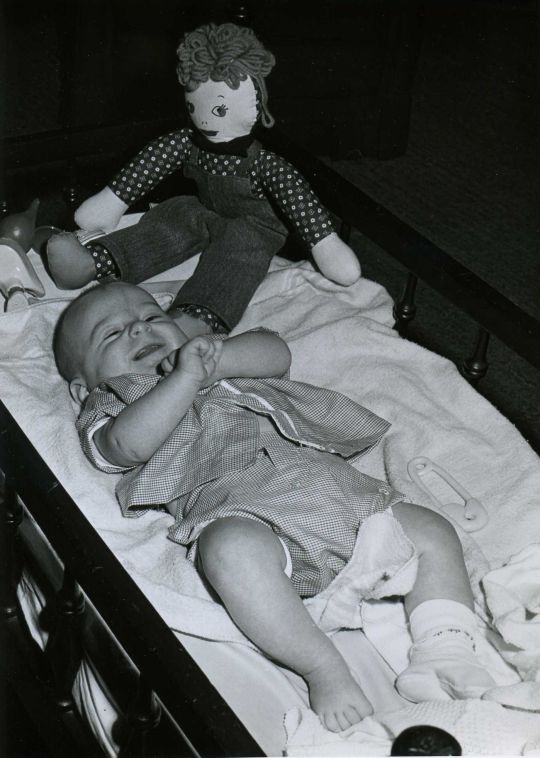 Dave with his grandfather and namesake: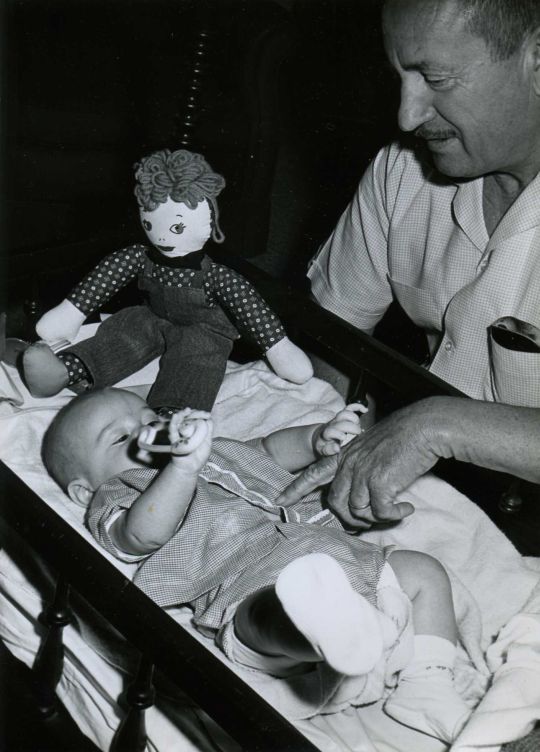 After Dave's daughter and our first granddaughter, Cayla, was born in 1985, she soon had her picture taken in the cradle, along with Boy. We're still looking for a picture of her little sister, Sarah, in the cradle.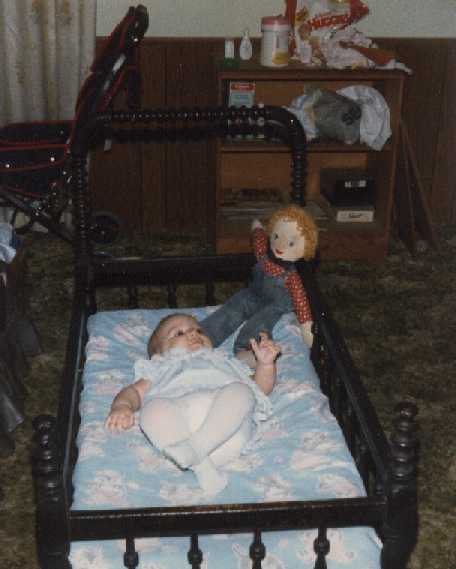 After Sarah outgrew the cradle, it was sent to Healdsburg, CA, in time for the birth of my cousin Andi Crowell's daughter, K. C., in 1989: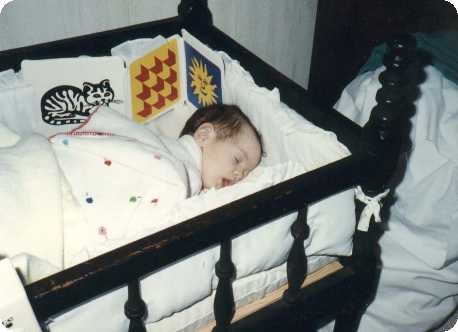 K. C. is a big girl now. When we started this page in March 2001, she had just returned from Morelia, Michoacán, México, where she really enjoyed practicing her Spanish and attending a Mexican school. Here's another photo of baby K. C.: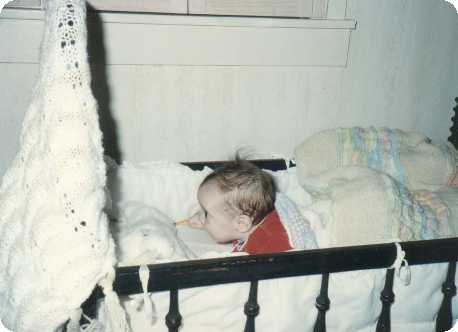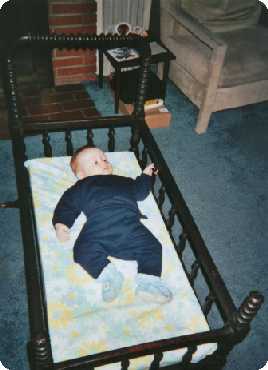 In 2000, after our third grandchild, Cole Walker Carey, was born, we contacted Andi. Yes, she still had the cradle and was kind enough to send it as far as her mother's home in Pismo Beach, with a little help from her sister Nancy. We brought the cradle to our home in Anaheim, where Cole got to use it during his next visit. He was about six months old now, so we couldn't leave him alone in the cradle.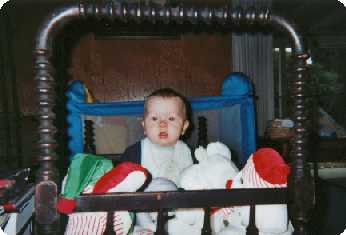 In this picture, you can see the quality of workmanship that went into the cradle more than a century ago. In the background, by coincidence, is Cole's "modern" crib.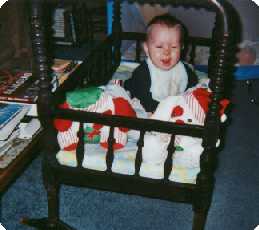 Cole was enjoying playing with his toys just before Christmas 2000. What kind of toys might Wesley and Sarah's children have played with in this same cradle?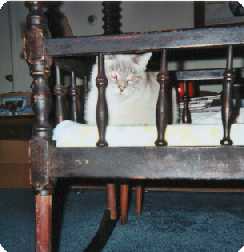 Our cat, Cuddles, also enjoyed the cradle. By now, the cradle's rockers and posts are very much in need of repair, so we turn it over to our friend, Dean Sowell, to refurbish. When he finishes his work, the cradle is as strong as when it was new. Will it last another 120 years?

In 2003 John (see first picture above) and Cathy Carey picked up the cradle to take to Boron, CA, for their granddaughter, Rebecca Elizabeth Carey. Rebecca is the great-great-great-granddaughter of the John Wesley Walker who made the cradle. By the time the next two photos are taken, Rebecca is also about six months old and is rapidly outgrowing the cradle: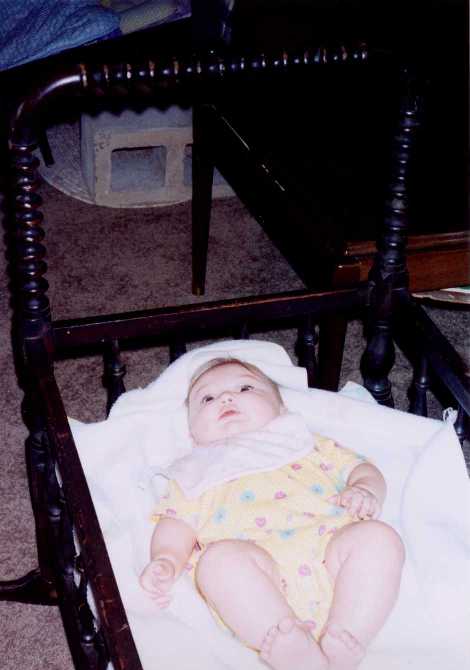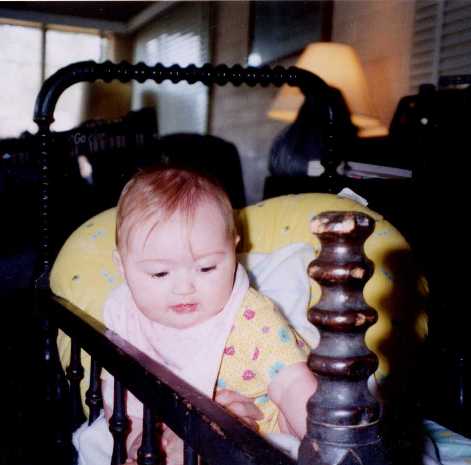 4 July 2006. John returned the cradle to us to await the arrival of the next Walker descendant. When he's only eight days old, Cash Vincent Carey comes to visit his grandparents' home, where the cradle awaits him: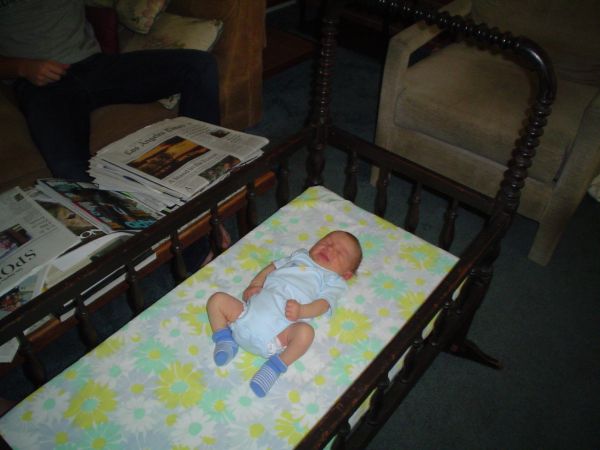 By the time he's two months old, Cash is growing fast and will soon be too big for the cradle: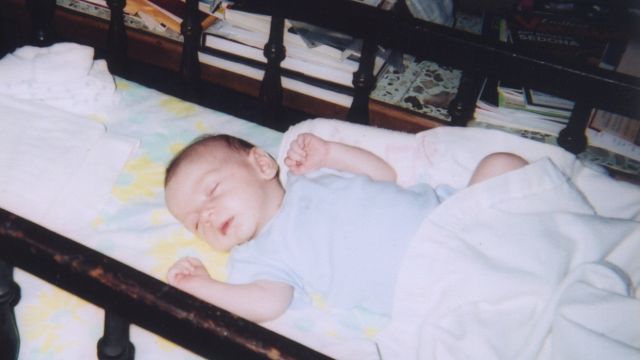 7 June 2015. Another generation of Walker descendants arrives in the person of Star Harlow Stuart, who comes to her great-grandparents' home to check out the old cradle. She's a lively 7-month-old who seems to enjoy being put in the cradle to have her picture taken: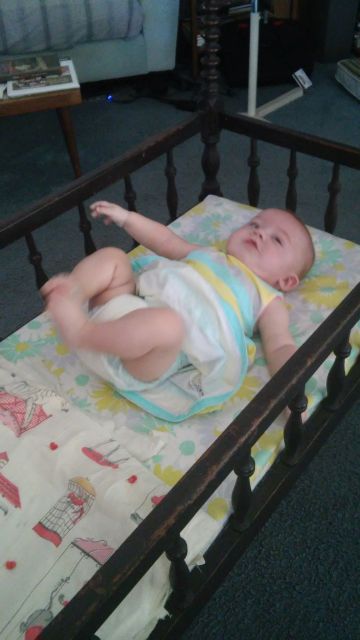 Cash is almost nine years old now and comes to see Star: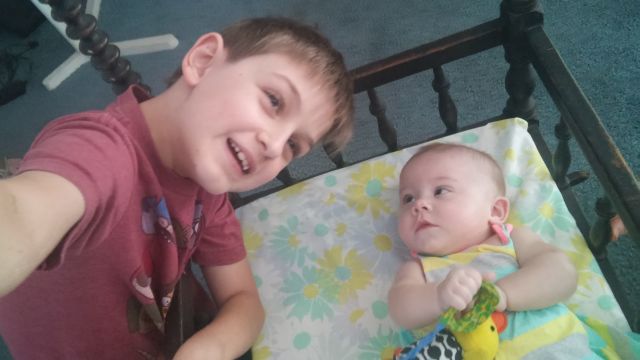 3 March 2017. Star's little first cousin, Landon Patrick Mansfield, visits us and tries on the cradle for size. Here he is, lying on a quilt which was made by his great-great-grandma Jeanette (Walker) Carey: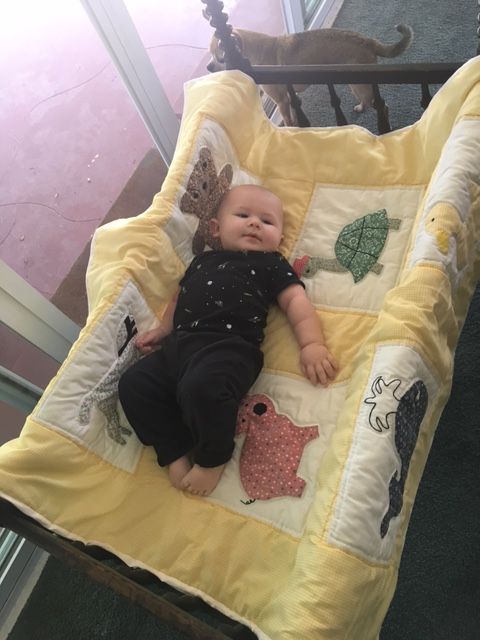 We hope that some more of our Walker cousins who have photos of themselves or their children in the "old Walker cradle" will let us post them here. Check this page for their stories and pictures!
This page was last updated 3 Mar 2017.