Lucy Ann (Jennings) Inman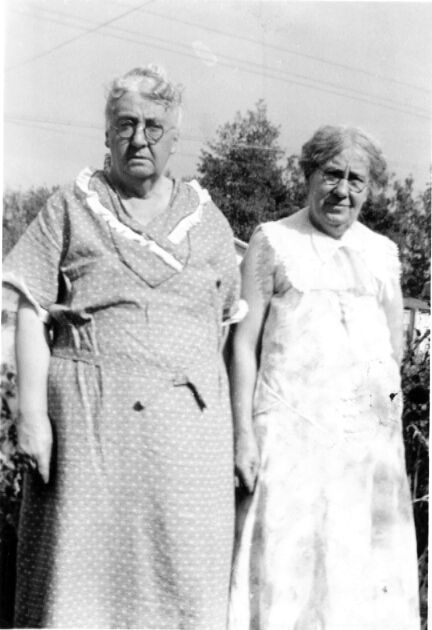 Birth and Childhood. Jeanette's great-grandmother, Lucy Ann (Jennings) Inman, was born "September 18, 1855, Bradford County, PA." Pennsylvania is given as her birthplace in all the census records we can find. From 1900 on, the census taker records that Lucy's father was born in Ohio and that Lucy's mother was born in Pennsylvania. We have no information on the identity of her parents. There are several Jennings listed in the 1850 U. S. census for Bradford county, but we can't tell if any of them is related to Lucy Ann. Nor can we locate a child named Lucy Jennings in the 1860 census there.
In the 1870 census, there are two Pennsylvania-born 14-year-old girls named Lucy Jennings:
In Asylum township, Bradford county, PA, in the family of 49-yr-old blacksmith J. L. [?] and 44-yr-old housewife Nancy Jennings, who were born in VT and NY, respectively, and,
In Monroe township, Ogle county, IL, with a New York-born couple, Phineas and Almira Shorewy. Ogle county is about 150 miles north of Lincoln county, where Lucy settled after her marriage in 1872.
We have no particular reason to believe that either of these girls enumerated in 1870 was, or was not, our Lucy Jennings, nor do we draw conclusions from her apparent absence from any 1860 census records. Sometimes people just didn't get counted! So until we find some conclusive information on Lucy's childhood years, we'll just have to consider those years to be an unknown quantity.
Marriage. Lucy married Ben Inman in DeWitt county, IL, on the day before her 17th birthday. She was "under age", according to Illinois law, which required that a person under 18 years of age not be married without parental consent. There was no information on their marriage license which indicated that the county clerk was aware of her age or whether any parental approval was given for the marriage. DeWitt county is next door to Logan county, where Lucy and Ben were enumerated in the next census. Lucy and Ben's children are listed in a separate page.
Later Life. Lucy moved to Colorado with Ben between 1895 and 1897, and is listed with him in the 1900 census in Colorado Springs, then in Englewood in the 1910 census, and after Ben's death, in the same house at 3440 South Sherman Street in the 1920, 1930 and 1940 censuses. The picture of Lucy at the right, which was provided by her great-granddaughter Roberta Gerds, was taken about 1935. That's Lucy on the left. We believe the other woman to be her daughter Elnora Julia "Nora" Inman.
Death. Lucy Ann died 19 January 1947 in Denver, Colorado.
Lucy's family
Aunt [?] Julia. Ben and Lucy's 1880 U. S. Census record lists a 53-year-old Julia Jenning, relationship "boarder", with no marital status given, whose birthplace is said to be Vermont, perhaps via the same figment of the census taker's imagination which assigned a Vermont birthplace to Lucy's dad in this census. The 1885 Minnesota census lists a 59-year-old Julie Jennings, born in New York, with Ben and Lucy. In the 1895 Minnesota census, a 70-year-old Julia, born in Pennsylvania, is living with Ben and Lucy in Park Rapids village.
The 1870 census for Barnett township, in DeWitt county, lists a 44-year-old Julia Jennings as a "domestic servant" in the home of Robert and Margaret Block and gives her birthplace as Pennsylvania. If this is the same Julie, or Julia, does the fact that she wasn't living with any other family members in this census tell us that she wasn't Lucy's mother, but rather a "spinster", or widowed, aunt? Maybe. Maybe not.
Brother [?] Charles. There are several mentions of a Charles Jennings in the Enterprise in the 1880s and 1890s. In the stories of Ben Inman's visit to Hubbard county, MN, in 1882, the Enterprise mentions, "Mr. Jennings has been favored with a visit from his brother-in-law, Mr. Ben. Inman" and "He [Ben] is stopping for a time with his sister, Mrs. Jennings." This implies that Ben had a sister who married Lucy Ann's brother. However, the censuses in which Ben Inman was enumerated with his parents and siblings don't list any female who could be the Mary listed with Charles Jennings. We believe the Enterprise got the relationship wrong and meant sister-in-law. Or could there have been another Mrs. Jennings in that town who was Ben's sister?
The Jennings family is listed as follows in the 1895 Census in Park Rapids:
| First Name | Age | Sex | Birthplace | Occupation |
| --- | --- | --- | --- | --- |
| Charles S. | 43 | M | Penn. | Farmer |
| Mary E. | 42 | F | Penn. | HW |
| Cora V. | 14 | F | Iowa | Pupil |
| Edith M. | 12 | F | Minn. | Pupil |
| Frank | 8 | M | Minn. | Pupil |
Although we're not quite sure how Charles and Mary Jennings are connected to Lucy (Jennings) Inman, we'll present here some of the information we've been able to find on them and their children, either in census records or at the excellent Hubbard county GenWeb site, in hopes that somebody who stumbles over this page will be able to help us make the connection.
Charles and Mary are listed, with no children, in Liberty, IA, in the 1880 census. If the list above is accurate, they arrived in Park Rapids some time between Cora's birth in Iowa in 1880 or 1881 and Ben Inman's visit in the summer of 1882. The same Jennings family was listed in Todd precinct in the 1885 census.
Edith's birth was duly noted in the local newspaper:
PENCILINGS — C. S. Jennings is happy over the arrival of a little stranger at his house. It's a girl.



Enterprise, September 7, 1882
According to the Hubbard county web site, "On December 17, 1888, he [Charles] became one of the the three initial trustees of the newly-incorporated First Methodist Church of Park Rapids."
In addition to the three children listed in the 1895 census, Charles and Mary had another son, Morris Jennings, who was born in June 1889 and died in November of that year, according to the following news items:
Mr. & Mrs. C. S. Jennings have a little son, born yesterday.



Enterprise June 28, 1889

---

JENNINGS On Tuesday morning. Morris, son of Charles M. and Mary Jennings, aged five months. The little baby boy had been sick for some weeks, and had suffered much pain. The funeral took place at the family home Wednesday afternoon, Rev. W. M. Pickard conducting the services. To the sorrowing parents the sympathy of all is extended.



Enterprise, November 22, 1889
There are records of marriages in Hubbard county between daughter Edith M. Jennings and George Brown 23 Nov 1898, and between daughter Cora V. Jennings and Eugene Sprague, on Christmas day, 1898.
In 1900 the same people who were in Park Rapids in 1895 were enumerated in Grand Forks county, North Dakota, and the 1910 Census has a listing in Franklin county, Washington, that is obviously "our" Charles, Mary, Frank and a grandson, while the 1920 Census lists Charles, Mary, Frank and Edith in Clearwater county, Idaho.
There's a World War I draft registration in Clearwater county, ID, for Frank Eli Jennings, born 4 Nov 1886 in Park Rapids, MN, and a Social Security Death Index entry for Frank Jennings, born 4 Nov 1886, who died March 1976, with last residence in Lewiston, Nez Perce county, ID.
This page was last updated 31 May 2013.