Edward Winans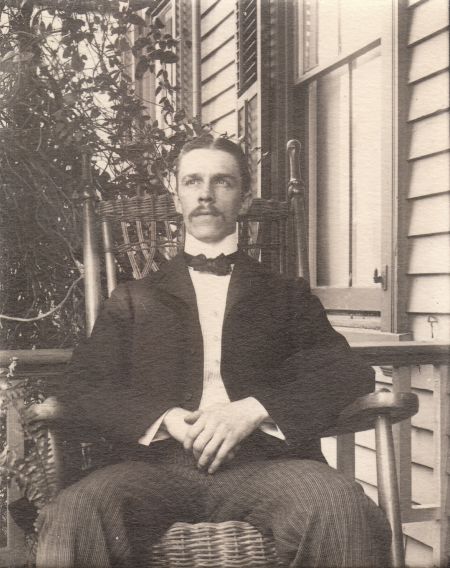 Edward Perrine Winans (1-8-6-4-5-2-3-2)1 was born 3 Jan 1871 in Elizabeth, New Jersey, the son of Elias Crane Winans (1-8-6-4-5-2-3-2) and Lydia A. Shotwell. He was one of the Winans descendants who remained in New Jersey all his life.
About 1895, Edward married Grace Smith, who was born 17 Mar 1876 in New Jersey and died 24 Oct 1942 in Newark, NJ. Edward and Grace were counted twice in the 1900 census, first at their own home at 29 Prospect St., then again five days later, less than a half mile away, at Elias and Lydia's home at 149 Liberty St. Between then and 1930, when they were enumerated at 1094 Lawrence Road, in Lawrence township, Mercer county, Edward and Grace made a number of moves. I was unable to locate entries for them in either the 1910 or 1920 census. By the time of his death, they were living in Hightstown, also in Mercer county, and renting a beach home in Bay Head, about 20 miles south of Sandy Hook, at the northeast corner of New Jersey's coastline.
Edward and Grace had the following children, both born in the Elizabeth area:
Robert Winans, born about 1905. About 1928, Robert married Catherine Baker, who was born about 1902 in NJ. In 1930, Robert and Catherine were living with her parents, John J. and Laura Y. Baker, at 235 Union St., in Jersey City.2 At that time, they had one child, Catherine Winans, who was 11 months old. Robert was working as a calculating machine salesman.
Richard Winans, born 6 May 1913, died 15 Feb 1991 in Mount Bethel, PA. He is buried near Belvedere, NJ. On 12 Feb 1937 Richard married Dorothy Delacy (1910-1975). Richard served in the U. S. Navy during World War II. He later worked for 30 years as personnel director at Greystone Park Psychiatric Hospital, in Morristown, NJ.
Edward Winans worked as an insurance agent, or broker. Financial success seemed to elude him throughout this career and the economic downturn caused by the Great Depression, beginning in October 1929, may have been responsible for his suicide, which occurred 12 July 1933 in Hightstown. His death was reported on page 22 of the Trenton Times, 13 July 1933, and also in an article in the Hightstown Gazette:
Winans Funeral Plans Incomplete

Former Trenton Broker Ended Life With Gas at Hightstown

Funeral arrangements are yet incomplete for Edward P. Winans, one-time Trenton insurance broker, who was found dead at his home in Hightstown yesterday from the effects of illuminating gas.

Coroner Carl Whitney and State police, who probed the case, declare that Winans committed suicide.

Keeping an appointment made three days previous, Winans' son, Richard, called at the home of his father, 316 South Main Street, yesterday afternoon, and soon after discovery of the act was made. Although it is not definitely determined, it is believed by investigators that financial worries motivated Winans' death.

When the victim's body was discovered, authorities say, gas was found flowing from every jet of the gas range in the kitchen, and cracks in doors and windows, were plugged with cotton and paper. Winans was found seated in a chair nearby the gas stove.

Told Son to Call

After spending last Sunday with his wife, Grace, and son, Richard, 20 years old, at their Summer home at Bay Head, Winans, who formerly resided at 27 Richey Place here, instructed his son to call at the Hightstown home at 3 o'clock yesterday afternoon to take him back to the shore.

Authorities believe that plans had been made in advance by Winans to end his life, and he intended when he made the appointment with his son that the latter should find his body.

Detecting the odor of gas on his arrival at the Main Street house, Richard, who had graduated from Peddie Institute last month, hastened to the nearby home of Ralph E. Harmon, assistant headmaster of the Peddie School, to summon aid. Harmon entered the home and going to the kitchen found Winans slumped in a chair. He carried the body outdoors and notified Dr. Harold C. Cox, of Hightstown. Dr. Cox said that Winans had been dead for approximately 24 hours.

Coroner Whitney viewed the body and issued a burial permit. William S. Heyer, Hightstown undertaker, is in charge of burial arrangements. Interment will be at Elizabeth, where the family has a cemetery plot.

Besides his widow and son, Richard, another son, Robert, of New York, survives.

Widely known here as an insurance broker, Winans was for a number of years employed as a special agent for the Van Fleet & Kerr Company, of Newark. He also represented the Commercial Casualty Company.

The Winans took up their residence in Hightstown last Fall. They lived for a while in Lawrenceville after moving from Trenton.

---

EDWARD P. WINANS KILLS SELF WITH GAS AT HOME

Life Insurance Broker Found Dead in the Kitchen by His Son--Act Believed to Have Been Caused by Financial Worries.

Edward Perrine Winans, 52, was found dead from gas Wednesday afternoon in the kitchen of his home at 316 South Main Street. Gas was pouring out of the jets of the gas range. Cracks and the keyholes were plugged up with paper and cotton batting. It was stated that Winans' act was believed to have been caused by financial worries.

Corporal Probert, of the State Police, and Coroner Carl H. Whitney, who investigated, declared the case one of suicide. Winans was a life insurance broker.

Mrs. Grace Winans, the wife, and son, Richard, 20, were at their Bay Head summer home. The youth left here Sunday afternoon and before leaving his father requested him to return home Wednesday afternoon at 3 o'clock. Richard graduated from the Peddie School last month. On arriving at the house Richard detected the odor of gas and naturally turned to Ralph E. Harmon, assistant headmaster of Peddie, for aid.

When Mr. Harmon and Richard went to the kitchen they found Winans sitting in a chair close to the gas range with his arms folded. His eye glasses had not been removed. The body was carried outdoors and Dr. H. C. Cox was summoned. The physician stated that Winans had been dead for at least 24 hours.

Coroner Whitney had the body turned over to Undertaker William S. Heyer and notified County Physician Charles H. Mitchell. Burial will be in the family plot at Elizabeth Greenwood Cemetery. Winans is survived by his widow and two sons, Richard, of Hightstown, and Robert of New York City.

Last fall the Winans family moved to the Frank P. Field house. They came here from Lawrenceville. Previous to that they lived in Trenton, to which place they had moved from the northern part of the state.

Winans was well known as an insurance broker and for a number of years was employed as a special agent for the Van Fleet & Kerr Company, of Nerwark, general agents for the Prudential Insurance Company. He also represented the Commercial Casualty Company.
Around 1930, Grace (Smith) Winans suffered a stroke that left her mostly unable to walk. Richard took her to Florida for a time after Edward's death, but then returned to New Jersey to find work. She died at the Home for the Incurables Nursing Home in Newark.
---
Most of the information in this page was supplied by Edward P. Winans' great-grandson, and Richard's grandson, Tom Davis. Tom is a professor at Rutgers University and a journalist who has written on a variety of subjects. In his blog, Coping with Life, he discusses Edward's suicide, as well as issues surrounding Richard's mental health. Tom has his own entry in Wikipedia.
---
1
We've inserted identification numbers for various persons to help you locate their entries in Mrs. Egy's
Winans Family Genealogy
.
2
This information on Robert is based on my study of the
1930 U. S. census
. In this census, in all of the U.S.A., I could locate only six
Robert Winans
who were said to be born between 1900 and 1910. All were living in the West or Midwest, except for the one we list here as Edward and Grace's son. Tom Davis had suggested that Robert was born "about 1905" and became estranged from Richard and his family.
This page was last updated 31 Mar 2010.