Zebdiah Z. Clark
Zebdiah Z. Clark1 was a son of Isaac Clark senior and Lydia Zelyph, or Zeliph. He was born 1 March 1820, in Miami county, Ohio, and died 17 May 1889, in Fulton county, Illinois.
Zebdiah married Emilla "Milley" Aulsbury, the daughter of Thomas Aulsbury, 10 Apr 1839. Emilla was born 1 April 1823 and died 14 May 1895. Zebdiah and Emilla had the following children:
Mary Clark, born 11 October 1840, died 27 November 1913, married John W. Campbell.
Mahalia Clark, born 2 November 1844.
Her twin, Minerva Clark, born 2 November 1844, died 30 Nov 1912, married Thomas M. Keeler.
Jasper Nuton Clark, born 9 April 1848 in Liverpool township, Fulton county, IL, died 14 June 1923, married:

Barbara Royal Stout,
Mary Ina Burnside.

Daniel B. Clark, born 1 January 1850.
John W. Clark, born 10 January 1851, died 14 September 1855.
Mary Ina Clark, born December 1854, died August 1929.
Joseph M. Clark, born 1856, died 1920, married Alice O. Lillie.
Oliver P. Clark, born 1858, died 1916, married Rosa Lillie.
Zebdiah "Dyer" Clarke,2 born 25 October 1861 in Liverpool township, died 31 March 1946, married Lillian Campbell.
Enos Clark, born about 1865.
Cousin Lyle Black writes us: "Zebdiah is buried in Apple Cemetery next to Mt. Pleasant Methodist Church, Liverpool Township, Fulton County, Illinois. His wife, Emilla (Milley) Aulsbury shares the same headstone as do their sons, John W. Clark and Daniel B. Clark. The stone gives Zebdiah's birthdate as March 1, 1820 and his death date May 17, 1889." Lyle provided the following information about Zebdiah which was written by Everett Edgar Clark:
Zebdiah was an exorter3 in the M.E. Church.

And the story was told me about one time when a metor passed over the Church the old Mt Pleasant Church and made a great Noise flying through the air My Grand father4 Zebidah Clark was down on his knees praying every one was Scared and run out of the Church but grandfather He went on praying and by the time he got through The thing was gone and grandfather didnt get to see it.

And one time this same man Zebidah Clark had a dog he used When hunting a Shepard dog any way the dog hadnt come Home for a day or two Grandfather lay down one day by the Old firplace he was in the habit of laying down and going To sleep moast every day but this time he dreamed his Dog had its head fast in a hollow log a mile or so from The house when he got up he took his ax and went to The place he had dreamed his dog was fast He got the dog choped loose and broght it home He had found it right where he had dreamed it was.
---
The Canton Register, 23 May 1889, contained Zebdiah Clark's obituary:
Died, Friday evening, May 17,
Zebadiah Clark.

He came with his parents to Illinois in 1831,5 from Potsdam, Miami County, Ohio, settling in Liverpool, where he lived up to the time of his death. He has been a faithful and consistent member of the Methodist Church for fifty two years. Funeral services were held on Sunday at Mount Pleasant Church, of which he was a member. The sermon was preached by the pastor, the Rev. M. F. Havermale. The deceased was laid to rest in Mount Pleasant Cemetery, by the side of four of his children. He leaves a wife and eight children, five sons and three daughters.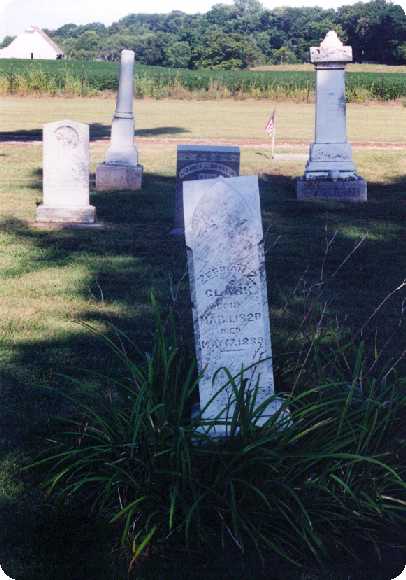 Zebdiah and Millie's family are listed in four U. S. censuses, their names spelled in a variety of ways, in Liverpool, Fulton county, Illinois:
---
Dyer Clarke. There seems to be some confusion as to the identity of one of Zebdiah's sons. There are numerous references in newspapers and in family history files to a Dyer Clarke who was born in 1861. Neither the 1870 nor the 1880 census shows anybody by that name in Zebdiah and Millie Clark's household. There's just a son, Zebediah, who is listed as 9 years old in 1870 and 19 years old in 1880.
In the Apple cemetery is a grave marker beneath which are buried a husband and wife, Zebdiah (1861-1946) and Lillian (1867-1938) Clarke. Deborah Rosiere visited the cemetery and took this picture.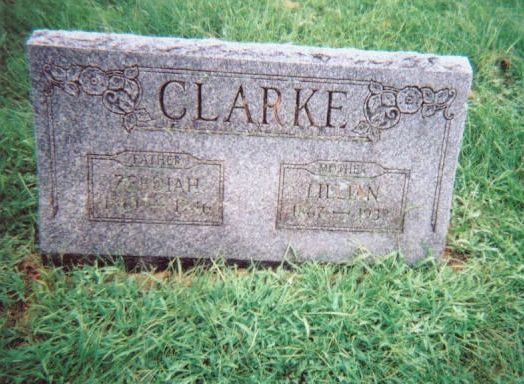 She also obtained, from the Parlin-Ingersoll library in Canton, IL, microfilm copies of these two Dyer Clarke obituaries which should make it clear that Dyer is the same person as the Zebdiah Clarke who is buried in Apple cemetery...
Dyer Clarke Dies at Lewistown Home

Lewistown, April 1--(Special)--Dyer Clarke, 84, retired farmer, died last evening at the home of his daughter, Mrs. William Morgan, North Broadway, after an illness of several months duration. Born October 25, 1861 in Liverpool township, a son of Zebdiah and Millie Oesberg Clarke, he was married on March 20, 1884 to Miss Lillian Campbell, who preceded him in death. He was the last of a family of eight children,6 and a member of the Methodist church.

Surviving are three children, Mrs. Georgia Dickson of Farmington, Mrs. Flora Morgan of Lewistown, and A. R. Clarke of Port Huron, Mich. Two grandchildren also survive.

Funeral services will be conducted tomorrow at 2 p. m. at the Methodist church by the Rev. George Mayo, pastor. Burial will be in Apple cemetery. Friends may call at the Zimmerman and Henry Funeral home.

---

PASSING OF DYER CLARKE

Dyer Clarke passed away at the home of his daughter, Mrs. William Morgan, on Sunday, Mar. 31, at 12:30 p. m. He had been in failing health for one year. He was 84 years of age and was a retired farmer.

Mr. Clarke was a son of Zebediah and Millie (Olsbery) Clarke, and was born in Liverpool township Oct. 25, 1861.

On Mar. 20, 1884, he was united in marriage with Lillian Campbell, now deceased. To them were born three children, as follows: Mrs. Georgia Dickson of Farmington, Mrs. Flora Morgan, Lewistown and A. R. Clarke, of Port Huron, Mich. Also surviving are two grandchildren, Mrs. Margaret Picard of Alpha, Ill., and Clark Morgan of Lewistown. He was the last of a family of eight children, three sisters and four brothers having preceded him in death.

Mr. Clarke was a member of the Methodist church.

Funeral services were held at the Methodist church yesterday afternoon at 2 o'clock, and were conducted by the Rev. George Mayo, and burial was in the Apple cemetery.

Pall bearers were Don Weaver, Wilton Jenkins, Murray Hummel, Reed Monroe, Floyd Shelby, all of Lewistown, and John Campbell of Canton.

Flower bearers were Mrs. Wilton Jenkins, Mrs. Reed Monroe, Mrs. Floyd Shelby, and others.
---
1
Although this man's given name is spelled several different ways in the public record, he and his family seemed to prefer the spelling you see here. His name appears as
Zebdiah
on his
tombstone
.
2
We don't know at what point the
"e"
was added to this son's surname. That's how he apparently preferred to spell his last name, since it appears that way in every mention of him as an adult and is carved on
his tombstone
. The
"Dyer"
would seem to have come from the common pronunciation of his first name by Midwesterners.
3
Exhorter
was an official title in early Methodism. We've found numerous references to "exhorters" among verious Methodist sites, but haven't located a precise definition yet.
4
Everett was one of Jasper's sons.
5
Lyle believes that "Zebdiah and his parents could possibly have arrived in Illinois a year or more earlier than 1831. We are still trying to pinpoint that date. I've seen one atlas book that indicates that by 1833 Isaac Sr. had built a functioning grist mill on a creek in Liverpool Township in Fulton County Illinois. I am familiar with the location of the mill site. Damming the creek and building a mill would have been no small undertaking. I've wondered how much of a role our Dutch (
Winans
) ancestry may have played in that accomplishment."
6
The obituary writer is apparently only counting children who survived to adulthood.
This page was last updated 13 Sep 2005.